The recent broad market sell off over concerns of global recession has created some of the best income opportunities we have seen in years. Long term dividend paying industrial stocks are now providing yields that are attractive to the income investor. But are the dividends these industrial companies paying today sustainable over the years ahead?
To test this, I've selected 8 long term dividend paying industrial stocks, each with international exposure. I selected these from the Yahoo Industry Browser, screening for industrial stocks that are based in the U.S., have current dividend yields of 3.5% to 5% and have at least a 20 year history of paying dividends (note: I do not require that they have grown each year, only that they are continuous and have had a net increase over their dividend history). This provided me with 8 industrial stocks: Boeing (NYSE:BA), Cummins (NYSE:CMI), Caterpillar (NYSE:CAT), Emerson Electric (NYSE:EMR), Eaton (NYSE:ETN), Kennametal (NYSE:KMT), MDU Resources (NYSE:MDU), and Timken (NYSE:TKR).

Here is a graph of dividend growth rate over the past 10 years
Although there is variance, most stocks have shown a slight decline in dividend growth at today's annualized rate over the 3 and 5 year growth rate.
The following are 6 Cash Flow metrics that I have described in my previous article on the use of the Statement of Cash Flows in analyzing the dividend paying ability of a company.
Interest Expense
Because interest is a fixed expense that cannot be managed away, the percent of a company's available cash that it consumes is important in assessing future dividend growth and the company's sensitivity to future interest rate hikes.

As is usually the case, large manufacturing/industrial companies generate enough cash to not have to use debt as often as smaller or more heavily capitalized companies. At an average of 5% of the Trailing Twelve Months (TTM) Cash Flow from Operations (CFFO), this is a low fixed cost and is of little concern (although not zero) concern to a long term income investor.
10 Quarter (10Q) Dividend-to-CFFO Payout Ratio (POR)
The trend in the ability of a company to generate sufficient operational cash to well cover the dividend is a requirement for a sustainable and growing dividend. A trend towards a higher and higher POR suggests a slowing in dividend growth will follow and if the POR is sustained at very high (>90%) levels suggests a dividend cut may be forthcoming.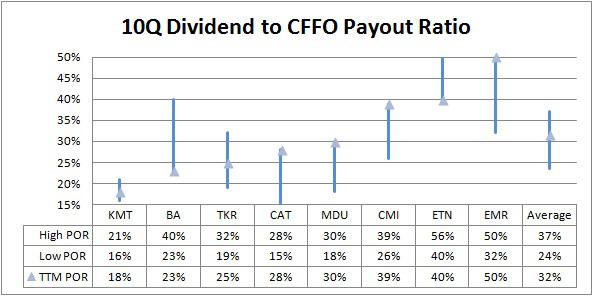 These company's PORs for the TTM are high, perhaps with the exceptions of KMT. In my travels, long term dividend paying large manufacturing and industrial company PORs typically run 15% to 20%. These high PORs likely explain why yields are where they are today, as it would suggest that CFFO's have declined relative to historic dividend growth.
10Q Percent of CFFI paid with [CFFO - Dividends]
After paying the dividend, how much of the company's investing activities will the remaining operational cash cover? The healthiest companies' CFFO will pay all of the investing activities, year after year.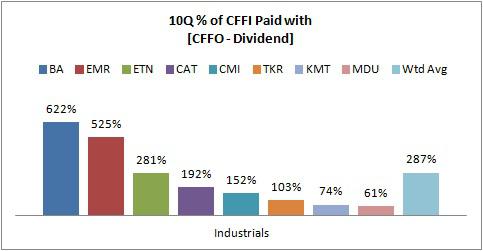 Of course, this CFFI coverage ratio will depend on how heavily the company relies on new investing activities, particularly their capital expenditures (CAPEX) they require for maintaining and growing their revenues and CFFO.
Buy Back of company Debt and Stock
That a company has excess "discretionary" cash flow after operational expenses, dividends and investing activities is good, but what next? Company executives have multiple options on how best to use these dollars, to include holding it as cash for future use, distributing as a 'Special' dividend or most often, redeeming outstanding company debt and/or company stock. The latter action is best employed when the company executives feel there are not acceptable investments available to the company whose net return will exceed the cost of debt/equity capital. The following chart shows the extent to which the companies have been employing this buy-back strategy over the past 10 quarters.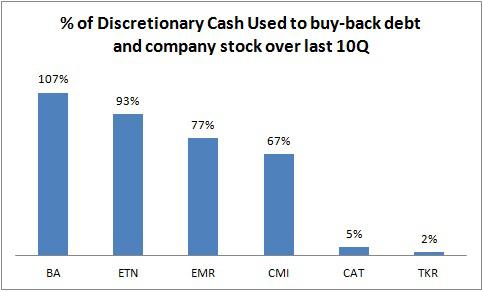 KMT and MDU did not have net discretionary cash flow over the past 10Q. Now, that a company has discretionary CF is a positive sign and using it now to buy-back debt + Stock is also a positive sign of a company's confidence that they will be able to generate future discretionary cash from operations rather than the need to retain it. This is not always the case, but generally it is.
Return on CFFI to CFFO
The ability of management to get a positive return on investing activities is vital to the growth of CFFO and future dividends. But of all the CF metrics I use, this has been the most difficult to accurately measure. In the past, I'd measure the growth/(decline) in CFFO over a period and divide this by the amount of CFFI paid out over the same period as a measure of return on CFFI (investment). This is a good concept, but on occasion there will be a non-recurring large operational payment or receipt of cash that will throw this calculation way off. So here I'm switching to the @slope function in Excel, that measures the annual/quarterly change over a number of years/quarters (actually, its the slope of the 'best fit' regression line of the plot of CFFO versus years or quarters). Dividing this by the average annual/quarterly CFFI over that period will give a better measure of how CFFO has grown/(declined) over a period of time.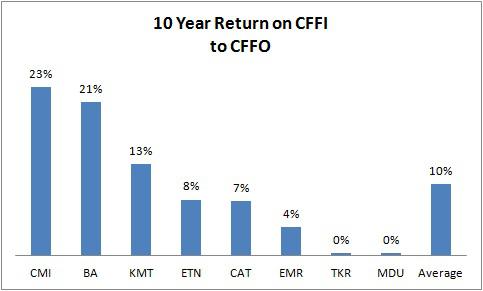 This 10 year annualized return on CFFI looks favorable for all but TKR and MDU. But now look at this measure over the past 10Q.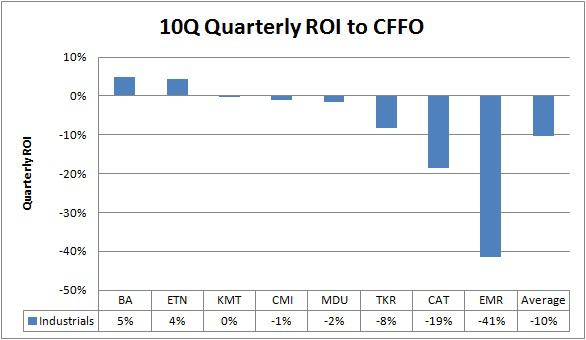 This clearly shows a rapid decline in return on CFFI that is worse for some industrials than others.
"Managerial Efficiency"
As I discussed in my recent article, Managerial Efficiency, or CFFO divided by Revenue, shows management's ability to convert $1 in Revenue to $X in CFFO. Increasing Revenue is not difficult; just invest new dollars and typically, more cash will come into the company (hopefully!). But it's now management's job to ensure that each added dollar of revenue will, after operational expenses, provide a remaining fraction of that dollar to net operational cash flows (CFFO). This is a peer...or comparison...metric, as the operational expenses will vary between industries, but should be roughly similar for companies of the same industry.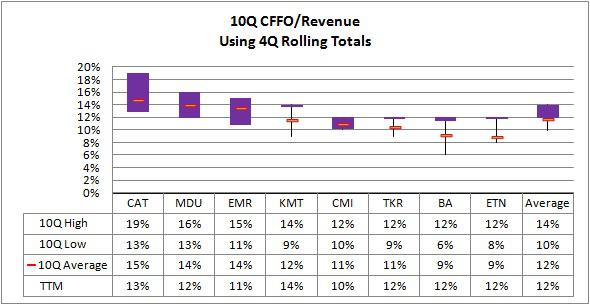 What I am struck by is how close these companies are and how different these ratios are from REITs.
Conclusion
As I've said in the past, there is no single metric or even combination of metrics that will give a definitive answer to the question..."is the dividend safe". However, by carefully measuring a company's history of dividend growth (the 'Willingness') along with objective measures of company cash flows (the trend in 'Ability'), I think the income investor can draw a pretty good picture of the likelihood the dividend- and its future growth- will be safe.
There are definitely some attractive 4% to 5% yields available from these large industrial companies...yields that we haven't seen in some time. But the cash flows of these companies are telling us why. Return on Investments over the past 10Q has sharply declined and CFFO payout ratios are definitely climbing while some companies are holding discretionary cash, likely in anticipation of continued lean times, rather than buying back stock/debt. But on the plus side, these are companies with long dividend histories and most have plenty of cash that is more than adequate to cover current dividends and CFFI.
I'm not making any recommendations on my favorites in this group...I'll let you be the judge of that. But I'd definitely say there are- finally- some good choices today!
Disclosure: I/we have no positions in any stocks mentioned, but may initiate a long position in BA, ETN, CAT over the next 72 hours.
I wrote this article myself, and it expresses my own opinions. I am not receiving compensation for it (other than from Seeking Alpha). I have no business relationship with any company whose stock is mentioned in this article.