(Editor's Note: Investors should be mindful of the risks of transacting in securities with limited liquidity, such as MTRAF. Metro's listing in Toronto, MRU.TO, offers stronger liquidity.)
Over the past 10 years, Metro (OTCPK:MTRAF) has arguably been North America's second-best publicly traded grocer after Kroger (NYSE:KR). The two share several similarities: neither is the largest in their respective market but they are the best, consistent dividend growth and share repurchases, track records of steady EPS growth and good returns on invested capital, and both have seen tremendous success with their respective loyalty programs.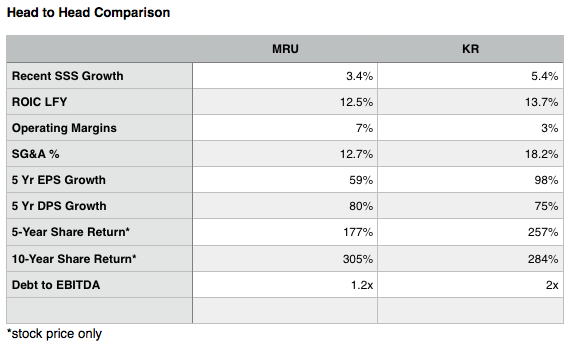 Interestingly, Metro has not received any meaningful coverage on Seeking Alpha. If lower quality grocers such as SUPERVALU (NYSE:SVU) receive coverage, there is no reason why one of North America's best shouldn't, at the very least, be discussed by SA readers.
This report will serve to introduce readers to Metro and is divided into several sections: A. Grocery retailing in Canada, B. Wal-Mart (NYSE:WMT) in Canada, C. Food inflation trends, D. Metro's business and track record, E. Its underappreciated stake in Couche-Tard (OTCPK:ANCUF), F. Comparative valuation, G. Key risks and H. Concluding thoughts.
I hope you enjoy reading and, as always, please share any additional insight in the comments section. Note all tables constructed on my own using company specific data.
A. Grocery Retailing in Canada
The Canadian market exhibits several differences relative to the US:
1. Five players control nearly 80% of the market through a variety of banners.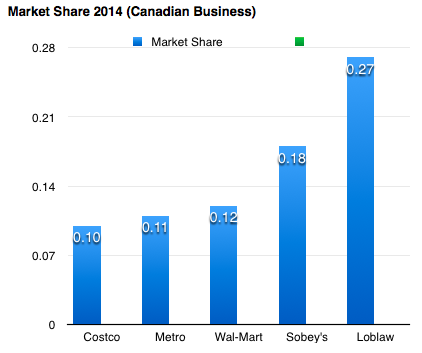 In contrast, the US market is more regionally fragmented and competitive. The top 5 grocer retailers have ~55% share with Wal-Mart (25%), Kroger (13%) and Costco (NASDAQ:COST) (8%) leading the way. Canadian grocers have done a far better job defending against the American invaders with the most recent example being Target (NYSE:TGT).
2. Canadian grocers earn much higher profit margins
Canada has some of the highest operating margins in the world - a title previously held by Australia's Woolworths (OTCPK:WOLWF). Operating margins at 3% or lower are typical in the U.S. and Europe. Less competitive markets such as Sweden have slightly higher margins but I've yet to find another grocer doing 7%.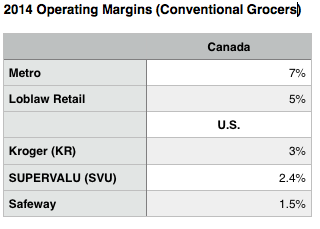 3. Small format discount is well-established in Canada
The US discount and everyday low price (EDLP) segment is dominated by Wal-Mart and Costco through large supercenters and big box outlets. Emerging players, such as Aldi, provide an even lower cost alternative. In Canada, the discount market (more than 40% share) is dominated by the incumbent grocers with a variety of formats along with WMT and COST. This is one of the highest penetrations of discount in the world.
Loblaw (OTCPK:LBLCF) has the largest discount presence with more than 500 stores or ~45% of its network. Its discount brands No Frills and The Real Canadian Superstores are the largest two in the company. Metro's Food Basics and Super C brands are more than 40% of their network while Freshco is less than 10% of Sobey's.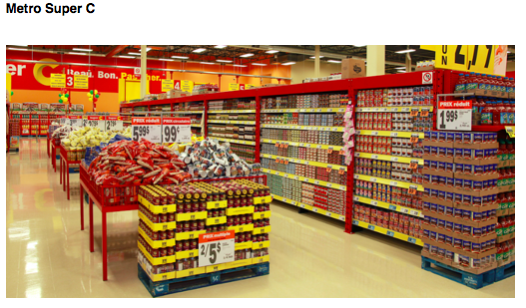 4. Whole Foods (NASDAQ:WFM) is non-existent
The upscale market in Canada has never gained much traction with WFM having only 10 stores across the border as opposed to more than 400 in the US. Historically, discerning consumers saw through WFM's overpriced offering and the incumbents more than met shoppers growing fresh and organic needs.
However, that may be changing.
"The middle is disappearing," Anthony Longo, chief executive officer of the high-end Longo Brothers Fruit Market Inc., said. "Conventional stores have to figure out what role they play. ... A lot of them are moving upmarket."
While higher quality regional chains exist, such as Longo's or Farmboy, the incumbents continue to move up-market and differentiate the two segments: a high-quality discount store and a high-end, high-service conventional one. Loblaw, for example, invested $1.2 billion in 2015 to renovate stores while Metro also increased capital spending 30%.
This comes on the heels of two years of improving the discount offering. In 2013, Metro closed conventional banners and converted others to Food Basics. Canada is becoming an even larger discount market (approaching 50%) as the number of discount stores increase and conventional ones decrease.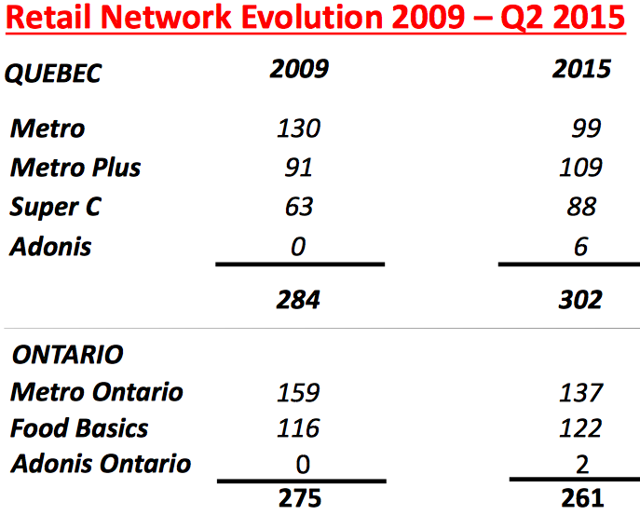 That said if conventional is to remain relevant, it must be a better offering clearly distinct from a discount brand. Recent investments at Metro will go towards remodeling existing stores and opening more discount stores. The former will serve to differentiate the brand (move up-market with more fresh) while the latter will take advantage Target's exit and Wal-Mart's slowing growth. From Marina Strauss in the Globe and Mail:
Conventional grocers are losing ground to discounters. In 2013, the mid-market segment fell to 60.4 per cent of the total estimated $87.54-billion grocery industry from 63.9 per cent in 2009 and could drop to 50 per cent within five years, said Carman Allison, vice-president of consumer insights at researcher Nielsen Co.

"Over the years, the discount stores have raised their game," said Johanne Choinière, senior vice-president of Metro's Ontario division. "Conventional stores cannot be stuck in the middle. They really have to elevate their game. It's not only us but everybody in the conventional market. It's our mission to offer stuff that consumers cannot find at the discounters."
Fresh at Metro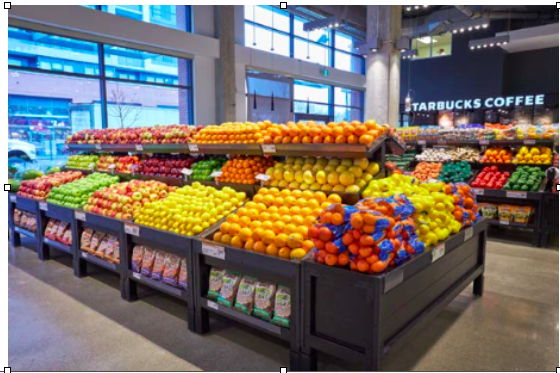 5. Neither are Aldi or Lidl present
While Aldi had an office in Canada 5 years ago, it never actually opened any stores. They studied the market and decided against entering the Canadian market. While no official statement was made, some suggest the already large discount segment was a deterrent.
The entry of either would be a significant risk to the conventional segment. However, we have seen some preparations. The domestic players are building a better discount offering. Much like Aldi and Lidl, the discount store is no longer a dimly lit, poorly merchandised experience. They are improving product mix, especially fresh produce while maintaining lower prices.
B. Wal-Mart in Canada
My view is the incumbents have historically chosen to cede a natural share to Wal-Mart as opposed to engaging in a price war. The grocers typically see lost sales when a Wal-Mart opens nearby but it appears to stabilize after the first year or two. In the mid-2000s, Loblaw learned the hard way it was far better to let WMT into the market than try to beat them at their own game.
Wal-Mart has also been unable to beat the discounters on pricing. With a more suburban real-estate mix, they've also failed to win on convenience. The results as the reader will see are less than impressive. While Canada is one of WMT's best (high-margin) international markets, new store growth is slowing. Expansion plans include 29 new super centers in 2016 (27 of which are conversions), which is down meaningfully from the ~40 they were opening between 2011 and 2014. This, in conjunction with Target's exit, has slowed industry square footage growth: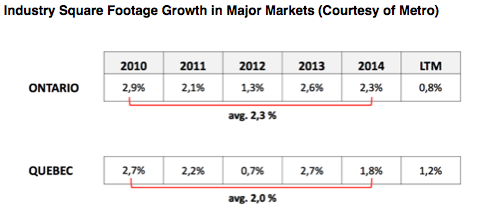 The Canadian grocers have managed WMT far better than their U.S. counterparts. With comparable pricing and more convenient locations, they've tended to outperform the average Wal-Mart and limit share gains. Evidence is available in same-store sales data. WMT typically lags the conventional chains - in the last 10 quarters, they have outperformed Loblaw once and Metro three times. This suggests once new stores gain a natural share in a particular neighborhood, they underperform thereafter.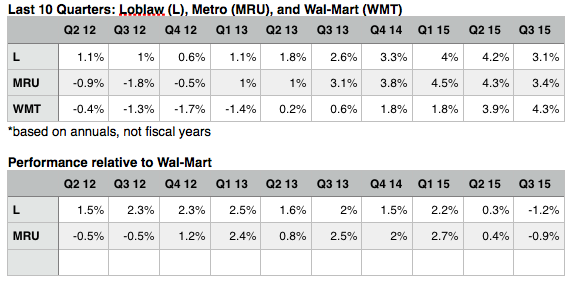 Wal-Mart has seen some momentum in recent quarters, including an uplift in traffic, after Target's decision to exit Canada in June and a 2014 investment in price. In Q1, sales jumped 1.8% and they announced a deal to buy and convert 13 Targets to Wal-Mart. Q2 and Q3 saw a further boost in traffic as customers shifting spending to WMT.
Once they lap Target's mid-2015 retreat, this particular tailwind should diminish and we should see a more accurate sales trajectory. However, rising food inflation may continue to provide a tailwind.
C. Food Inflation in Canada
One of the biggest stories in the Canadian economy has been the dramatic decline in the oil price. For retailers, the accompanying fall in the Canadian dollar relative to its US counterpart has important implications. Food prices, particularly for produce, are expected to rise more than 4.5% in 2016 on and above some significant increases seen in 2015. Last year, fruit and vegetables rose nearly 10% while meat rose 5% driven by supply issues and the significant decline in the Canadian dollar.
The grocers had a tough time passing through some inflation, notably meat prices where customers can trade-off proteins for one another depending on relative value. Such price shocks are absorbed in the short term and normalize over time. Grocers in Canada typically have an easier time passing through produce inflation, which is more noticeable in the winter months when there are no local substitutes for imported produce. On Loblaw's Q2 conference call, Gaelen Weston indicated:
"but as I have mentioned before there is this additional force out there which is the lifestyle change, the people are attributing to food buying more fresh, very interested in higher quality product. We are seeing meat, beef prices at all time highs at the moment, we are not able to pass through the full extent of the inflation that we are seeing on the cost side"
Over time, however, inflation is generally passed through successfully. Lois Abraham in the Globe and Mail writes:
In summarizing his company's fourth quarter earnings, Metro Inc., president Eric La Fleche signaled to investors that higher food costs will inevitably be passed onto consumers, as much as competition allows.

"While remaining very competitive in a competitive environment, we're successful in passing some inflation. I think we did a good job overall to do that, and judging by the margins we're delivering, I think it's something that's a fact. So hopefully, we can continue to do that."
D. Metro's Business and Track Record
Metro is Canada's third largest grocer and the best performing in recent years. The company operates in two provinces (Ontario and Quebec) and is the second largest in Ontario and largest in Quebec. Its history, especially relative to its larger peers, can be described in one word: discipline.
Its principal focus on return on capital has meant they've historically spent money very conservatively. As a result, shareholder returns have been impressive and outpaced its peers meaningfully. The following chart indicates the results of spending shareholder capital well, buying back stock regularly, not issuing stock for acquisitions, and running a low-cost operation.
Metro, like Kroger, is one of those companies that proves you don't need to be the biggest to be the best.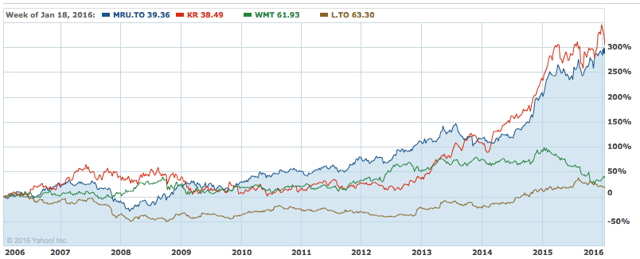 1. Return on Invested Capital
I like to reference Bill Ruane when talking about return on invested capital:
"The single most important indicator of a good business is its return on capital. In almost every case in which a company earns a superior return on capital over a long period of time it is because it enjoys a unique proprietary position in its industry and/or has outstanding management. The ability to earn a high return on capital means that the earnings which are not paid out as dividends but rather retained in the business are likely to be re-invested at a high rate of return to provide for good future earnings and equity growth with low capital requirement."
Metro has consistently spent shareholder cash better than its peers and is one of the reasons, in my view, the stock price has performed so well.

2. Low-Cost Operator
Metro does not have the same buying power as Loblaw or Sobey's. Even with a comparable market share as Wal-Mart and Costco, they have less buying power. What they do better is something far more important than scale: they are better operators. Not marginally better operators but significantly better. On a different level. In terms of low-cost operators, they are closer to Costco than any North American grocer. Despite having far less buying power, they earn far more per dollar of sales than its peers.

Metro is also notorious for using its many convenient locations to get the best price it can. After buying A&P Canada in 2007, the company added many great, urban locations at a time when everyone was building big boxes in the suburbs. How fortuitous! Metro now has the most convenient locations in Canada and is able to charge a slightly higher price at a time when more and more consumers are placing increased value on convenience.
They have done this while spending less of owner's cash flow on capital expenditures suggesting once again scale advantages can be nullified with good, smart decision making. They've avoided wasting shareholder capital on unnecessary new projects or fancy renovations instead opting for the bare minimum and best-returning projects. Many management teams say this, but with Metro, the numbers back them up.
Cash Flow and Capital Expenditures (in $ millions)

I should add Loblaw likely is entering a new era of capital discipline. The CFO, formerly of Metro, is working to change Loblaw's history of poor capital allocation to one that resembles his former employer: stable margins, low-cost operations, and more efficient capital spending.
3. History of Share Repurchases
The company has historically maintained a very clean balance sheet enabling it to regularly and consistently repurchase shares.
Annual Buyback (in $ millions)
In addition to share repurchases, Metro has one of the best dividend growth track records in Canada

4. Issuing Shares
Metro's policy towards shareholder capital is what every company should aspire to accomplish. Their focus on per share value, as opposed to empire building, is one reason the share price performance has been so impressive over the long term.
Loblaw and Empire have made acquisitions that made them bigger, provided more scale and market share and made the headlines in the news. However, Metro's policy of steadily returning cash to shareholders coupled with modest EPS growth has proven to be the best recipe for building per share value.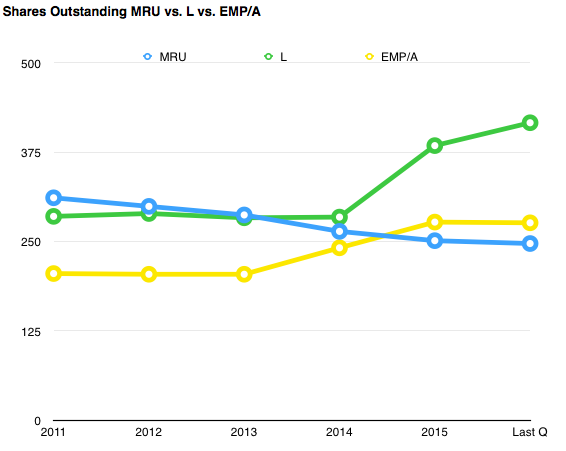 E. Under appreciated stake in Couche-Tard
What seems to go unnoticed with Metro is a 5.7% stake in convenience store retailer Alimentation Couche-Tard. While the stake is, on an absolute level, quite small, the impact to Metro is far more significant. Of Couche-Tard's $34 billion market capitalization, Metro's 5.7% stake is worth nearly $2 billion or 20% of its market value.
In the 1980s, Metro sold convenience stores to Couche-Tard in exchange for a stake in the business. They sold half the interest in 2013 after the convenience store chain had delivered incredible share price performance. The rumour was that Safeway Canada was up for sale and Metro wanted to be prepared. It was but Sobey's purchased the asset. Instead, Metro reduced debt and returned cash to shareholders.
If they had continued holding? The stake in Couche-Tard would be worth $4 billion as the business has continued to deliver impressive share price performance through smart acquisitions.
Note: In hindsight it is proving lucky they didn't acquire Safeway Canada. The business was capital-starved and desperately needed investment and Sobey's has experienced significant challenges integrating the business.
F. Comparative Valuation
If it's not the best grocer in the world, Metro might prove to be the best value for the money when we consider low-cost operations, return on invested capital, track record of dividend growth and consistent, disciplined growth over time.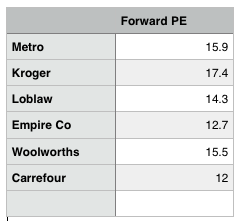 G. Risks
"Where once the price differential was 15% to 20% in favour of discount stores, some say the gap has narrowed to something between 8% and 10%.
This has led some to suggest, as a result of less competitive intensity, supermarkets are gouging discount shoppers or trying to use marketing to promote "cheap" while not actually delivering the lowest possible price.
"[T]he price gap between discount and conventional has been collapsing," the CIBC analysts said. "Discount stores have become far more conventional."
If in fact true, the analysts speculate Aldi or Lidl will enter Canada soon as price increases are more a result of less competition than the declining Canadian dollar.
"Savvy consumers are also aware that big retailers put a lot of pressure on their manufacturer suppliers to discount their products or force those suppliers to pay handsomely for listings and a myriad of other activities. What consumers don't know is what effect those funds rushing into the hands of retailers has on reducing the price of products, if at all. Transparency is not a strength of big Canadian retailers."
Everyday low pricing is not something Canadian grocers do. It just isn't in their DNA. He continues:
Here is an actual example of what I would call bizarre pricing: Earlier this year, over a three-month period, Loblaw ran some special prices on its private label coffee. The special prices rotated among Loblaw stores like Superstore, and franchises like Valu-Mart and No Frills.

Purchasers of President's Choice West Coast Dark Roast Gourmet Coffee in 875 g cans (and some other similar-sized President's Choice coffees) became used to paying $11.97. Then suddenly at Valu-Mart it was $8.97. Two weeks later it dropped to $7.97 at Superstore. It was still $11.97 at No Frills, causing some to wonder what frills were missing! Three weeks later it was $14.97 at Valu-Mart!
H. Concluding Thoughts
In Canada, Metro is not the biggest nor the most aggressive. But they are the most consistent, lowest cost, and best run for shareholders. They've delivered steady dividend and EPS growth, a regular buyback for shareholders, and the highest ROIC among Canadian grocers.
They truly fit the idea that a company does not always need to do great or heroic things. Instead, being consistently good can produce great results over the long term.
Disclosure: I am/we are long COST.
I wrote this article myself, and it expresses my own opinions. I am not receiving compensation for it (other than from Seeking Alpha). I have no business relationship with any company whose stock is mentioned in this article.
Editor's Note: This article discusses one or more securities that do not trade on a major U.S. exchange. Please be aware of the risks associated with these stocks.