ClearOne Inc. (NASDAQ:CLRO) designs, develops and sells audio and video-conferencing equipment and collaboration solutions. Despite some significant global headwinds in its market (notably from the rapid appreciation of the US dollar), ClearOne has been able to continue to grow the business, both in terms of revenue and cash flow. Some market concerns about a mid-year auditor change, along with slowing growth, have dragged the share price down in combination with the broad market sell-off. However, ClearOne has a significant cash buffer and zero debt, enabling it to withstand any short-term headwinds. Combined with a nominal dividend and strong insider ownership, now is a good time to invest.
From a macro view, ClearOne's products appear to be in a secular growth industry. Two income or single-parent families have made flexible work arrangements a necessity, making communication even more important. The increased globalization of work itself is also requiring technical solutions to enable better communication, especially when face to face is either too difficult or too expensive to enable. According to Transparency Market Research, they see an 8.5% CAGR going out to 2023 for conferencing equipment. Also, in a rarity for technology projects, conferencing technology can actually bring hard cash savings (reduced travel costs for example) making them more appealing in a down market to companies trying to right size their overheads.
Although a small player up against some industry giants in Cisco (NASDAQ:CSCO) and Polycom (NASDAQ:PLCM), ClearOne has been able to gain traction with its products. In the 9 months YTD, ClearOne posted a 2% revenue gain to $43.5m, while its EbITDA increased 44% to $10.5m. Polycom in contrast has struggled so far this year, with revenue down 5% compared to last year YTD and EbITDA was roughly flat. This is not to say that ClearOne is wiping the table with its significantly larger competitor, but that it has been able to continue to grow their smaller business in a difficult spending environment while Polycom has struggled to continue to grow its operations.
The gross margin growth has been driven by a discipline on the cost side of the income statement, as margins increased from 60% to 64%, in part due to the signing of a large licensing deal for one of their professional products. This licensing revenue should be on-going so the uptick to margins is likely sustainable, while also providing some strong recurring revenue.
In a tough environment, management has squeezed out top line growth while maintaining cost control, even as their products have gotten significantly more costly in their international markets, causing sales decreases in both Australia and Latin America as a result.
Almost all of its profit has been converted in to cash contributions as well, though they appear to be in a cyclical low on their capex spending with just $100 K spent year to date. Through 9 months in 2015, ClearOne has increased its cash balances by $5.0m, after paying out $0.6m in dividends.
Management has raised the dividend twice in 2015, now running at a $0.20/share annual rate. The increase in the dividend is not surprising when we look at the significant insider ownership at the company:

Source: Def 14A Proxy, July 1, 2015
Over the years, ClearOne's largest shareholder Edward Bagley has had a hot and cold relationship to the company, formally requesting a change in the Board of Directors as recently as 2013 due to their failure (in his opinion) to dividend out some of ClearOne's excess cash. However, this animosity is largely in the past now; in June of 2015, ClearOne entered in to a three year consulting agreement with Bagley to solicit his input on any strategic discussions the company will have going forward. This eliminates a potential hangover from future boardroom battles so that the company can be clearly focused on activities that will help all shareholders.
ClearOne has a lot going for it: a market with some strong macro-economic trends supporting it, a vested management team and some strong operational performance in a difficult market. But what makes now a good time to take a position in ClearOne?
Cash. ClearOne has been able to amass $19.1m in cash as at September 30, 2015, with no comparable debt against it, or over $2 per share. The market has currently been punishing companies that have had massive debt loads; although small, ClearOne is well capitalized to ride out any market difficulties and won't run in to this type of run over financing concerns.
The cash balance gives a margin of safety in what appears to be a tough long investing environment. It can also serve as a catalyst to potentially acquire complementary technology; ClearOne has a history of M&A activity as recently as 2014 with the acquisitions of Sabine and Dialcom Networks.
Misconception over Change in Auditors. ClearOne's prior auditor McGladrey LLP resigned in October and was followed with a notice from NASDAQ that they could be de-listed if they do not re-file their comparative 2014 statements as well.
To some, this may appear that there were accounting irregularities, management issues or something worse. However, the nature of this was that McGladrey essentially was conflicted out (i.e. they had obtained a client that would be a clear competitor to ClearOne that was likely more lucrative to the firm than ClearOne was). This necessitated a new firm to be hired. The risks to accounting firms over the last years have increased substantially, and they now protect themselves with their procedures so they do not end up like Arthur Anderson did after Enron. As a result, any firm taking over a new job needs to maintain audit certainty of their work not just in the current period (2015) but also the comparative period as well (2014). Being twice the work, this resulted in the finalized Q3 numbers not being released until 2016. While unfortunate, this is all in the normal course of business but it was the type of event that unnerved some investors.
Strong Management. As noted before, management has a good lid on its cost structure and has been able to generate some growth in a clearly difficult environment globally. They have continued to reward shareholders, with a $0.20/share dividend currently yielding 1.7% and have done buybacks in the past. They are also continuing to invest for growth, pursuing licensing arrangements, increasing its presence in new markets such as opening a new office in Dubai in November and continuing to expand on its 64 existing patents.
To get an idea of a potential upside target, a simple mean reversion to 8.5x EV/EbITDA give us an upside target of $14.75 per share, a 29% rise from its current levels, combined with the yield gives a potential annual return of over 30%. This excludes any potential catalysts from its cash levels or if they are able to continue to grow sales with its controlled cost base.
Risks
The downside to the strong insider ownership is that there is a very illiquid float with just under 6.0m shares; this makes it more difficult to get price discovery with lower volumes of shares traded than comparable companies.
While ClearOne has had some growth, it has not exactly been high paced. However, it hasn't been for its competitors either, which is why they are all trading at very low multiples: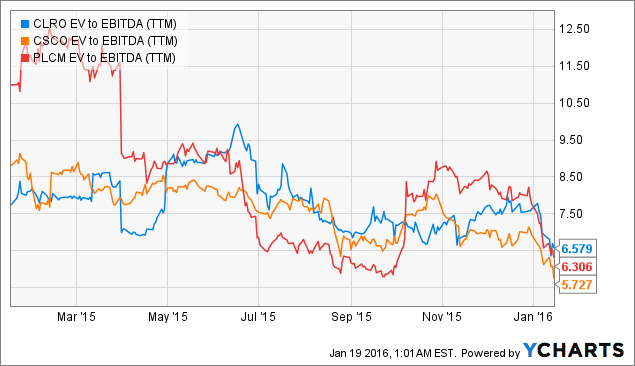 CLRO EV to EBITDA (NYSE:TTM) data by YCharts
Should the US dollar continue to strengthen, ClearOne's equipment (and those of its competitors) will continue to become more expensive to the majority of the world, which will certainly pressure results negatively.
The appreciation of the USD in the past year has been hard to ignore as it has significantly impacted all US company exports: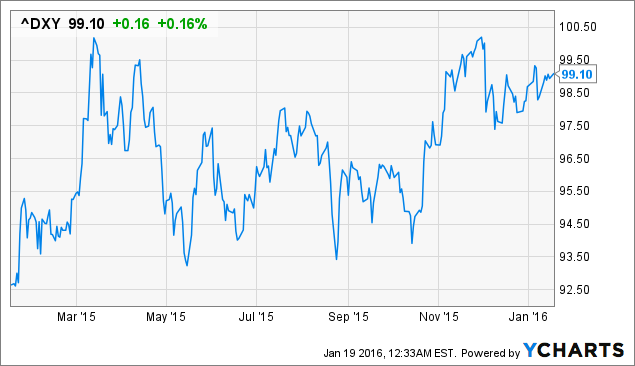 Even with this headwind, ClearOne has been able to continue growing the business and its bottom line, even while its major competitor Polycom has been having to retrench, including a significant layoff.
Summary
The last few weeks has made any long equity position difficult to enter. Some uncertainty around ClearOne's auditor change over has exacerbated an already steep selloff. However, this concern was overblown to begin with and has now been successfully transitioned to a new auditor. ClearOne gives some good margin of safety with a strong cash balance in the age of leverage while a strong management team has established a sustainable cost structure while continuing to invest for growth.
For continued discussion, please don't hesitate to comment below; I learn from your feedback. If you like what I'm doing, you can follow me by hitting the "Follow" button at the top of this article. Plus, you can follow me in real time by selecting that option. It might give you somewhat of a head start whenever I write an article, as to what actions I am taking and the reasons behind them.
Disclosure: I/we have no positions in any stocks mentioned, but may initiate a long position in CLRO over the next 72 hours.
I wrote this article myself, and it expresses my own opinions. I am not receiving compensation for it (other than from Seeking Alpha). I have no business relationship with any company whose stock is mentioned in this article.
Editor's Note: This article covers one or more stocks trading at less than $1 per share and/or with less than a $100 million market cap. Please be aware of the risks associated with these stocks.