CEMEX (NYSE:CX), a Mexican company, has had its rough patches since the financial crisis. Acquiring the Rinker Group in 2006, the company had to deal simultaneously with a high debt load due to the acquisition, and a significant decrease in sales due to the housing crisis. Since the start of the financial crisis, CEMEX has been in a continuous effort to reduce its debt, relying on assets sales, and to a great extent, the operating income generated from its large and stable market share of the Mexican construction market.
Although the company has significant international operations, and its Mexican operations only represented 18% of sales during Q3 2015, it is its home market, and more significantly, throughout the previous 8 quarters, it has generated a weighted average of 37% of the total operating EBITDA of the company. It is this EBITDA that is crucial for the company to be able to survive in the short run until the US market recovers.
During the previous earnings call, a slowdown of sales in Mexico were presented, declining 17% YOY when converted to USD. This decline was explained to be due to two main dynamics:
The decline of the Mexican peso when converted to the USD, which had a negative impact on sales and EBITDA

The strategy of "Value before volume" implemented by the company, where they focus on value creation, even if this means sacrificing low margin clients.
A value before sales makes sense: by focusing on value, the company can free up cash invested in working capital, which it can use for other purposes (one of these being the repayment of its debt). As these clients are low margin clients, the impact on EBITDA tends to be minimal, and can largely be made-up for through an increase in prices to less price-sensitive customers.
When reviewing the reported earnings, the strategy seems to be working, with sales in local currency increasing YOY by 4%, and operating EBITDA by 12%. The decline in USD EBITDA can be interpreted as to be minimized due to the implemented strategy. Yet, reports presented to the BMV (Mexican Stock exchange) could present a more pessimistic scenario.
CEMEX, being a dually listed company, has to file reports to both the SEC and the BMV. Although reports fundamentally contain the same information (with the information presented to the SEC actually being more detailed), one piece of information presented to the BMV could provide for a different conclusion to the Mexican results realized during Q3.
When presenting results of Mexico, these consist of both local sales, and sales through exports. Both sales are added, and it is the accumulation of both sales that is reported and compared. Although this has been the case historically, the increase in sales through exports provide reason to believe that their "Value before volume" strategy is not having the expected value creation, and that the resulting sales decrease is more drastic than desired.
Data presented:
As part of the disclosure given to the BMW, CEMEX has to divide its sales into three parts: national sales, sales through exports, and sales from foreign subsidiaries. All data is represented as Year To Date, and hence is cumulative. Below, you can find the relevant screenshots of these disclosures.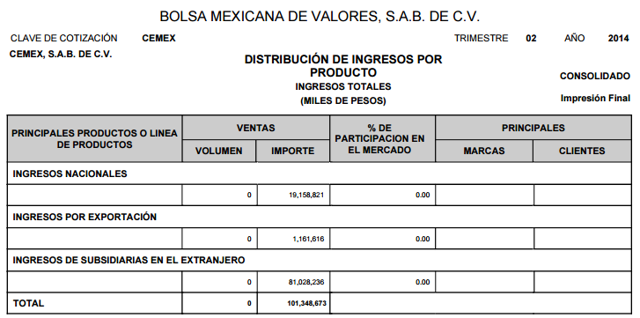 Source: Company filings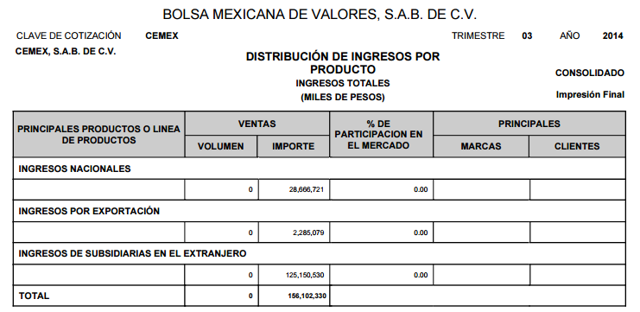 Source: Company filings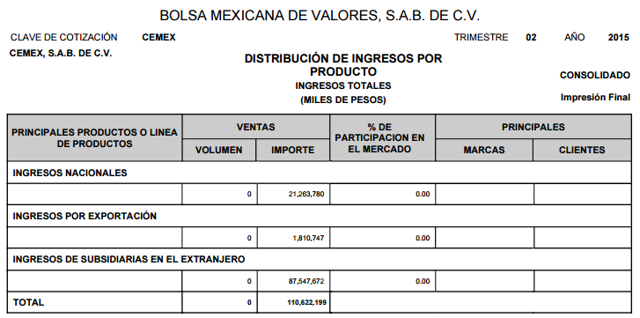 Source: Company filings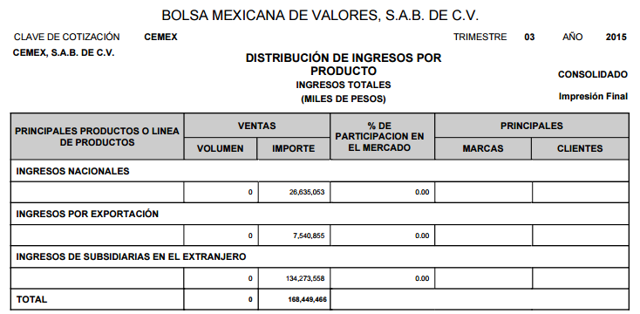 Source: Company filings
Using the above data, and additional data retrieved from CEMEX's disclosures, Local sales can be computed:

Source: Author's calculations and company filings
Taking this data, the YOY change in local sales can be computed as following:

Source: Author's calculations and company filings
As can be seen, local sales have decreased by - 43.5% and by - 54.9% YOY in local currency and USD respectively (reported sales of Mexico increased 4% and decreased by -17% in local currency and USD respectively). This significant decrease in local sales, indicates that the implemented strategy had a far more negative effect on sales than the Q3 earning release suggests.
Conclusion:
CEMEX has stated that it intends to implement its "Value before sales" strategy in another of its core markets (Colombia), and increase prices further in the US market during early 2016. Taking into account the impact this increase in prices had on their Mexican market, it is unlikely that they will continue with this implementation, or if they do, it will likely result in significant further market share losses. With this route to growing EBITDA closed, the company would depend on the recovery of the US construction market in order to reach profitability. Although the US construction market is growing at double digits, it is unlikely that this would have a big enough impact for the company to reach the current consensus earnings forecast.
Disclosure: I/we have no positions in any stocks mentioned, and no plans to initiate any positions within the next 72 hours.
I wrote this article myself, and it expresses my own opinions. I am not receiving compensation for it (other than from Seeking Alpha). I have no business relationship with any company whose stock is mentioned in this article.