The start of trading in 2016 has certainly made the temper tantrum investors threw with financial stocks to begin last year look quite benign. Every financial has been sold and sold some more and among that group is certainly Morgan Stanley (NYSE:MS). MS has come into its own in the last couple of years as it has been overshadowed in the past by Goldman Sachs (NYSE:GS). But MS is different and has its own charm as an investment and to boot, it is growing earnings much more quickly than most other financials. The company's Q4 report was well received at first but since it came out just two days ago, MS has been hammered along with the rest of the market. But is MS' business really falling apart enough to justify the rapid move from $35 to $25?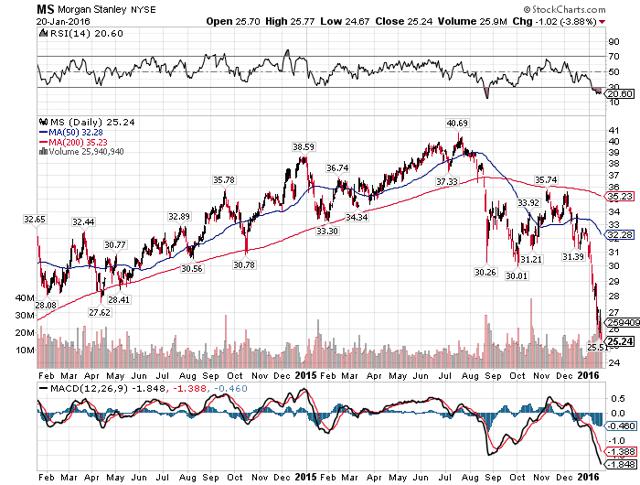 MS' Q4 revenue loss was actually quite manageable at just 1.4%. That is much lower than rival GS which saw a 5%+ loss in revenue and many other financials that are also struggling with top line growth. Q4 was certainly a tough environment for any financial but MS' business is much less sensitive to lending than more traditional banks and that is why I like its model so much.
The revenue environment overall was mixed for MS - a vast improvement over some other financials that just had negative things to say - which is an important distinction with MS. Its model is more like an asset manager than Goldman, for example, but it is still very much an investment bank.
In the institutional securities business, MS saw Y/Y revenue excluding FVA/DVA nonsense fall about $200 million to $3.5 billion. FICC underwriting and trading were both weak - as expected - but equity sales and trading revenue flew higher as it was the star of the group. MS was much stronger in the equity space than other major banks and that is very encouraging for 2016.
The company's world class wealth management business continued to impress and this is the single largest reason I like MS. Its wealth management business has pre-tax margins in the low 20s and a recurring revenue business model, two things that are quite enviable. The company saw positive flows into the wealth management business but lower markets helped to offset any revenue gains. In addition, transactional revenue fell sharply in Q4 as new issue activity fell as well as a decrease in commissions. But net interest income was robust as the company continued to attract deposits and grow its loan book. Overall, wealth management's results were mixed but with some pronounced bright spots nonetheless.
Finally, the company's investment management business posted strong results as weakness in traditional asset management was more than offset by strong results in the real estate investing and merchant banking businesses. Investment management's gains were a big help for the consolidated revenue picture in Q4.
One area where MS stands out above the rest of the banking/financial sector is in its capital generation. MS' CET 1 ratio at the end of the year was a whopping 15.4%, a very high number to be sure. This tremendous amount of excess capital allows MS to do things like pay dividends and buy back stock as it doesn't need anywhere near that much on its balance sheet. The 2019 required CET 1 ratio is just 10%, meaning that as MS continues to build more capital it can request ever stronger returns of that capital to shareholders.
In addition, building capital means its tangible book value continues to rise and is now at $30.26. At the current price of just $25, MS is trading for a sizable discount to book value of about 17%. That is an enormous discount - much larger than the one Goldman Sachs trades for - and really reflects the pessimism on the financials right now. But MS is different and its recurring revenue model with its wealth management business is far too valuable to be trading for such a discount.
The bank's efficiency ratio is still very high at 77% but the company's new Project Streamline should get that number more towards the low 70s even if revenue doesn't rise in 2016. MS has a lot of runway for margin growth in the expense area as its efficiency ratio is very high by any measure; Project Streamline should be the first step towards getting that number back in line.
This chart from the strategic update the company provided this week shows the transformation the company has gone through and why valuing it like a mere investment bank is incorrect.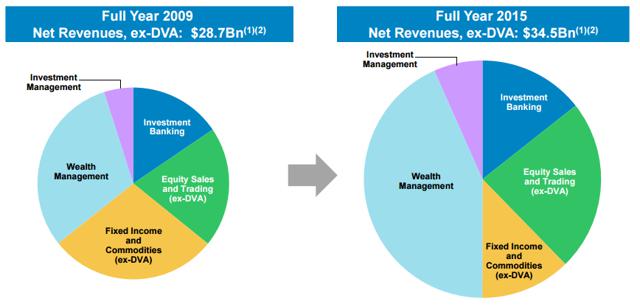 The share of the company's wealth management business has grown substantially as FICC and equity sales and trading have shrunk significantly. This is exactly the transformation you'd want to see as the wealth management business is far less cyclical and produces tremendous margins. As MS continues its transformation and cuts unnecessary costs, its pre-tax margins should rise over time, making the bull case much easier to understand.
I think MS is going to ask for a huge capital return this CCAR cycle because its return on equity was just 7% during 2015, well short of its goal of 10%. Part of that is ensuring earnings grow but a bigger piece is simply reducing the equity on its balance sheet. I mentioned it has far more capital than it needs so it can increase its ROE by returning excess capital to shareholders. I expect we'll see a nice dividend increase as well as a substantial buyback from MS when the CCAR results come out and that is sure to be a significant positive when it occurs.
At ~83% of tangible book value and 7.4 times forward earnings, MS is way too cheap. The company's wealth management business continues to grow and produce large profit margins while the equity business grows as well. MS has significantly reduced its reliance on FICC in the past few years and given the weak state of that business, it is certainly welcome. Capital returns will be a big story for MS in 2016 as it goes after its ROE target of 10% and builds even more capital through strong earnings. I like MS more than GS here because of those factors and with the rapidity with which MS is slated to grow earnings, it is easily the best pick of the two. Buying MS for 83% of tangible book value will - I believe - prove to have been a terrific decision for long term holders despite the near term pain it may cause should the selling persist.
Disclosure: I am/we are long MS.
I wrote this article myself, and it expresses my own opinions. I am not receiving compensation for it (other than from Seeking Alpha). I have no business relationship with any company whose stock is mentioned in this article.