Breaking News: The sky isn't falling, it just felt that way on Wednesday. There was a gloom and doom sentiment which fueled a stormy trading session. However, REIT investors with a steady hand were able to navigate around the tempest and selectively add shares at attractive valuations.
The price of oil plunged below $27 per barrel during the trading day and global equity markets tanked. The Dow was down over 500 points at the session lows on Wednesday, January 20, but finished down just 249 points, as investors went bargain hunting.
Mr. Market had his finger on the sell button for most of the day. You could sense the fear rising, as formerly bullish investors stampeded, looking to exit long positions.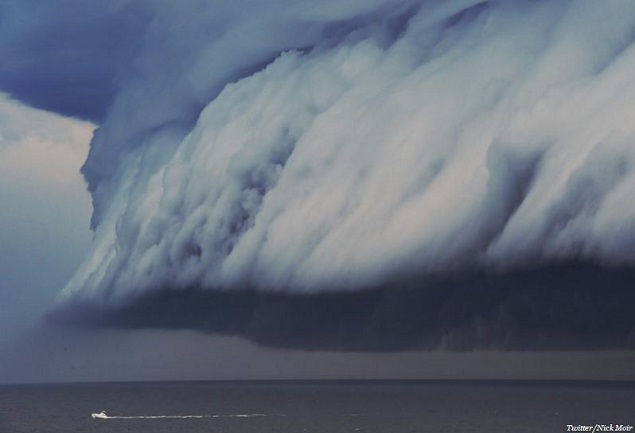 Source: Business Insider
In other words, it was a great day for bargain hunters to pick up U.S. REITs on sale. It was also an opportunity to observe the equity REITs that exhibited relative strength.
What Investors Fear
During the Great Recession, the REIT sector was gripped in a vicious selloff. The toxic CMBS derivatives which Wall Street sold to institutional investors triggered a global financial crisis.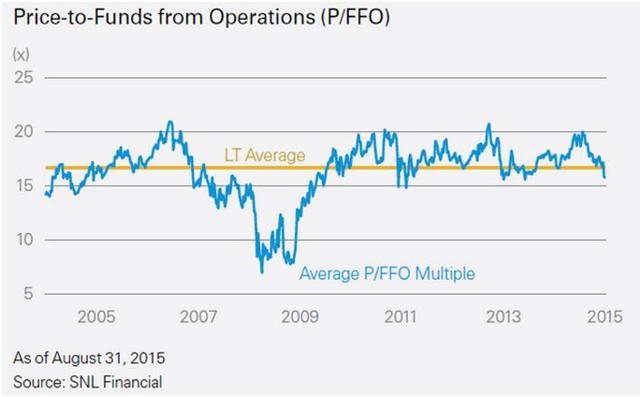 Source: SNL Financial
There was almost zero liquidity to be found for commercial real estate. Things got ugly for many REIT shareholders. Valuations plummeted, and many REITs had to cut or suspend their dividend distributions. It was a very scary time.
The Sky Is Not Falling
Fast-forward to the beginning of 2016, and U.S. REITs are off to a rocky start after a generally flat 2015, which followed the huge gains chalked up in 2014.
Here's the good news, it isn't 2007-2008. In most real estate markets across the U.S., new supply has been muted over the past few years mainly because speculative development can only be undertaken by institutions and other players with deep pockets.
The current price of oil is not expected to rise anytime soon. The global supply glut will be exacerbated by the lifting of sanctions which had prevented Iran from selling oil on the open market. However, in most respects, when it come to REITs, that is not terrible news. Two-thirds of the U.S. economy is supported by consumer spending, and household incomes just got a nice after-tax boost at the gas pump.
Of course, it may not be the best time to build speculatively in Houston, or other U.S. markets depending upon oil and gas exploration for job creation. REITs with large portfolio exposure to these markets have already been put into the penalty box by Mr. Market.
Here is the question investors need to answer: Will the slowdown in China, and economic pain felt by other countries dependent upon commodity prices, really impact the rent being collected by U.S. REIT landlords? In most cases, I think the answer is a resounding "...nope, not really."
More Good News For REITs
The economic weakness being felt around the world should contribute to a more dovish posture by the Fed regarding U.S. interest rates. This is excellent news for the equity REIT sector.
The 30-year U.S. Treasury interest rate hovered around 2.75% during Wednesday's bond trading session. The 10-year note settled below 2%, a clear sign that smart money is betting the Fed will stand down.
However, the chart below tells a different story. ETFs which track the Dow 30, Nasdaq 100 and S&P 500 all performed better than the dominant U.S. equity REIT ETF.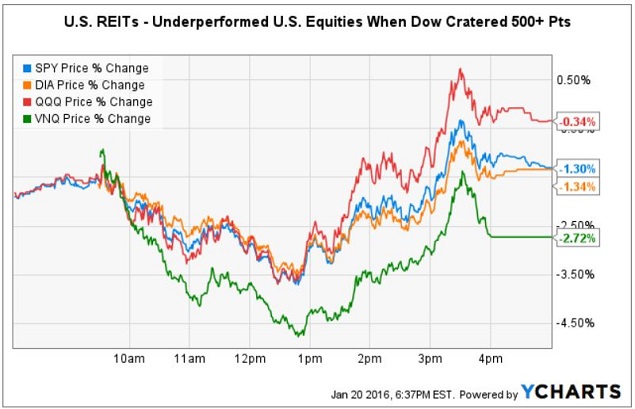 The Vanguard REIT Index ETF (NYSEARCA: VNQ) tracks the MSCI REIT Index (RMZ), a market cap weighted index containing ~140 equity REITs.
The other three indices include multinational corporations with far more exposure to global economic weakness and forex headwinds, including financials, industrials, materials, consumer goods and the technology sector.
It makes absolutely no sense whatsoever for U.S. institutional real estate to underperform. In fact, trophy U.S. properties are viewed as a safe haven by foreign investors looking to hedge their bets.
A Few REITs Notched Gains
Notably, there were a handful of REITs that I follow which showed relative strength by carving out small gains.
VEREIT, Inc. (NYSE: VER) bounced off of its 52-week low of $6.68 to finish up fractionally at $7.08 per share, yielding a lucky 7.77%.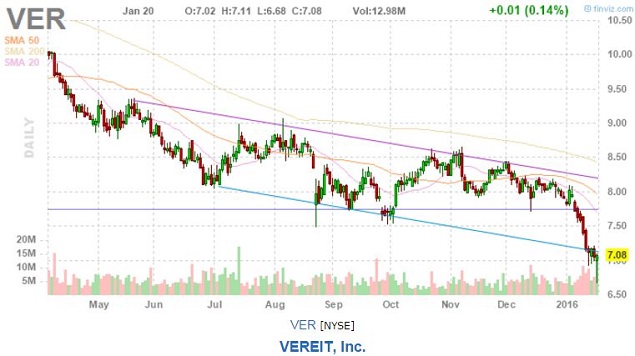 VEREIT, the former ARCP, is going through a transition in 2016. This single-tenant triple-net lease REIT is deleveraging its balance sheet through non-core asset sales. However, a forward yield approaching 8% appears to have attracted buying interest at the end of the trading session.
Agree Realty Corp. (NYSE: ADC) is a small-cap single-tenant net-lease REIT. It is a 100% pure-play on freestanding retail, and the only triple-net lease REIT with a full-service, in-house development capability.
Agree Realty was a top performer during 2015 in the triple-net lease sector. On Wednesday, ADC's shares finished up 0.21%, closing out the day at $33.17, with a dividend yield of 5.61%.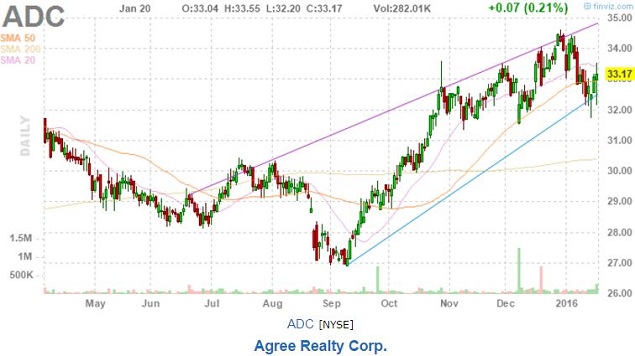 Notably, Agree Realty was one of my two small-cap REIT picks for 2016. I was not surprised to see ADC's shares showing relative strength when the going gets rough.
Seritage Growth Properties (NYSE: SRG) is a newly minted REIT spun out of Sears Holdings (NASDAQ: SHLD) last year. It has a unique business plan, and of course, a limited track record.
The spotlight was focused on Seritage late last year when Mr. Market learned about Warren Buffett's decision to purchase a block of 2 million shares for his personal account.
Seritage's shares spiked up on the Buffett news in mid-December and have gradually pulled back. Meanwhile, Seritage closed the day on Wednesday in the green, up almost 0.5% at $38.19 per share.
I included Seritage as a bonus pick in my SA article published on Tuesday January 19, "Top REIT Ideas For 2016 - Shining The Spotlight On Brick And Mortar Blue Chips." I originally presented my long-term bullish case for Seritage in an SA PRO article published in mid-December.
Here's a quick overview of the situation:
The largest three U.S. mall REITs, Simon Property Group (NYSE: SPG), General Growth Properties (NYSE: GGP) and Macerich (NYSE: MAC), have all entered into 50/50 JVs with Seritage in order to reclaim and redevelop Sears' anchor real estate.
Notably, there is virtually zero vacant anchor space in any Class-A mall. The Sears mall anchor leases are ancient, and they pay the landlord a whopping ~$4.00 per square foot. Sears is no longer the traffic draw that it once was, so replacing all or part of the footprint with popular retailers results in a double win for malls.
Source: SRG - December 2015 presentation (for all unattributed slides)
The Seritage portfolio is currently over 99% leased, but the business plan is to methodically right-size Sears' footprints, resulting in a better outcome for all of the parties.
Meanwhile, Seritage and its three mall JV partners are going to have mass quantities of retail redevelopment opportunities, including the Sears Auto Center land and buildings.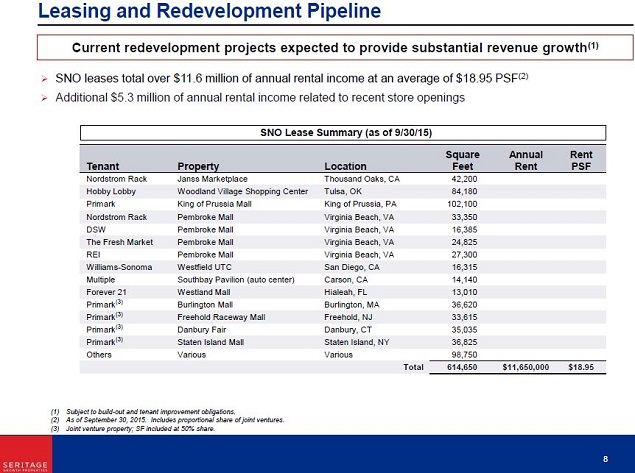 The SNO (signed not occupied) leases for the first batch of SRG redevelopment projects averages $18.85/SF base rent, or almost 4.75x the Sears $4.00/SF lease rate.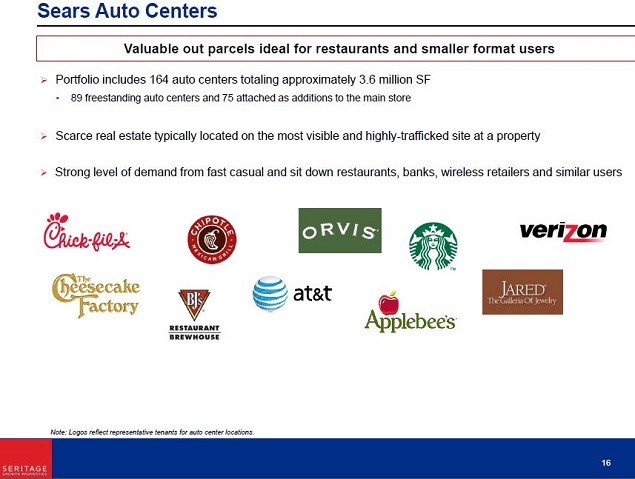 However, the differential can be even more spectacular when it comes to the valuable Sears Auto Center mall locations.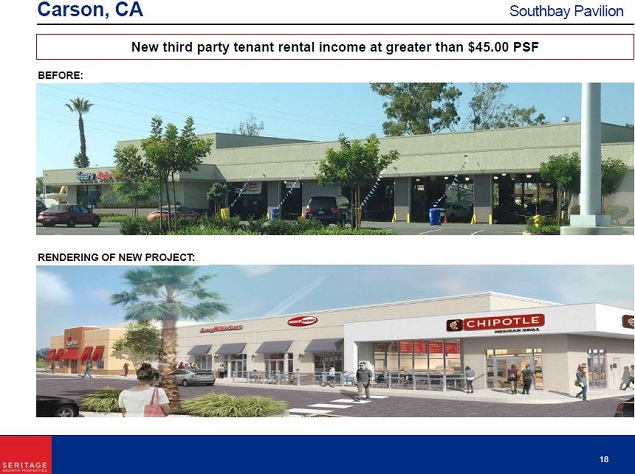 Sears is transitioning to a smaller footprint "asset light" business model, with a growing focus on its e-commerce Shop Your Way initiative. However, many bearish retail analysts believe that SHLD department store operations are in a death spiral. The long-term value appears to be in the real estate, not the retail operations.
My sense is that redeveloping real estate with such a low cost basis is a winning long-term strategy, either way. Seritage and its 50/50 mall JV partners will continue to allocate capital to projects where they get the biggest bang for the buck.
Notably, Brad Thomas took a look at Seritage from a different lens in an SA article published on January 19; however, we both share a similar view of the tremendous potential embedded in the Sears Auto Centers. In Brad's words:
"Wait a minute! As an investor in SRG, you get 164 auto centers (owned by SRG) but also another +/-675 (owned by Sears) that can be monetized (recaptured) by SRG. That's a sweet deal (for SRG) and I'm sure that Buffett knew that when he was salivating over his cheesecake and coke.

As a net lease developer in a prior life, I can attest to the strong demand in outparcels in front of A and B malls. I live in a smaller town with a Sears Auto Center (the mall is owned by CBL) and whenever I drive by the Mall I visualize the Sears Auto Center being ripped down and replaced by a Cheesecake Factory."
Meanwhile, I view Seritage bucking the downward REIT sector trend on Wednesday, as one more data point for investors to file away while they consider this REIT investment.
Chatham Lodging Trust (NYSE: CLDT) has been hammered with the rest of the lodging REIT sector. Notably, CLDT's shares are down over 40% in just a few brutal quarters.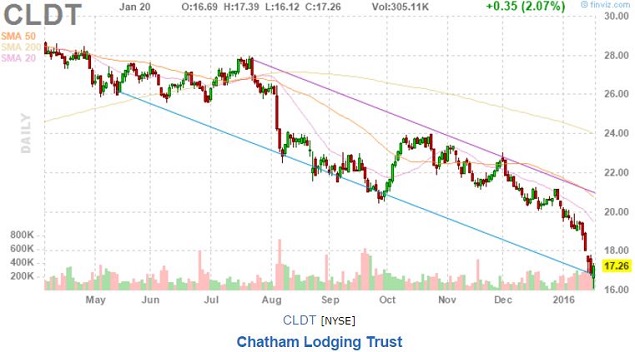 During the past 52 weeks, Chatham's shares have traded in a range of $16.78-$30.12 per share. On Wednesday, CLDT's shares bounced off of a new intraday low of $16.12 per share to close up 2.07%.
CLDT's shares pay investors a monthly distribution of $0.10, and currently yield just under 7%.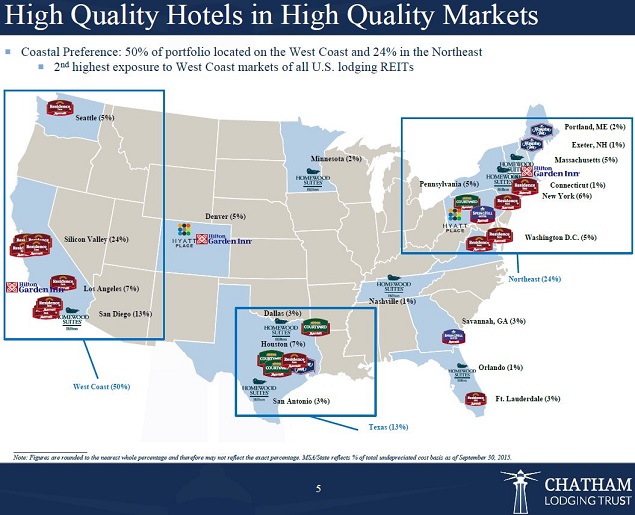 Source - CLDT presentation (portfolio snapshot as of 9/30/15)
One of the things that I like about Chatham is that the portfolio is heavily weighted towards West Coast markets with strong employment trends. Additionally, the Hilton and Marriott branded select-service hotels cater to both business and leisure travelers.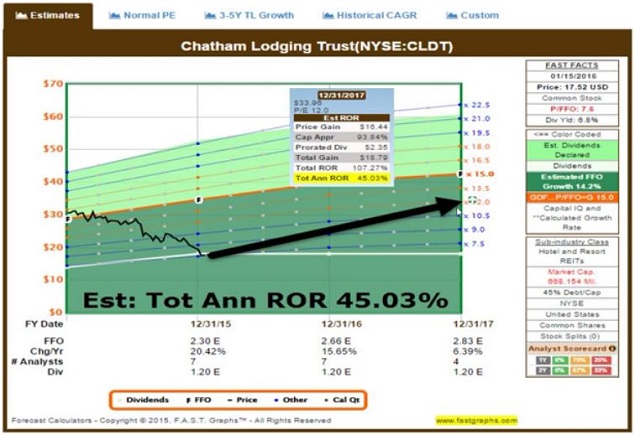 Source: Seeking Alpha - Brad Thomas
Seeking Alpha author Brad Thomas happened to write a timely CLDT focus piece published on Wednesday, January 20, "Check Back Into Chatham Using Your Dividend Rewards Card." His bullish views regarding buying Chatham at these prices levels could have given the CLDT's shares a bit of an extra boost as well.
Specialty Lenders Bucking The Trend
I generally do not cover the residential mortgage REITs. However, there are a few commercial mREITs and specialty mortgage lenders that I do follow.
Two of the small-cap names which I have written about in the past also closed in positive territory on Wednesday.
America First Multifamily Investors, L.P. (NASDAQ: ATAX) is a $274 million cap specialty lender focused on low-income multifamily apartment communities. Shares of ATAX bounced off of downtrend and traded up 0.44% on Wednesday.
Notably, ATAX pays a $0.125 per unit tax-advantaged quarterly distribution, currently yielding an eye-popping 11%. I have written two Seeking Alpha focus articles on ATAX which take a closer look at this unique business model. They can be found here and here.
I believe that one of the reasons that ATAX bucked the downward trend on Wednesday was a news release that easily could have been missed. The company announced a $0.08 per share gain on the sale of its last two remaining consolidated variable interest entities (VIEs). These types of gains help ATAX to pay out an unwavering $0.50 per share distribution each year.
Recent IPO Jernigan Capital (NYSE: JCAP) is a specialized self-storage sector lender which intends to operate as a REIT. JCAP's shares have recently been in a downtrend as analysts and investors were disappointed with a slow initial ramp up and await results for 4Q'15 and initial guidance for 2016.
In an interesting show of strength, Jernigan's shares closed up 1.51% on Wednesday at $13.48 per share. JCAP has announced and paid a quarterly distribution which yields 10.4%. Notably, this distribution is not yet covered from operations. My IPO overview and recent thoughts on JCAP can be found here and here.
Investor Takeaway
The equity REIT sector is being tarred with the same brush as some BDCs and MLPs. However, private commercial real estate valuations continue to be strong. As investors begin to realize that lower oil prices and weaker BRIC economies will "slow the roll" of future FOMC interest rate hikes, I think that the REIT sector as a whole will begin to rebound.
Meanwhile, I believe that 2016 is going to be a year where particular REIT sectors, and individual REIT names, will outperform the broader REIT universe. When global equities and U.S. markets selloff like they did on Wednesday, it provides an opportunity to take a closer look at the REITs which were able to swim upstream.
Disclosure: I/we have no positions in any stocks mentioned, but may initiate a long position in ATAX, VER, ADC, SPG, SRG over the next 72 hours.
I wrote this article myself, and it expresses my own opinions. I am not receiving compensation for it (other than from Seeking Alpha). I have no business relationship with any company whose stock is mentioned in this article.
Editor's Note: This article covers one or more stocks trading at less than $1 per share and/or with less than a $100 million market cap. Please be aware of the risks associated with these stocks.