Equities continue to march towards their worst monthly performance since February 2009, right before the nadir of the stock market collapse of 2008/2009. The S&P 500 is down some nine percent as we begin trading today. Many parts of the market like small caps, biotech, transports, energy, commodities and high yield debt are in official bear market territory. Emerging Markets, China, Japan and Europe are also down at least 20% from previous highs.
Most commentators continue to focus on the price of oil or the slowing growth in China as the key reasons behind the recent turmoil in the market. To the large extent they are correct. However, I believe the one key to whether the market falls further or rebounds from what I consider oversold levels at the current moment is the high yield credit markets.
Anything that has a decent amount of debt or might have to come back to the markets to raise additional funds at some point in the future is being extremely punished in this market right now. This is why the small cap sector overall is in a bear market. This is also why real estate investment trusts (REITs) that almost do well when yields fall, have plunged despite the 10-year Treasury sinking back towards and briefly under the two percent level.
Although the main triggers for this increased volatility are collapsing crude and commodity prices, the market is not discriminating right now and a lot of babies are being thrown out with the bathwater. I am watching the iShares iBoxx $ High Yield Corporate Bond ETF (HYG) for clues on the small cap market as well as for high beta sectors like biotech and REITs as well. This is one of the largest high yield bond ETFs and is at levels not seen in several years. When this ETF stabilizes or goes up, a major rally in the small cap, biotech and the REIT space should be forthcoming. The overall market should also have a significant rise.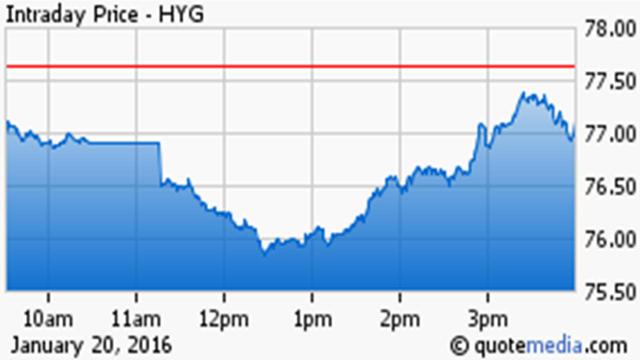 You can see this correlation in trading on Wednesday. After deep initial losses, the market staged an impressive comeback yesterday. The Dow at one point was down more than 500 points but by the end of the day, had cut those losses by more than half. Other major indices had even more impressive comebacks. Not coincidently, this happened almost precisely after the HYG hit a new 52-week and multi-year low at $75.82 a share around 12:30 pm. HYG ended the day at $77.12 a share.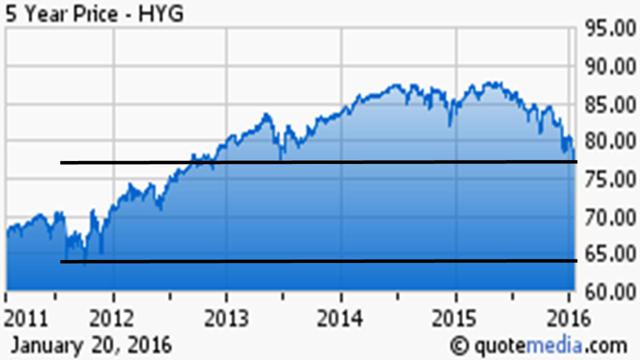 I am watching this ETF very closely. It currently is at levels not seen since late 2012 and mid-2013. HYG seems to have some technical support here (See chart above). If we can hold and bounce off this level, I think we could see a significant rally by as early as through the end of this month. If we break through this resistance level, the next support level is quite a bit down from here and back to where we bottomed several times in the tumultuous year of 2011 when the markets were intently focused on the sovereign debt of Greece and the so-called PIGS.
My portfolio continues to be on a cautious footing with any "dry powder" on further dips going almost exclusively to those cheap large cap stocks that have reasonable valuations, should show growth in 2016 despite a difficult global environment and as importantly have large dividend yields. These yields should put a floor under further significant declines in these types of stocks. A few of these I recently outlined in a recent article.
If HYG holds and bounces off this important technical level, I think investors can start to go out on the risk scale a bit. I recently highlighted three small biotechs have been hit hard despite favorable trial results and/or FDA approval, and these make ideal candidates for purchase should high yield credit hold this technical level and move higher.
In addition, REITs would start to look more attractive. My favorite in this space is lodging REIT Chatham Lodging Trust (NYSE:CLDT) which I recently gave a shout out to in my instablog (free to my real-time followers). It yields almost seven percent and is dirt cheap on a forward FFO (funds from operations) basis.
Finally, some of the construction plays have been crushed lately like we are already in a recession would be worth a look. If high yield holds, something like Tutor Perini (NYSE:TPC) looks very attractive. This engineering & construction giant has a huge almost two years' worth of work order backlog. A good portion of this is funded by state, local and federal government agencies which would be stable even in a downturn. Earnings declined this year thanks to some cost overruns primarily. Profits should bounce back in a huge way in 2016 with the consensus calling for ~$2.40 a share in the black in FY2016. After declining from almost $20.00 a share to start December to under $13.00 a share currently, TPC sells for just north of five times forward earnings; approximately one-third of the overall market multiple.
That is my take as we near the back end of the third trading week of a very volatile 2016 so far. Although I am still cautious, I will be watching the HYG and hopefully can move out on the risk curve should it bounce off current technical levels.
Disclosure: I am/we are long CLDT, TPC.
I wrote this article myself, and it expresses my own opinions. I am not receiving compensation for it (other than from Seeking Alpha). I have no business relationship with any company whose stock is mentioned in this article.