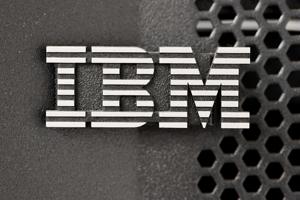 The only thing more disappointing than the 2015 full-year results at IBM (NYSE:IBM) is the guidance for 2016. Even if you add a dollar (their expectations of currency impact), you end up with $14.50 in currency-neutral 2016 operating income - down yet again from 2015, despite the inevitable juice from share buybacks.
While short-term stock price performance is not indicative of much, when you buy a mega-cap at a reasonable earnings multiple, the next four years look like this: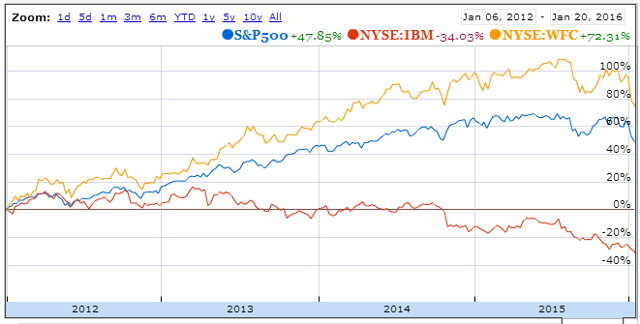 ...it's pretty clear that it will be tough sledding for IBM to get to a point where it delivers returns better than the market from that initial date (or other "compounder" favorites like Wells Fargo (NYSE:WFC)).
That, of course, is spilt milk - the question is whether investors should like IBM at a steep discount to Buffett's initial purchase price (NYSE:BRK.A) (NYSE:BRK.B). While IBM is a cheap stock today, and their "strategic imperative" areas do have legs, I have a hard time justifying an earnings multiple much higher than 10-11x for a company that seems a long way from any meaningful consolidated organic revenue growth and has consistently fallen below target. There's more to value than price, and while the stock has fallen significantly in price since Buffett bought it, I don't think that makes it a screaming buy here.
Understanding Where Buffett's Logic Went Wrong
IBM is the exception to Buffett's famous aversion to being a technology investor. I think it's important to understand why Buffett bought IBM and where he went wrong. So I went back to the transcript of the CNBC show in 2011 where he cryptically revealed his purchase. These segments appear to be the thrust of his belief:
I don't want to push the analogy too far because it could be pushed too far. But, you know, we work with a given auditor, we work with a given law firm. That doesn't mean we're happy every minute of every day about everything they do but it is a big deal for a big company to change auditors, change law firms. The IT departments, I-you know, we've got dozens and dozens of IT departments at Berkshire. I don't know how they run. I mean, but we went around and asked them and you find out that there's-they very much get working hand in glove with suppliers. And that doesn't-that doesn't mean things won't change but it does mean that there's a lot of continuity to it. And then I think as you go around the world, IBM, in the most recent quarter, reported double-digit gains in 40 countries. Now, I would imagine if you're in some country around the world and you're developing your IT department, you're probably going to feel more comfortable with IBM than with many companies.

... And then we went around to all of our companies to see how their IT departments functioned and why they made the decisions they made. And I just came away with a different view of the position that IBM holds within IT departments and why they hold it and the stickiness and a whole bunch of things.
So, basically, "nobody ever got fired for buying IBM." It was a fair belief, at the time - IBM has historically had a premier brand - but the technology world evolved far more rapidly than Buffett anticipated.
I've followed IBM on and off for the past few years, trying to understand what Buffett sees that I don't. Last year, this excellent piece from Bloomberg sent a dagger through the heart of the brand-advantage thesis. If you're an individual investor researching IBM, I would recommend you read all of it - but here's the highlight. The CIA decided to go with Amazon (NASDAQ:AMZN) over IBM for its private cloud needs, despite the fact that IBM was 33% cheaper. And the details that came out were ugly:
IBM learned that its bid was more than a third cheaper than Amazon's and officially protested the CIA decision.

[...] The agency had "grave" concerns about the ability of IBM technology to scale up and down in response to usage spikes, and it rated the company's technical demo as "marginal." Overall, the CIA concluded IBM was a high-risk choice. In a court filing, Amazon blasted the elder company as a "late entrant to the cloud computing market" with an "uncompetitive, materially deficient proposal." A federal judge agreed, ruling in October that with the "overall inferiority of its proposal," IBM "lacked any chance of winning" the contract.
Granted, this went down in the summer of 2012 and you could argue that IBM has improved its offerings since then. Indeed, as I mentioned, it's seeing plenty of growth in its strategic areas - but it hasn't been enough to offset revenue and operating income declines in other areas. Moreover, the CIA appears to have no regrets about going with Amazon. And if the CIA, of all people, wants to go with Amazon over IBM, that hardly bodes well for the IBM-branding thesis. This has showed up in the numbers - 2016 guidance is a far cry from the erstwhile $20/share earnings target for 2015 that management was aiming at when Buffett bought the stock.
Where To Now?
IBM has plenty of impressive technology - while Watson has perhaps been publicized the most, there's lots of other angles under the surface. That said, they no longer have the monopolistic position they once had.
The value argument for IBM is that it now trades at a double-digit free cash flow yield and a single-digit multiple to forward operating earnings (even if you don't adjust for currency). The problem remains what it has been: even if you adjust for currency, and even with the help of generous share buybacks, IBM's operating earnings are still falling. There will be a day when the strategic businesses are big enough that growth there will offset declines elsewhere - but for now, you're just not seeing that.
I also would submit that IBM isn't actually all that cheap amidst a selloff that has brought down prices of much higher-quality companies. Let's use one of Buffett's own metrics - the "Wells Fargo test." Is IBM cheaper than Wells Fargo? Wells earned $4.15 last year, so at the last close you're paying 11.5x trailing earnings (and a lower multiple of forward earnings; the current consensus estimate is $4.30). Yes, IBM trades at a somewhat lower multiple than Wells, and I suppose you could make the argument that banks have credit risk - but Wells is conservatively managed, and I would submit that what's going on at IBM clearly demonstrates that obsolescence risk is higher than Buffett anticipated.
All that to say, IBM is statistically cheap, and it's not hard to justify a higher valuation. But also you could have justified a higher valuation at any point in the past 1, 3, or 5 years - yet IBM has consistently disappointed over that timeframe.
Wrapping It Up
IBM is at once both a simple and a complex story To the latter point, the business is so vast that segment-by-segment competitive analysis is really beyond the scope of most casual investors. But to the former point, at the end of the day, a company with IBM's brand name and resources at its disposal should have been able to generate better results over the past three to five years. I think it would be alarmist to say that IBM has no role in the future of technology, but it's very much worth questioning whether they will be able to compound value at an above-market rate even from this depressed starting point. Right now, it's not looking good. Even the Oracle of Omaha makes mistakes, and IBM appears to be one of them. The decline in price over the past few years is representative of stagnant or declining value - so even at this cheap multiple, the bull case is not compelling.
Disclosure: I/we have no positions in any stocks mentioned, and no plans to initiate any positions within the next 72 hours.
I wrote this article myself, and it expresses my own opinions. I am not receiving compensation for it (other than from Seeking Alpha). I have no business relationship with any company whose stock is mentioned in this article.