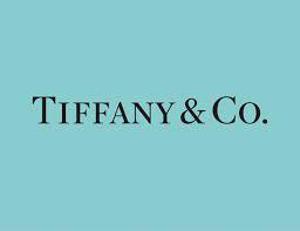 In my original work, I concluded that Tiffany (NYSE:TIF) was a pretty good bet for a dividend growth portfolio. Since then, Tiffany has issued an update to the market on Nov/Dec sales. It was not great. It was not marginal. It was down. I will let you read the details. The short version is that the story continues to be the same - the dollar continues to be strong and that impacts sales internationally as well as tourism revenue domestically. Since then, the market has pushed shares down 10% from its close on Tuesday at $67.60 to $60.50 currently. Full disclosure, I bought some shares at $59.99. Let me tell you why.
Lets read out some facts:
Americas sales down 5%
Asia-Pacific down 6%
Japan up 12%
Europe up 4%
Company store count = 307
The current problem with TIF is the perceived value of the goods based on the high price of the dollar. If things get more expensive then you are not going to buy as many of them. I slept through intro to Economics, but I at least remember that. So who does that impact on the list above - Americas, Asia-Pacific, Japan and Europe. Yes, I just listed all of them. The thing that sticks out to me is that Japan and Europe both grew during this time. That means that the company, while competing on the quality of product, brand and design still has it! People are not running from a luxury brand after it gets too much exposure like we saw in COH after the quick growth through outlet malls made it available everywhere. So I have confidence in the product. I have confidence in the company's ability to sell its product.
So if you believe in the company and you are a dividend growth investor then everything hinges on free cash flow. Lets dig in and see how FCF looks -
Free Cash Flow and Cash From Operations
Below (orange line) you can see a little bit of the rollercoaster that is luxury brands free cash flow. The 2011 to 2013 period was particularly concerning. That would be your position if you did not look at the components of FCF. The blue line below represents cash flow from operations. You can see this performs pretty well over time. The orange line is that minus a line item on the cash flow statement labeled Purchase of Property, Plants and Equipment. I see this as the company investing in its future. In the past 5 years, the property/equipment is up 50%. Since, it was making investments during that time frame and that creates a lower FCF.
Operationally, the company was generating a good cash flow. Plus they continue to do so today. Management has guided that the company will produce $500M in FCF for FY2015. FY14 finished at $384M with similar levels of capital expenditures in both time periods. It is not a business that will perform linearly. But for now, it is performing well during a tough operating environment.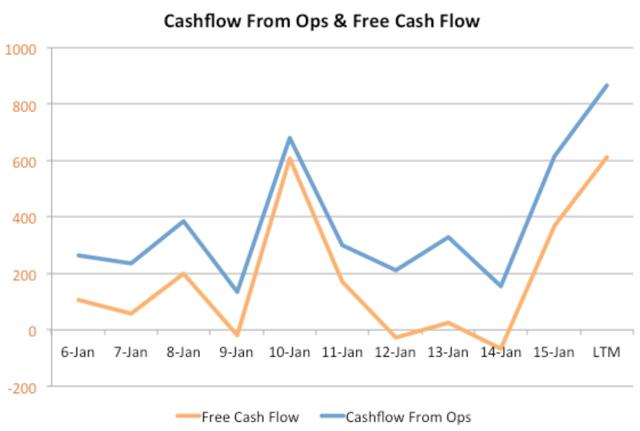 Return on Capital
So, they are investing in the business - how are they doing? For this section, I will borrow from my previous article where I wrote:
Are they being effective with the cash they are not paying back to shareholders? For this I would take a look at the Joel Greenblatt metric - Return on Capital. For those unfamiliar, it is calculated by looking at EBIT / (net fixed assets + net working capital). This should give us a good idea of how effective the company is generating a return on the money it invests in the business.
As can be seen in the chart below, the company is currently sitting around 24% ROC. The company bounces around in the 20-25 range and from time to time, like last year, takes a bit of a dip to 10%. This was driven by one quarters metrics (quarter close Jan 2014). All things considered, I know I would have a hard time investing money and earning 20%-25%. This is pretty good. As a comparison, Signet Jewelers (NYSE:SIG) is consistently generating slightly less with a TTM ROC of 17.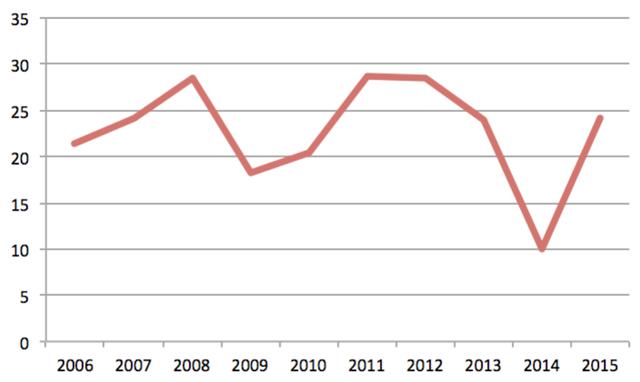 What Happens to FCF?
So the company is going to make $500M in FCF - what do they do with it? First, they pay out the dividend. $205M is going to go to the dividend. This is up 6% from the previous year where they spent $193M. That leaves $300M. This can go towards paying down debt. How is the debt load?
Below is a look at FCF (after dividend) and long-term debt. Long-term debt continues to climb. In the last full year, TIF could pay down 20% of its long-term debt with remaining FCF. That is pretty good to me.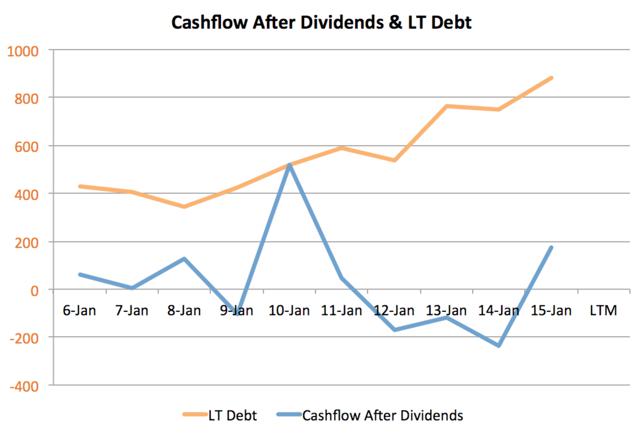 One other interesting thing to note is that not all debt is created equally. Management is proactively using capital markets effectively. So while debt is climbing, in the LTM, they have paid down some of the debt as well as lowered the cost of capital from 17 to 14.8. This leaves more cash flow to dedicate to the dividend if needed.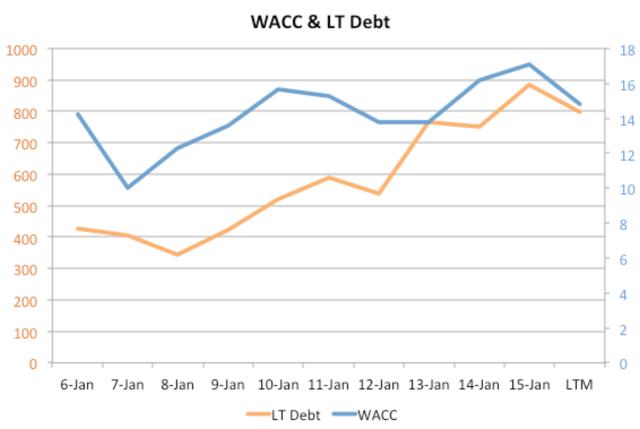 Valuation / Conclusion
In my other article, I noted a valuation of around $88 in 3 years when earnings hit $5.20 per share. Management estimated that earnings in FY15 would fall 10% from the previous year; Previous year earnings were $4.20 per share. This would make an estimated EPS of $3.78 for FY15. This makes me lower my expectation for 3 years from now FY18 from $5.20 per share to $4.90 per share. At a P/E of 17 (a discount to history P/E of around 20) the estimate would result in $83 share price. Based on the current price of $60 per share, this creates an opportunity in the 11% CAGR range - excluding the 2.5% dividend.
This timeline grows as the strong dollar continues to impact earnings. The company has said to expect more of the same in 2016 and elected to layoff employees to compensate. So while things are not going to turn around immediately, the dividend can pay for you to sit and wait. While things are slow, the company is making good investments, growing FCF and setting up a great opportunity for shareholder return over the business cycle.
Long-term investors take note. This is a classic example of the market discounting a wide-moat company based on short-term impairments outside of the control of the company. It might not turn around this year or next year. But the company is headed the right direction and will provide a good total return opportunity for the patient investor who is willing to take a little risk for a little extra reward.
As a final note, 2 analysts have come out with some updated 12-month valuations. They are in line with my expectations for the stock. For reference here they are:
Topeka - Buy - $92
Goldman - Neutral - $71
Disclosure: I am/we are long TIF.
I wrote this article myself, and it expresses my own opinions. I am not receiving compensation for it (other than from Seeking Alpha). I have no business relationship with any company whose stock is mentioned in this article.