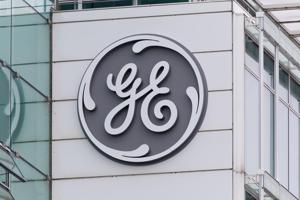 General Electric (NYSE:GE) has delivered a mountain of restructuring news that may continue to color the industrial conglomerate's earnings picture. Restructuring may also dilute, at least in the short term, its utility as a big-picture U.S. economic barometer
Generally, industry analysts have applauded GE's move out of finance by ridding itself of GE Capital's lines of business and refocusing its efforts on industrials. GE completed some $100 billion in asset sales to cut the size of that financial unit, the financial press reports. But the exit has hurt both top-line and bottom-line results. Street analysts reporting to Thomson Reuters are forecasting a notable drop in revenues and earnings when GE turns in its Q4 numbers pre-open on Friday. They expect GE to have made $0.49 a share on revenue of $35.99 billion, which would represent a roughly 12% drop in profits on a 14% pullback in sales from the year-earlier comparable.
Analysts and investors will likely be more interested in a check-up on restructuring progress and the firm's recent acquisition of a turbine business. There are larger dynamics at work, too, after last week's announcement that GE will relocate to Boston from its long-time base in Fairfield, Conn. Some industry analysts are predicting another hefty stock buy-back initiative, so stay tuned for any news on that front.
In 2015, GE shares were on a steady climb, even after the mid-August drop, adding better than 22% to its price on a year-over-year basis. Since peaking near term on December 31, the stock has backtracked about 11% alongside the broader market move (figure 1). Even without the carnage of the last few weeks, GE stock handily outpaced the Dow Jones Industrial Average ($DJI) and the S&P 500 (SPX) over the last year.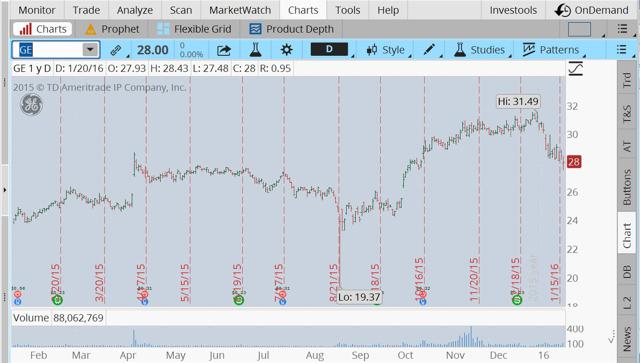 Figure 1: Tough Follow-Up? General Electric logged a 22% 2015 gain before giving in to broad-market fallout to start 2016. Chart source: TD Ameritrade's thinkorswim platform. Data source: Dow Jones Indices. Not a recommendation. For illustrative purposes only. Past performance does not guarantee future results.
Remember, too, that GE is considered by some industry analysts as a classic dividend aristocrat. That's because of its mostly unswerving dividend history throughout its public life. GE has only cut the price of its dividends twice (not the dividend itself)-once during the Great Depression and again amidst the Great Recession in 2009. Dividend-driven demand can sometimes underpin a stock's price regardless of earnings news or other fundamental drivers.
With that in mind, short-term option traders are pricing a relatively tame potential 2.7% move for the stock price in either direction surrounding this earnings release, according to the TD Ameritrade thinkorswim platform's Market Maker Move indicator.
Implied volatility, meanwhile, is sitting at the perhaps ho-hum 73rd percentile. Notable recent trading in GE has been focused in long-term options, especially in weekly 29 call options; near-term trading for call options and put options has been fairly muted.
Note: Call options represent the right, but not the obligation, to buy the underlying security at a predetermined price and over a set period of time. Put options represent the right, but not the obligation, to sell the underlying security at a predetermined price over a set period of time.
TD Ameritrade, Inc., member FINRA/SIPC. TD Ameritrade is a trademark jointly owned by TD Ameritrade IP Company, Inc. and The Toronto-Dominion Bank. Commentary provided for educational purposes only. Past performance is no guarantee of future results or investment success.
Options involve risks and are not suitable for all investors. Please read Characteristics and Risks of Standardized Options before investing.
Disclosure: I/we have no positions in any stocks mentioned, and no plans to initiate any positions within the next 72 hours.
I wrote this article myself, and it expresses my own opinions. I am not receiving compensation for it (other than from Seeking Alpha). I have no business relationship with any company whose stock is mentioned in this article.