If you are a new reader, or want a refresher, please scroll down to the end of this article for the section "For New Readers", where the principles of Sector Rotation are discussed. And if you've never read my three "primary" articles covering topics every investor should know, links are in this "New Readers" section.
News and Volatility
I last published right before the FED announcement. Since then the market moving news events (aka "excuses") are shown in Chart 1 below. The overwhelming theme has been the fear of falling oil prices and weakness in China. Economic news releases, at least those in the US, don't seem to be having much of an impact, although Fed-speak from board members did have some impact, with the theme being delays of any further interest rate increases. Even the Friday employment report from a week ago, which noticeably exceeded expectations, could not prevent a sharp decline in the market. And Wednesday the 13th was a huge down day with the S&P500 down about 2.5%, on limited or no news; rather, it seems the big move down was simply blamed on more of the same, that is, fear of China and oil weakness.
Chart 1 - Market Driving News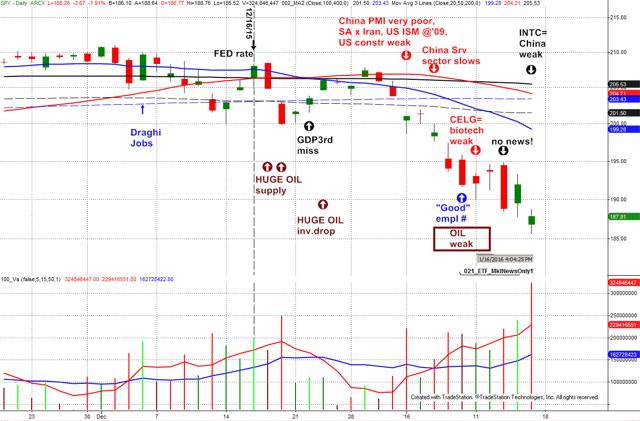 Above, when I said that US economic releases don't seem to have much of an effect, I was speaking with respect to the stock market reaction. Much of the volatile price movement is coming overnight, on China news and/or their stock market action, with both gap ups and gap downs. There appears to have been limited impact from economic releases, which are usually at 8:30am or thereabouts, but there have been some large intraday movements, both directional as well as intraday reversals that send prices back toward the opening price after noticeable moves up or down. Given my typical long-windiness, I'm going to publish a separate piece on volatility, but I would like to point out that volatility is higher in a secular bear market. As I stated in my Secular Equity Markets article (link at end of this article), "bear markets maul you, down and up, down and up, again and again." Does this sound familiar in the context of recent market action?
In my last article, I expressed the likelihood of a bounce but did not specify a price. I had expected a bounce to around 2050 on the S&P500, an area of prior support, but we nearly retested highs. Now we're testing the August lows as well as the October 2014 lows. The Russell has already solidly broken through not only the August lows but it has pierced the lows of fall of 2014 and is testing the highs of the summer of 2013. The volume has been very light but the consistency and magnitude of this sell-off looks convincing. Everyone expects a bounce; could we all be wrong this time?
Percentage Change Charts (aka Sector Rotation charts)
My December Sector Rotation article focused on the drivers of this cyclical bull market, which off the 2009 bottom has been the Consumer Discretionary (NYSEARCA:XLY) stocks, specifically the "FANG and NOSH" stocks. The market has been narrowing and this is always a troubling sign. With the end of earnings season and the much anticipated FED rate increase behind us, not much in the way of fundamentals has changed; however, sector performance is changing.
Chart 2 shows the December 10th percentage change chart and Chart 3 is the current one. I have often discussed the anchor point is a critical choice and in these "fixed period" charts, the anchor is constantly shifting to a more recent date. Additionally, each time frame is including the most recent price performance, which also affects the relative positions. In other words, I am not "picking an anchor point to make my point" (i.e., inducing a bias), but at the same time, the more recent price performance is affecting, possibly dominating, all the performance numbers.
Chart 2 - Relative Sector Performance as of December 6th, 2015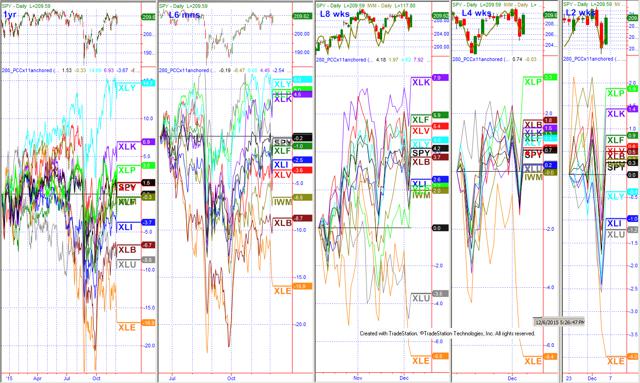 Chart 3 - Recent Relative Sector Performance - as of January 17, 2016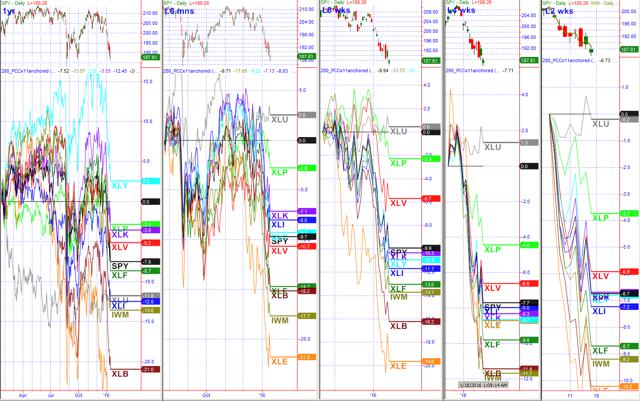 You can see there is quite a shift between these two time periods. As I stated in my last report and as is shown in Chart 2, there was a hint of sector rotation as consumer staples (NYSEARCA:XLP) was exhibiting superior performance in the 2 and 4 week charts; however, the utilities sector (NYSEARCA:XLU) was not acting in accordance to the sector rotation theory, which perhaps was due to the impending FED interest rate hike. Staples was also showing strength in the 6 month chart of December 10th, almost matching the secular bull market leading consumer discretionary stocks , reflecting the fact that the 6 month time period includes the impact of the August crash.
In chart 3, now the overwhelming message is that stocks are showing negative returns, almost totally across the board in terms of both sectors and time frames. In my very first Seeking Alpha article, I was making a counter argument to a different author who was advocating staying in a bull market where there were signs it was ending because you could always "pick the right sectors at the right time." The author admitted in this August article that he did not know if the August swoon was the start of a bear market or not, but his choice of anchor points in his article showed, well, you can pick the right points in hindsight. In chart 3, there aren't any right sectors to hide in, aside from the utilities sector, not even consumer staples this time.
BREADTH
As mentioned above, I recently wrote on the large impact of the NOSH and FANG stocks, which is indicative of a narrow market. Chart 4 below shows the S&P500 Index ETF (NYSEARCA:SPY) versus the Guggenheim S&P500 Equal Weight ETF (NYSEARCA:RSP). This is a chart of a ratio of the equal weight S&P500 ETF against the market-cap weighted S&P500 Index and is one of, and perhaps the most important, breadth ratio. It highlights the impact of market capitalization by giving every stock the same weight in the ETF. When there is good breadth, defined as all stocks moving up, the equal weight ETF outperforms (the signal line is green, not brown).
The action in Chart 4 looks decidedly bearish here: The longer-term monthly ratio is turning bearish, both on a 5/20 and 10/40 average basis. The weekly ratios both turned down in mid-2015 before the August drop. The daily ratios obviously exhibit more whiplash, but it has generally been weak since the summer and has experienced only a few brief bullish periods. While we appear to be oversold here and may experience a bounce, it is generally just not a smart time to be in the market.
Chart 4 - Equal Weight S&P500 versus the market-cap S&P500 index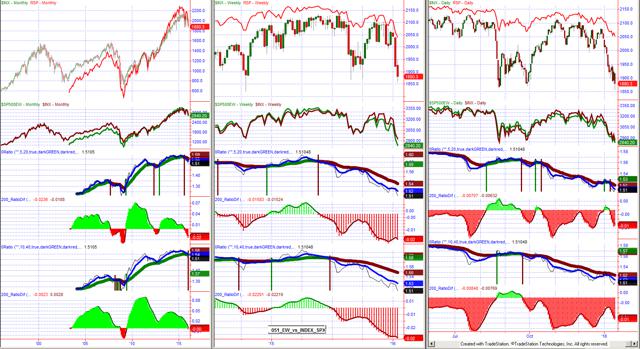 Ratio chart analysis: A ratio chart compares the relative price performance of two investments. The top panel is the S&P500. The next panel shows the two investments color-coded to match the panels below them. The next panel has a signal line that turns brown or green depending upon which investment is outperforming. In this "signal panel," there is a thin black line that is the ratio of the two instruments price performance. The thicker blue line is a fast average of the black ratio line. The green/brown line is a slow average line of the ratio line and is green when the blue line is above it and brown when the blue line is below it. You want to be in the invested in the "green investment," the first investment in the second panel, when the signal line is green and vice versa for brown (or short the brown investment when the signal is green, possibly even in a pairs trade strategy that includes long the green instrument). The histogram represents the difference between the two average lines, that is, the difference between the fast average (BLUE) and the slow average (green/brown). Often I have two signal panels (and thus two histogram panels) based on two different average smoothing lines, usually a 5 and 20 average and then a 10 and 40 average, but this is determined by the specific investments.
Below in Chart 5 and Chart 6 are the ratio charts for the sector ETFs. The monthly ratio chart will turn slowly, but given that the top appears to be in, I want to show you what the long-term ratios look like. From the italic help just above, you might understand that if you look closely at what the black and blue lines are doing in the monthly, you can see what is happening in shorter time frames. Nonetheless, to get a better feel what is happening, I also show the weekly ratio charts.
Chart 5 - Sector Ratio Charts - Monthly basis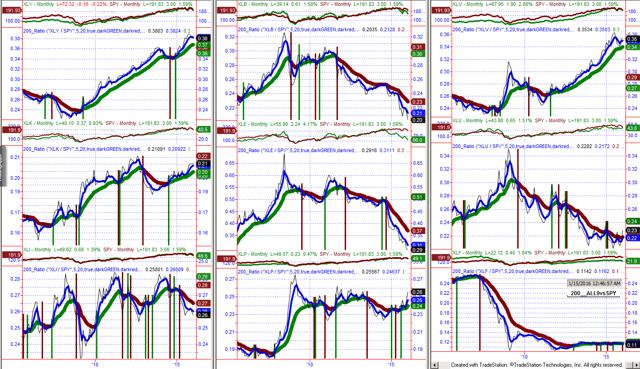 Cyclical Sectors (aka leaders during a bull market under the sector rotation theory):
Consumer Discretionary - The long-term outperformance since the 2009 bottom can be seen in the monthly chart; however, in the weekly chart, the signal line has just turned brown as the XLY is starting to under-perform the market.
Technology (NYSEARCA:XLK) - This sector has been a leader since the bottom, but it has been a more erratic one. In the weekly chart, you can see technology had a tough 2015 until several tech stocks had 3rd quarter earnings surprises that propelled the sector higher. However, you can see the blue line has turned down. In the next few weeks, the signal line could become bearish brown.
Industrials (NYSEARCA:XLI) - The industrials sector has been very erratic in the monthly chart, especially considering that it should be a good sector to invest in during a bull market, so I looked at some top names and show charts for some in Chart 8.
Chart 6 - Sector Ratio Charts - Weekly basis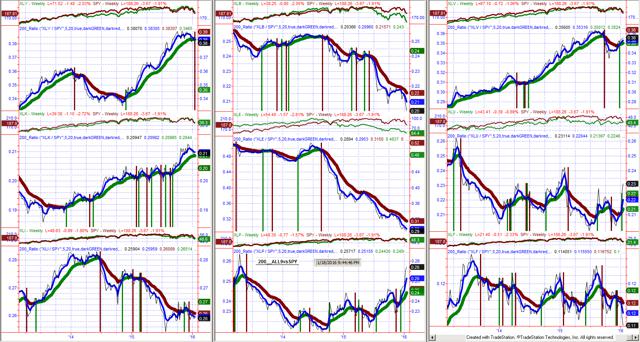 Transitional Sectors (aka leaders at the Top of a bull market under the sector rotation theory):
Basic Materials (NYSEARCA:XLB) and Energy (NYSEARCA:XLE) - the monthly and weekly charts for both these sectors show a long decline, and to no one's surprise, energy has been especially weak.
Non-Cyclical Sectors (aka laggards during a bull market under the sector rotation theory, and better performers during bears):
Consumer Staples - On a monthly basis, you can see how staples really soared during the financial crisis but has been mixed afterwards. Since the 2009 bottom, staples has been a market performer in absolute but in fact lagged throughout this cyclical bull and only with the recent weakness has the market pulled back to the level of the XLP performance. This recently improved performance is evident in chart 2 but is only emerging in the weekly ratio chart 6.
Health Care (NYSEARCA:XLV) - Once health care shook off the Obamacare scare, it became a market leader 3 years ago when the market went "ruler," perhaps driven by the significant strength in the biotech subsector. Healthcare stumbled as biotech weakened in the summer of 2015. Demographically, healthcare is very well positioned with the aging baby boomers as shown in the chart I repeat from my last article, which shows that the US spends far more per capita than many developed countries when people reach retirement age.
Chart 7 - Explosive Health Care Spending is a Positive for the Healthcare ETF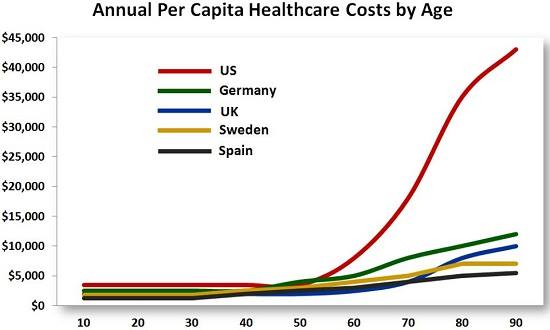 Utilities - As I have mentioned in prior articles, the Utilities is a critical sector that, by itself, can predict whether you should be in the market or not, or similarly, swapping between the XLU and the SPY. While I don't advocate hiding in safe sectors during a bear market, the utilities sector is showing its low risk tendencies by not dropping while other sectors are in decline, as shown in chart 3. In the ratio charts (5 and 6), it is not yet fully apparent.
Finance (NYSEARCA:XLF) - As I have shown in prior articles, when a sector dominates a market move, it is likely that the sector will not necessarily act like the sector rotation thesis implies. This happened to technology after the internet bubble when technology failed to be a leader during the housing bubble bull. Bubble hangovers can last a while. Finance appears to still be suffering the ill effects of the financial crisis/housing bubble market bust because, with this recent turn down, rather than being a strong, safe, non-cyclical sector, finance is chasing the commodity-laden energy and basic materials sectors in a race toward the bottom.
Stock Specific Charts
As mentioned above, the industrial sector has been very erratic so I decided to look at some specific industrial stocks, as shown in Chart 8 below. General Electric (NYSE:GE) is the dominant stock here and at 11.8% of the XLI, it has more than twice the weight of the next stock (NYSE:MMM). While I don't focus much on individual stocks, I was surprised GE has been such a dog after the 2000 top. It has underperformed the XLI and the SPY badly since 2001, has been an inline performer since 2009, but leads on a 1 year basis, which includes a real boost since around the 3rd quarter earnings period. United Technologies (NYSE:UTX) had been the 3rd best industrial stock from 2000 but this outperformance stopped shortly after the market went ruler in 2013. Honeywell (NYSE:HON) is shown because it has really perked up since the market "went ruler" in 2013 and appears to be holding up better than most other industrials.
Chart 8 - Ratio charts for a few Industrial sector heavy-weights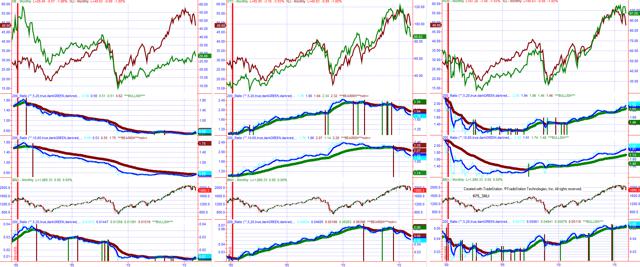 In Chart 9, a percentage change chart, Union Pacific (NYSE:UNP) and Danaher (NYSE:DNR) have been the strongest two stocks in the industrials sector, but in a ratio chart (not shown), there was not much information. Danaher appears to be holding up relatively well, but Union Pacific is pulling back hard as are other railroads.
Chart 9 - Percentage Change Charts for the Top 9 Industrial stocks since 2000, 2009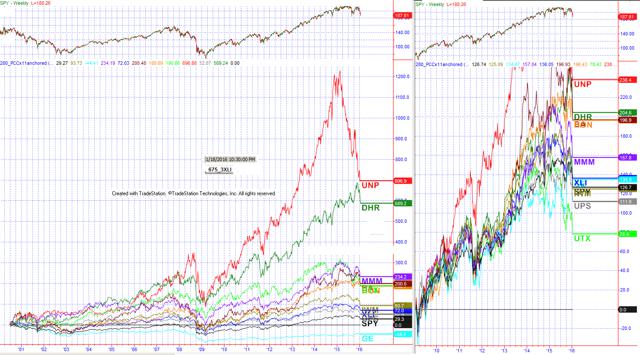 I'm not totally sure what to make of the divergence in performance of many of the industrials sub-sectors, or for that matter, why the industrials have not performed better off the 2009 bottom, but one unexpected conclusion just jumps right out at me when I started analyzing this. In Chart 10, I reproduce the chart from my first Seeking Alpha article from August 2015, a percentage change chart starting around the 2000 top. The S&P500 bottomed sometime in 2002, either the summer or the fall, but the bull move did not really begin until around March 2003. Do you see what I see?
Chart 10 - Analysis of a Bear Market, 2000-2004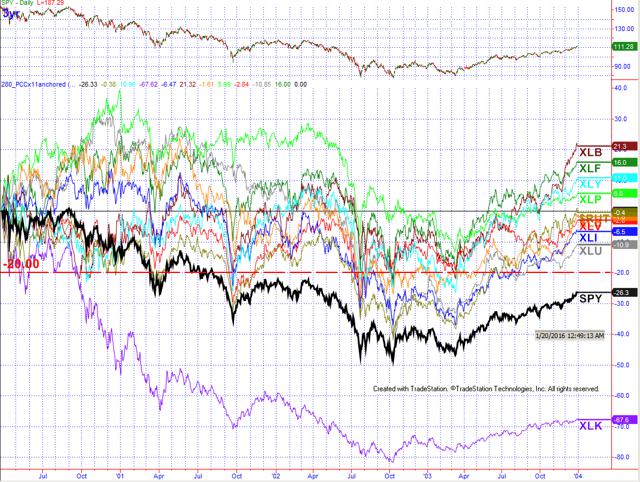 By the top of the bull market, the technology had become around 30% of the S&P500 index, and when it fell, it dragged the S&P with it, but not necessarily the other sectors. The technology sector had entered a bear market within a couple of months of the top in 2000, but the S&P500 took over a year to officially enter a bear market by falling 20%. In fact, only consumer durables and health care hit 20% down in the fall of 2000, and then they bounced back. It was 18 months after the top that four sectors touched bear territory (XLV, XLY, XLI, XLB), but they all bounced back hard on a relative percentage change basis. It was over 2 years before any sector returned to the 20% down bear market range, and this was near the bottom of the bear market. It's like technology held a bear market and no other sector came, since 8 of the 9 sectors outperformed the S&P500. Think about that. Eight of nine sectors outperformed the S&P500 during the 2000-03 bear market, and I'm not talking about Lake Wobegon.
There is a big caveat here and it is that the pullbacks of the sectors are relative to the anchor point, which is the stock market (S&P500) high in March of 2000. The sector ETFs did sell-off their respective highs by 20% or more but it occurred at different times. It's like the NBER dating recessions; they can only do it in hindsight. If the stock market went almost sideways for 10 years, declining 1% each year, then in year 11 it dropped 11%, it would be down 21%. Would you then say the market was in an 11 year bear market?
This is an epiphany for me. I was a technology analyst at the time. Do you think I thought it was a bear market? It was a vicious bear to me, but to most, not so much. The tech market crash was just that, a tech sector crash; it hardly could bring down the rest of the market. Well, let me clarify that, it could hardly bring down the rest of the market before Greenspan stepped in and opened the flood gates.
Chart 11 - Percentage Off Yearly High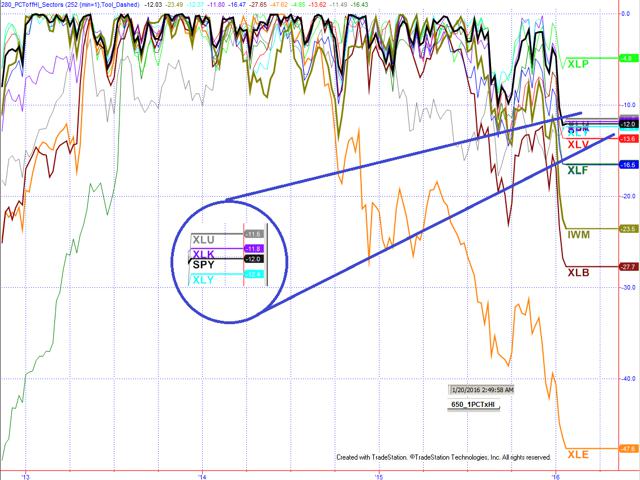 In the current perspective, this market has not been a bull market for around a year. The S&P500 made a high in May 2015, but that was only 71 basis points above the February 2015 high. We will truly only know what this past year is sometime in the future when we're looking back in hindsight. If the market resumes its upward movement, we'll call this a consolidation; if it goes down, then it will be a rounded top; but this all seems a bit like playing semantics. The important point is not whether we call what we are in right now a bear or a bull market. Rather, the important point is what happens in the future.
Analyzing the past does help when trying to predict the future. We're all worried about China, as well as the price of oil. A year ago a news story made the rounds and it was that in 3 years China had put in place the same amount of concrete that America had used in all of the 20th century. Amazing, but you know what would be even more amazing? If this happens again. Does anyone really expect it? Of course, concrete is just one example of the dramatic commodity consumption path that China has experienced.
China dumped communism and adopted capitalism, and while its adoption rate was gradual, the real boom from this move appears to have just played out, call it a blow out top. Despite its politics, the Chinese economy is significantly closer to that of a capitalistic society than it is a communist society; in other words, China has had its industrial revolution. They now hope for a consumer revolution, which is a sign that they think their industrial revolution is, if not outright over, at least on the decline.
Transitioning to a consumer-lead economy will not happen overnight and I'm not sure it will be as beneficial to the rest of the world as was its industrial revolution. Is everyone going to start manufacturing consumer goods and shipping them to China, or provide services that China cannot provide themselves? Many of our restaurants are already there. Sure, there's room for more, but how much more and how does that benefit the average American or average American business. I just don't see the Chinese economy experiencing a dramatic turn up, I mean, how much more concrete can they possibly put in place? Or copper, aluminum, steel, etc. China will continue to grow, but it has experienced a boom. Is another boom really coming?
Oil inventories are huge relative to historical levels which must first be worked back down. While much of the glut has been attributed to Saudi production, Iraq has almost doubled its production over the last few years. Its increased production in the last year is twice what Saudi has added. Iraq and Iran have similar sizes of proven reserves, so our worry about the ramping up of Iranian is justified; however, Venezuela is said to have the largest proven reserves, and after 17 years of autocratic rule by Chevez's party, the opposition won the recent election. If real reform occurs, there is a lot of room for Venezuelan production to increase, so the price of oil may be low for a very long time, similar to the EIA prediction of low prices for 2016 and 2017.
Chart 12 - An OPEC Sampling of Oil Production

The energy and basic materials sectors are supposed to be the best performing sectors at the market top, but energy topped almost 2 years ago and basic materials did so a year ago. I've previously mentioned that their topping might have been a sign of times to come, and it is increasingly looking like this was the case.
I'm going to skip putting in the ratio charts I typically include, such as high beta versus low volatility, transportation, and junk bond performance. They all continue to look not only poor, they look even worse than my recent posts. All indications are that we are not in a bull market, and more than likely, we have started the bear.
In my first article for Seeking Alpha in August, I expressed the belief that we were entering a bear market. I told you I expected a bounce and that I would use any bounce to sell positions. We bounced higher than I imagined, and emotion got the better of me, so as a hedge against my short market positions (various bearish option strategies), I bought some XLI (since sold), XLK, XLV and XLY. I am looking to sell the sector spiders I own and have bearish positions only. If you look at chart 11, we're back around where we were in August, and as Jesse Livermore tells us, "It's never too late to sell." In fact, with regard to buying, if you were unsure, Livermore advocates buying a little and buying more if the market proved you are right. I'm looking to increase my bearish positions. The hard part will be overcoming my investment bias that I've already missed the short boat, but with the market down around 12% or so, there is more potential downside.
I have to end with a couple of caveats. First, we are at what most consider major support areas and therefore another bounce is expected. You may get another chance to lighten up or go short, but with this being such a wide-spread consensus, I am beginning to doubt we get much of a bounce - the Russell (NYSEARCA:IWM) sure didn't. In fact, the Russell looks like it now has limited support until it is another 15-20% lower.
Whether we bounce or not is a small caveat. The big one is, of course, the FED. Greenspan couldn't stand the bear market of 2000-03 even when it was mostly affecting just tech stocks, albeit with some main street collateral damage. Sadly, the FED folks don't realize their culpability in the housing crash whereas Ben's book title says it all, doesn't it? "The Courage to Act" is a stupid title to me because it implies two things: (1) The FED rescued us from the financial crisis, when in fact it feels like they have just blown a bigger bubble, and (2) it took courage to panic and print, print, print? Really? It certainly was panic when you save Bear Sterns, if that's what you call what they did, and then let Lehman fail. The order of those events was backwards and sent confusing signals to the markets. A real act of courage would have been to let at least some significant failures to occur lest we fall right back into the same trap again, or stop after QE1, or at the most, stop after QE2. Courage, to do QE times 4? No, I don't think so. And with this caveat is an important consideration. Everything I read says the QEs had progressively less impact. Even if the FED acts, won't it be pushing on a string?
If you've made a lot of money due to the QEs pushing this market up, and with the market faltering, you wish for more, be careful what you wish for. As the Chinese saying goes, "May you live in interesting times." Man, are the times interesting! Of course, I hope you realize this Chinese saying is actually a curse.
I tend to be long-winded, and with even limited delays trying to get an article published, in a fast moving market, I'll use my Instablog to throw out thoughts and charts, but to receive e-mail notices of these postings, you must be a "real-time subscriber."
FOR NEW READERS! Sector and Stock Market Background
Chart 0 below shows the sector rotation principle. For a quick read on understanding of the principle and causes of sector rotation, please see the "Sector Rotation Background" in this article (at the very top), but I would recommend you skip it and go straight to the more comprehensive "must read" article on sector rotation in a bear market, which was my first published article. It is a "primer" article to understand the principals, and realities, of sector rotation as well as aspects of "behavioral finance" and long-term stock market behavior. I also have two other "primer" articles you should read, one on secular equity markets to understand long cycles in the market, and one discussing the importance of secular interest cycles and their effect on the stock market. Being "primer" articles, these articles are long; investing is a marathon, not a sprint, it takes preparation. Written in reverse order, the secular interest cycles article is the place to start, since interest rates help drive the secular equity market cycles. The secular interest rate and secular equity market cycles are things every investor should understand before investing their first dollar. Sector rotation is a more advanced topic and should be read last.
Chart 0 - Understanding the Sector Rotation Model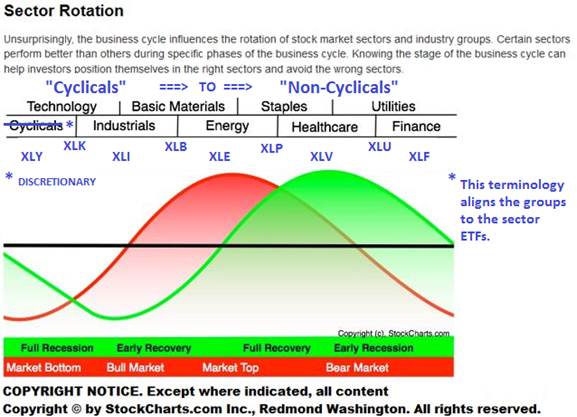 *Note on chart enlargement: Seeking Alpha seems to have fixed this problem, but if not, right-clicking and selecting "open in new window" (or tab) seems to "right-size" all charts plus you can use "cntl+" and "cntl-" to zoom in and out and move around (this works for the 3 main browsers whereas simply clicking to enlarge may have issues = I find the chart slightly too large but I cannot move it around).
Disclosure: I am/we are long XLK, XLV, XLY.
I wrote this article myself, and it expresses my own opinions. I am not receiving compensation for it (other than from Seeking Alpha). I have no business relationship with any company whose stock is mentioned in this article.
Additional disclosure: As stated in the article, the sector ETFs I own are likely to be sold soon and I have various bearish options positions. I am looking to increase my bearish positions, perhaps significantly (please bounce!).