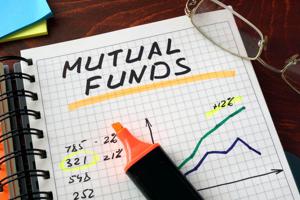 Upside, downside or sideways in the mutual fund market: what signals were sent by end of the year outflows?
"Has it ever been said that a man who throws himself out of a window to avoid a fire is guilty of suicide?" Jean-Jacques Rousseau.
It's now official. We're in the midst of a market correction. So what's an investor to do? Or to pose the question another way-did some markets foresee this correction even by the end of 2015? As of 2014, the $15.8 trillion U.S. mutual fund industry could be a driver of trends in the overall stock market or, as has historically been the case, the two markets might be only slightly interdependent, driven by common trends. But did the outflows in both stock and bond funds anticipate events early January? (All flow data used below from ici.org)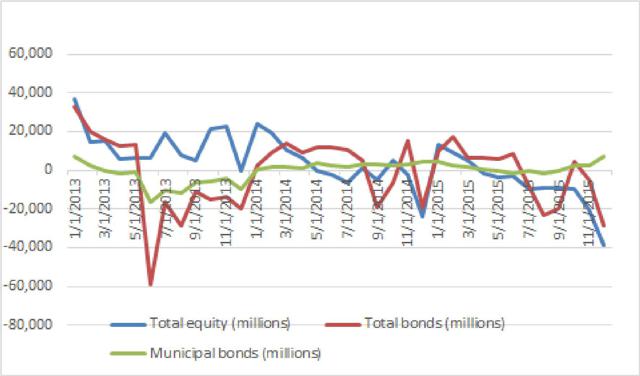 Mutual fund investors are known to be skittish. Generally with a longer-term perspective, funded to a large part by the IRA and 401K market, in turn driven by demographic trends, the mutual fund industry has a reputation for being long-term in nature. Equity funds constitute about 52% of the industry and bond funds overall about 22% of assets. Rather than driving the market, mutual funds are considered to be driven by the market. Institutional investors (approximately 11% of the mutual fund market) use mutual funds to manage cash balances, primarily through their holdings of money market funds. Retail investors generally have a retirement-oriented objective and tend to hold longer-term.
| | | | |
| --- | --- | --- | --- |
| | Monthly flows equity bonds (2013-2015) | Monthly flows equity municipal bonds (2013-2015) | Monthly flows total bonds municipal bonds (2013-2015) |
| Pair-wise Correlations | .345 | -.23 | .63 |
So what happened in December to both bond and stock mutual funds? Were the outflows purely driven by tax considerations? It's unlikely due to early withdrawal penalties in general for the IRA market. However, anything is possible in these uncertain times. It should also be noted that net outflows in both stock and bond funds were more marked last December than previous Decembers. The sub-market of municipal bond funds seems to have been spared the bloodbath.
Traditional rivalry between stocks and bonds reversed?
It's been a traditional nostrum that stocks and bonds are rivals, or at least exhibit low if not negative correlation. If the flows over the last three years are any measure, this relation seems to have been reversed, with a positive and relatively high correlation between total equity and total bond flows. However the correlation between municipal bond flows and equity was negative over the period. From these figures, one might conclude that by the end of last year, there was a "flight to quality" trend from stock funds to municipal bond funds, given the stress that the market evidently felt.
But the plot gets thicker.
Outflow data noise or news?
The end of the year outflow data might just as well have been noise, not news. In particular, Keynes highlighted the difference between "game players" in the equity market and "skilled longer-term players". Might noise trading have hit the mutual fund market late 2015? A comparison of volatilities during the holiday season to previous months provides one way of measuring the impact of "noise trading", i.e., trading not derived by fundamentals. The first part of the table below provides the ratio of December standard deviation over the average standard deviation of flows in all months (including December). For both municipal bond and equity fund flows, the ratios are higher than one. If one can characterize December as being a (holiday) month with little if any news (an imperfect approximation, but still), then these high volatilities would be noise-driven (except for bond funds in total, with relatively little noise effect).
But maybe last December, investors in mutual funds were reacting to their anticipation that the market was overvalued. The second line in the table indicates flows last December over an average of all flows over the past three years (excluding December 2015). This ratio is high both for equity and bond funds, and negative for equity. As an approximation, one can conclude that, although flows in equity funds are traditionally noise-driven in December, there was an exceptionally large outflow in December 2015.
| | | | |
| --- | --- | --- | --- |
| | Equity funds | Total bond funds | Municipal bond funds |
| Ratio of December standard deviation over the average of total (2013-2015) | 1.76 | .25 | 2.10 |
| Ratio of December 2015 volume over the average of total | -12.4 | 18.15 | .8 |
A bit of both?
From the above statistics (not conclusive by any means), both bond funds and municipal bond funds are sending mixed signals. Equity funds seem to be primarily driven by noise factors. But the outflow from bond funds seem to be sending a signal about the stock markets, given the high correlation between volume in bond funds and stock funds. Probably the action in bond funds provide the best predictive signal, given all these factors on events in the stock market. As the behavior of Rousseau's jumping man would indicate, it would not be suicidal to exit stock mutual funds at this stage.
Disclosure: I/we have no positions in any stocks mentioned, and no plans to initiate any positions within the next 72 hours.
I wrote this article myself, and it expresses my own opinions. I am not receiving compensation for it (other than from Seeking Alpha). I have no business relationship with any company whose stock is mentioned in this article.