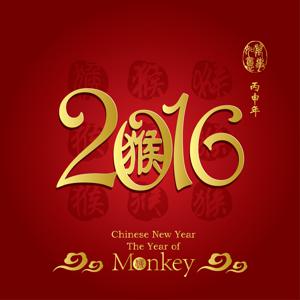 China, the world's second largest economy, already accounts for about 12.3% of the global GDP and 10% of global market cap and is playing an increasingly influential role in determining the world economy. Its impact on the developing world is clearly evident by the market's reaction to its slowing economic growth in the year of 2015, inflicting considerable damage in the commodity sectors. The influence of China on the developing world was seen in the summer of 2015 with the collapse of the Chinese stock market, which caused the US Federal Reserve to delay an interest rate rise.
Attempts are being made to change the economy and hopefully ensure the story for 2016 is not be about the serious restraint on growth in the economy. Domestic consumption is now helping to stimulate the economy forward rather than depending strongly on export growth models and state led investments driven by rising corporate leverage.
Weakening renminbi and manufacturing sector
Since China's central bank devalued the renminbi in August 2015 the Chinese industry has been finding it very difficult to remain competitive due to weaker exchange rates against other currencies such as the US dollar. Although a devalued renminbi is greatly appreciated for the rest of the world as it makes Chinese exports less expensive, imports of foreign goods into China will fall and therefore deteriorate the trade balance. In the month of November imports fell 8.7 percent compared with a year earlier, reflecting not only the sluggish demand for basic materials but also uncompetitive exchange rates. The depreciation of the yuan has also put pressure on many other Asian countries to devalue their currencies to stay competitive with China on the export side. It is likely the renminbi will continue to fall against the US dollar as the Chinese government will aim to help boost the country's economy by making exporters more competitive. Moreover, one of the challenges is that the currency volatility could prompt market traders to hedge against further currency depreciation, which could pressure the renminbi down lower and potentially out of control. The screenshot below shows the Yuan-dollar exchange rate - fixed at its weakest price since May 2011 with the inset showing the CSI 300 relative to the depreciating Yuan.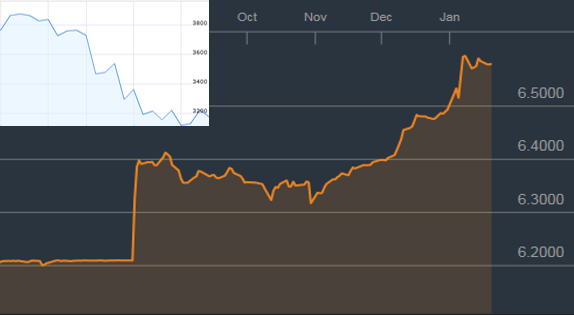 Source from - Bloomberg and Google Finance
The Bloomberg Dollar Spot Index (BBDXY) which tracks the performance of a group of 10 global currencies versus the US dollar has climbed 24% since mid-2014. Although the Chinese Renminbi has a target weight of 3% in the index it still shows how the stronger US dollar has impacted growth prospects for the various emerging market currencies. As a result of this the combined GDP of the BRICS economies (Brazil, Russia, India, China and South Africa) has dropped gradually since the U.S. dollar began to strengthen1.
To bring in the New Year Chinese stock prices declined approximately 7 percent on the first day of trading in January amid poor manufacturing results and a weaker Yuan. Developing economies, most notably China, account for an estimated half of all infrastructure spending compared to Western Europe which only accounts for 12%. This indicates additional spending in infrastructure sectors such as energy, telecommunications, and transportation is a major area to focus on. A possible sector for the Chinese government to focus on would be the rail infrastructure. Demand for commodities used in construction, such as iron and steel would increase if more investments were made into this sector; in 2014 835 billion US dollars was spent. Improvements to this sector would also provide an efficient supply chain and proper logistical procedures while cutting costs, which will help reduce prices for essential raw materials for consumers. In addition, growing per capita income in China will mean a larger middle class, which will translate to the manufacturing sector that provides the raw materials to build better roads to accommodate the rising number of cars. Collectively this should produce substantial growth momentum to support China's shift to a domestic-consumption driven economy.
The weaker expansion of investment good producers and a further contraction in the intermediate goods sector is reflected by the composite index, JPMorgan Global Manufacturing PMI (purchasing managers' index), being down to 50.9 in December. This shows the manufacturing sector on a global scale ended 2015 poorly. Consequently, investors' negative reaction has roiled global financial markets as major indexes declined (Dow Jones closed down 276 points while S&P 500 was down 31.28 points to 2,012). It is also plausible that the Yuan could slide further if the U.S. accelerates its pace in hiking interest rates, an action that could help drive stock prices even lower.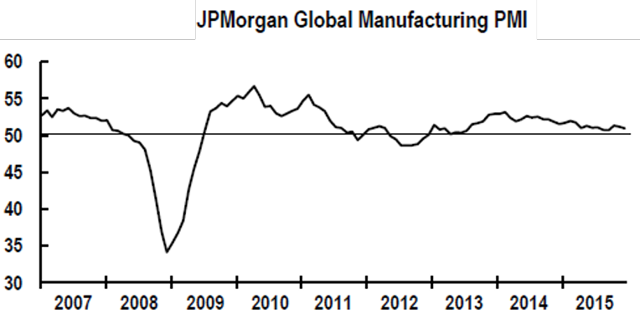 Sourced from Markit
Consumer driven growth
The Chinese economy is undergoing an immense transformation from an export-dependent manufacturer and fixed-asset investment towards a consumption-driven economy powered by its own increasing demand for internal domestic goods. A cheaper currency along with growth in wage and disposable income certainly has positive aspects to it as it encourages people to spend more as they strive for higher living standards. According to the WSI Economic Institute, in 2015 wage growth in China increased by 2.4 percent in real terms which is the strongest pace in approximately 15 years2. Nearly half of consumers income is consumed by food and clothing in China but as disposable incomes rise, those consumption patterns will change. Comparing China's consumption patterns with those of the US shows China's daily spending is currently $7 compared to $97 for the US.
The main consumer group in China today is the urban middle class, consisting of about 150 million people. This group has an income at or above $10,000 however 60 percent of the working urban population, called the urban mass, only makes an income of about $5,000 to $6,000. As the Chinese government has targeted to double income by 2020 the percent of people migrating from the urban mass to middle consumer class will increase by a couple 100 million and make China extremely important in the coming decade. With 5.8 percent GDP growth the economy will create jobs particularly in the labor-intensive services sector for the population migrating into the middle consumer class.
If China is going to grow at a rate we have previously been accustom to businesses will have to embrace new technology and innovate novel ideas to reshape the markets they operate in. Doing this will allow ambitious Chinese entrepreneurs to advertise and boost productivity to sell products globally rather than domestically focusing on China to fuel expansion. One possible industry to tap into would be the financial service industry, as this would allow companies to offer online payments to fuel significant growth opportunities from global transactions.
The conditions in China are also right for e-commerce to expand as figures are showing extraordinary growth in China's shipping industry, with a growth of 10 fold since 2004. E-commerce also has the potential to grow even further with private car ownerships only running at near 4 percent, this limits shopper mobility creating a challenge for distribution and retail development. However this creates an ideal setting for e-commerce to grow with widely available mobile internet, low shipping costs and an array of low-priced unbranded products selling online3.
Investing in China
In April 2014 the connection between Mainland China and Hong Kong was made by the launch of the Shanghai-Hong Kong stock-exchange. This connect program allows investors in each market to trade shares on the opposing market using local brokers and clearing houses. Greater accessibility for foreign investors to the market allows domestic Chinese stocks to be included in global indices thereby increasing international ownership in companies. Stock Connect represented a key step towards opening China's capital market to the outside world and thus a period of significant growth in the stock market followed. However this was trailed by a precipitous sell-off in the country's equity markets during the summer of 2015.
The turmoil in Chinese markets continued going into 2016 as stocks dropped into negative territory amongst worries over the country's slowing economy (upon the release of downbeat manufacturing data) and the gradual decline in currency. Therefore investors are losing faith in the ability of Chinese policymakers to control their own markets. The Shanghai and Shenzhen Composite both closed down 5.3% and 6.6% lower over the week of January. The two graphs below show about 40% of the stocks in the Shanghai Composite index are oversold (left) with the rate of change in the MSCI Emerging Market index falling 12% to begin 2016 (right).

Investors would do well to focus less on gyrations in China's stock markets, and pay more attention to the country's economy. China's service sector is mounting pleasantly with a PMI at over 54 and China's actual investment (capital to output ratio) is only a fraction of the 3% ratio for the US. Since 1991, the ratio increased from 4% to just above 7% now. There are still many parts of China's economy, such as healthcare, food and agriculture and environmental sectors that remain immensely underinvested. Thus while the PMI data is currently on the boarder of 50, correct allocation of resources going forward means there is scope and capacity for China to stimulate the economy. But it is important to note that in the process of increasing China's capital to output ratio, the country has created a very high debt load to GDP (approaching 300% - rising by almost 50 percentage points over the past four years). This makes supporting more leverage for Chinese asset classes' difficult, essentially affecting growth. Although China's credit expansion is unsustainable, if businesses can understand China's Urban Mass and Urban Middle, and align pricing accordingly to the groups' specific needs growth deterioration should not be the focal point. Also since most of China's debts are held by government-controlled firms the country has the means to avoid a severe crisis as it can overturn bad loans as they mature or refrain from redeeming them in.
In the mist of rising bad debt and a slowing economy the growing middle class are expected to require more cover and therefore the insurance sector has emerged a clear positive in the financial industry. Insurance premiums in 2014 were only 3% of the overall Chinese GDP compared to 7% and 11% in the US and Japan, respectively. The low rates of insurance premiums in China are fueling growth expectation in the insurance sector. China's top eight insurance providers were valued at 10.7x forecasted earnings relative to 5x for the top banks.
Conclusion
Struggles across stock markets in emerging countries have left many publicly traded entities looking seriously cheap and undervalued. Valuations are now very similar to those reached during the global financial crisis in 2007-2008 but some markets are already pricing in the EM risks. Although the risks the Chinese markets poses are genuine, I do not believe China's macro-economy is a major point of concern. The economy is growing at the high single-digits mark (6-7%), and it is expected to continue at this pace. What is more worrying is that the year will be marked by significant market volatility. In the short-term the impact of China's capital outflows will widen from temporary speculative activity to reduced fund inflows possibly forcing liquidation of investment portfolios. But for investors who have a high-risk tolerance and can shoulder high levels of volatility, investing in China could provide long-term capital growth.
With regard to interest rates the US and China are moving in opposite directions. Providing strong economic data comes out of the US the FED will most likely increase rates and the People's Bank of China will likely be cutting rates, therefore divergent monetary policies will outline the rates and currency markets in 2016. I believe the renminbi will depreciate further against the U.S. dollar with negative effects on other emerging Asian currencies and create downward pressures in the metals, energy and grains commodity markets.
2. Reuters
Disclosure: I/we have no positions in any stocks mentioned, and no plans to initiate any positions within the next 72 hours.
I wrote this article myself, and it expresses my own opinions. I am not receiving compensation for it (other than from Seeking Alpha). I have no business relationship with any company whose stock is mentioned in this article.