Despite the hysteria of late, prudent investors who look beyond headlines and P/E ratios will find Colgate Palmolive(NYSE:CL) is more attractive, valuation wise, then it appears at face value.
I believe that many investors are skipping over this seemingly overvalued name but must understand and dive in to the reasons I highlight below to get a true accurate valuation of the company, its prospects, and what strengths it is using to continue its success.
Strong Dollar Headwinds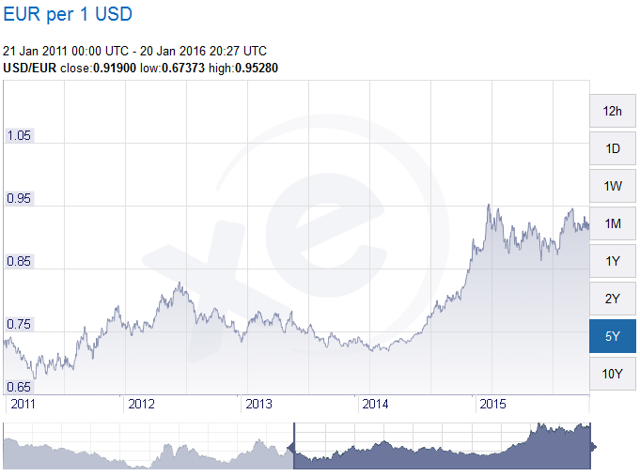 According to Colgate's fact sheet, approximately 80% of their sales come from international operations.
The strengthening of the USD hurts Colgate's earnings and accounting statements because they have to translate sales and profits in other currencies into USD which artificially reduces their impact.
In analyzing Colgate properly, one must go beyond quick price to earnings ratios and other surface statistics spat out by finance websites.
In the past year or so we have heard from many multinational companies how currency exchange has hurt earnings but Colgate has been one hardest hit by such headwinds.
The company stated in their last 10-Q, foreign exchange hurt earnings by a whopping 13%!
Taking a long term view and looking at the underlying global sales growth of 5% in 2014, we can see that the high earnings multiple is has been caused by temporarily shrinking earnings and broad stock market appreciation.
Colgate is a firm buy at these levels and would be a missed opportunity for the investor who does not dig deeper to understand the true nature and fundamentals of the business.
Low Generic Competition
Competition from generic products has been a challenge for many large consumer focused companies in recent years. The CEO of Hain Celestial remarked in a CNBC interview on "Mad Money" how their research shows that millennial shoppers are brand agnostic and put price and convenience over other considerations like brand loyalty when shopping.
This is a challenge for others in Colgate's peer group like P&G and Clorox. As generics become higher quality and near there branded peers in quality, they will continue to pressure higher priced brands because they require no advertising and are fit right into the existing distribution model of retailers.
An advantage that Colgate has is there is very little generic competition for many of their Oral Care products. This segment is important for the company because it makes up just under half of their revenue and profit.
While I have seen and used generic mouthwash I have never seen generic toothpaste where I have shopped over the years.
Emerging Markets Key to Future
According to the IMF outlook, emerging markets are expected to grow at 4.3% in 2016 while advanced economies shuttle along at only 2.1%. Much of Colgate's opportunity lies in these struggling emerging countries as it remains to be seen whether the company can battle inflation, falling imports, and decreased government spending in the countries hardest hit by the energy and commodities collapse.
You can see Colgate's strategy up close and personal as they roll out new products such as Colgate Power White Lemon Salt and Colgate 360° Gold Ginseng Gum Care in China. These product innovations can not only grab market share from competitors but also create new demand and expand the addressable market.
These kind of innovations along with a successful product launch and introduction may seem easy to outsiders but think about how many products you heard about that are no longer around. Gigantic companies have high metrics that new products must meet in order for them to be profitable and additive to the company's goals.
Everyone remembers famous botched roll outs like "New Coke" and or the old school "touch of yogurt" shampoo P&G briefly tried back in the later 70's. The fact that Colgate has had so many new products be successful is a testament to management's ability to develop products and control their pipeline so that only well vetted and tested ideas come to market and use up the companies advertising budget.
I remember a story I heard about a company that had trouble selling their dairy based products in Asia because that kind of dairy consumption is not as profound and part of the culture as it is here in the states. This company then attempted to pivot and create demand where there was none but it took a tremendous amount of effort to educate and market their product correctly to customers who were unaware and oblivious to such dairy based items.
Colgate is well positioned to continue to use technology and its own research and development teams to develop new products that meet consumer's fast changing needs and wants as well as continue to separate their premium brand from generic competitors.
A bet on Colgate is very much a bet on these emerging markets to continue their fast growth despite bumps along the way. These bumps are expected, though, as otherwise these countries would not be emerging any longer.
If Colgate is unable to gain market share and effectively manage inflation in these markets their revenue could be flat or decline for a few years straight. This is a risk that would hurt future dividend increases and put downward pressure on the stock price.
Dividend History and the Future
According to the company, Colgate Palmolive has paid uninterrupted dividends on its common stock since 1895. That is a 121 years. 121 years.
What about increases? Every year for the past 52.
Not to shabby if you ask me.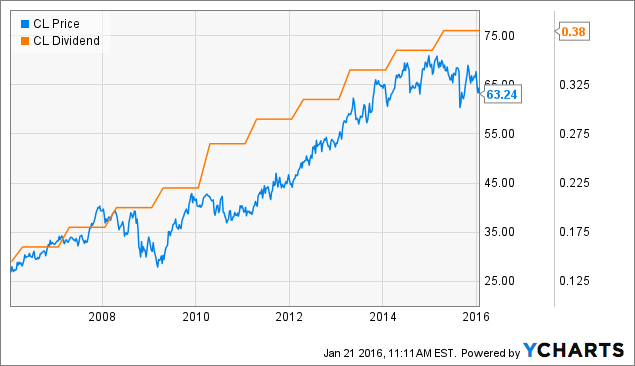 But what about future dividends?
As of publication, Colgate's payout ratio is only at 56% based of trailing twelve month earnings.
The last two increases for the dividend have been around 6% and I believe this is a sustainable amount going forward. If they are able to grow earnings at 4-5% through slight price increases in established markets and continuing to capture market share in places like Brazil and India, this growth rate is definitely possible.
The 5 year dividend growth rate is 7.48%. Going forward I would expect a rate slightly below that but above earnings growth at 5-6%.
After 10 yeas of this the payout ratio would only rise to 66% of earnings in the worst case scenario which is still a comfortable margin.
That Is Great, But It Looks Expensive!
So we have established that we have here a amazing company with strong products lines, inelastic demand, and amazing emerging market and global presence, and a strong likelihood of dividend increases.
What hold's us back from buying the stock? Price.
Namely, the stock trades at a TTM P/E of ~23.
This is well above the S&P 500 average but similar to some companies with similar qualities like Coca Cola(NYSE:KO) or Clorox(CL).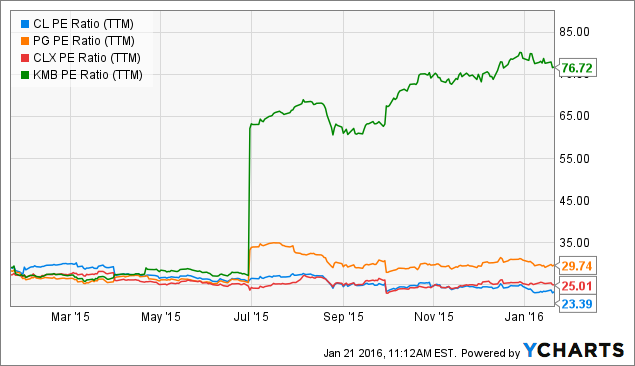 CL PE Ratio (TTM) data by YCharts
This chart shows that CL is actually one of the cheapest stocks of their peer group.
I am of the opinion that for a buyer intent on holding the stock for 5-10 years, overpaying at this point in time will become less and less relevant the longer they can hold on for. The low beta that you receive is your tradeoff for the higher price. Investors who are craving some stability and capital preservation will have to pay a premium and avoid energy stocks to achieve it. This is what Colgate offers investors in today's environment.
Whether you bought a stock with a P/E or 8 or 10 in the Great Recession did not matter much in the long run as you are probably up huge since then unless the stock was energy or mining related.
In addition, as mentioned above the multiple is a bit of a deception because recent earnings have been depressed by accounting illusions stemming from the strength of the USD.
One could argue the intrinsic value is much higher then what GAAP earnings or an income statement are telling you at present.
Risks
The main risk for the long thesis in Colgate is that the stock could go sideways for years to come. If the global economy continues to slow or enter recession territory Colgate could struggle to grow sales more then 1-2% and will continue to get hammered by currency exchange effects.
Capital preservation could be the best story with your Colgate investor and little price appreciation or total return other then what the dividend provides. A more risk adverse investor could make a much higher return if they are able to pick an energy stock right before the turn around happens, but for investors who are less willing to gamble Colgate provides a safe place to park some cash with a decent risk/reward ratio.
Conclusion
Colgate Palmolive is a storied company that could help you shore up your portfolio in these times of uncertainty but it appears to be expensive at face value.
Taking into account currency headwinds and a strong growth potential because of the company's enormous presence and commitment to emerging markets, a long term owner stands to benefit handsomely despite the high price paid.
Disclosure: I/we have no positions in any stocks mentioned, and no plans to initiate any positions within the next 72 hours.
I wrote this article myself, and it expresses my own opinions. I am not receiving compensation for it (other than from Seeking Alpha). I have no business relationship with any company whose stock is mentioned in this article.