Looking for high dividend stocks with strong growth? How about one that's not tied to crude oil and natural gas prices? We've written about Enviva Partners (NYSE:EVA) in some previous articles, and this article will update readers about an important development for this company, which IPO'd on 4/29/15.
EVA is a publicly traded MLP that aggregates a natural resource, wood fiber, and processes it into a transportable form, wood pellets. It sells a significant majority of its wood pellets through long-term, take-or-pay agreements with creditworthy customers in the UK and Europe.
EVA owns and operates five plants in Northampton County and Ahoskie, NC, Amory and Wiggins, MS, and Cottondale, FL. It has a combined production capacity of approximately 1.7 million metric tons of wood pellets per year. In addition, the Partnership owns a deep-water marine terminal at the Port of Chesapeake, Virginia, which is used to export wood pellets. Enviva Partners also exports pellets through the ports of Mobile, Alabama and Panama City, Florida.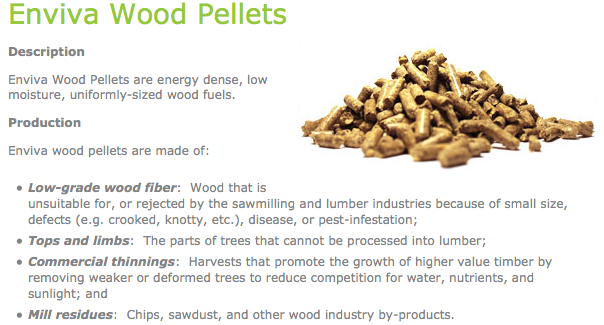 (Source: EVA website)
Major Cash Flow and Distribution Growth Ahead: In mid-December, EVA announced its first dropdown acquisition from its sponsor - it bought the "fully operational 510,000 metric tons per year ("MTPY") wood pellet production plant in Southampton County, Virginia, a 10-year 500,000 MTPY take-or-pay off-take contract (385,000 metric tons in the first year), and a matching ten-year shipping contract (collectively, the Southampton Drop-down)."
"With this transaction, the Partnership's production capacity increases 29% to 2.2 million MTPY and, together with the ten-year take-or-pay off-take contract announced on December 8, 2015, the weighted average remaining term of its off-take contracts extends significantly to 8.0 years."
(Source: EVA website)
The table below combines EVA's actual figures from the first nine months of 2015, and adds their Q4 2015 guidance, to come up with projected 2015 totals. Management has previously stated that its Q4 figures should be "near to or greater than the high end of guidance." (Source: EVA website)
We then compared this to EVA's new 2016 guidance, based upon the new Southampton deal. These are major growth numbers: even the low end projections are showing growth in net income of 159%, EBITDA growth of 28%, and DCF growth of over 30%. Little wonder that management feels confident it can raise the distributions substantially in 2016, and still maintain good coverage.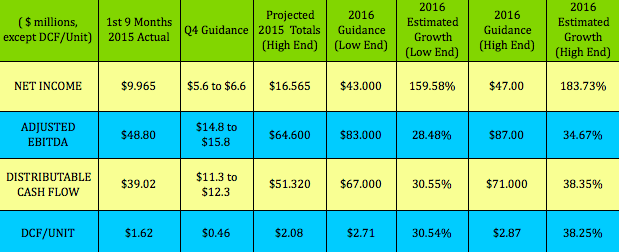 Distributions: With this greatly increased distributable cash flow, EVA should be able to substantially increase its distributions in 2016. In fact, CEO John Keppler stated on the Southampton acquisition press release that "the acquisition, which is expected to be immediately accretive to the Partnership's distributable cash flow per unit, provides the opportunity to substantially increase our distribution while still maintaining conservative coverage ratios." (Source: EVA website)
We ballparked the possible range of EVA's 2016 distribution by holding the current 1.21x distribution coverage steady and pro-rating the DCF quarterly. At the low end, the 2016 DCF guidance works out to $.6775/quarter. If they maintain 1.21x distribution coverage, this would indicate a $.56 quarterly distribution, a 27% rise above the most recent $.44 distribution, for a forward yield of nearly 16%.
The high end would be around $.59, which would equal a 16.75% yield over EVA's current price.
Our High Dividend Stocks By Sector Tables track EVA's price and current dividend yield in the Basic Materials section.

Options: EVA doesn't yet have options available, but we do track over 30 other option-selling trades in our Covered Calls Table and our Cash Secured Puts Table.
Analysts: EVA isn't a widely covered stock as of yet - there are only three analysts covering it. The growth estimate average for 2016 supports the other estimates we listed above and 55% earnings growth and 21% revenue growth in these figures: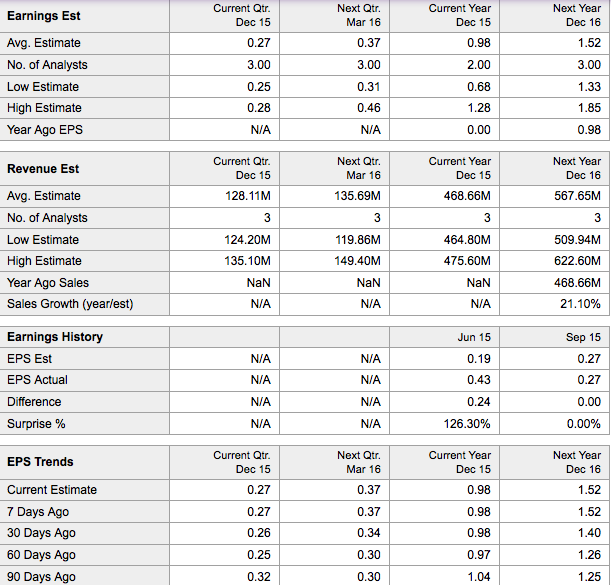 (Source: Yahoo Finance)
2017 and Beyond: EVA also announced a new take-or-pay off-take contract for the supply of wood pellets to the European market on 12/8/15. Here's another plus - the deal is in US dollars, so there shouldn't be any currency headwinds: "Deliveries under this U.S. Dollar denominated contract will commence in 2017, ramp to 450,000 metric tons per year in 2018, and continue until 2027." (Source: EVA website)
Price Targets: Thanks to the market pullback, EVA is currently over 29% below the lowest price target given by analysts. Although it's in the red since its IPO and over the past quarter, EVA has outperformed the S&P 500 over the past month.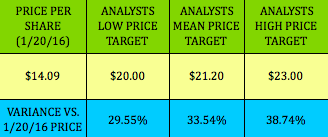 Valuations: EVA looks cheaper than its industry's averages on a price/sales and price/book basis, in addition to sporting a much higher yield.

Financials: Debt-wise, EVA looks stronger than its peers, with lower debt/equity and a stronger current ratio and interest coverage. Its ROE and ROI should improve after it reports full-year 2015 figures, and certainly should improve in 2016, given the growth ahead.
Debt: "The $131 million purchase price for the Southampton drop-down was financed with $36.5 million in debt, $15.0 million in equity issued to the Partnership's sponsor, and cash on hand. The debt was raised under the Partnership's existing credit agreement on the same terms and conditions as the existing facilities. The Partnership's total debt to consolidated EBITDA ratio is expected to remain below its target of 3.0:1.0 in 2016, representing a conservative capital structure that is well within the covenant thresholds in the Partnership's credit agreement. The Partnership's sponsor supported the transaction by acquiring 942,023 common units of the Partnership at a value of $15.92 per unit, resulting in the equity proceeds of $15.0 million." (Source: EVA website)

All tables furnished by DoubleDividendStocks.com, unless otherwise noted.
Disclaimer: This article was written for informational purposes only.
Disclosure: I am/we are long EVA.
I wrote this article myself, and it expresses my own opinions. I am not receiving compensation for it (other than from Seeking Alpha). I have no business relationship with any company whose stock is mentioned in this article.