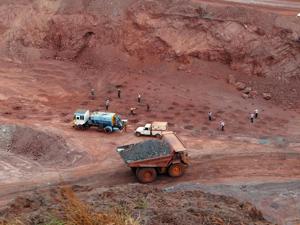 Global mining giant BHP Billiton (NYSE:BHP) has some really talented people managing it. Back in 2011, management saw the end of the "commodities supercycle" well in advance and acted decisively on that decision by winding down capex and cutting costs in anticipation for lower realized prices. I suspect that even BHP Billiton didn't realize what was coming, however. Both iron ore and copper prices are down by more than half since 2012. And as for the price of crude oil, well, that's less than a third of what it was eighteen months ago.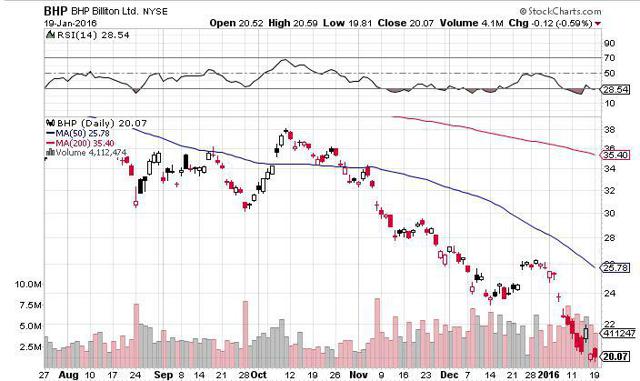 SharpCharts.com
Shares of BHP Billiton went in the same direction as commodity prices did. Shares now yield an eye-popping 12.4%. BHP does have a lot going for it. It is the best company in its class. But for those who are looking to step in and buy this one, you might want to rethink that idea. This article takes a look at BHP's priorities, and what the company might expect in 2016.
An economically sensitive business
After its divestments of aluminum and manganese, BHP Billiton is a somewhat simpler business. Its divisions include petroleum, iron ore, copper and a little coal. Iron ore and copper are highly sensitive to global GDP growth, and petroleum is a volatile, illiquid business to be in.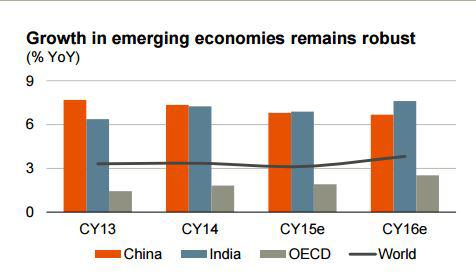 Courtesy of BHP Billiton Investor Relations
While GDP growth in China and the developing world is still strong, that growth is slowing. Growth in the developed world is also looking rather anemic. With the commodities boom ending, the Canadian and Australian economies have come back down to earth. Japan is rather anemic. Europe appears to be teetering on the brink, with the EU itself looking legitimately threatened by an ongoing debt crisis in the south and brand new fissures between states due to the "migrant crisis." While it isn't my place to predict what will happen, there is a lot that could go wrong right now, and I don't believe that economically sensitive industries are the place to be at the moment.
With that out of the way, let's look at BHP Billiton's specific situation. Over the last three years BHP has been doing all the right things. It has been cutting costs and de-levering for awhile now. BHP's credit rating is very high-quality. It's rated an A+ by Standard and Poor's. That credit rating reflects the company's high level of financial flexibility. Even in hard times like this, BHP will be able to soldier on. For example, debt sits at $24.4 billion, but last year EBITDA was $11.9 billion, putting the debt-to-EBITDA at an enviable 2.2 times.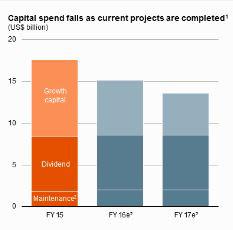 Courtesy of BHP Billiton Investor Relations.
In fiscal 2015 BHP generated $17.9 billion in operating cash flow; down some 25% from 2014, much of which was thanks to lower prices. If BHP were to repeat that performance in 2016, all would be well because the company's capex needs are declining as growth projects finish up. Next year BHP will need $8.5 billion in capital expenditure (only $2 billion of which is for maintenance), and it will need another $7 billion in dividends. That's a total of $15.5 billion in OCF which the company needs to generate.
Unfortunately, BHP likely isn't going to generate that much OCF in 2015. With oil and gas prices as they are, BHP might post a loss in that category, with significantly less cash flow from copper and iron ore based on their price action. From this vantage point it is difficult to know how much OCF the company will generate, because its production is largely unhedged. I think that $12 billion or $13 billion might be a conservative assumption. In which case, BHP would need to further chop capex by a few billion. I think the company is more than capable of doing that and then some.
Even still, the price of iron and copper are dropping, and that is worrisome. For example, at the start of the year, iron was at $68 per ton, but is now down to $47. If commodities keep dropping, BHP may have to either borrow or cut dividends in 2016. Judging by the current yield, it's obvious that the market believes this, too.
Conclusion
BHP has the financial flexibility to weather through this, even with the recent multi billion dollar writeoffs with onshore North American petroleum. However, I see a lot of ways in which the global economy could slow or even slip into recession, which may cause BHP to take more drastic action with either capex or the dividend. In this case, I may consider buying BHP if and when it makes additional capex cuts or a dividend cut. I prefer to sit on the sidelines until that "uncertainty" is out of the way.
Disclosure: I/we have no positions in any stocks mentioned, and no plans to initiate any positions within the next 72 hours.
I wrote this article myself, and it expresses my own opinions. I am not receiving compensation for it (other than from Seeking Alpha). I have no business relationship with any company whose stock is mentioned in this article.