Important Note: This article is not an investment recommendation and should not to be relied upon when making investment decisions - investors should conduct their own comprehensive research. Please read the disclaimer at the end of this article.
Judging by the stock price reaction today, Royal Dutch Shell (RDS.A, RDS.B) investors were expecting stronger results for the fourth quarter than what the oil major reported today.
Well, if the Q4 financial metrics were not strong enough, investors need to brace up for greater challenges yet to arrive.
Oil majors typically do not hedge their commodity price exposure. Some protection comes in the form of Downstream margin expansion that typically accompanies sharp downward moves in commodity prices. Production Sharing Contracts ("PSC") can also provide a partial offset to declining commodity prices via increased allocation of production from the PSC project.
Due to its large presence in the LNG business, Shell may also see some delay in the impact of lower oil prices, as LNG pricing is sometimes linked to oil benchmarks with a time lag.
Unfortunately, most of these "protections" are transitory in nature. Lower commodity prices will ultimately filter through to the bottom line, driving sharply lower cash flows.
Shell's Preliminary Q4 2015 Results
So what exactly might have fallen short of investor expectations in Shell's Q4 2015 pre-announcement?
The key number in the report, in my opinion, is discretionary cash flow from operations.
For the fourth quarter 2015, Shell expects cash flow from operating activities to be "in the region of $4.8 - $6.0 billion." Given that Shell did not provide an estimate for changes in working capital during the quarter, it is still difficult to make an educated judgment about the quarter's financial results.
By comparison, the company posted cash flow from operating activities for the third quarter 2015 of $11.2 billion. However, excluding working capital movements, discretionary cash flow from operating activities in Q3 2015 was $5.3 billion (compared with $11.1 billion for the year-earlier period).
It appears likely, however, that Shell will post a sequential contraction in operating cash flows driven by lower commodity prices and weaker refining margins.
On the Upstream side, as one can see from the following graph, oil prices weakened materially in Q4 2015 relative to Q3 2015; U.S. natural gas prices were also much weaker.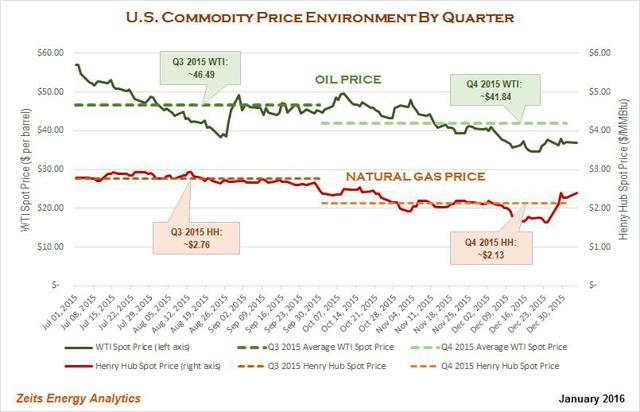 Using the sensitivity estimate according to which a $10 move in Brent price per barrel results in a $825 million move in Shell's quarterly earnings, I estimate that the company's discretionary cash flow from the Upstream segment may have declined by approximately $0.4-$0.5 billion, as compared to Q3 2015.
On the Downstream side, I expect cash flow to also be much weaker sequentially. As one can see from the following graph, select refining margin indicators contracted significantly in Q4 2015 relative to the preceding two quarters. Please also note that Shell's margins may move even more significantly that what is implied by the indicators below.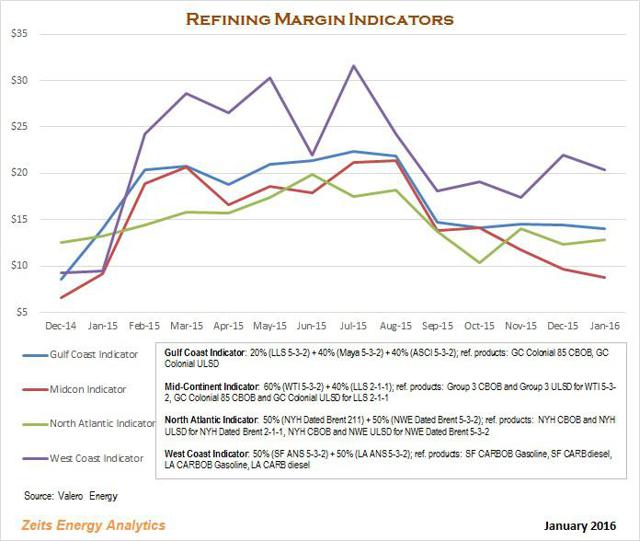 Indeed, Shell reported that its Downstream earnings for the fourth quarter are now expected to be $1.4-$1.6 billion (including $1.3-$1.4 billion from Oil Products and $0.1-$0.2 billion for Chemicals). This compares to Downstream earnings for the third quarter 2015, excluding non-recurring items, of $2.6 billion.
Please note the third quarter 2015 was an abnormally strong quarter for Shell's Downstream, driven by sharply wider refining margins in Oil Products (slide below) and lower costs. The Chemicals business was also strong in Q3 2015, with a 15% year-on-year earnings improvement driven by improved market conditions and lower energy costs for intermediates, partly off-set by weaker ethylene prices.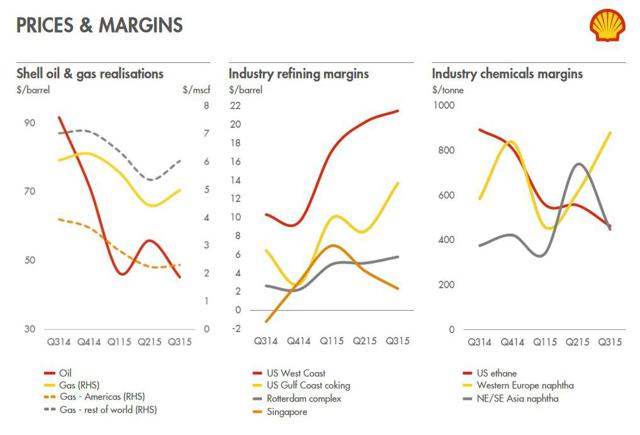 (Source: Royal Dutch Shell, October 2015)
While I would wait to see more detailed financial statements and discussion from Shell on February 4, I estimate Shell's Downstream Cash Flow in Q4 2015 to be ~$1 billion lower sequentially.
Adding across all segments, Shell's discretionary cash flow for the fourth quarter was likely in the $4.5 billion range, assuming some progress on the cost saving side. The estimate is obviously very rough as Shell's pre-announcement does not provide sufficient detail.
Cash Flow Deficit
Even if I were to use Shell's reported discretionary cash flow of $5.3 billion during Q3 2015 as a rough indicator of the company's cash flow generation capacity in the ~$47-$48 per barrel Brent environment, I would still have to conclude that the company's operating cash flow is insufficient to fund its capital spending requirements, let alone dividend payouts.
To put Shell's current cash flow generation in perspective, the company's capital investment in 2015 is expected to be $29 billion. While this represents an $8 billion, or over 20%, reduction from 2014 levels, it is still far above the company's cash flow provided by operating activities.
A large portion of Shell's capital needs has been effectively funded from asset sales. Asset sales for 2014 and 2015 now exceed $20 billion. Going ahead, the reliance on asset sales will only increase, given the current commodity price weakness and the need to address leverage in the aftermath of the BG acquisition (assuming it does come to fruition).
The following slide from Shell's recent presentation is quite interesting as it shows that the company's funding needs, including the return of capital to shareholders, were approximately equal to its cash flow generation during the 12 months ended September 30, 2015. Shell notes that Brent price averaged ~$60 per barrel during that period. After oil prices dived far below the $60 per barrel, it should be no surprise that cash flow from operations has become insufficient.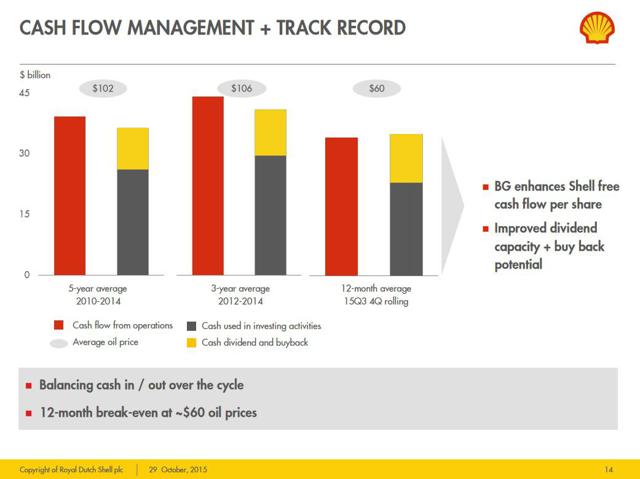 (Source: Royal Dutch Shell, October 2015)
Outlook For The Current Quarter Is Particularly Weak
Needless to say, the real financial challenges will arrive beginning in the current quarter. Assuming Brent price averages $30 per barrel in Q1 2016, the related contraction in cash flow from operations relative to the Q3 2015 level may be as strong as $1.3 billion, using commodity price sensitivities. Additional contraction would stem from the weaker refining margins.
Shell has set a goal of reducing its operating costs by $3 billion in 2016 which should help to offset the decline in revenues at least in part. However, the impact of lower commodity prices and weaker refining margins cannot be mitigated by cost management.
The environment for asset divestitures has also become more challenging. Shell is effectively caught by value "scissors" - the company will need to cover a rapidly widening funding gap by selling assets at prices that are declining.
Adding to the financial challenges its the delayed effect of oil price moves on LNG. Even if oil prices stabilized or improved in the near term, Shell's financial results in the second quarter of 2016 will carry the painful "memory" of oil price weakness during the first quarter.
The Dividend Is Safe, At Least For A Year
Many readers may be wondering if there is any risk to Shell's current high dividend.
In my opinion, Shell does not have the option of cutting its dividend in the near future, given the company's prior pledge to keep the dividend at $1.88 per share in 2016. The pending acquisition of BG Group effectively eliminates any freedom for Shell to maneuver in this regard.
Of note, Shell re-iterated its commitment to the dividend in its press release:
Underscoring Shell's commitment to returns to shareholders, dividends declared for 2015 are expected to be $1.88/share or $12 billion, and for 2016 at least $1.88/share or, assuming successful completion of the combination, $15 billion in total.
In my opinion, Shell's stated commitment to the dividend is money-good, given the circumstances.
The price of maintaining the hefty dividends is obviously a separate issue.
Shell stated that "preparations are well advanced for $30 billion of asset sales in 2016-18, assuming the successful completion of the combination" with BG Group. The asset sales will effectively be the source of funds for the dividends.
Generally speaking, there is nothing wrong with a big company reducing its footprint by selling parts of its asset portfolio and making payouts to shareholders from the proceeds.
In Shell's specific situation, the obvious concern is that asset sales will potentially be made into a highly unfavorable market and on a mass scale.
It is also important to understand the context of the dividend being sustained at its current lavish level: in the current commodity price environment it simply cannot be "organic" (i.e., coming from free cash flow after maintenance capital) - dividends are being paid from asset sales or borrowing.
What Lies Ahead?
I view the merger with BG Group as having a high probability of going through. The biggest rationale behind the transaction is that it should allow Shell to increase exposure to low-decline projects while substantially reducing exploration activity (Shell's exploration track record has been very mixed - for example, I have discussed the disappointing outcome of Shell's foray into shales in this note).
The BG acquisition combined with significant divestitures may be a recipe for lower maintenance capital and lower operational uncertainties.
Would the transformation make Shell's current dividend more sustainable on the organic basis?
The answer is obviously critically dependent on the assumed future trajectory of commodity prices.
For more in-depth data and analysis of commodity fundamentals, please consider subscribing to Zeits OIL ANALYTICS that provides in-depth analysis of global and North American crude oil market.
Disclaimer: Opinions expressed herein by the author are not an investment recommendation and are not meant to be relied upon in investment decisions. The author is not acting in an investment, tax, legal or any other advisory capacity. This is not an investment research report. The author's opinions expressed herein address only select aspects of potential investment in securities of the companies mentioned and cannot be a substitute for comprehensive investment analysis. Any analysis presented herein is illustrative in nature, limited in scope, based on an incomplete set of information, and has limitations to its accuracy. The author recommends that potential and existing investors conduct thorough investment research of their own, including detailed review of the companies' SEC filings, and consult a qualified investment advisor. The information upon which this material is based was obtained from sources believed to be reliable, but has not been independently verified. Therefore, the author cannot guarantee its accuracy. Any opinions or estimates constitute the author's best judgment as of the date of publication, and are subject to change without notice. The author explicitly disclaims any liability that may arise from the use of this material.
Disclosure: I/we have no positions in any stocks mentioned, and no plans to initiate any positions within the next 72 hours.
I wrote this article myself, and it expresses my own opinions. I am not receiving compensation for it (other than from Seeking Alpha). I have no business relationship with any company whose stock is mentioned in this article.