I've been sniffing around LifeLock (NYSE:LOCK) as a short opportunity since the company settled an FTC lawsuit in October, leading to a huge gain in the stock. That gain, of course, only partially offset the plunge in July when the FTC suit was filed: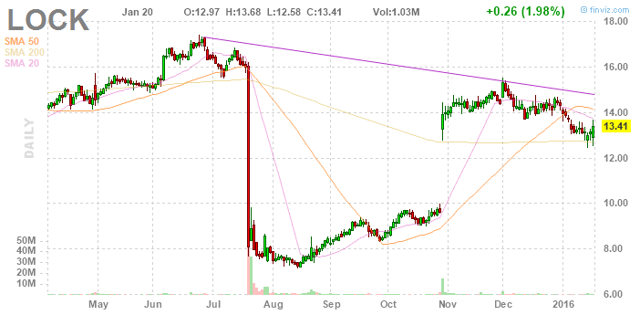 Source: finviz.com
Truthfully, I didn't really like the company, and I was particularly unimpressed with management. The FTC lawsuit - itself a result of LifeLock violating a 2010 consent order - wasn't the only stumble. There was the acquisition of Lemon Wallet in late 2013. LifeLock spent $42 million on the app maker only to pull the product without warning less than 6 months later. The company hired a Chief Risk Officer and a Chief Information Security Officer - in the spring of 2015, years after such positions should have been filled. (There is also the saga of co-founder Robert J. Maynard, who resigned in 2007 after a Phoenix newspaper dug into his history, which included bankruptcies and the forced closure of a prior company.) And I'm not terribly impressed with the product - it seems to have some value, but the identity theft protection promised clearly has holes and most of LifeLock's services are offered elsewhere (and often for free).
But the fundamentals looked decent (though they're not quite as impressive as they appear), growth continues, retention is solid, and I didn't see much of a catalyst for a short. Still, LOCK had remained on my watchlist, though a steady but modest decline of late made the short case less compelling.
The announcement Wednesday of the removal of CEO Todd Davis takes away one of the pillars of the short case. Senior management, for the most part, is brand-new and relatively untainted by past scandals, and for what it's worth, I was never convinced the issue (purely) was that LifeLock was somehow "shady," to use a word often used by the company's critics. Rather, it seemed just as plausible that the company faced the very typical problem of being a start-up that had outgrown the competence of its original leadership.
Still, I'm a bit skeptical of the company, the product, and the stock, and LOCK likely will stay on my watchlist. (Thursday's trading reaction will be interesting; the stock dipped in after-hours trading but that was basically 3 block trades.) LifeLock reminds me of other companies who managed to drive growth without a compelling product - and those stories didn't end up well for shareholders. The problem remains, however: where's the catalyst for a short?
The Bear Case - And The Bull Response
The bear case against LOCK generally has centered on management and the supposed weakness of LifeLock's product. Many of the features LifeLock offers - for example, credit scores offered by most credit card companies - are available elsewhere for free. Whether LifeLock actually works is up for debate. As PCMag.com pointed out in a review, LifeLock and its peers are "almost entirely reactive," and many of those reactions are available at little cost. Credit card companies will refund unauthorized charges, and canceling (or now, in the case of Discover (NYSE:DFS), simply freezing) cards can be done with a visit to a website or an app. The incremental value provided by LifeLock, by this argument, simply isn't worth the cost. (Consumer Reports came to the same conclusion.)
All that said, there are thousands, if not millions, of positive reviews, and clearly satisfied customers. LifeLock's base continues to grow, and its retention figures are solid: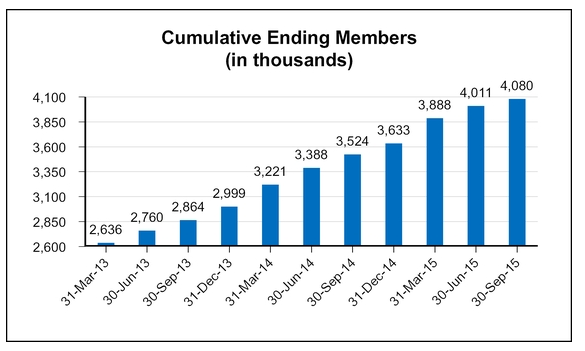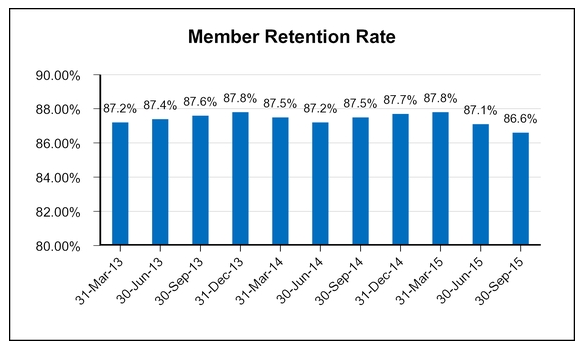 Source (both images): LOCK 10-Q
Revenue per member has also climbed over 21% over the past 10 quarters, as LifeLock has been able to move customers into higher-tier plans (the three products are priced at $9.99, $19.99, and $29.99).
The response to bears' complaints about the product's value thus could be: So what? Clearly, the product offers enough to keep current customers satisfied, and LOCK has had little trouble keeping customers (the retention rate has climbed sharply from ~78% levels seen in 2010, per the 2012 10-K) despite raising prices. There are over 4 million sticky customers providing recurring revenue, a huge base to drive growth going forward. The numbers are on bulls' side.
Hearing This Story Before
There're 2 key problems with the bull case in my opinion. The first is that the LifeLock story reminds me of the arguments that surrounded Perion Network (NASDAQ:PERI), Blucora (NASDAQ:BCOR), and AVG Technologies in 2012 and 2013. All three companies used downloadable applications - such as Perion's IncrediMail and AVG's security products - that then altered home pages or default search engines to drive revenue.
To be fair to LifeLock, there is a huge difference between its product and, for example, Perion's second tier (to put it kindly) photo-sharing and 'emoticon' apps. But the argument was somewhat similar. Bears (myself included) said, "You know, this product isn't very good," while bulls replied, "Look at the numbers," as the companies posted torrid growth. Blucora and Perion both saw revenue double between 2011 and 2013; AVG's rose ~50%. But Google (NASDAQ:GOOG) changed its policies, and the stocks have tanked, despite a series of acquisitions at all three companies designed to escape the reliance on that now-collapsing business: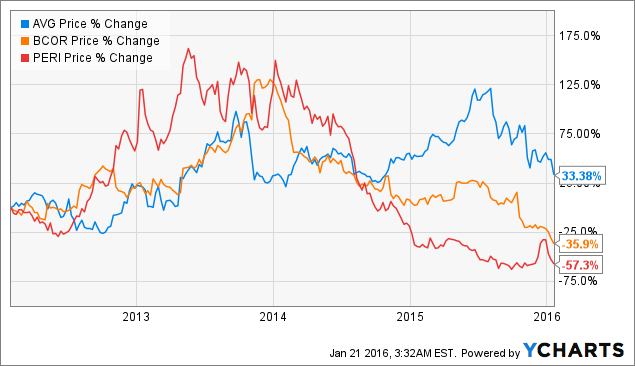 AVG data by YCharts
Again, LifeLock doesn't face the same type of risk; there isn't a company with the power of Google to so dramatically change its market, nor is there any evidence (particularly after the smaller-than-feared FTC settlement) the government will put the company out of business.
But there are echoes in the debate, to that point that PERI bulls in 2013 and LOCK bulls in 2015 have made a similar argument: "Well, maybe the product isn't that good, but people are buying it." But for how long? And, truthfully: what kind of bull case is that? It strikes me as a somewhat misplaced focus on the numbers over the business.
It's also worth noting that - particularly in Perion's case - much of the revenue growth was bought, and LifeLock is seeing a similar problem, although again at a much smaller scale: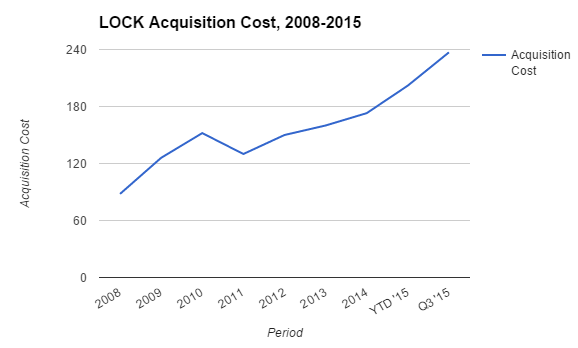 Source: Author from LOCK SEC filings
The YTD numbers and the Q3 figures are impacted by the settlement, with CFO Christopher Power admitting on the Q3 conference call that "some strategic partners reduced marketing initiatives in light of the FTC announcement," while Davis attributed a 50 bps sequential decrease in retention "primarily" to the FTC settlement.
But acquisition cost already was creeping up - it was $210 through the first 6 months of the year, more than 15% higher than seen in the year-prior period. The impact of the higher costs is seen in the preliminary results reported Wednesday. Q4 revenue should be up nearly 20% year over year, yet Adjusted EBITDA is targeted to increase just 10%, and adjusted net income ~9%. This is a notable slowdown: revenue increased nearly 25% through the first three quarters, with Adjusted EBITDA up 56% and adjusted net income up 66%. LifeLock itself admits the impact should be seen for several more quarters, but there's also a question beyond the settlement. If a product really isn't that great, and LifeLock is spending increasing amounts of money to sell it, how long is the growth runway?
Valuation
The second problem here is valuation, because LOCK really isn't that cheap. It looks cheap: the company trades at just 16x guided EPS of $0.62-$0.63 plus ~$3.50 per share in cash. Enterprise value of right around $1 billion is less than 11x free cash flow guidance of $95 million (excluding $6 million in working capital shifts around the fiscal year-end).
But the EPS figure is inflated by a guided 5% tax rate, thanks to NOL carryforwards; tax-normalized EPS (assuming a 35% rate) is closer to $0.42, implying a 23-24x multiple ex-cash. Free cash flow benefits from that tax help, deferred revenue (which added $26 million in 2014) and other working capital impacts; that impact will moderate as growth slows, and lessen free cash flow growth relative to EPS.
Given the risks here, neither multiple looks particularly attractive. There's been a report that an SEC investigation may follow the FTC settlement, and one has to wonder to what extent the FTC settlement has entered customer consciousness, and how many current and potential consumers remain unaware. (It is now mentioned on several different impartial review sites, for instance.) Those strategic marketing partners may not have just taken "a pause," as Davis put it on the Q3 call, but may choose to move on completely. And Q4 guidance, at least, implies that the days of torrid growth have themselves been "paused" - at the least.
A high-teen/20x multiple seems aggressive. On a normalized basis, EPS of $0.42 and FCF of ~$50 million (backing out $20 million in cash taxes and $25 million in deferred revenue) would lead to targets of $12.50 and $14+, respectively, adding back ~$4 in cash plus deferred tax assets. And, again, that seems aggressive, given regulatory risk and a potential growth slowdown.
At $13+, neither target represents much opportunity for a short, and the change in CEO takes away much of the "damn the fundamentals, just short the management" case here. Q4 earnings in February won't offer much in the way of fireworks beyond 2016 guidance; consensus of 15% revenue growth and 24% EPS growth seems a bit optimistic in the wake of Q4 preliminary results, but not so much so as to take the short side into the report next month (a big gain Thursday could change that).
But neither do those targets imply much reason for optimism, given the risks, and the fact that, again, LifeLock's product isn't necessarily compelling. It's good - probably the best in its space. But that space doesn't offer what consumers are looking for: a fool-proof way to avoid identity theft, which in LifeLock's defense is only possible at this point through living off the grid and burning all of one's trash. Management is improved, and there's reason to think LifeLock will continue to grow, and continue to make money. But I don't see much of a case that it will make enough to drive a lot of upside - and I do see a few things that could go wrong.
Disclosure: I/we have no positions in any stocks mentioned, and no plans to initiate any positions within the next 72 hours.
I wrote this article myself, and it expresses my own opinions. I am not receiving compensation for it (other than from Seeking Alpha). I have no business relationship with any company whose stock is mentioned in this article.