VEREIT (NYSE:VER) is the former American Realty Capital Properties, a name that will likely live in infamy in the real estate investment trust, or REIT, world for years to come. After growing too fast and, basically, imploding, the company's board brought in a new CEO with strong credentials as a fixer, Glenn Rufrano. He's been working more quickly than I expected on a portfolio overhaul, notably on the company's Red Lobster assets, and now I'm starting to understand why.
Getting down to business
Rufrano came aboard VER and took a few months to get to know what he had stepped into. It was the right move since you need to understand a company before you can lay out a plan for fixing it. But eventually, he did provide the market with some goals.
All of them were logical, including reducing debt, culling less desirable properties, and reducing heavy exposure to select types of properties and leases. Once he'd figured out the plan, he set off to work. That's included two deals with Golden Gate Capital, the owner of Red Lobster, to sell Red Lobster properties back to the private equity shop. That after prior management made a huge splash acquiring them right before VEREIT, then known as American Realty Capital, imploded.
They aren't awful deals, but they aren't great either. And Golden Gate appears to have more leverage in them than VEREIT. In fact, after the second agreement was announced just a short time after the first, I wondered why there was such a rush. Clearly, one part of the issue is striking while the iron is hot and institutional-level investors are clamoring for real estate assets. In other words, reduce the Red Lobster exposure before the properties might wind up being sold at a loss.
Then there's the complication that VEREIT can't sell them in one-off deals without Golden Gate's seal of approval because of the way the leases are written. Which helps explain the agreements VEREIT entered into with the private equity shop. And, again, it's better to strike quickly before demand goes away and Golden Gate is less willing to make a deal. But there's something else going on, too.
Back to growth
Rufrano recently spoke to The Wall Street Journal about VEREIT. The story was largely a rehash of known facts. But there were two small quotes from the CEO that I think tell a worthwhile story. The first was that, "I know what I have to do."
Rufrano has taken on turnaround situations before. For example, he helped steer Australia-based Centro Properties Group through troubles and helped to shore up Cushman & Wakefield's business after the 2007 to 2009 recession. And with the plan already laid out for VEREIT, we know full well what it is he intends to do here. So, it's still full steam ahead, even if it's going to be a mundane series of dotted i's and crossed t's. He's been through this type of thing before at other companies and he's confident that he can leave his mark here, too. It may not seem like much, but I found his subtle confidence reassuring.
The next quote snippet, however, was more telling about the future. According to Rufrano, VEREIT is hoping to lay out "...a plan for growth..." by the end of 2016. Now that's something investors would love to hear.
But if that's the goal, then the REIT has a lot to get done over the next 10 to 11 months. Although laying out growth plans doesn't require a completely clean slate, VEREIT will need to do some heavy lifting before growth is a viable option. All of that heavy lifting is one of the reasons why I believe Brad Thomas recently labeled the REIT a "value trap."
I'd call it a slow turnaround, but in some ways that's just mincing words right now. VEREIT is getting its house in order and that will take time. But clearly, Rufrano has bigger plans than just fixing what's wrong today. And those bigger plans help to further explain why the second deal with Golden Gate was made in such a short period of time. Time is not only of the essence externally, but also internally, as well.
Rushing it?
Unfortunately, I'm still left with some concerns. I now have a better understanding of the goal Rufrano is working toward, but a company is a living breathing thing. Making changes often requires a scalpel, not a hatchet. That's not to suggest that Rufrano is doing anything that will be bad for the company. So far, there's nothing to suggest that.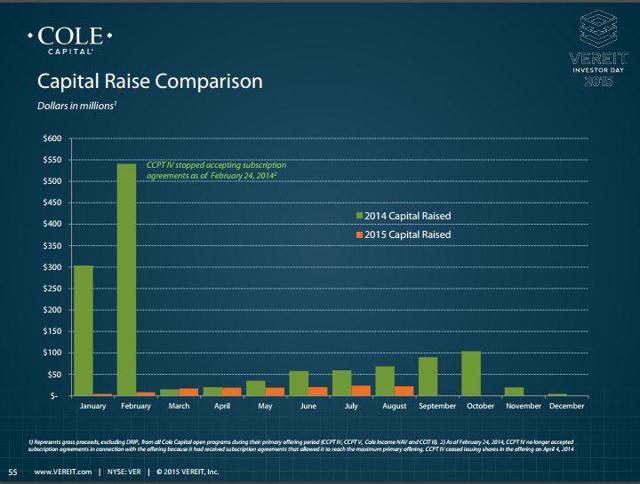 However, he's laid out a new goal (announcing growth plans) that seems fairly aggressive based on the size of VEREIT's turnaround and the complexity of some of its issues - notably restoring Cole Capital to anything near its previous success. In fact, in some ways, fixing VEREIT's owned portfolio might be the easy part of the job.
So as the company releases its full-year results, I'm going to be listening carefully for news on the owned portfolio makeover, paying close attention to the pace of the effort. Then there's the Cole turnaround. And lastly, although I wouldn't expect any material news on the next call, I'm going to keep watching for an update on the shift from fixing VEREIT to growing it. That will be the next big step for the company. And while I like having a rough date associated with that shift, I can't help but be concerned that there's a rush to get there.
Disclosure: I am/we are long VER.
I wrote this article myself, and it expresses my own opinions. I am not receiving compensation for it (other than from Seeking Alpha). I have no business relationship with any company whose stock is mentioned in this article.