In the fiscal 2016 second quarter ended September 30, 2015, NVE Corporation (NASDAQ:NVEC) warned the third and fourth quarters of fiscal 2016 would see impacts related to an increase in R&D activity.
"...we are expecting product sales will be lower in the third and fourth quarter than they were in the first quarter."

"We've added people and programs and the impact on R&D expense could be in the range of 20% to 25% compared to the second quarter...........We're expecting that amount in the first half to increase by 20% to 25%, which would be in the range of $750,000 to, say, $790,000 per quarter."
The company offered similar concerns for the second quarter. Analysts panicked. Yet, results were not nearly as horrible as expected. When third quarter results were reported on January 20th, 2016, for the fiscal 2016 third quarter, results based on the projections were mixed. The company had missed on both the revenue and EPS front. But, R&D was, again, an area worth intrigue.
NVE Corporation manufactures spintronic products. Its revenue is earned through product sales and contracted R&D. When the R&D is not funded externally, the company internally funds R&D. NVE Corporation has noted a direct correlation between R&D and product sales.
"So they do result in product sales and that's part of the reason why we believe these contracts are helpful. They help fund R&D. They help advance things like our MRAM technology. And, they can result in product sales. So they're more than just a revenue source for us. They build intellectual properly and potential business in the future.
Of late, its R&D efforts have been focused on anti-tamper sensors, biosensors, angle sensors, current sensors and node sensors related to the Internet of Things. These sensors serve the food, medical, energy, automotive and technology industries. The chart below depicts quarterly revenue derived from product sales and contract R&D year-to-date for fiscal 2016 and estimates for the fiscal 2016 fourth quarter. The product sales estimate is based on management's expectation to see sequential growth.
"We do have some continuing challenges in the semiconductor market but, despite those, we hope to grow product sales sequentially from here."
The contract R&D estimate is based on the projection that the recent run rate will continue.
"We expect to maintain roughly the contract revenue rate we have had so far this fiscal year."

Source: Author-created from company data and author estimates
While the quarterly revenue trending appears disconcerting, it is important to acknowledge there has, historically, been a natural lag between R&D and product sales. As shown in the next chart, recent history aligns best with a three-year lag time.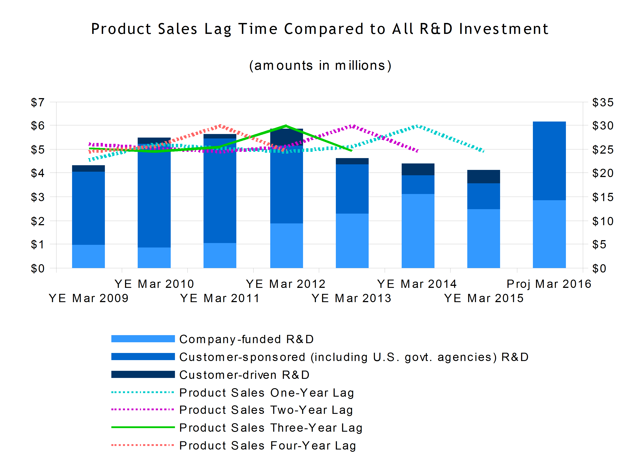 Source: Author-created from company data and author estimates
This suggestion is not conclusive and exists only when comparing sales to R&D investment regardless of the source of funding. However, when isolating on internally-funded R&D, the next chart suggests a one-year lag time.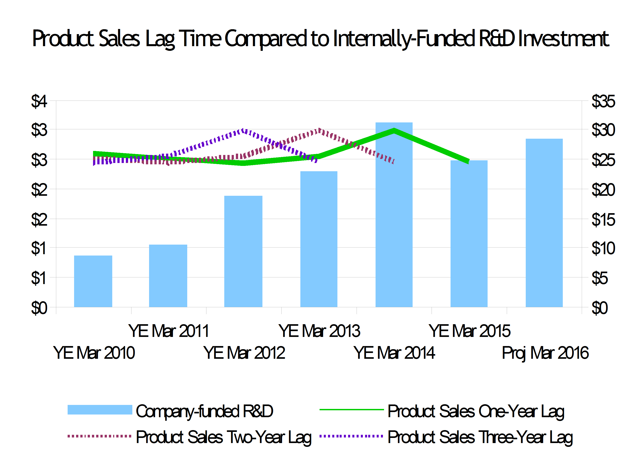 Source: Author-created from company data and author estimates
Of course, past performance is not always a predictor of future performance. For DGI investors, the reliability of future revenue supports the reliability of dividend payments. In the case of NVE Corporation, the company has a head start on securing its ability to pay. Not only does it still have an impressive cash horde, it has committed to return it to shareholders. The company has no debt and touts some of the highest margins in its industry. It routinely registers net profit margins above the 40% mark. To date in fiscal 2016, that margin is 44.8%. The next chart compares total revenue to expenses for fiscal 2016.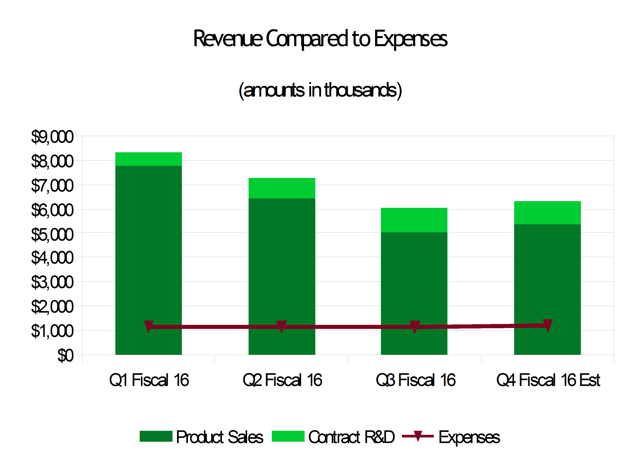 Source: Author-created from company data and author estimates
As of the fiscal 2016 third quarter, NVE Corporation has over $95 million in cash, short-term marketable securities and long-term marketable securities. The company currently has authorized a $4.00 annual dividend payable in $1.00 quarterly increments. It also has authorized a $5 million share repurchase. The next chart plots the impact of the company's aggressive capital allocation to shareholders based on a minimal 2% increase in operating cash annually. As shown, in 10 years, the cash balance will still not have been depleted even 50%.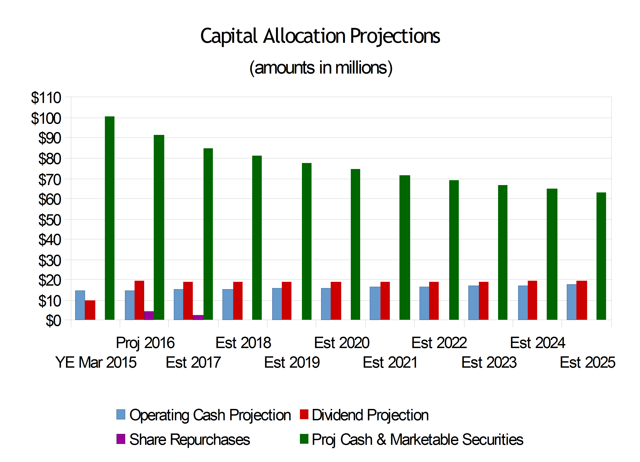 Source: Author-created from company data and author estimates
The dividend should be supportable as long as the company stays operating cash-flow positive. This circles back to the likelihood of the longevity of the company's research and development. It is evident NVE Corporation has been awarded R&D contracts. In the fiscal 2015 fourth quarter earnings call, the company provided a backlog update:
"As of March 31, 2015, we had $2.2 million of contract R&D backlog we believe to be firm compared to $165,358 as of March 31, 2014. We expect the firm backlog as of March 31, 2015 to be filled this fiscal year so this bodes well for contract R&D this year."
To date for fiscal 2016, NVE Corporation's revenue for contract R&D totals $2.42 million, a full 10% greater than the backlog stated at fiscal year-end 2015. As mentioned above, the company expects the recent run rate to continue for "the next several quarters." Therefore, for fiscal 2016, contract R&D could total $3.34 million in revenue.
As to whether the R&D is translating to product sales, management elaborated in the earnings call on two pertinent items that should help drive future sales. First, it added two distributors in the third quarter - America II Electronics and GenTech. America II is one of the larger global distributors of semiconductor and electronic components. NVE expects America II to be of great benefit in penetrating high volume markets. GenTech is headquartered in South Korea. Its location will be a key asset as NVE looks to grow in Asia.
Second, NVE has been adjusting prices. The intent is to expand its reach and maintain a competitive position as well as capture new customers and market opportunities.
"Its new products, and that will allow us to grow where we don't have products now or products that are targeted at different sub-markets, and then, growth with our existing products."
Even opportunities begin as niche or low-volume, high-value have the potential to meet high-volume needs.
Based on analysts' average estimates for the third quarter, NVE Corporation missed on revenue and earnings per share. But the company's prior projections on contract R&D were conservative. Yet, the pace in this area is aggressive. With the information provided in the third quarter earnings call, analysts may adjust fourth quarter expectations downward slightly.
With only 4.86 million shares outstanding, the company has approximately $19.63 per share in cash and marketable securities. Subtracting the cash per share from the recent trading range of around $50.00 per share equates leaves just over $30.00 per share. NVE Corporation should earn approximately $2.58 per share for the full year. This means NVE Corporation's adjusted P/E ratio hits below 12. A fair value, a cash horde, no debt, improving revenue, valid opportunities, a generous dividend and an authorized repurchase program all point to a reasonable investment case for NVE Corporation.
Disclosure: I am/we are long NVEC.
I wrote this article myself, and it expresses my own opinions. I am not receiving compensation for it (other than from Seeking Alpha). I have no business relationship with any company whose stock is mentioned in this article.