On January 19th, Morgan Stanley (NYSE:MS) reported adequate 4th quarter results. 4th quarter net revenues were $7.7 billion and earnings per diluted share were $0.39. Excluding DVA, net revenues were $7.9 billion and earnings per diluted share were $0.43. Compensation expense of $3.7 billion was down considerably from $5.1 billion a year ago. Results in the 4th quarter, included $155 million in severance expense while results for the prior year period included compensation deferral expense adjustments of approximately $1.1 billion.
Non-compensation expense of $2.6 billion decreased from $5.6 billion a year ago. Excluding $3.1 billion of litigation costs related to residential mortgage and credit crisis matters from the prior year period, non-compensation expenses were $2.6 billion, up from $2.5 billion a year ago. The annualized return on equity was highly disappointing in the quarter at 4.9% excluding DVA. Institutional Securities' net revenues, excluding DVA, were $3.5 billion reflecting continued strength in Equity sales and trading, solid results in Investment Banking and continued weakness in Fixed Income & Commodities sales and trading. Wealth Management net revenues were $3.8 billion and pre-tax margin was 20%. Fee-based asset flows for the 4th quarter were $11.4 billion, which was quite impressive. Investment Management reported net revenues of $621 million with assets under management or supervision of $406 billion.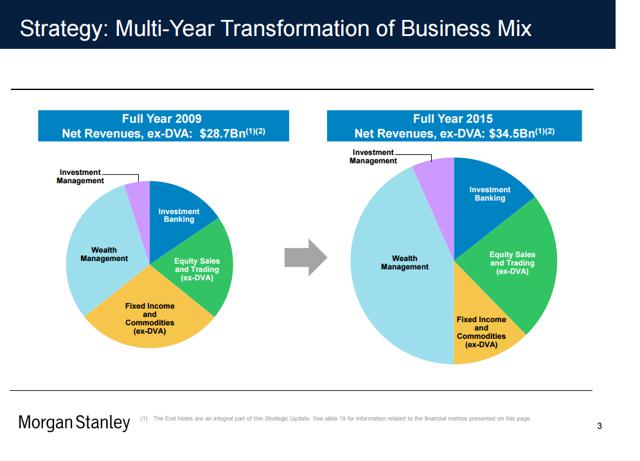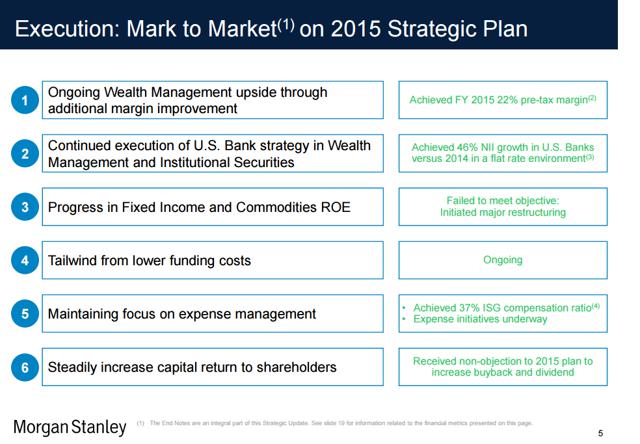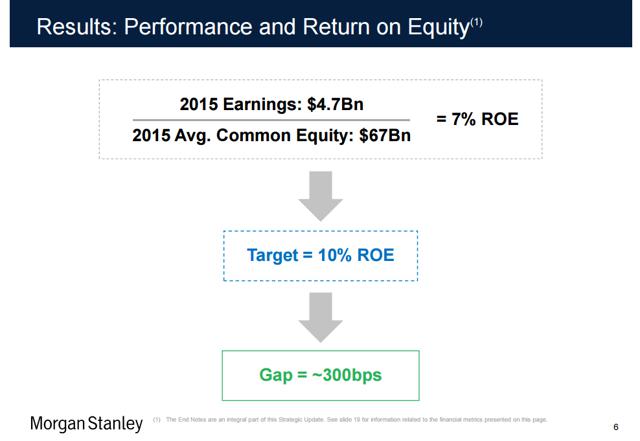 Source: MS 4th Quarter Investor Presentation
For the full year, net revenues were $35.2 billion and earnings per share were $2.90. Excluding DVA, net revenues were $34.5 billion and earnings per diluted share were $2.70. One of the most positive developments of the year was the record year in Wealth Management, where profit before taxes was $3.3 billion with a profit margin of 22%. The company is increasing its loan penetration in this business, which can be a significant driver for additional profits.
For example, only 1.9% of clients have a mortgage loan through Morgan Stanley. The company believes that it can drive $20 billion of lending growth through 2017. In 2015, it achieved $12 billion, so the goal seems realistic. It also is adjusting its cost structure slightly lower. Progress in Wealth Management is highly significant because these are extremely high-quality earnings that don't tie up a great deal of regulatory capital. Management is targeting profit margins of 23-25% in 2017 in this business.
Ultimately, Wealth and Asset Management would trade at a considerable premium to book value if they were standalone operations. At some point, tracking stocks or spinning off a portion of these businesses might make sense if Mr. Market wants to keep valuing the banks at discounts to liquidation value.
One big reason that Morgan Stanley is struggling to achieve a more respectable return on equity is that the bank is over capitalized; therefore, it has a denominator problem. As of 12-31-15, MS estimates its pro forma fully phased-in Common Equity Tier 1 risk-based capital and Supplementary Leverage ratios to be approximately 14.1% and 5.8%, respectively. Morgan Stanley has been buying back its higher cost debt, which should pay dividends moving forward.
The company is also focusing on cutting costs through data centers, etc. In total, management believes the company can cut another $1 billion in expenses over the next two years. Morgan's global liquidity reserve at the end of the quarter was $203 billion, compared with $191 billion at the end of the 3rd quarter due to seasonal growth in deposits. Pro forma fully phased in Basel III advanced RWAs are expected to be approximately $397 billion, down from $434 billion in the 3rd quarter. For the full year, MS repurchased $2.1 billion of common stock or 59 million common shares.
The big issue dominating headlines is energy prices and the impact on bank balance sheets. I've written before that these fears are overblown; Morgan Stanley has about $16 billion funded and unfunded energy exposure. Of that $16 billion, 60% is investment grade and only 30% of that $16 billion is funded. $4.4 billion of the exposure is exploration and production, with $1.7 billion funded to non-investment grade borrowers and about $2.7 billion is still unfunded. The unfunded piece is about two-thirds to investment grade borrowers. 40% of that exposure is held for sale, so it is marked to market, and 60% is held for investment.
Morgan Stanley is making serious efforts to shrink its FICC business. This is really not an attractive industry anymore due to onerous capital requirement and a shrinking fee pool. Eventually, it will come back but I believe MS can still participate in the upside by focusing more on the flow business that don't require massive inventories. Reducing the risk-weighted assets further improves the strength of the balance sheet and the lower capital requirements will allow additional investments into higher returning businesses, and can ultimately lead to more capital being returned to shareholders.
The company's goal is to reduce RWA to $110 billion and setting an SLR exposure target of $250 billion. Accomplishing these goals would lead to $5 billion-$8 billion in reduced capital needs for the business. Management is also reducing headcount in the division by 25%, which will go a long way to getting costs more in line with the reduced revenue opportunities.
Morgan Stanley's 2017 ROE target is between 9% to 11%. This assumes no material new capital requirements, no outside new litigation expenses or penalties, and a global economy that doesn't fall off the rails. At a recent price of $26.26, Morgan Stanley yields around 2.4%. The stock trades at a meaningful discount to book value and tangible book value of $35.24 and $30.26, respectively. I expect considerable stock buybacks and an enhancement to the dividend.
Obviously, at current prices, stock buybacks are enormously accretive. The company has been taking the right steps but the economic backdrop has definitely been a challenge. I'm more than willing to buy more Morgan Stanley at current prices. The stock is dirt cheap, and they are going to have an enormous capital return program over the next 3-5 years. Banks have been and still are out of favor but the fundamentals including the balance sheet and cost structures have improved dramatically. The recent selloff has certainly been miserable for investors that are long banks, but over time, the stock price and the intrinsic value will converge.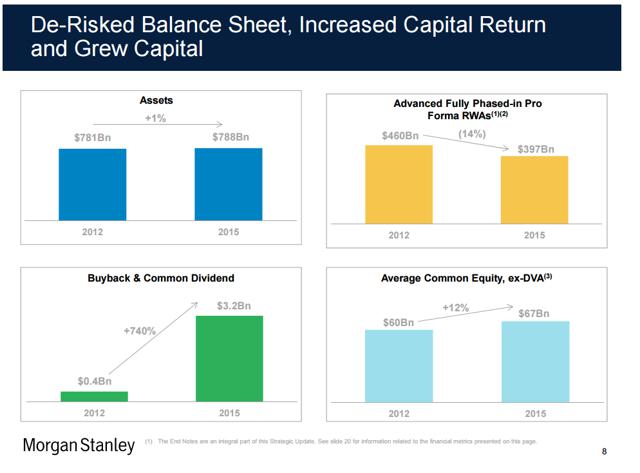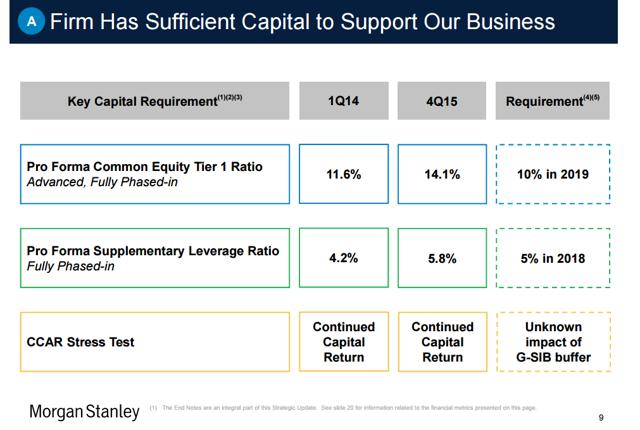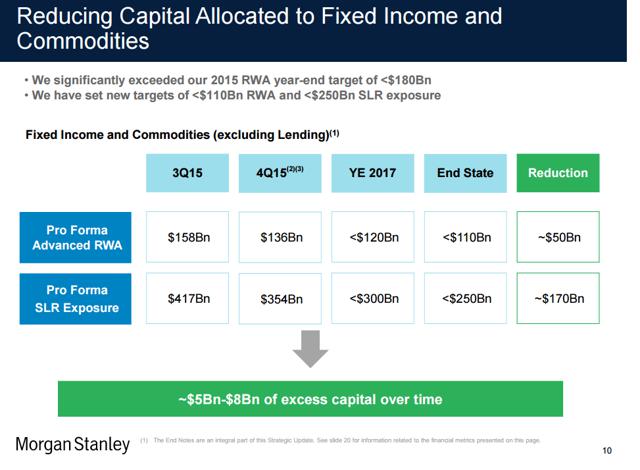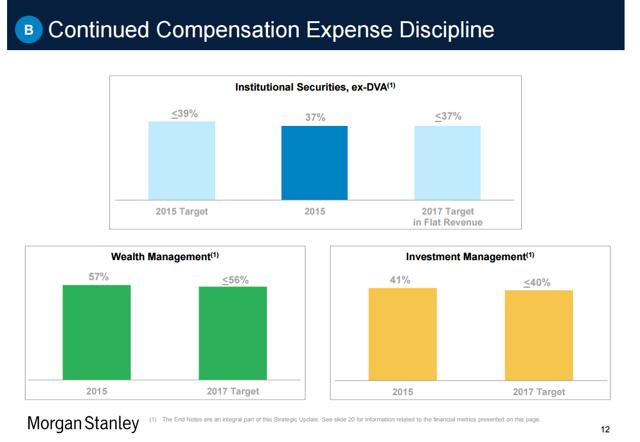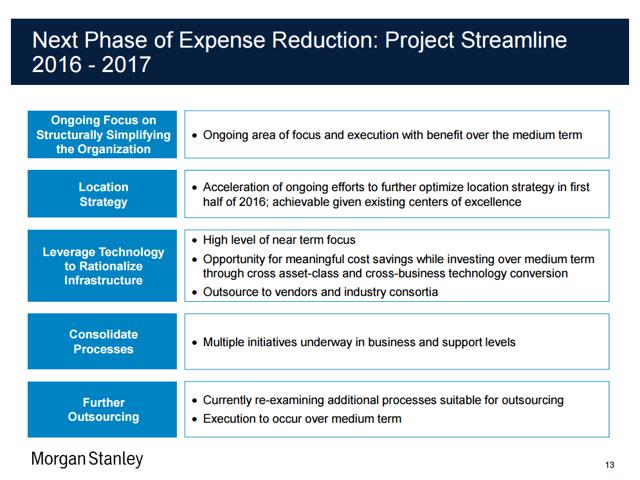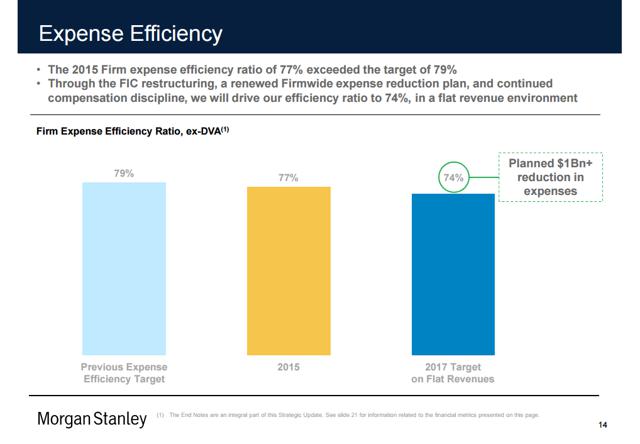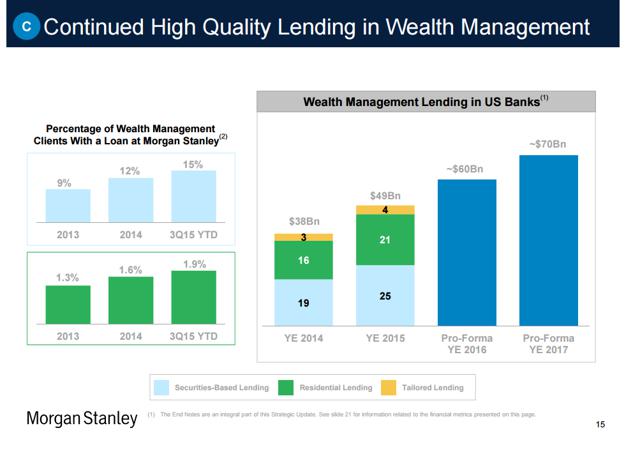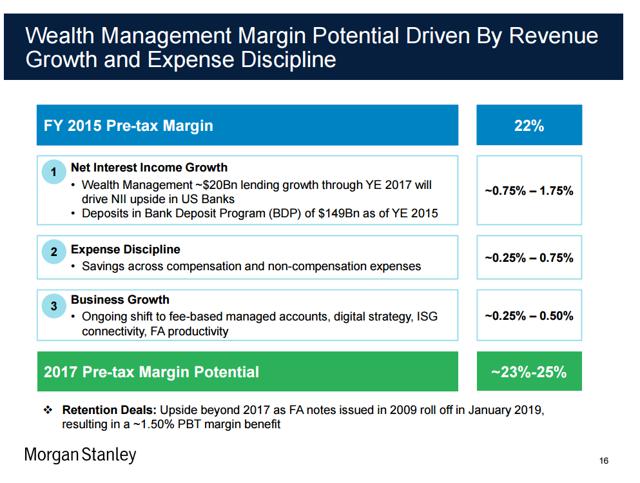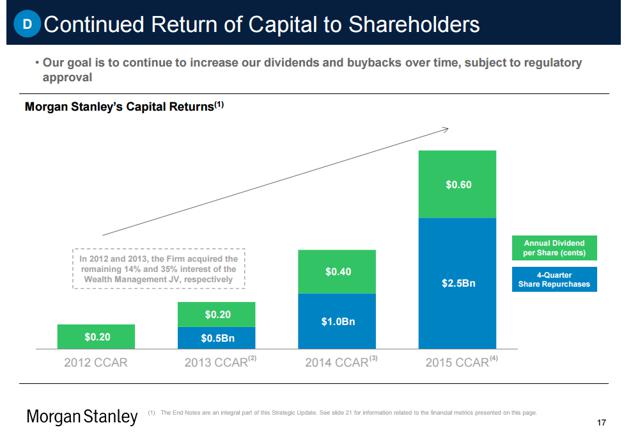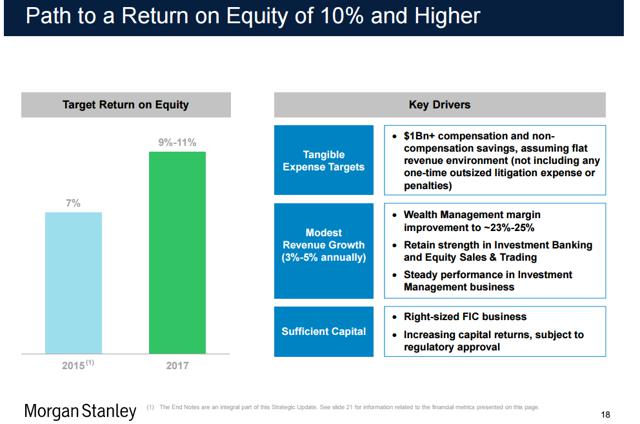 Disclosure: I am/we are long MS.
I wrote this article myself, and it expresses my own opinions. I am not receiving compensation for it (other than from Seeking Alpha). I have no business relationship with any company whose stock is mentioned in this article.