Whenever something unusual happens in private, dark pool exchanges, our platform sends out an alert. It's only about 1% of the time that this happens, so we look into it when it does.
Yesterday, we got this:

That's a dark pool short alert.
What does that mean?
"Dark pool short alert" means that there's substantially more short selling than usual in private venues, or dark pools. In other words, the "smart money" is largely betting against Netflix (NASDAQ:NFLX).
In fact, the bet is more unusual than just our standard "1% likely." The percentage of dark pool shorting as a part of total transactions for the day was 29.7% and comprised 15.7M shares shorted.
As a ratio, that's the most bearish number we've seen in recent history.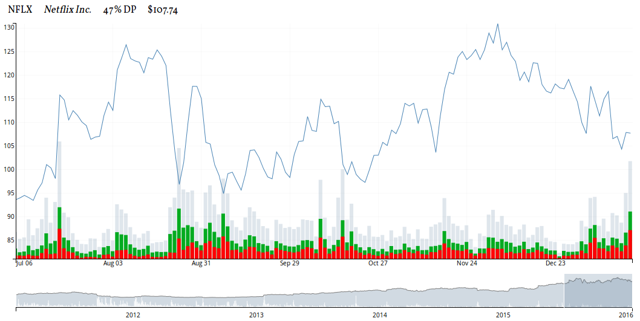 Source: sqzme.co
By comparison, even August 24th was not nearly as bearish, with dark pool short sales accounting for only 18% of volume. We think that this means that the "smart money sentiment" has substantially shifted in NFLX over the course of the last few months.
Also of note is the muted performance since Tuesday's AMC earnings - unusual for Netflix's stock. There is certainly uncertainty about the future of NFLX's growth potential.
Justified?
Viewed in the context of other authors' recent opinions, like Mark Hibben's "Have We Already Seen Peak Netflix?", we think that a bearish thesis on Netflix - broad market performance aside - is becoming a much more reasonable and accepted one.
And shouldn't it be?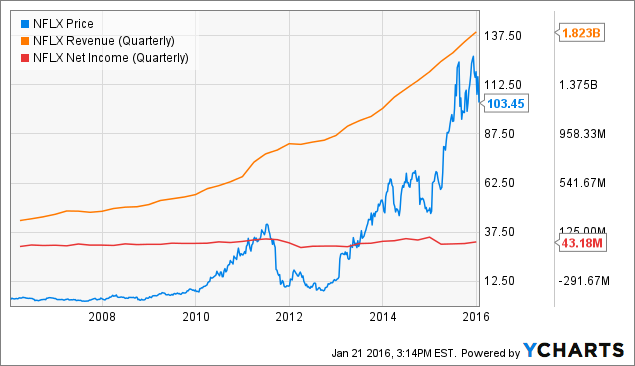 Our favorite chart of Netflix has always been the transposition of a price series over the telltale divergence of revenue and income. NFLX's income is, and probably always will be, lackluster while its revenue goes parabolic. Despite this "success" and "growth," margins get worse every day.
Why? Because, as we've noted in the past, Netflix is playing middleman to various studios and more established business interests. It is perpetually kowtowing to content providers' needs. Its bargaining chip? A throwaway brand and an easily imitated technology stack (hosted on Amazon (NASDAQ:AMZN) servers, for full irony).
As the debt piles on, leverage will only make Netflix a more volatile stock, and for once, we're wondering if gapping down is more likely than gapping up. We can only suspend disbelief for so long. Our advice?
Don't be the last to sell
When funds and the well-informed are silently selling a stock short, our suggestion is to be careful. And when the company in question is getting squeezed by its content providers and can only solve its problems by taking on more debt - we think it's a good time to short or get out.
Want to know more about dark pools? Read "You Really Need To Care About Dark Pools" for some more background on why this matters.
Data is compiled from multiple sources, including FINRA's TRFs. Our numbers are only accurate if their numbers are accurate. And hey, maybe we can't trust those government regulators anyway.
Drop us a line at info@sqzme.co
Matt
Disclosure: I/we have no positions in any stocks mentioned, and no plans to initiate any positions within the next 72 hours.
I wrote this article myself, and it expresses my own opinions. I am not receiving compensation for it (other than from Seeking Alpha). I have no business relationship with any company whose stock is mentioned in this article.