Being one of the largest companies in the world and operating in a politically incorrect industry has made Exxon Mobil (NYSE:XOM) a target of many special interest groups and ambitious politicians, hoping to raise money for their cause or secure the next term in office.
Add to that the challenge of an unprecedented low-price oil and gas environment, and it definitely testing the foundations of the company as it takes a number of hits from different sources, while at the same time attempting to keep the company moving forward.
The upstream business of the company has obvious headwinds from the low prices, but recent developments in the refining side of the business, which has offset some of the upstream weakness, is starting to show a few cracks of its own.
It was recently reaffirmed concerning its credit rating, but that could change in a couple of years because of one credit agency saying it could downgrade the company if things continue on as they are.
All isn't dismal though, as the financial strength of the company offers opportunities, and leaner operations could position it strongly if it retains that culture once the oil market does eventually rebalance, which will take some time to do.
Below is data showing the exposure Exxon has to oil and gas. We'll focus on oil in this article, taking the percentage it accounts for in the company's results.
source: Trefis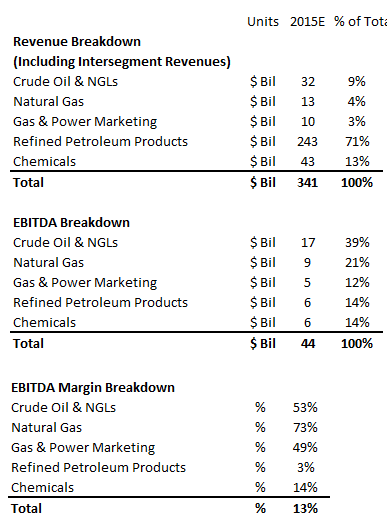 Will leaner make Exxon meaner?
There is always a give and take when cutting operating costs. Exxon has been shrinking its budget and abandoning some new projects in order to generate some support for earnings.
Any company taking these actions will eventually run into a future that isn't as strong as it would have been if it had went forward with projects that were cut.
No doubt Exxon has had to take these steps and focus on what it considers the best use of its capital over a prolonged period of low oil prices.
As measured against its peers, the overall debt-to-capital ratio of Exxon Mobil in 3Q15 was 16.2 percent. The average of its peers was a little under 27 percent in the third quarter of 2015. The net debt-to-EBITDA ratio jumped to 0.8x in the third quarter, up from the 0.3x ratio it had in the second quarter of 2014. Overall debt in the third quarter was $34.3 billion.
Leaner is always a good strategy in my opinion, as long as it doesn't obliterate the future revenue and earnings potential of any company. In the case of Exxon Mobil, I don't see that happening, and we'll look closer at its growth initiatives later in the article.
I like a leaner Exxon for the short and long term, but further out I want to see what it does to take advantage of lower costs once more support for oil prices comes about.
A stronger balance sheet puts Exxon in position to grab some solid assets once weakening companies start to divest of quality plays.
Potential for acquisition of valuable assets
Those energy companies able to acquire the best assets once the carnage takes hold, will be strongly positioned for long-term, future growth of revenue and earnings.
While some assets have been put on the market, there are a lot more to come, and once the dam really bursts the opportunities are going to turn into a flood. I like Exxon under those circumstances, as it has a lot of capital to invest if the right type of property comes along. I'm looking at lower-cost shale assets to be the most desired trophies.
That said, the resiliency of the shale segment has allowed some of these assets to remain under current management. With a prolonged period of low oil prices in the future, these assets will come to market in time. Exxon will grab some good ones.
How quickly that would add to the top and bottom lines of the company will depend upon whether the assets have been already developed. It will also determine the costs.
This will help the company in the long haul, but it also has some interesting and potentially lucrative projects in its pipeline coming soon.
Upstream projects and capex
It's interesting to see Exxon Mobil targeting its upstream business for growth and spending at a time when it seems more profitable to focus on its downstream business.
That said, upstream did account for about 80 percent of company earnings as of the third quarter of 2016, and has dropped to 32 percent in the last quarter. Taking that into consideration, it may make sense to migrate back to upstream projects. It's possible it has brought its refining revenue and earnings to a high level where more investment wouldn't be productive. Even so, it has shown some signs of slight deterioration lately.
Upstream earnings plummeted in the third quarter, falling to $1.3 billion. That was with the price of oil at $50 per barrel. That number is going to be down much further with the price of oil dropping to close to half of that.
XOM has said it wants to increase production in 2017 to 4.3 billion barrels per day. The company has a couple of dozen projects in the pipeline through 2017. Of the $23 billion of capex in the first 9 months of 2015, a little over 80 percent of that was spent on upstream projects.
In 2016 and 2017 it has plans to launch operations which will add about 0.4 million barrels per day to its total. Among those are Upper Zakum in the United Arab Emirates, Gorgon Jansz in Australia and Kashagan in Kazakhstan. There are many other projects in the pipeline that are scattered across many other countries.
The implication of these actions are Exxon believes there will eventually be some price support for oil over the next couple of years. It's definitely possible, but under these volatile and unprecedented conditions, there is no way of even semi-accurately projecting out that far.
Refining margins
A major bright spot for Exxon has been its earnings from refining, which has helped it offset some of its dismal results from its oil production. That appears to be changing now, according to data released by BP, which shows refining margin in the industry as a whole has dropped significantly. This is something to be concerned about and watch closely as we move deeper into 2016.
In the fourth quarter, the data show, refining margins plunged 34 percent, the quickest downward move in 8 years. On its website it revealed for every $1 decline in margin, which now stands at $13.20 per barrel, its adjusted pretax earnings falls $500 million a year. This doesn't mean the Exxon numbers are the same, but it suggests it will have material impact on its performance if refining margins remain under pressure over the next year. This is definitely bad news for the oil industry and Exxon.
The data doesn't mean refining is falling apart, but it does point to some weakness. All of this could surprise to the downside in the next earnings report for the company, although the big decline in margins came near the end of the last quarter, so most of it may have more of an impact in the second quarter earnings report. Add to that the low prices in the last quarter and it's looking even worse for Exxon in the short term.
This comes after a good refining report sequentially from the second to third quarters, where refining earnings climbed from $1.5 billion to $2 billion. That helped Exxon improve its earnings quarter-over-quarter from $4.1 billion to $4.2 billion. Crack spreads, which is the earnings generated from the difference in price of oil and fuel, along with refining margins were what drove margins in the third quarter.
Keep in mind these earnings included oil prices of about $46 per barrel in the third quarter. Priced have dropped precipitously since then.
While the bulk of capital expenditures is targeting upstream projects, it doesn't mean the energy giant is maintaining the status quo with its downstream assets.
For example, it is expanding its Rotterdam and Beaumont refineries in order to boost earnings from refined products. In the case of Beaumont, the purpose is targeting growing demand for light crude oil in the U.S.
As for its refining capacity, it has the ability to process approximately 5.2 million barrels of oil per day. Its closest competitor, Royal Dutch Shell (RDA.A) has a refining capacity of 3.2 million barrels of oil per day.
source: BP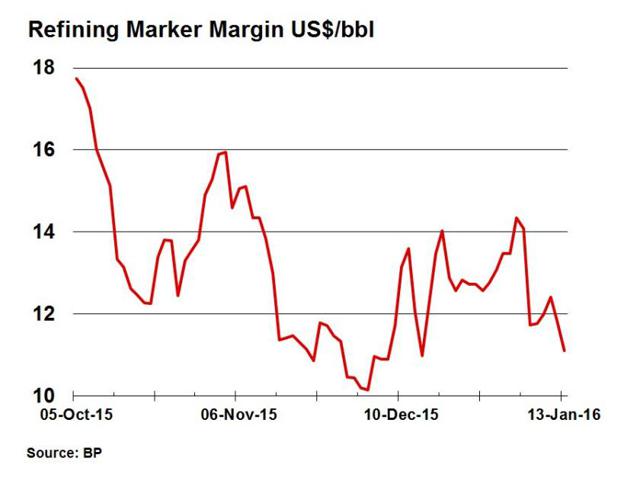 Credit rating risk
With credit agencies still considering Exxon Mobil a low-risk company, that could change over the next year or two if the price of oil remains low.
Standard & Poor's recently said there is a possibility it may cut Exxon's "triple-A rating within the next two years." If that happens, the cost of capital would increase, and if market conditions remain difficult, it would put further downward pressure on the company, which still has plans to spend billions on strategic projects. Adding more costs to capital expenditures would be another negative catalyst to add to the rest already in place.
If the price of oil remains under $30 per barrel, and even falls closer to $20 or lower, I don't see it taking too long for credit agencies to start reconsidering Exxon's credit risk. I'm thinking it could happen within a year if market conditions remain as they are or continue to deteriorate.
Since I see little chance of any agreement to cut supply, the industry will have to depend upon a significant increase in demand, coupled with shale oil and offshore producers cutting back on supply, if the price of oil is to find support. Even then the nature of shale production would mean companies could quickly bring wells into production, which would put a ceiling on how high the price of oil can go.
As it relates to Exxon and its credit rating, there doesn't appear to be a lot of positive news concerning it being able to hold on to its current rating.
Risk from political correctness and climate change
If all of this isn't enough, Exxon has been targeted by the government and its green competitors concerning alleged lies about its exposure to unproven climate change.
The apparent issue is the company is being investigated concerning whether or not it "lied" to investors in regard to alleged "risks and financial impact of climate change." This is, even in light of the science, unproven at best and dubious and dishonest at worst.
That said, it really doesn't matter for investors as to whether they believe climate change or global warming is real or not. The investigation is going forward, and it has to be taken into account as to the possible impact on the company if it is pressed into entering into some type of agreement to pay a fine or penalty of some sort. I'm hoping it battles it out. But at this time it doesn't seem to have the will to take on the government.
There is a very concerted campaign already in motion to influence the company by keeping the story in the limelight, which of course would eventually have an impact on public opinion.
Here's what New York state Comptroller Thomas P. DiNapoli said in a news release:
"The unprecedented Paris Agreement to rein in global warming may significantly affect Exxon's operations. As shareholders, we want to know that Exxon is doing what is needed to prepare for a future with lower carbon emissions. The future success of the company, and its investors, requires Exxon to assess how it will perform as the world changes."
I'm not going to get into the politics of this, but you can see by the language of DiNapoli this is an attempt to pressure and manipulate the company to move more toward non-carbon alternative energy.
Also important to note is DiNapoli is the sole trustee of the New York State Common Retirement Fund, which has a significant stake in Exxon. California is also seeking "clarity" on the issue.
I believe what is happening, as it is across the U.S. in regard to pension funds, is they are going bankrupt because of the way they're put together, which means they are looking for money from other sources without having to make members pay more into it, which is something politicians don't want to touch.
I'm not too concerned about the general PR on this, as Exxon has went through just about everything over the years it has been in business. What does concern me is how it may respond to this attempt to extract money and literally a forced admission that climate change is real, whether the company believes it or not.
There is no way of knowing how this will all work out, but investors should keep a close watch on it to see the depth the government is prepared to go to deal harshly with Exxon. It could, over the long term, had a dramatic impact on the performance of the company. I don't see it having a material effect for a year or two, but it could weigh on the company if everything else remains as it is or worsens.
Conclusion
On the positive side, the financial strength of Exxon when measured against its peers, puts it in strong position to make some strategic acquisitions of valuable assets as the industry continues to crumble. Its competitors will be attempting to do the same, but Exxon has the biggest wallet. That could be good or bad depending on what it would have to pay for the most valuable assets.
Under these conditions it's unlikely any company is going to pay too much, especially when they're in uncharted territory. I don't consider this a cyclical event, but a disruption in the overall oil industry in general, coming from the shale revolution, which is in its nascent stage.
The U.S. accounts for about 90 percent of shale production at this time, with about 350 billion barrels of recoverable shale oil outside the U.S.; much of which is still waiting to be explored and developed.
Other than that, the remaining positive is it is running much leaner, and that should help it in the short and long term, as long as it doesn't have too much of a detrimental impact on slowing expansion.
It is concerning to see Exxon under some pressure, with refining margins apparently dropping. That won't have too much impact in the latest quarter, but in the current quarter it could be devastating, when accompanied by oil in a range of $20 to $30.
As for its credit rating and possible exposure to a lawsuit or fine in relationship to climate change, those are things that should take longer to unfold. On the credit rating side, it could happen sooner than later if the price of oil falls further than most expect.
The climate change risk is odd to me, and it's hard to know how to price that into the company. It's definitely a play to press the company to go in a different direction. What is important to watch there is how management responds to that challenge, and whether it wastes resources on dubious projects it had no interest in pursuing.
Taking everything into account, this is still primarily about the supply and demand equation, and that directly affects the price of oil. If and when that changes, the outlook for Exxon Mobil will improve, assuming the price of oil eventually finds support. I don't see that happening in the near future, so investors will have to continue to juggle the variables in their mind while awaiting the outcome of an extraordinary period of time for oil.
My thought is this is going to take much longer to work out than most are hoping for. That means Exxon will continue to struggle for some time with the rest of its peers.
Disclosure: I/we have no positions in any stocks mentioned, and no plans to initiate any positions within the next 72 hours.
I wrote this article myself, and it expresses my own opinions. I am not receiving compensation for it (other than from Seeking Alpha). I have no business relationship with any company whose stock is mentioned in this article.