SunEdison's (SUNE) acquisition deal with Vivint Solar (NYSE:VSLR) has been one of the most talked about in the solar industry. While the deal appeared to be a positive development for SunEdison just a few months back, this is no longer the case. The massive financial headwinds facing SunEdison have raised some serious questions about the company's ability to successfully integrate Vivint Solar. Given SunEdison's increasingly desperate situation, the company does not seem well-equipped to involve itself in the financially intensive business of rooftop solar.
While rooftop solar is one of the most promising solar sectors, SunEdison currently has far too much on its plate to successfully integrate Vivint Solar. When the deal was initially drafted, SunEdison had a market capitalization of around $10 billion. At SunEdison's current market capitalization of $740 million, the company's financial pull has reduced dramatically. As much of the acquisition deal's appeal had to do with SunEdison's previous financing capabilities, the deal is clearly no longer as attractive given SunEdison's mounting financial troubles. What's more, investors are becoming increasingly disgruntled with SunEdison's decision to acquire Vivint Solar.
Investor Pressures Are Ramping Up
Despite the fact that SunEdison and Vivint Solar recently amended their acquisition deal, investors are still largely unhappy with the deal. Many investors have even called for SunEdison to altogether cancel the deal. In fact, major TerraForm Power (NASDAQ:TERP) investor David Tepper is suing SunEdison over the Vivint Solar acquisition deal. Given SunEdison's plans to drop down up to 523 MW of rooftop solar assets into its yieldco TerraForm Power and David Tepper's unfavorable view of rooftop solar assets, such a conflict was largely inevitable.
A growing number of investors are starting to share David Tepper's views on rooftop solar assets, which is only putting more pressure on SunEdison to cancel its Vivint Solar deal. TerraForm Power investors are increasingly starting to believe that rooftop solar assets will hurt the yieldco. On the other hand, SunEdison investors are increasingly worried about potential business culture integration problems and Vivint Solar's general prospects. Such pressures showcase the growing disconnect between SunEdison and its investors, which could continue to prove problematic moving forward. Vivint Solar may be the only winner in this acquisition deal as the company needs SunEdison's help in order to compete with the likes of SolarCity (SCTY).
Vivint Solar's Business Will Only Put More Strain on SunEdison
SunEdison currently has approximately $11.7 billion in debt, making it one of the most indebted companies in an industry already plagued with debt. Acquiring Vivint Solar will likely only make SunEdison's financial situation worse, especially considering how capital-intensive the current rooftop solar model is. As Vivint Solar's most popular products involve long-term rooftop solar leases and PPAs, a great deal of financing is required to successfully run the company. It is hard to imagine SunEdison taking on so much extra financial burden when the company is already buckling under its debt load.
Should SunEdison acquire Vivint Solar, SunEdison will be competing with the likes of SolarCity. As SolarCity's infrastructure, cost structure, and general financing capabilities are unparalleled in the rooftop solar industry, SunEdison has little chance of contending with SolarCity. In fact, Vivint Solar has already started to fall behind SolarCity in recent quarters. With so many other businesses to worry about, SunEdison's ability to deal with rooftop solar competition is highly questionable. By the same token, involvement in the rooftop solar industry will only distract SunEdison from its other businesses. Given the complexity of the rooftop solar business, acquiring Vivint Solar will massively dilute SunEdison's already constrained attention/resources.
Vivint Solar's rooftop solar business requires a great deal of financing as the company needs to pay for everything upfront.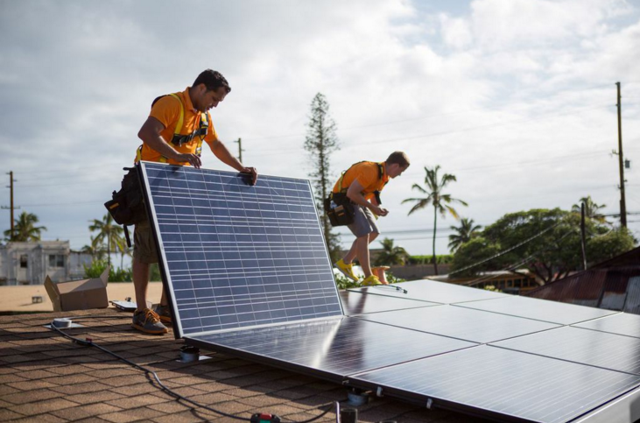 Source: Forbes
The Current Rooftop Solar Model Is Relatively Risky
Vivint Solar has helped push long-term rooftop solar products into the mainstream. While the long-term rooftop solar business model has enormous potential, the risks involved in it are also big. For one, cash sales and loans will likely become more popular over time in the rooftop solar industry. As customers become more informed, they will naturally gravitate towards such cheaper rooftop solar products. While Vivint Solar is starting to involve itself in the loan market, the company's forte lies within the lease and PPA markets.
What's more, it is nearly impossible to accurately predict the NPVs of long-term rooftop solar products. As most of these products have lifespans of around 30 years, putting an NPV on these products is justifiably difficult. While Vivint Solar provides its own numbers on the NPV front, there is no real way for investors to gauge the accuracy of such numbers. In fact, the main debate surrounding the rooftop solar business model is centered on appropriate long-term assumptions for leases/PPAs. By acquiring Vivint Solar, SunEdison is taking on the sizable risks associated with rooftop solar.
Conclusion
SunEdison's Vivint Solar acquisition plan appears less sensible with every passing day. The fact that the acquirer SunEdison is now valued less than the acquiree Vivint Solar sums up the absurdity of the situation. Given SunEdison's deteriorating financials, adding another huge business to its operations does not seem prudent. Even at a market capitalization of $740 million, SunEdison likely has more downside. While SunEdison's valuation could easily skyrocket if it can overcome its enormous financial and business model issues, such a scenario appears to be increasingly unlikely. Acquiring Vivint Solar should only amplify SunEdison's current troubles.
Disclosure: I am/we are long SCTY.
I wrote this article myself, and it expresses my own opinions. I am not receiving compensation for it (other than from Seeking Alpha). I have no business relationship with any company whose stock is mentioned in this article.