Much has been written about SunEdison's (SUNE) planned acquisition of Vivint Solar (NYSE:VSLR). The planned purchase, which is likely to be completed within the next couple months, has been a large reason behind SUNE's 90%+ drop over the past six months. SUNE shareholders have been punished by the fact that the company might have bitten off more than it can chew in agreeing to the transaction. The deal has even been renegotiated to make it a less onerous transaction for SUNE, but the uncertainties have continued in the new year.
Last week, we found out that David Tepper controlled Appaloosa Management had sued in order to prevent SUNE controlled Terraform Power (NASDAQ:TERP) from being involved in the deal. Among other things, Tepper accused SUNE management of self-dealing, using TERP as a piggy bank to take on Vivint's current solar installations. TERP is to purchase around 470MW of completed projects for about $799mil, $1.70/watt. If the court agrees with Appaloosa's arguments, then SUNE will have to come up with the entire purchase consideration by themselves, which could prove extremely costly for a company that already had a dilutive liquidity raise in 2016.
However, Vivint's recently filed PREM14A form indicates that Carlos Domenech, Terraform Power's then CEO, was actually the first person to discuss a possible merger with Vivint CEO Greg Butterworth. This long document lays out the background on the merger for Vivint shareholders, so that they can make an educated decision in choosing to vote for or against the merger. I found the section "Background of the merger" (page 42) quite enlightening.
It turns out the the seeds for this deal might have been sown back in March of 2015:
On March 6, 2015, Greg Butterfield, the president and chief executive officer of Vivint Solar, and Carlos Domenech, executive vice president of SunEdison and the president and chief executive officer of TerraForm Power, a controlled affiliate of SunEdison, had a telephone conversation to exchange ideas about the industry in which the companies operate, for SunEdison and TerraForm Power to learn more about Vivint Solar's business, and for Vivint Solar to learn more about SunEdison's and TerraForm Power's business. During the conversation, Messrs. Butterfield and Domenech discussed potential business and other partnership opportunities between the parties. Toward the end of the call, Mr. Domenech raised the possibility of a strategic combination between SunEdison and Vivint Solar as a potential alternative, but the possibility was not discussed in detail. At the conclusion of the call, Messrs. Butterfield and Domenech agreed to speak again to continue the dialogue regarding potential opportunities among the companies.

On March 26, 2015, Messrs. Butterfield and Domenech, along with Todd Cater, vice president of North America mergers and acquisitions of SunEdison, and Kevin Lapidus, the senior vice president of corporate development of SunEdison and TerraForm Power, met at the principal executive offices of TerraForm Power in Bethesda, Maryland. During the meeting, the parties discussed the industry in which Vivint Solar operates, and the representatives of SunEdison indicated that SunEdison was considering multiple strategic opportunities to increase its presence in the industry and wanted to further learn about Vivint Solar's business.

Also on that same day, in order to facilitate further discussion between the parties, Mr. Cater emailed a draft mutual nondisclosure agreement between TerraForm Power and Vivint Solar to Mr. Butterfield.
These initial encounters seem to suggest that, rather than SUNE management forcing the Vivint deal down Terraform's throat, the deal might actually have been Domenech's idea in the first place. In his role as CEO of TERP, Domenech was clearly a deal junkie. He put together a series of bigger and bigger deals that quickly turned TERP into one of the largest yieldco's on the market.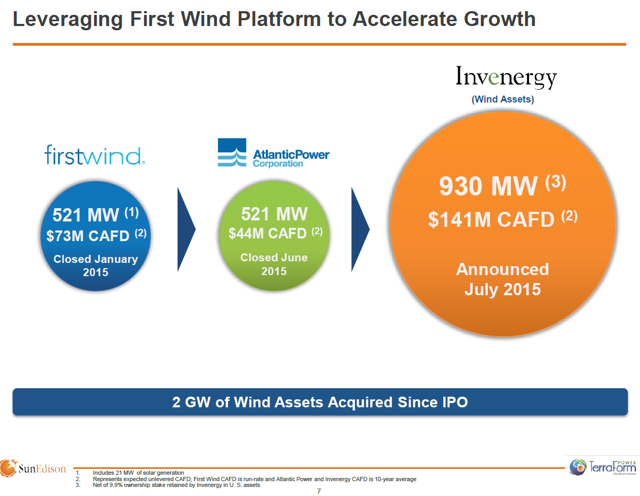 Source: SUNE's Invenergy purchase presentation.
Domenech clearly envisioned TERP as a global renewable energy giant that owned producing assets of all types, including utility solar, wind, hydro, and residential solar. The Vivint transaction was TERPs way to access a fast growing set of assets that looked to deliver better CAFD per dollar spent than the safer, but more costly, utility assets.
The reasoning made sense at the time, since TERP's stock was trading in the mid-$30s, and thus their cost of capital was around 5%-7%. Of course, in the past six months, the market has completely changed and SUNE would almost certainly be better off if they could simply cancel the deal with no consequences. However, this clearly wouldn't be the case. A canceled deal would mean a catastrophic end to Vivint, given that they would have needed to raise more capital had they not been acquired. Thus, Vivint would not agree the cancellation without a big fight.
Thus, I see SUNE CEO Ahmad Chatila as simply trying the make the most of a poor situation. While it looks as if SUNE is forcing the assets on to TERP, the reality may be the opposite. Given what we know today, its very likely that TERP would be better off if Appaloosa was able to convince the judge to grant the injunction against the sale. However, the preceding leads me to believe that won't happen.
Some of you might argue that Domenech was simply a pawn placed into the CEO role at TERP, and that he was simply there to do SUNE's bidding all along. However, I would argue that he was the mastermind behind most of the deals, and was looking to grow TERP as quickly as possible. As I noted in a piece back in November, his stock holdings in the company's indicated that he had much more to gain from the yieldco's success than from SUNE.
SUNE: 313,992 x $2.82 = $885k
TERP: 1,714,860 x $9.20 = $15,777k
GLBL: 1,371,993 x $5.27 = $7,225k
Thus, I currently expect the judge with almost certainly throw out Appaloosa's suit, and that the Vivint deal with close before the end of the first quarter. Shareholders can only hope the SUNE can deliver on their projections in 2016, especially on the positive cash flows they expect during the second half of the year.
Disclosure: I am/we are long SUNE, TERP.
I wrote this article myself, and it expresses my own opinions. I am not receiving compensation for it (other than from Seeking Alpha). I have no business relationship with any company whose stock is mentioned in this article.