Shale player EOG Resources (NYSE:EOG) had held its ground for much of last year despite the turmoil in the oil industry, but it has lost its bearings badly in the last three months, losing almost 30% market capitalization. This recent drop in EOG Resources' stock price doesn't come across as a surprise since crude oil prices have been hovering at less than $30 per barrel for some time now.
Now, looking ahead, the oil industry is anticipated to witness more pain due to the persistence of oversupply in the end market, as I will shortly discuss. But, the most important question for EOG at this point is whether or not the company will be able to withstand the weakness in the turbulent oil market. Let's find out.
Prepared for a low oil pricing scenario
When oil prices began sliding a couple of years ago, oil companies began lowering their costs aggressively. Now, EOG was no different, but the good thing is that apart from reducing capital expenses, the company also focused on improving its operating efficiency that has allowed it to lower costs on a sustainable basis.
For instance, EOG has been deploying what it calls a zipper-style completion process at its multi-well pads, apart from the deployment of water handling systems at its wells to improve the completion process. As a result of these infrastructure enhancements, EOG has been able to bring down the payout period from its wells to less than six months in areas such as the Bakken.
In fact, driven by the enhancement in the completion design, EOG has been able to bring down its completion costs at the Bakken by decent margins. Its completion costs in the Bakken have dropped 20% since 2014 levels. This is a result of a significant decline in the average drilling days in the Bakken, with the spud-to-TD times dropping 39% from 2014 levels, as shown in the chart below.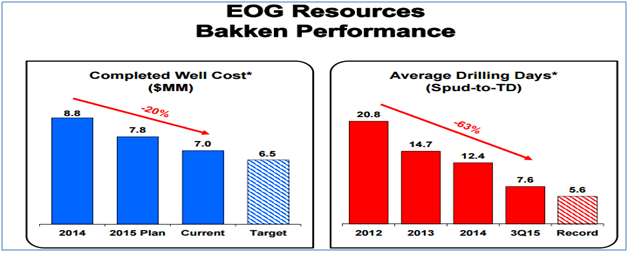 Source: EOG Resources
More importantly, further reductions are expected in well completion costs going forward, as shown above. In fact, EOG plans to reduce its well completion cost by another 8%, and this looks quite achievable if we consider the fact that it is now focusing more on high-density well completions that have lower base decline rates, leading to higher production efficiency and lower costs.
Also, as a result of the improvement in operating efficiency, EOG has managed to achieve lower lease operating expenses as compared to rivals. For instance, its lease operating expenditure in the last reported quarter was down approximately 17% on a year-over-year basis. In addition, the company has been able to reduce its transportation and G&A expenses by 11% and 6%, respectively. On the back of these cost reductions, EOG has managed to keep a lower cost profile than its peers as shown in the chart given below: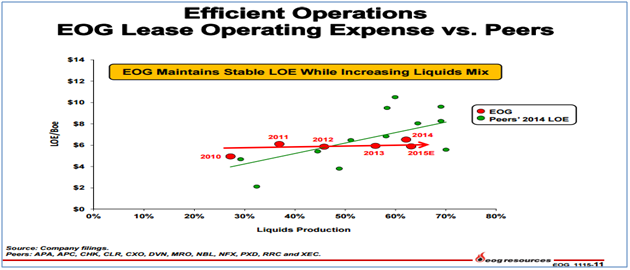 Source: EOG Resources
The net impact of these efficiency improvements and cost reductions is that EOG will now be able to generate returns in a lower oil price setting on the back of investments in areas such as the Eagle Ford, the Bakken, and the Delaware Basin. In fact, it is estimated that these assets can now generate more than 40% direct after tax rate of return at an oil price of $50 per barrel.
Of course, the current oil price is much lower than $50 per barrel and it will be quite some time before we see oil at those levels again, but one thing becomes clear that EOG's cost reduction moves have now placed it in a better position to overcome the end-market weakness. Throw in the fact that EOG has a decent liquidity position with over $5 billion in operating cash flow and $740 million in cash and equivalents, which are enough to cover its interest obligations; it becomes clear that the company can overcome the end-market weakness.
Excess supply will negatively impact oil pricing
The oil market is likely to remain in tatters in the short run as the war for market share continues. For instance, after the sanctions on Iran were lifted earlier this week, the country's oil production is anticipated to rise as it looks to recapture the lost opportunity in the crude oil market. In fact, according to the EIA, Iran's oil production is expected to rise to 3.1 million barrels per day this year from 2.8 million barrels per day last year. In 2017, Iran's production is anticipated to increase to 3.7 million barrels per day.
All in all, as shown in the chart given below, global crude oil production is anticipated to outpace consumption for at least the next one year, and this will continue to weigh on prices. This is shown in the chart given below: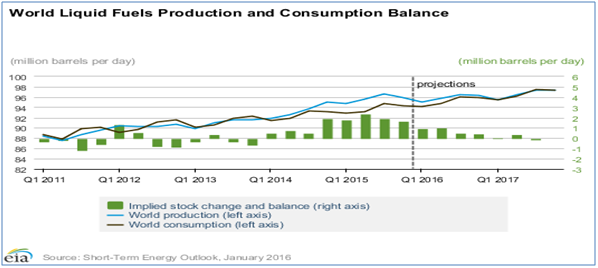 Source: EIA
Thus, the outlook for the oil market does not appear to be bright in the short run. This is why EOG's focus on keeping its costs low and improving its operational efficiency will allow it to mitigate the end-market weakness to some extent. Meanwhile, a decent balance sheet is another factor that will allow EOG to see through the weakness in the end market.
Conclusion
Thus, EOG Resources looks well-placed to overcome the weakness in the oil market. The company's key assets now carry a lower cost base, as a result of which it has been able to bring down its expenses on a sustainable basis. Additionally, EOG will also benefit from its balance sheet, which will allow it to cover interest obligations without much trouble due to impressive operating cash flow generation. So, in my opinion, those who are holding EOG shares should not lose hope as the company looks well-equipped to overcome the end market weakness.
Disclosure: I/we have no positions in any stocks mentioned, and no plans to initiate any positions within the next 72 hours.
I wrote this article myself, and it expresses my own opinions. I am not receiving compensation for it (other than from Seeking Alpha). I have no business relationship with any company whose stock is mentioned in this article.