The decline in oil prices since the 2014 peaks has been nothing short of shocking to investors. Things have gotten so bad that the focus is on when, and not if, Big Oil companies will cut their dividends. Speculation abounds, but as yields approach double digits, the market is certainly doubting the viability of most oil stock dividends, save for Exxon.
Two oil stocks that have seen their dividend yields pushed above 8% are U.K.-based integrated major BP plc (NYSE:BP) and U.S. producer ConocoPhillips (NYSE:COP).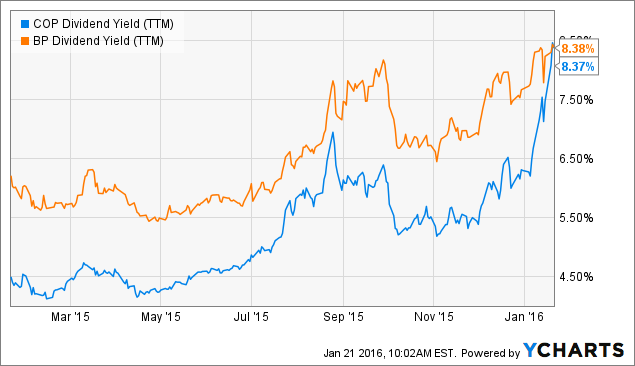 Their sky-high dividend yields are a telling sign that the market is pricing in significant dividend cuts for the two. Both companies have pledged to cut spending in this environment, but even that may not be enough. I think odds of both companies cutting their dividends at sub-$30 oil are at least 50-50, perhaps even higher. But if there's one stock that investors have to buy, make it BP.
Integrated Model is the Saving Grace
BP is an integrated oil company, meaning it has operations in both the upstream (exploration and production) and the downstream (refining). On the other hand, ConocoPhillips is purely an upstream producer, as it spun off its refining unit Phillips 66 (NYSE:PSX) several years ago. At that time, ConocoPhillips believed the spin-off would create value for shareholders and allow the company greater operational flexibility to focus on core exploration. At $100 oil, that decision made sense. At $25 oil, it is proving to be a major disadvantage.
That's because upstream operations are entirely reliant on the price of the underlying commodity itself. ConocoPhillips' net profits are reduced by $40 million-$45 million for every $1 per barrel fluctuation in WTI crude, and $85 million-$95 million for every $1 change in Brent. Consequently, the oil crash is causing it to lose billions. ConocoPhillips lost $1.1 billion last quarter alone.
On the other hand, refining is actually one of the only areas still doing well in the energy industry. Refining tends to improve when oil prices decline, because falling oil reduces feedstock costs. This causes refining spreads to widen, which boosts profit margins.
BP has a large refining business which is providing the company with valuable protection right now. BP's third quarter profit fell 48% year over year, but the company still generated a $1.2 billion profit. The refining business is the main reason why BP remains profitable at all; downstream earnings more than doubled over the first nine months of 2015, to $6.2 billion.
In response to the current environment, both companies are aggressively cutting spending to preserve their dividends. ConocoPhillips expects to sell $2.3 billion worth of assets next year. It also will be reducing 2016 capital expenditures by 25%. For its part, BP recently announced it would cut 4,000 upstream jobs as part of a $3.5 billion restructuring. BP has also said it would reduce capital expenditures to $17 billion-$19 billion through 2017, and is expected to sell off $3 billion-$5 billion in assets this year.
BP has a unique headwind in the form of its $18.7 billion Gulf of Mexico oil spill settlement. That is surely a considerable sum, but the good news for BP is that the payments are spread over 18 years. Payments of just over $1 billion per year are manageable for a company the size of BP, and just the certainty of having the issue resolved once and for all is a positive.
Advantage: BP
In this horse race of 8% yielding Big Oil stocks, it's BP by a nose. While both companies are in trouble, and BP has its own share of difficulties, including the Gulf spill settlement and exposure to Russia, its downstream unit gives it the edge over ConocoPhillips. ConocoPhillips is a well-run company, but in this environment there is little that even a great management team can do to counteract the effects of $25 crude on an independent producer. If ConocoPhillips' losses continue, the dividend is likely to be cut. Both companies have vowed to maintain their dividends, but there have been plenty of management teams to promise to not cut their dividends, only to cut them eventually.
Looking back, in hindsight I'm guessing ConocoPhillips rues the day it decided to spin off Phillips 66. Going independent probably looked like a great decision at $100 oil, and spins offs do typically create value, but ConocoPhillips has left itself dangerously vulnerable to swings in the oil market. BP certainly isn't out of the woods by any means, and there remains a distinct possibility that both companies will cut their dividends if oil stays at this low level throughout 2016. But of the two, I view BP as having the more secure dividend.
Disclaimer: This article represents the opinion of the author, who is not a licensed financial advisor. This article is intended for informational and educational purposes only, and should not be construed as investment advice to any particular individual. Readers should perform their own due diligence before making any investment decisions.
Disclosure: I am/we are long BP.
I wrote this article myself, and it expresses my own opinions. I am not receiving compensation for it (other than from Seeking Alpha). I have no business relationship with any company whose stock is mentioned in this article.