As shares of Linn Energy (NASDAQ:LINE) / LinnCo (NASDAQ:LNCO) hover near fresh 52-week lows and after oil prices dipped below $30 per barrel and are hovering at about $28 per barrel, the question likely on many investors' minds is what the future has in store for the company. Certainly, if energy prices remain low enough for long enough, not only Linn but also many other operators in this space will eventually go under. In the past, I've mentioned that I do not believe this oil downturn will stay this bad for too much longer, given the fact that oil rig counts seem to indicate that falling output is right around the corner but can Linn survive long enough to see these days?
A look at projected cash flow and debt
In the table below, you can get a glimpse of what the future should look like for Linn at current energy prices. My analysis assumes oil prices in perpetuity of $28 per barrel and natural gas prices of $2.082 per Mcf. Based on the data provided, Linn's strong hedge portfolio will allow the company to generate cash flow in 2016 of $413.93 million, a nice chunk of change for a business whose market cap stands at a paltry $310.7 million. At first glance, this may make Linn seem like a no-brainer but, as its hedges roll off, the company is expected to lose $269.01 million in cash next year, followed by even larger declines in 2018 and 2019.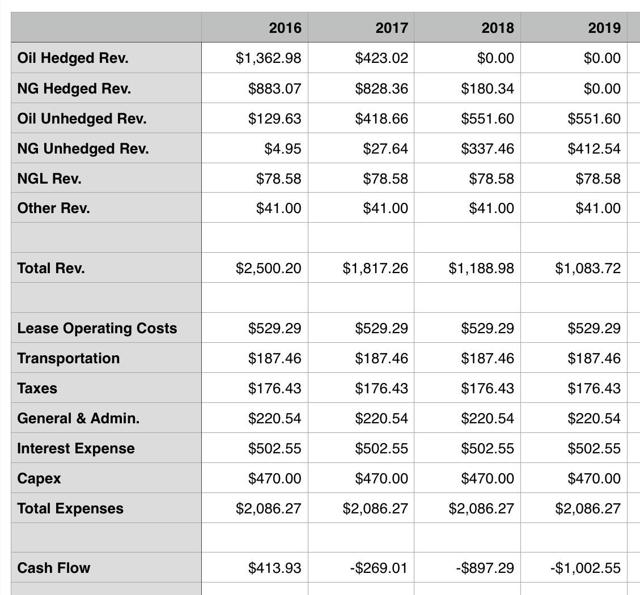 The other issue facing the E&P operator relates to its debt load. In the table below, you can see that Linn's long-term debt currently stands at $8.73 billion, $3.68 billion of which is in the form of credit facilities and a term loan associated with said facilities. Fortunately, not everything here is negative. The rest of the company's long-term debt comes due starting in 2019 (which gives plenty of time for energy prices to recover) and most of this debt (all but $1 billion) is going for as low as $0.09 on the dollar, which provides management the opportunity to buy it back at a significant discount.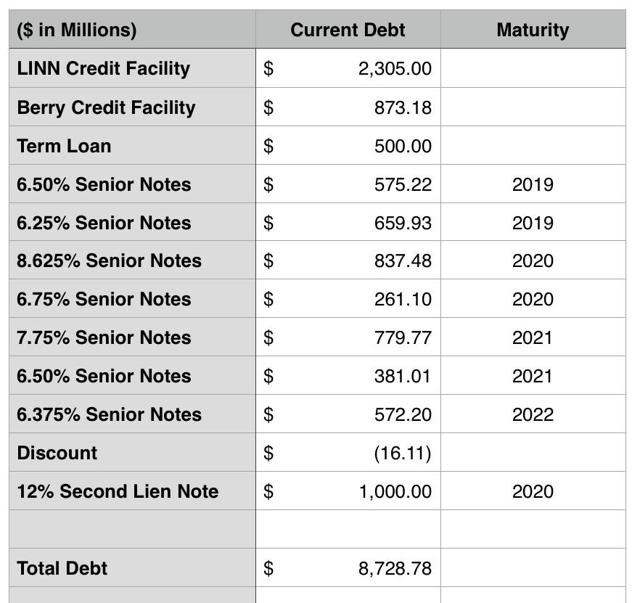 What this implies is that the company has until next year before bankruptcy becomes a concern but there is one thing that could throw the company under the bus faster; its credit facilities. Every six months (in April and October), Linn has to go through the credit facility redetermination process, which means that its lenders get to decide how much the company's borrowing base should stand at for the next six-month period. In October, their borrowing base was cut so that the company's excess capacity of about $1.5 billion fell to just $790 million and the materially-lower energy prices that exist today, combined with hedges rolling off this year, could put Linn at risk of facing a credit crunch in either April or October of this year if its capacity is lowered by too much.
Thankfully, Linn has $44.81 million in cash on hand (they used $300 million to pay down their Berry Credit Facility to some extent) and management forecasted that the company's fourth quarter cash flow last year would give them an extra $149 million to play with. Collectively, this gives the company about $193.81 million in cash on top of what should be generated this year. What management decides to do with this debt will likely determine the future (or lack thereof) of the company.
Linn's next steps
As I've stated before, Linn needs to focus now on reducing its outstanding borrowings, largely by buying back Senior Notes on the cheap. At current prices, the company could take $192 million of its estimated cash on hand and buy back $1.74 billion in debt (an average of $0.111 on the dollar). Such a move would, if they focus on the cheapest debt first, decrease annual interest expense this year by $123.61 million, pushing 2016 cash flow up to $537.54 million and making 2017's loss a more modest $145.40 million. This would ultimately mean that, if costs don't improve, Linn's 2017 average realized price on oil would need to be just $36.20 per barrel to break even.
Meanwhile, the rest of the company's 2016 cash flow could be allocated toward reducing the company's credit facility borrowings, which already allow wiggle room of $1.09 billion. This means that, if Linn were to see its borrowing capacity plummet, the company would need to see its credit facility slashed by about $1.50 billion before it would have to look elsewhere for the cash it needs. If its facilities are not cut by more than this amount in April, the company would be able to allocate an extra $134.39 million toward reducing its facilities through the fourth quarter of 2016. All of this takes into consideration a scenario where Linn continues to allocate $470 million per year toward capital expenditures (and if it sees the maximum estimated decline of 15% in output as a result of this) and if it does not need to resort to any sort of asset sales, a strategy I laid out in one of my previous pieces.
Personally, I would love to see the company raise $500 million to $1 billion through an organized asset sale so that it can pay down the credit facility more while reducing Senior Notes even further, but this isn't a move that investors should bet the farm on. Rather, a cut to capex is more probable right now in my opinion. Another alternative to all of this, however, would be for the company to continue buying back Senior Notes using this year's cash flow. Following this approach just for the first quarter of this year would grant Linn the ability (at current market prices) to buy back an extra $1.01 billion in debt, reducing annual interest expense by an extra $74.10 million. As a result of these changes, the company's cash flow this year, net of debt buybacks, would be around $477.25 million, an amount that can help to reduce credit facility borrowings.
If management were to take either of these approaches and combine it with additional hedging, Linn would be in fairly decent shape. Based on my own calculations, hedging 100% of 2017's oil production (at $37.68 per barrel, the current futures average) would, when combined with the more moderate approach of buying back Senior Notes with its current cash on hand and allocating the rest of its cash flow toward paying down its credit facilities, would all but guarantee cash flow next year of $26.51 million. To many investors who, like myself, believe oil is likely heading higher in the next 12 months, this may seem like an odd approach but it does guarantee the company's bottom line and they can always take on additional debt again to increase output if need be.
Takeaway
Right now, I do not know what the future holds for Linn, nor do I know the future for any of its peers. What I am aware of is that the company's cash flow projections for 2016 look very positive despite the downturn in energy prices and that management can easily guarantee positive cash flow next year if it wants to. The big question, though, is what will happen with the company's credit redetermination come April. At current prices, I suspect the facilities will be slashed to some extent but management has a lot of arrows in its quiver. In addition to its cash flows, the company can cut their capex spending and explore asset sales. Certainly, these will result in less cash flow in the long run, but they are evidence that the company doesn't seem to be in as bad a situation as the market is indicating right now.
Disclosure: I am/we are long LINE.
I wrote this article myself, and it expresses my own opinions. I am not receiving compensation for it (other than from Seeking Alpha). I have no business relationship with any company whose stock is mentioned in this article.
Editor's Note: This article covers one or more stocks trading at less than $1 per share and/or with less than a $100 million market cap. Please be aware of the risks associated with these stocks.