J.C. Penney (NYSE:JCP) continues to suffer due to the failings of its competitors. Two of the most iconic American retailers, Walmart (NYSE:WMT) and Macy's (NYSE:M) are both shutting down stores, and laying off thousands of people. Other companies aren't doing much better, with overall holiday sales in America missing expectations. The retail sector's issues are due to a variety of secular factors, especially the warm weather, and the strong dollar.
As a result of this, the retail sector has fallen even more than the market over the past few weeks, and J.C. Penney's stock price was taken along for the ride. This would make sense - if J.C. Penney wasn't bucking the trend and continuously outperforming. On January 7, the company revealed that they had 3.9% comps for the holiday season this year, and also had record online sales. The latter fact is very encouraging for the long-term, as sales are shifting more and more towards e-commerce, and this makes it clear that J.C. Penney's online strategy is working. The former wouldn't be that significant if it was a one off event, but it isn't new either - even in the previous quarter J.C. Penney beat expectations with a 6.4% comp, despite other retailers such as Macy's failing to meet expectations. For the past year, J.C. Penney has been beating expectations for earnings as well. Unfortunately, the stock price reacted quite negatively all throughout this year, due to other companies failing to meet expectations. As can be seen in the chart below, the stock has fallen nearly 16% from January 7 to now.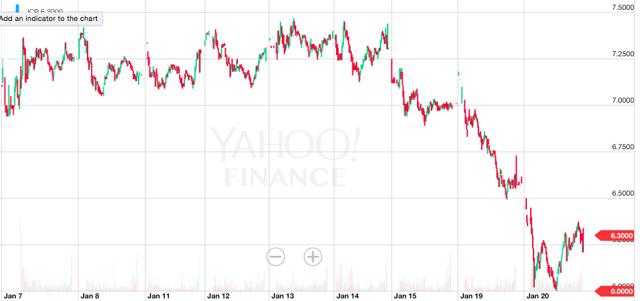 This is roughly double the S&P 500's drop, and most disturbingly, also roughly double the S&P Retail ETF's (NYSEARCA:XRT) drop, which can be seen below.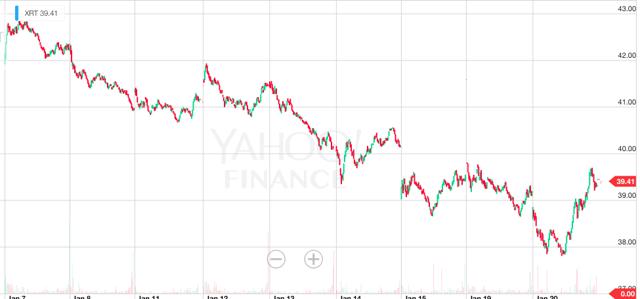 For current investors, this is a frustrating situation. The outperformer in the sector is doing significantly worse than the sector itself. However, this is an excellent opportunity for new investors, or current investors who wish to add to their positions. The company's operations have been improving for the past year, while the stock price has decreased significantly. Moreover, there have been further positive developments, which the company was punished for once again.
J.C. Penney recently announced the return of appliances, and even managed to get an excellent deal with appliance manufacturers. In response, the stock fell nearly 10% in the two days after the announcement was made. This makes little sense for numerous reasons. The appliance category has been a spot of strength for other retailers, such as Best Buy, where appliances grew by 13% in Q4. As mentioned before, J.C. Penney has a favorable deal with manufacturers. And most importantly, the decision to return to selling appliances was made as a result of data - J.C. Penney realized there was demand for it from their customers, by people asking about it, and from people searching for appliances on their website. Additionally, the company is being cautious about reintroducing appliances, only running it in a few stores for now, as part of a test run. Thus, there is very minimal downside from this move, and the facts suggest that there will be a great deal of upside.
Lastly, J.C. Penney is outperforming the retail sector for a reason. For one, they have almost no international exposure. Currency movements don't hurt them, and may even help them, as they can buy goods from overseas manufacturers for cheaper. J.C. Penney's management has stated why the company is succeeding as well - they're focusing on their strengths, with big discounts and introducing more and more private brands and executing well on their omnichannel strategy.
The warm weather has affected them, especially their apparel sales. They didn't manage to predict the weather better than all the other retailers. They are suffering from lower apparel sales, just as its competitors are. However, what this means is that even with the negative effect of warm weather on apparel sales, they are out performing, and showing off mid single digit comps growth. If the retail sector gets out of the funk its currently in, their sales are likely to explode upward. If the retail sector doesn't, J.C. Penney will still continue to have great results.
Of course, there are risks. The company isn't likely to be in danger of going bankrupt again, but they are still unprofitable on an EPS basis, even while having positive free cash flow. More importantly, I can't predict when the market will start to be rational about J.C. Penney. A safe floor is likely the book value, of $5.06 a share, which is still nearly 20% lower than the current price. Generally, I might recommend waiting until you see sentiment start to shift, (which is what I recommended in my recent article on IBM (NYSE:IBM)) but J.C. Penney has nearly 40% of its share sold short. When sentiment changes, the company is likely to rise very quickly, as short sellers scramble to cover their positions. Therefore, I would recommend investors consider buying J.C. Penney as soon as possible, while being prepared for the possibility of some downside before the stock rises.
Disclosure: I am/we are long JCP.
I wrote this article myself, and it expresses my own opinions. I am not receiving compensation for it (other than from Seeking Alpha). I have no business relationship with any company whose stock is mentioned in this article.