Hi Everyone,
Incidentally, I was working on the following new original piece (enclosed below) and was greeted with some most excellent news after the bell. Mr. Kellow and his team announced that their $358 million Bowie deal appears to be on track, and they formally expressed/confirmed that it should close by the end of Q1 2016. Moreover, they announced plans, pending regulatory approvals, to sell a minority stake in the 2012 built 1.6GW Illinois coal-fired power plant for $57 million. As I said in the comments section of many of my SA articles on Peabody Energy (NYSE:BTU), Mr. Kellow is the real deal, and I fully expect him to engineer an "Alan Mulallyesque" comeback. Tonight's press release, along with other recent events should signal loudly and clearly that - Mr. Market, Peabody Energy has ZERO intentions of filing Chapter 11. Peabody's management team are fighters and are far-sightedly looking to muddle through a challenging 2016 in order to prosper in 2017 and beyond.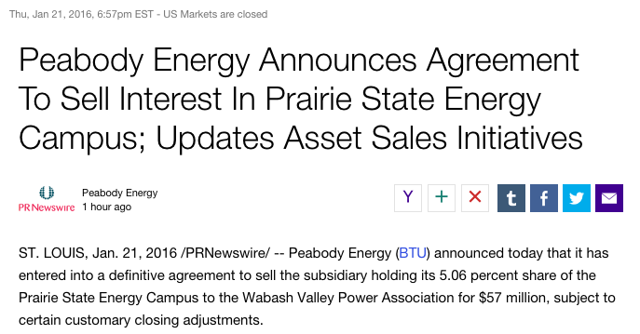 (Source: Yahoo Finance)
Here is an important quote from the press release:
In the fourth quarter, Peabody entered into a definitive agreement to sell its New Mexico and Colorado assets for $358 million in cash. The transaction would bring forward multiple years of cash flows and release the company of approximately $105 million of liabilities. The sale recently received Hart-Scott-Rodino regulatory approval, the purchaser is currently arranging for financing, and closing is expected within the first quarter.
Anyway, here was my original draft/article that I was going to submit prior to tonight's excellent update.
As everyone on SA is well aware, I am in the extreme minority that continues to believe that Peabody Energy will not file for bankruptcy. All of the experts have already written Peabody's obituary and are simply waiting for the event to formally take place so they can publish their "I told you so" columns. Lo and behold, many journalists are jumping the gun. See the following two articles recent enclosed below: Angela Mueller's article written in the St. Louis Business Journal penned on January 21, 2016.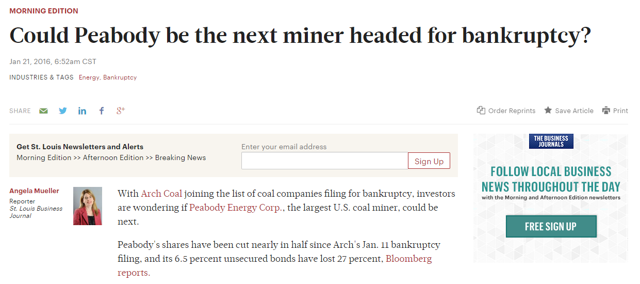 Not to be outdone, Bloomberg is banging the bankruptcy drums. Check out this headline and article written by Ms. Klein and Mr. Loh.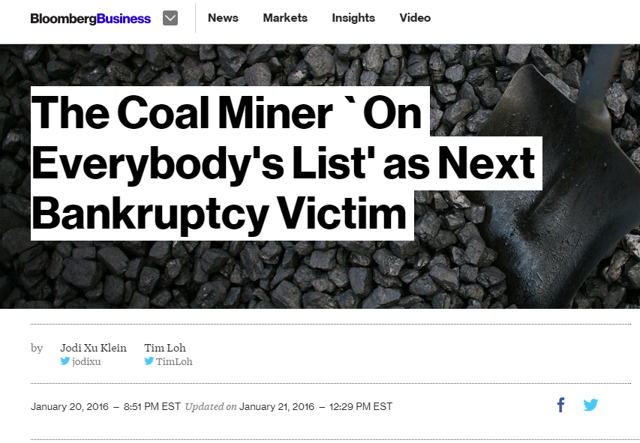 Unfortunately, I never much cared for following groupthink or populist thought. I try to think independently review the facts on the ground. Either way, I have some incrementally new research and logic to share to the few remaining Peabody Energy faithful stakeholders. As the bullish herd has been culled by persistent declines in Peabody's bond prices, I have some good news to share for farsighted investors.
Enclosed below is a list of the largest 40 U.S. natural gas producers (see exhibits A & B). To create these charts, I rolled up my sleeves and one by one, traversed the pages of more than three dozen SEC filings of each of these companies. All of the production and financial figures were lifted from the companies' SEC filings or investor relations websites.
Here are my key takeaways. In 2014, from a PV-10 accounting perspective, WTI oil average $95 per barrel and Henry Hub natural gas $4.35 Mcf. In 2015, WTI oil averaged $48.69 and Henry Hub $2.63 Mcf (see Exhibits C and D). Get ready for huge writedowns on the asset side of the balance sheets in oil & gas shale land. Moreover, this means that producers will increasingly be locked out from tapping new sources of funding to maintain production levels. As the great shale misadventure is wreaking havoc on the portfolios of many professional and retail investors the world over, get ready for production declines in the near future.
As of yesterday, spot WTI crude oil is under $30 per barrel, and natural gas is bouncing along the low $2s per Mcf range. Given the significant cumulative cash flow deficits during the first three quarters of 2015 (cash flow from operations less CAPEX less dividends/distributions = cash flow), think about how the negative operating leverage will negatively flow through the financial statement of these shale producers, especially given the big leg down in prices since December 2015. Of course, I get it that some producers have decent hedge books in place for 2016, which will somewhat insulate them, but a lot of these hedges rolled off in 2015 (depending on the producer).
Exhibit A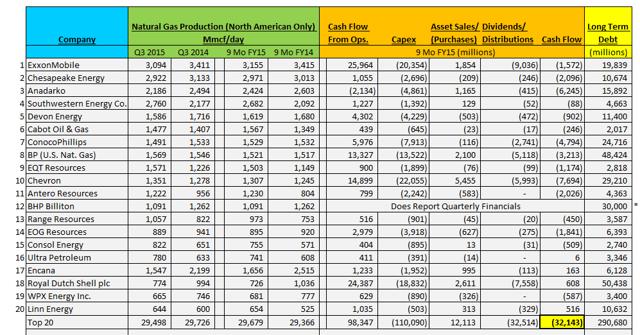 Exhibit B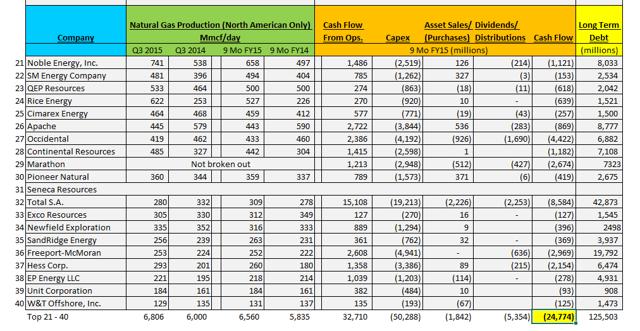 Exhibit C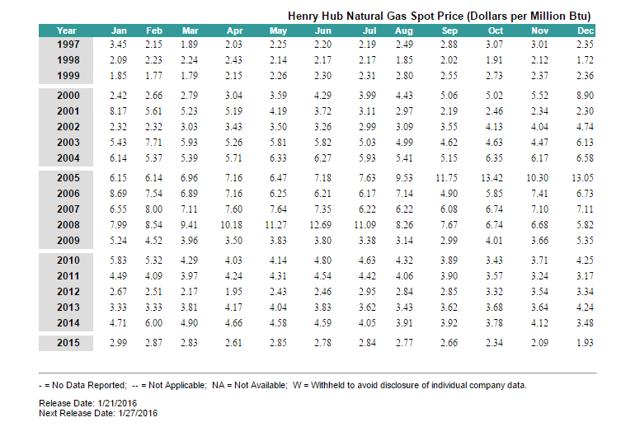 (Source: EIA)
Exhibit D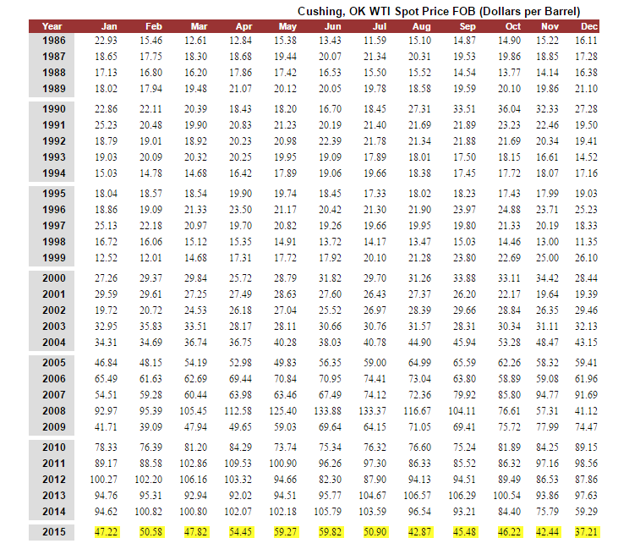 (Source: EIA)
Next, let's think about the huge decline in natural gas rigs. A well-informed reader by the SA user name/handle "Gilariverman" was kind enough to share the Baker Hughes drill count information with the readers.
Exhibit E
Here is January 15, 2016 Baker Hughes U.S. Drill Count. As we can see, the natural gas active rig count have dropped to 135 from 310 YoY. This signals an eventual future decline in supply as the inherently high decline rates and shadow backlog of DUCs get worked off. This is simply geology and math. Expect higher natural gas prices, folks.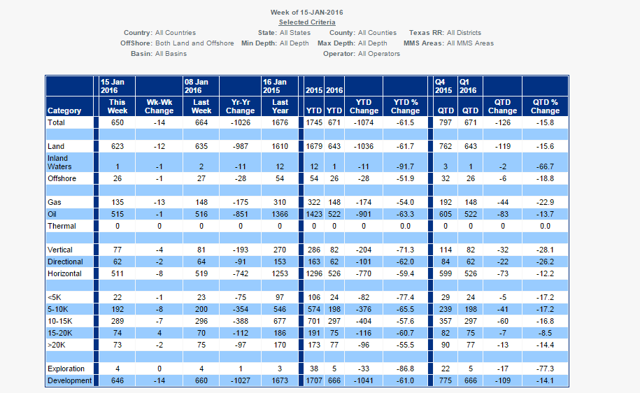 (Source: Baker Hughes)
As a case and point, today, Southwestern Energy (NYSE:SWN), the fourth-largest natural gas producer, announced massive layoffs. Lo and behold, its stock prices was up sharply, as investors realize that higher prices (driven by less supply and steady demand) are the only way for many natural gas players to survive this self-inflicted supply glut. Other producers are mostly closely watching, and too may realize that the only way to get their stock prices up is by industry-wide cumulative supply curtailments and capital preservation.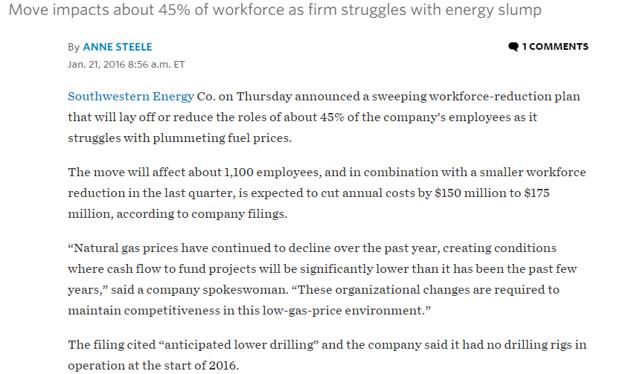 (Source: WSJ)

(Source: Google Finance)
Lastly, I don't only wear rose-colored glasses, and yes, I did read Union Pacific's Q4 2015 earnings results and coal volumes. Clearly, volumes and pricing were negatives during Q4.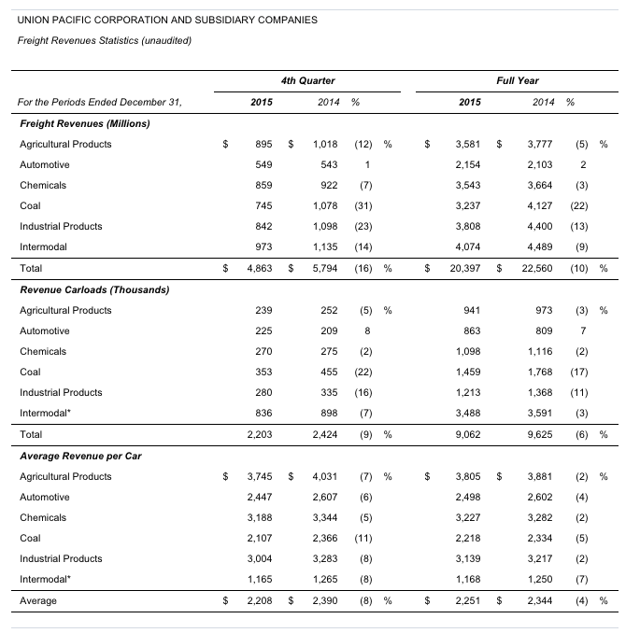 However, on the conference call, Union Pacific's management continue to be stubborn when it comes to not discounting on coal prices to win volumes. That said, an analyst indicated that Burlington Northern has been willing to reduce prices and has taken market share from UNP in the coal volumes battle, so investors need to realized PRB volumes aren't quite as negative in Q4 as UNP's report indicates.
Here are two excerpts from UNP's earnings call relating to coal pricing.
Comment one: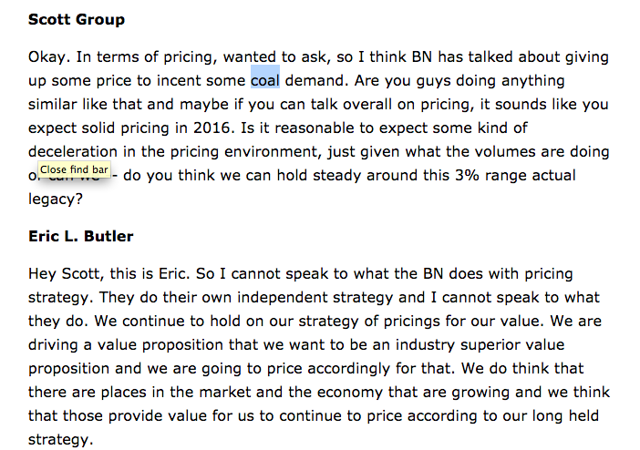 Comment two: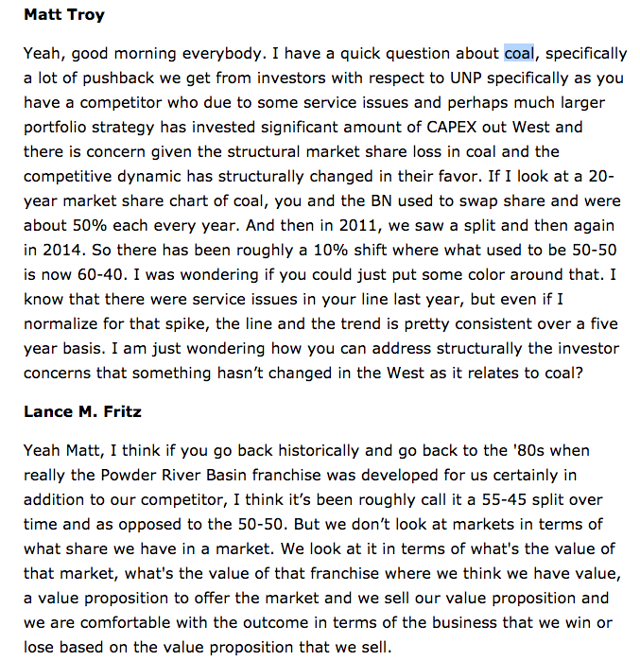 Concluding Thoughts
Peabody's 2018 bonds closed Thursday's trading at a spectacularly low price of $0.09 on the dollar. These bonds are down a dramatic 10 points in a two week-time frame (albeit on very thin trading volumes). Clearly, the hedge fund shorts have taken advantage of the persistent macro market fears driven by China as well as the Arch Coal (ACI) bankruptcy filing. That said, the Arch Coal filing was widely expected and pretty obvious many months ago. I am puzzled as to why an Arch filing would lead to another leg down in Peabody's bond prices.
Again, the most important takeaway from Thursday night's news is the crystal clear signal that Peabody's management team are fighters and will do everything they can to avoid filing for Chapter 11. Therefore, I expect a big rebound and recovery bid on Friday. Again, well done, Mr. Kellow!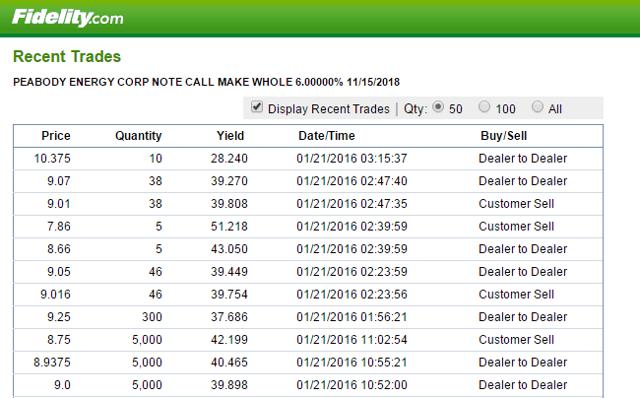 Disclosure: I am/we are long PEABODY BONDS.
I wrote this article myself, and it expresses my own opinions. I am not receiving compensation for it (other than from Seeking Alpha). I have no business relationship with any company whose stock is mentioned in this article.
Editor's Note: This article covers one or more stocks trading at less than $1 per share and/or with less than a $100 million market cap. Please be aware of the risks associated with these stocks.