Silver Wheaton (NYSE:SLW) has got off to a weak start on the stock market in 2016. However, from a long-term perspective, I believe that Silver Wheaton is on track to benefit from an expected increase in silver application and demand as more of the metal is used for industrial applications. Simultaneously, the supply of silver is anticipated to weaken going forward, but not for Silver Wheaton as the company has taken steps to strengthen its streaming agreements. Let's take a look at the reasons why Silver Wheaton will get better in the long run and why its drop is a buying opportunity.
The silver market's dynamics will be a tailwind
Looking ahead, silver demand is anticipated to increase, but there won't be enough supply in the market to satisfy the increasing demand. The push in silver demand will be mainly driven by an increase in industrial consumption, which accounts for 60% of overall silver demand. More specifically, an increase in the adoption of solar energy will be a key catalyst for silver consumption. This is because silver paste is utilized in collecting electrons to generate electricity in solar modules, which is why it is a key component in solar energy, and I won't be surprised if this quantum goes up considering the increasing usage of solar energy.
For instance, in 2014, the usage of silver by the solar industry grew 7%, and as installations increase going forward, the application of silver in this industry will continue growing. According to IHS, a 30% increase was expected in solar installations in 2015, and over the long run, it is forecast that annual solar installations across the globe will hit 92 GW by the end of the decade, as shown below: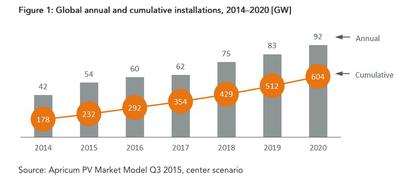 Source: Apricum
But, as I have already mentioned, silver supply will be under pressure going forward. As the Silver Institute points out, driven by an increase in silver demand and the maturity of existing mines and lower scrapping activity, the silver industry saw a deficit of 57.7 million ounces last year. In comparison, the deficit in the silver market was just 4.9 million ounces in 2014.
Thus, due to an increase in the deficit in the silver market, the price of the metal will increase. More importantly, Silver Wheaton is well-placed to capitalize on an anticipated increase in prices due to recent streaming agreements.
Why Silver Wheaton can capitalize on the favorable end-market situation
Silver Wheaton is constantly focused on increasing its production. The company reported record production and sales volumes of 11 million and 10 million silver equivalent ounces, respectively, during the last reported quarter. These numbers were driven by a strong performance from its Salobo and Peñasquito mines, coupled with the ramp up in production at Constancia. Going forward, Silver Wheaton's production should increase further with the addition of the Antamina mine streaming agreement.
Silver Wheaton has entered into a long-term streaming deal with Glencore (OTCPK:GLCNF) valued at $900 million. As per Bloomberg, "Silver Wheaton will receive an amount equal to 34 percent of silver production at the Antamina mine in Peru until the delivery of 140 million ounces and the equivalent of 23 percent of silver production thereafter." Consequently, the company now forecasts its production to increase 26% from last year and is expected to reach 44.5 million silver equivalent ounces in 2015.
The significance of this asset is that it has extensive mineralization opportunities in the depth. If we look at the graphic below, it can be clearly seen that there are numerous intercepts below the current open pit area and also below the bottom of the block model itself.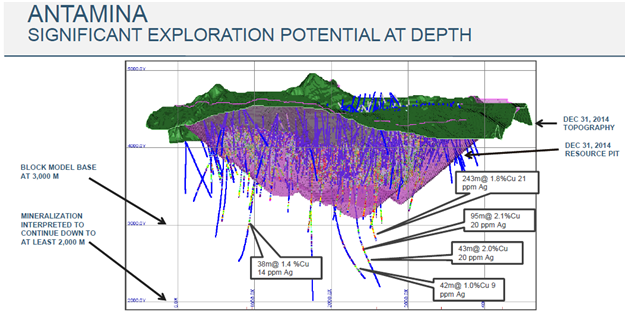 Source: Silver Wheaton
More importantly, Antamina adds another low-cost streaming agreement to Silver Wheaton's portfolio as the company will need to pay only 20% of the silver spot price for each ounce delivered. Moreover, investing in Antamina is a part of Silver Wheaton's strategy to focus on those assets that are at the bottom half of the cost curve. According to Silver Wheaton President and CEO Randy Smallwood, "This asset is well down I'd tell you in the low decile of the copper cost curve. And so it fits very nicely in with some of our other assets."
Conclusion
Thus, the weakness in Silver Wheaton's stock price this year is an opportunity in disguise for investors. The company will get better in the long run on the back of an improvement in the silver market's dynamics and its improving production. Moreover, since Silver Wheaton is a streaming company, it enjoys a low cost base, which will ultimately lead to a better margin performance when prices get better. Hence, in my opinion, it will be a good idea to buy Silver Wheaton's drop as the stock can deliver robust gains in the long run.
Disclosure: I/we have no positions in any stocks mentioned, and no plans to initiate any positions within the next 72 hours.
I wrote this article myself, and it expresses my own opinions. I am not receiving compensation for it (other than from Seeking Alpha). I have no business relationship with any company whose stock is mentioned in this article.