Babson Capital Corporate Investors (NYSE:MCI) is a closed-end fund ("CEF") focused primarily on private high-yield debt. Asset composition from the latest quarter is found below: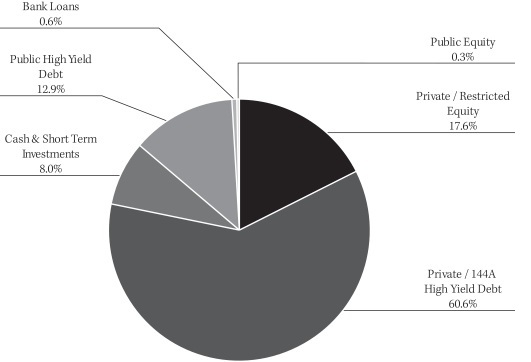 Most CEFs are marked-to-market daily. However, given the nature of MCI's portfolio being mostly private/144A paper, the NAV only gets marked on a quarterly basis. The last NAV was as of 9/30/15.
Normally, in a typical market environment, the quarterly lag of NAV isn't problematic for investors making an investment decision to buy (or sell) the fund, as the asset values are generally stable (i.e. you can assume the last posted NAV correctly represents the current NAV). Investors have assumed this to be the case currently despite the broader market backdrop. Data below on MCI from CEFConnect: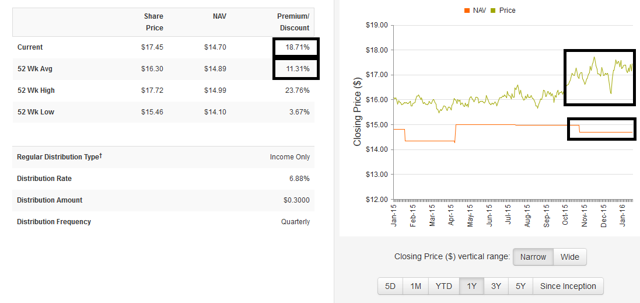 From the image above, the first thing to notice is the chart on the right side. Namely:
The chart clearly shows that the "stated"/"current" NAV from 9/30/15 is stale from when it was reported at the end of October.
Over that same time period, MCI's market price has increased precipitously.
This resulted in the premium to the 9/30/15 "stated" NAV increasing significantly over the past three months. Looking at the left side of the above image, it shows that the NAV premium has increased to +19% currently vs. an average of +11% (last 12-month average). Please note, this is using the 9/30/15 NAV, not a current mark-to-market. In chart form, please find the "stated" NAV premium below, which shows the increase of the premium over the last few months: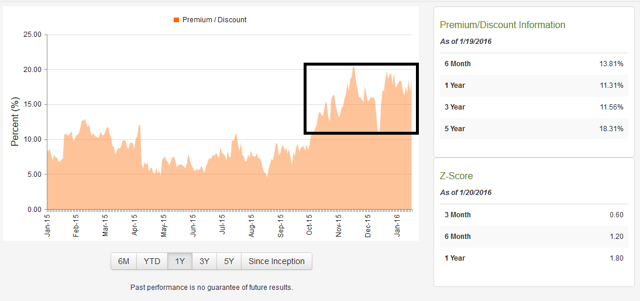 Given what we know about the high-yield market in general in Q4 (and in January), it seems more than a bit curious that investors have ascribed an increasing NAV premium to MCI over the past three months. This is even more curious when coupled with the fact that the actual underlying NAV of the fund has likely significantly declined on a mark-to-market basis in Q4 and January 2016. It is the author's belief that investors have not properly internalized the fact that NAV has changed substantially over that time period and will be unpleasantly surprised in the near future when the mark-to-market 12/31/15 NAV is officially posted.
Let's try to put a finer point on this numerically by quantifying the likely mark-to-market NAV (both as of 12/31/15, which we will find out shortly, and as of 1/19/16):

As laid out above, all that was done to arrive at current Pro Forma NAV was to:
Start with the 9/30/15 stated NAV from the company.
Mark-to-market MCI's portfolio to the broader returns in high-yield bonds over the same period (using JNK as a proxy).
Translate that into a mark-to-market NAV decline for MCI by applying the leverage inherent in it (leverage as of 9/30/15)
Deducting the two dividends that have been paid out since the last 9/30/15 NAV calculation
Per the above, the estimated mark-to-market NAV as of 12/31/15 and 1/19/16 was $13.63 and $13.00 (-7% and -12% vs. the stated 9/30/15 NAV of $14.70, respectively).
Lest the reader doubt the authenticity of the author's view on mark-to-market NAV, MCI actually gave a "preview of coming attractions" in its December 11, 2015, dividend announcement. Interestingly, MCI added new language when declaring the long-standing $0.30/quarter dividend (author emphasis added to highlight the new language - please see the previous releases from 10/23/15 and 7/23/15 which exclude this language):
"The Board of Trustees of Babson Capital Corporate Investors (the "Trust") met today. The Trust's Trustees declared a quarterly dividend of 30 cents per share payable on January 15, 2016, to shareholders of record on December 31, 2015. The quarterly dividend is considered ordinary income for tax purposes and will be reported on IRS Form 1099-Div. Although a 30 cent-per-share dividend was declared in each of the three preceding quarters, no assurance can be given that the Trust will be able to maintain that dividend level in the future."
You can be assured that this bolded sentence wasn't added by MCI lightly - as the $0.30/quarter dividend has been "sacrosanct" since MCI's IPO in 2011. It is a reasonable conclusion that MCI added this language as a response to current market conditions, as management is well aware of the fund's mark-to-market NAV. However, investors most likely didn't read the dividend announcement (or compare it to the previous announcements), simply feeling "reassured" by a consistent $0.30 dividend in January to which they were accustomed.
One might ask why the dividend wasn't just cut in December? Simply put, management teams don't take dividend cuts lightly. The author's belief is that MCI was trying to see if the Q4 high-yield selloff was an aberration or if the effects would be lasting. Given the events of January, I think the market has spoken in that regard, leaving a dividend cut in March (for the April dividend) as highly likely. Investors in MCI can ignore management's dividend cut preview at their own expense.
Now that we have a mark-to-market estimate of NAV and have established a dividend cut to be very likely; the next step is to come up with the appropriate price target for MCI. As a practice, we do not attempt to comment on the legitimacy of NAV premium, but the market speaks very clearly when there is a dividend cut. In these instances, NAV premiums eviscerate (please see Pioneer High Income Trust (NYSE:PHT) and PIMCO High Income Fund (NYSE:PHK) for cases in point). Also, note that the author correctly predicted PHK's dividend cut last year, which saved long investors tremendously if they heeded the advice in advance of the cut.
Even without a dividend cut, we do note that the current NAV premium appears to be on the "high side" of normal at +19% vs. +11% average over the last 12 months (per CEFConnect). For the price target analysis, we show both a +19% premium to NAV case and a +11% to NAV case (assuming no dividend cut). Even without a dividend cut, the NAV premium is nonsensical, as there are plenty of high-yield funds trading significantly below NAV, so it doesn't make logical sense for investors to pay a premium here for this fund.
Putting it all together, we arrive at three price targets:
Base Case: Dividend Cut - Assumes a +0% premium to mark-to-market NAV (i.e. MCI trades to NAV post-cut), the downside risk to the market price of MCI is -22% at 12/31/15 and -26% at 1/19/16
No Dividend Cut: Trades to Market's Perceived P/NAV - Assuming the +19% premium to mark-to-market NAV, the downside risk to the market price of MCI is -8% at 12/31/15 and -12% at 1/19/16
No Dividend Cut: Trades to Average P/NAV - Assuming the average 11% premium to mark-to-market NAV, the downside risk to the market price of MCI is -13% at 12/31/15 and -17% at 1/19/16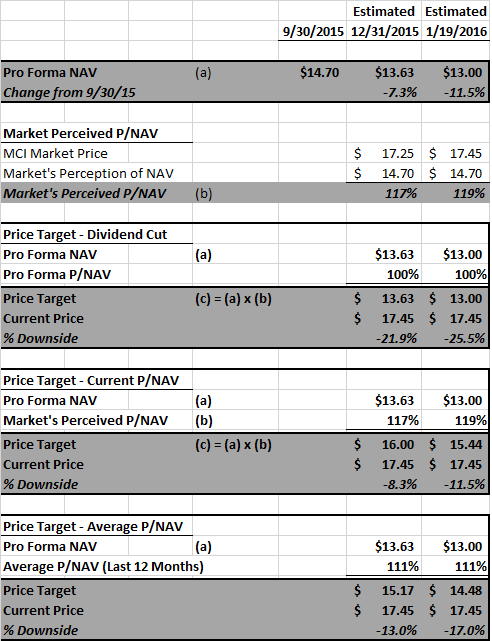 Unfortunately, for investors in MCI, the mark-to-market NAV as of 12/31/15 is quickly forthcoming. For the 12/31/14 NAV, it was officially released on January 23rd. When the 12/31/15 NAV is officially released, this should serve as the catalyst for the stock to trade to the second set of price targets outlined above. We expect the March dividend announcement to serve as the catalyst for MCI to achieve the "dividend cut" price targets outlined above.
Enterprising investors can short MCI into the official NAV release, though be advised that borrow costs are relatively high (15% per annum). With regard to the borrow costs, given the short time frame, it shouldn't be impactful to the expected returns from shorting MCI.
Disclosure: I am/we are short MCI.
I wrote this article myself, and it expresses my own opinions. I am not receiving compensation for it (other than from Seeking Alpha). I have no business relationship with any company whose stock is mentioned in this article.
Additional disclosure: Additional disclosure: The author and/or others he advises holds short a position in MCI at the time of publishing this article. The author may make trades in securities mentioned without notification. The information contained in this article is impersonal and not tailored to the investment needs of any specific person. You should consult with a professional where appropriate. The author shall not be liable for any loss of profit or any other commercial damages, including but not limited to special, incidental, consequential, or other damages. The opinions expressed in this article are for informational purposes only and should not be construed as investment advice. The article is not a recommendation of, or an offer to sell or solicitation of an offer to buy, any particular security, strategy or investment product. The research for this article is based on public information that the author considers reliable, but the author does not represent that the research or the article is accurate or complete, and it should not be relied on as such. The views and opinions expressed herein are current as of the date of this article and are subject to change. Any projections, forecasts and estimates contained in this article are necessarily speculative in nature and are based upon certain assumptions. In addition, matters they describe are subject to known (and unknown) risks, uncertainties and other unpredictable factors, many of which are beyond the author's control. No representations or warranties are made as to the accuracy of such forward-looking assumptions. It can be expected that some or all of such forward-looking assumptions will not materialize or will vary significantly from actual result.