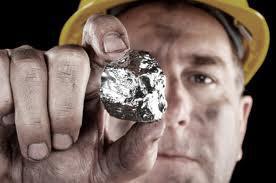 Stillwater Mining Co. (NYSE:SWC)
This article is an update of my preceding article about Stillwater on November 2,2015.
TB1 - Q3'15 production results, on October 30, 2015. ( 4 last consecutive quarters).
Mined

K oz (2013)

2015
Q4'15
Q3'15
Q2'15
Q1'15
Palladium
246.4
63.4
59.3
59.2
64.5
Platinum
73.4
18.9
17.7
17.6
19.2

Stillwater mine

319.8
82.3
77.0
76.8
83.7
Palladium
156.5
39.0
39.7
39.1
38.7
Platinum
44.5
11.1
11.4
11.1
10.9

East Boulder mine

201.0
50.1
51.1
50.2
49.6

Total mined

K oz

520.8
132.4
128.1
127.0
133.3

Recycled

K oz processed *

551.1
129.8
161.0
151.6
108.7

TOTAL

K oz

1,071.9
262.2
289.1
278.6
242.0
Average price per Oz (Pt,Pd)
770~
674~
693
842
871
* These numbers are including the Rhodium, which represents about 7% of the total processed. Ratio for the mix Palladium, Platinum is 3.41:1.
Cash on Hand:
At December 31, 2015, the Company's cash, cash equivalents and highly liquid investments balance was $463.8 million (including $18.5 million of investments which have been reserved as collateral on letters of credit).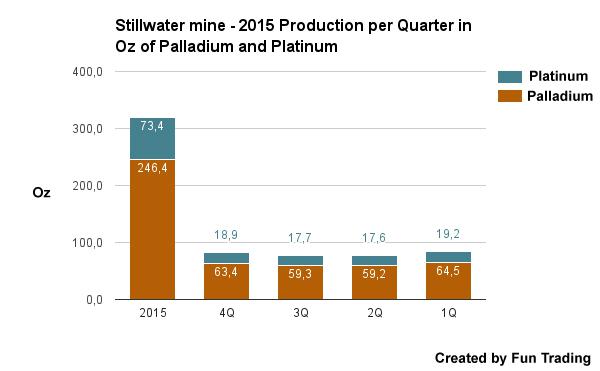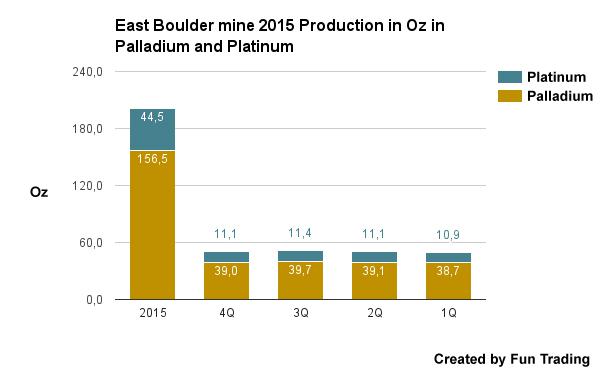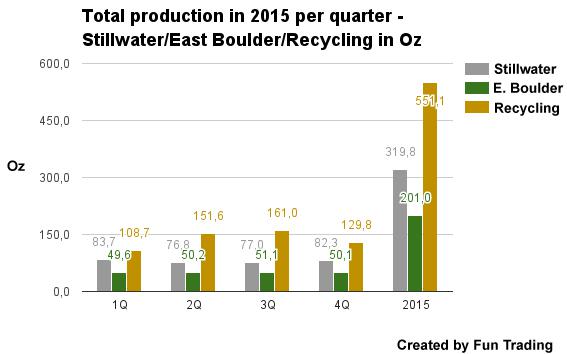 Commentary:
Stillwater Mining released its 4Q'15 and full 2015 year preliminary results on January 19, 2016.
It was a mixed bag because the mining segment was quite strong -- +3.4% QoQ -- in 4Q'15, but recycling dropped significantly or 19.4% quarter over quarter.
However, the main topic recently is the collapse of the PGM and particularly Platinum. Below is the 4Q'15 chart for both palladium ($604) and Platinum ($911).
1 - Platinum.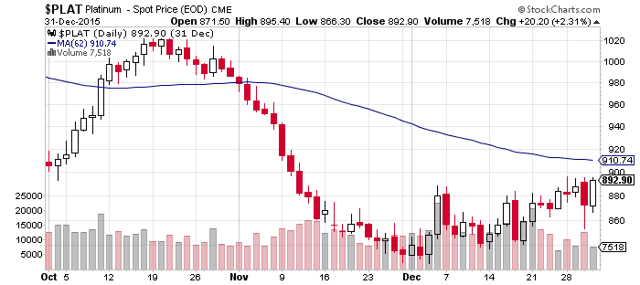 2 - Palladium.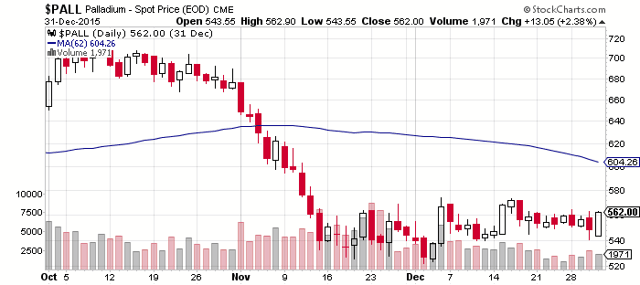 Platinum and palladium have drop significantly in January 2016, and now trade at $921/ Oz for platinum and $489/ Oz for palladium, which translates to $564/ Oz for SWC, another whopping 16.3% lower than the already low price in 4Q'15.
The good news in this recent results is the AISC for the 4Q'15 at between $603-$623 and AISC for 2015 between $705-$715, which is a sharp improvement from a year ago. However, it is much higher than the price of the metal sold, which means that the company is now mining at a loss basically.
As always, the price of platinum and palladium are of a paramount importance, and they have been weak since November 2015. Unfortunately, they continue to drop to a level now, below the breakeven point.
The Company continued to make progress on its Blitz development project during 2015, expected to be complete in 2018-2019 with a production of 150K to 200K PGM ounces/year. Project highlights include:
Surface drilling program successfully demonstrated J-M Reef existence over the length of the project
Grades are consistent with historical off-shaft mineralization (0.6 to 0.7 ounce/ton)
Benbow portal permit was approved and surface construction is underway
Tunnel boring machine drive progressed 9,500 feet out of total planned 23,000 feet
Parallel conventional drive resulted in 14,700 feet of ramp and infrastructure development
First production expected in 2018 with total infrastructure completion in 2019
Project expected to provide primarily growth in production until gradual off-set of depletion from the Stillwater Mine in approximately 10 years
Production of 150,000 to 200,000 PGM ounces/year anticipated upon full ramp up
Production from the Blitz area expected to be Company's lowest cost mined production
Total spend through 2015 of approximately $80 million out of total anticipated project cost of $205 million
Conclusion:
SWC is the perfect long-term investment, with good long-term production and excellent balance sheet with a low debt level and high cash on hand.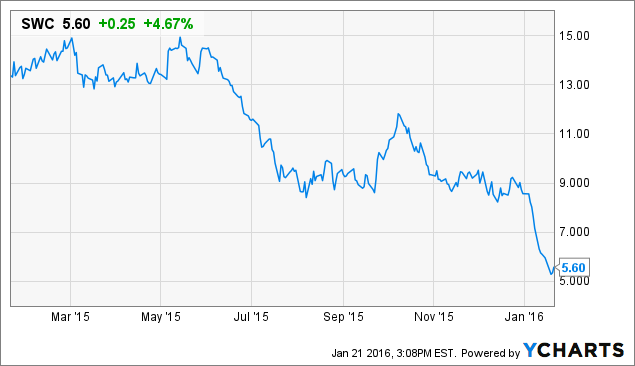 I believe the stock is now extremely undervalued due to an unprecedented collapse of the PGM metals price and especially Platinum. In short, it is a good and safe company caught in a temporary depressed market. I recommend a BUY at these level.
Disclosure: I am/we are long SWC.
I wrote this article myself, and it expresses my own opinions. I am not receiving compensation for it (other than from Seeking Alpha). I have no business relationship with any company whose stock is mentioned in this article.