Agenus (NASDAQ:AGEN) announced it had received two new clearances from the FDA to move drugs from preclinical to clinical trials. Following the January 21 announcement Agenus stock climbed as high as $3.88, up 22% from the prior close of $3.17, before moderating later in the day.
On the other hand, this followed a 52-week low of $2.74 the previous day. Drugs cleared to start Phase I trials are not usually big news, given that so many drugs fail during clinical trials. In addition, these are cancer drugs, so even if successful, it will likely be years before they start generating revenue. During those years their impact is mainly on R&D expense.
My expected value for Agenus is now considerably higher than its current market capitalization (between $300 million and $325 million, depending on where it ends for the day).
For the general background on Agenus see Why Agenus Can Continue to Rise After Doubling. Note that, along with most biotech stocks, the price of AGEN had fallen considerably since the article came out in May 2015. The 52-week high had been $10.16 on June 16, 2015.
Two new potential cancer drugs
AGEN1884 is an immune checkpoint modulator or CPM antibody that binds to cytotoxic T-lymphocyte antigen-4 (CTLA-4). CTLA-4 is a well-known target. Agenus is partnered with Recepta for the South American rights, but otherwise currently has global rights. CTLA-4 is a target that is expected to be important in combination therapies with vaccines and other CPMs. While the target types of cancer have not been announced, likely it will be tried with Agenus's therapies for glioblastoma once its safety as a single agent is established.
A second CPM antibody developed by Agenus, INCAGN1876, is partnered with Incyte (NASDAQ:INCY). Its target is GITR (glucocorticoid-induced TNFR-related protein). Incyte would announce the cancer types that will be addressed in clinical trials, most likely hematological malignancies. Incyte already has one commercial cancer therapy, Jakafi, plus an extensive pipeline in clinical and preclinical trials. While positive news for Incyte, at this stage it would not move the needle much for the company. It already has a $14 billion market cap, and had a market cap of $25 billion at one point in 2015.
Why does this development matter to the value of Agenus stock? Agenus, just a few years ago, was a vaccine company. Its most advanced products are its vaccine adjuvant (enhancer) QS-21 Stimulon and its Prophage vaccine for glioblastoma. Prophage had good Phase 2 trial results, especially in a subset of patients, but it has been stalled before entering Phase 3. In the meantime, competing glioblastoma therapies have also shown some good results. If AGEN1884 is part of an arm in a Phase 3 pivotal trial, it could enhance the results and help Agenus in the commercial marketplace if the FDA gives its approval.
Incyte is partner for 5 CPMs in total
Taking a look at the Agenus pipeline of checkpoint antibodies (source: Agenus), we find that 5 are partnered with Incyte and 2 with Merck: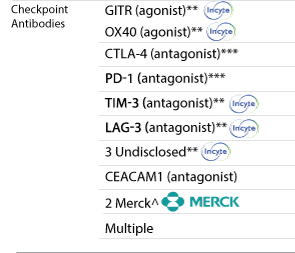 Immune checkpoint modulators or CPMs are a broad class of molecules used by the immune system to help it decide (among other things) what cells are cancerous and need to be destroyed. Cancer cells often have mutations that can fool the immune system. CPM agonists and antagonists can help the immune system unmask and destroy cancer cells. The first approved CPM, Bristol-Myers Squibb's Yervoy, which also targets CTLA-4, has become a blockbuster cancer therapy.
Since each cancer cell has multiple mutations, and since even within a cancer the specific mutations can differ, there is a lot of space for new cancer therapies based on CPMs. They can also complement vaccines engineered to attack cancer.
The Agenus Advantage
Agenus now has a set of platforms to create novel CPMs, pick the best ones, and verify them in preclinical trials. It is likely the list above will get longer. There would also be an economic advantage in Agenus using its own CTLA-4 therapy rather than licensing Yervoy for a combination therapy.
While it is not likely all Agenus clinical trials will succeed, CPMs are now a proven class. We can expect many CPMs to succeed, either by themselves or as part of more complex therapies. Identifying the specific mutations of cancers that make them vulnerable to CPM/vaccine combinations should aid the success rate in clinical trials. That should also lead to less toxic and more effective outcomes for patients.
The Malaria Vaccine Monetization Issue & Cash Position
Before concluding I want to point out that in a certain sense Agenus is a commercial stage company. It supplies a component, QS-21, for the GlaxoSmithKline (NYSE:GSK) malaria vaccine, which has been approved in Europe, though it would mainly be used in Africa. In Q3 the future revenue stream was monetized, giving Agenus $78 million. That leaves QS-21 a long way from being a blockbuster. It is also possible that the royalty stream won't materialize, or that it will be substantial enough for Agenus to get more than the $78 million. It may also get royalties from GSK's shingles vaccine. In any case this money is in the cash balance, so I would not assign any further value to QS-21's pipeline status at this time.
The cash balance at the end of Q3 was $199 million. Operating expenses were $25 million in the quarter. Agenus may also receive milestone payments from partners. For now, cash is not a worry. Yet I would not be surprised, if the price of the stock went high enough, at a further cash raise as insurance.
So What is Agenus worth?
Analysts and investors argue about the value of companies even when they have relatively stable earnings in sectors like consumer goods. Arguments about the value of development-stage biotech companies can be all over the board, which is why stock prices can be highly volatile until they become commercial-stage companies.
Agenus is a good example of volatility, as shown by its 52-week low of $2.74 and high of $10.16.
As a long-term investor my way of looking at it is that it seems highly likely that some of the CPM pipeline will move into Phase 2 trials in 2017 and pivotal trials perhaps as early as 2018. The Prophage glioblastoma pivotal trial could begin this year. Having Incyte and Merck, with their proven track records, in partnerships is a plus.
As the data points come, if they are positive, there will be reason to assign higher probabilities to eventual FDA approvals and commercial success. We should see Agenus go through the same ramp in market capitalization as other successful small but successful cancer therapy companies.
I would see its market capitalization rising into the $1 billion to $2 billion range within 2 years, based on this optimistic scenario. Earlier if investors get excited.
The downside would be failure to launch a Phase 3 trial for Prophage, or multiple failures in the CPM platform. CPMs can be toxic, and just because Yervoy is effective does not guarantee that other CPM therapies will be. In addition, AGEN is currently a small-cap company with all the usual risks and uncertainties.
The super-optimistic scenario is Agenus rising to be another Incyte or BioMarin (NASDAQ:BMRN), valued by investors both for its commercial revenues and for its pipeline. That would put Agenus in the $2 billion to $10 billion category, or $23 to $115 per share. But that is at least a several years away, and so should be heavily discounted until more data is in.
Disclosure: I am/we are long AGEN.
I wrote this article myself, and it expresses my own opinions. I am not receiving compensation for it (other than from Seeking Alpha). I have no business relationship with any company whose stock is mentioned in this article.