A recent interview with William White, the former head economist of the Bank of International Settlements (BIS) and current chairman of the review committee of the OECD (Organization for Economic Cooperation and Development), offers investors a very somber warning about the global economy.
In the interview with Ambrose Evans-Pritchard, he states:
"The situation is worse than it was in 2007. Our macroeconomic ammunition to fight downturns is essentially all used up. Emerging markets were part of the solution after the Lehman crisis. Now they are part of the problem, too.

Debts have continued to build up over the last eight years and they have reached such levels in every part of the world that they have become a potent cause for mischief. It will become obvious in the next recession that many of these debts will never be serviced or repaid, and this will be uncomfortable for a lot of people who think they own assets that are worth something."

The surprising thing is that this isn't some tinfoil hat wearing gold bug warning of a downturn WORSE than 2007, this is the former head economist of the BIS - the central bank of central banks. As Mr. Evans-Pritchard points out, the warnings have special resonance since Mr White was one of the very few voices in the central banking fraternity who stated loudly and clearly between 2005 and 2008 that Western finance was riding for a fall, and that the global economy was susceptible to a violent crisis.
He was right - and now he is even MORE worried.
Whenever someone calls for a downturn (or upturn) the key isn't the call, but rather, the reasoning behind the call. What is Mr. White's reason for his extreme pessimism? The massive accumulation of global debt as combined public and private debt has surged to all-time highs to 185pc of GDP in emerging markets and to 265pc of GDP in the OECD club, both up by 35 percentage points since the top of the last credit cycle in 2007. This is something that was evident by a Mckinsey Institute report at the beginning of last year: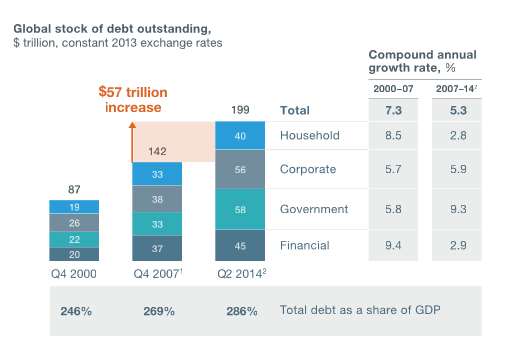 Source: McKinsey Global Institute
Additionally, Mr. White says that the growth in debt has been combined with a lack of effectiveness in central bank QE that has had the effect of bringing spending forward from the future in what is known as "inter-temporal smoothing". It becomes a toxic addiction over time and ultimately loses traction and eventually the future catches up with you. "By definition, this means you cannot spend the money tomorrow," he says in the interview.
What Should Investors Do?
The best approach moving forward for investors relies on answering the question of "What happens next?" While nobody knows, we think Mr. White is spot on in his conclusion about what he thinks will happen next. He says, "that many of these debts will never be serviced or repaid, and this will be uncomfortable for a lot of people who think they own assets that are worth something," and thus the first thing that should concern investors is banks and financial institutions as those are some of the primary holders of debts.
Unfortunately bank balance sheets tend to be the hardest to understand and so it is tough knowing what exactly they hold. But Europe's banks are probably the weakest and are likely to face some of the biggest haircuts as they have already admitted to $1 trillion of non-performing loans: they are heavily exposed to emerging markets and are almost certainly rolling over further bad debts that have never been disclosed. Banks like Deutsche Bank (NYSE:DB) or HSBC come to mind as some of the risky plays, but all banks holding these possible bad debts are at risk - just like they were in 2007-2008.
Anybody who has followed us knows that we have been gold bulls for a while, and despite its poor performance and lack of sentiment, we think it will once again take center-stage in a positive way. It should be obvious now that globally we are massively over-leveraged with debts and once it becomes obvious that there is great uncertainty in the actual fulfillment of these debts, reality will set in for investors. That will mean that we will start to see money leave debt instruments and move to assets that are unrelated or negatively correlated to debt - the ultimate one being "cash".
Investors need to remember that not all "cash" is created equal, and when it comes to over-indebted governments, their currency is only as strong as the confidence in their ability to pay back their debts without inflation. Thus investors may start moving assets into a number of "cash" type assets, but will eventually flock to the ones that have the greatest liquidity and the greatest ability to maintain purchasing power.
We may already be seeing this as the traditionally negative relationship between gold and the US dollar has evaporated over the past few months. Though we think the US dollar is not as safe as investors believe (and certainly not as safe as gold), but this is a discussion for another day. The take-away here is that the recent strong positive correlation between gold and the US dollar may be the result of investors starting to question the increasing global debt load.
Investors will seek assets that can perform well when there is panic or even defaults in the debt market - gold is clearly one of the few assets historically that has done very well when debts have performed poorly.
Thus wise investors will be seeking investments that do well when debt instruments do poorly, and that will lead them to gold. Thus it is a great opportunity for investors to accumulate physical gold and the gold ETFs [SPDR Gold Shares (NYSEARCA:GLD), PHYS, and CEF) - though be very careful as ETFs work well in certain circumstances, but in others physical gold is much more desirable and investors should own both. For investors looking for higher leverage to the gold price, they may want to consider miners such as Goldcorp (NYSE:GG), Newmont Mining (NYSE:NEM), Agnico Eagle Mines (NYSE:AEM), or even some of the explorers and silver miners such as First Majestic (NYSE:AG) or Pan-American Silver (NASDAQ:PAAS). We're not suggesting these companies specifically but only suggesting them for further investor research.
Now is the time that investors should be buying assets that are uncorrelated to the debt markets - gold is the asset that has historically performed well when we have debt market panics. Investors shouldn't miss the forest for the trees here and get caught up in short-term price moves - there is a debt-crisis brewing and investors better be prepared with some gold investments.