I have been very fortunate with some of my small cap picks so far in 2012. I took close to a 40% gain on my position I initiated in January on Warren Resources (NASDAQ:WRES) at the end of last week. My position in Aviat Networks (NASDAQ:AVNW) is also up more than 20% in the week I have held the stock. This success has made me more aggressive in the space, as this sector seems to have momentum right now. My latest position is in Axcelis Technologies (NASDAQ:ACLS). I like the risk/reward in this selection. The stock is selling for less than $2 a share and was priced at $8 a share before the 2008 crisis.
Axcelis Technologies - "Axcelis Technologies, Inc., together with its subsidiaries, designs, manufactures, and services ion implantation, dry strip, and other processing equipment used in the fabrication of semiconductor chips in the United States, Europe, and the Asia Pacific.". (Business Description from Yahoo Finance)
7 reasons ACLS has value at under $2 a share:
The stock looks like it recently bottomed, is gaining technical strength and just crossed over its 200 moving day average (See Chart)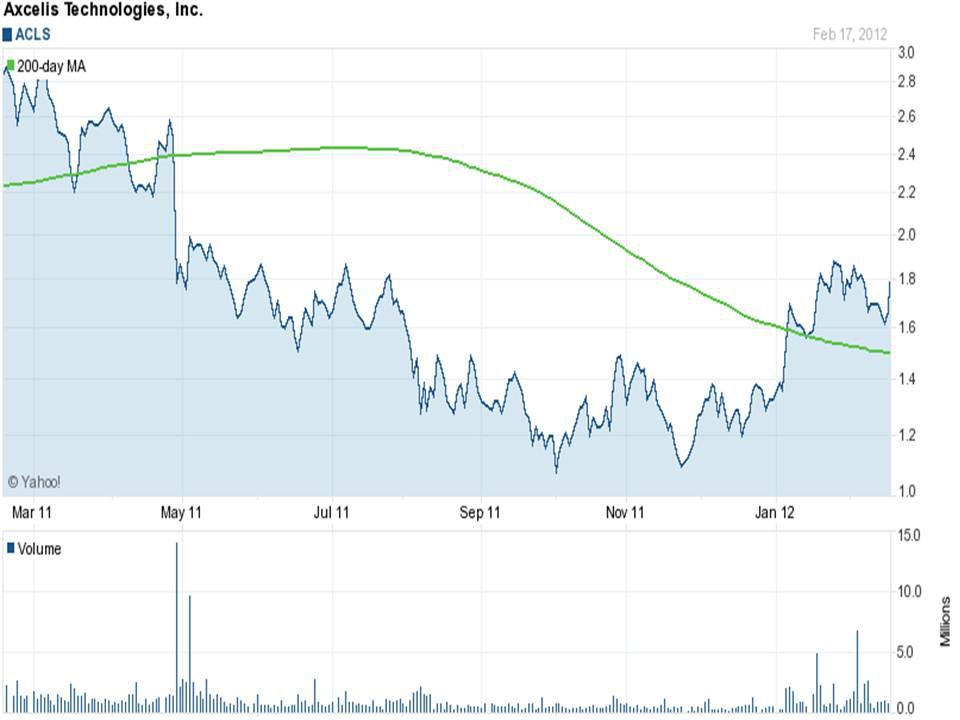 It has a solid balance sheet with net cash making up 25% of the company's market capitalization.
The stock was upgraded last week at Craig-Hollum from Hold to Buy. The firm also slapped a $3.50 a share target on ACLS.
The company recently made restructuring and accounting changes that should result in yearly savings of $8mm to $12mm.
The company has shown steady progress, improving its cash flow over the last couple of years. The company also just turned cash flow positive last quarter.
The stock has had net insider buying over the last twelve months.
ACLS is selling at 6 times forward earnings and 83% of book value. Analysts expect double digit revenue growth in the next fiscal year.