The shares of General Electric (NYSE:GE) rose over 3% to $29 in pre-market trading on Friday but lost all their gains in a flash when the fourth-quarter (Q4) results of the industrial group hit the wires.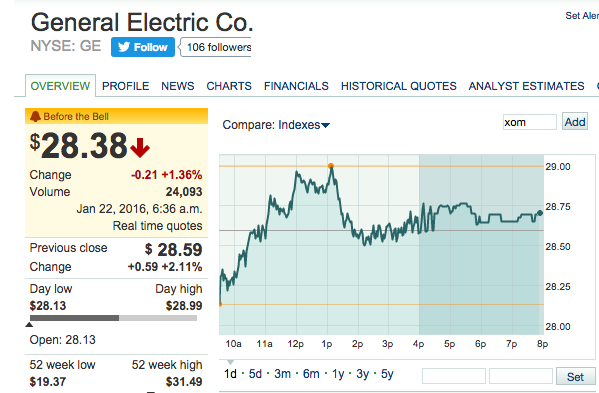 (Source: MarketWatch)
Its trading update wasn't too bad, but left a bitter taste in the mouth of investors. It looks like GE's fall may continue, with prices in the futures market indicating that its shares could underperform the S&P 500 by about two percentage points in early trade on Friday.
I have gone through its Q4 results and I have read some press reports - in short, there is good news and bad news.
The bad news first.
"General Electric on Friday reported growth in its core earnings and revenue for the fourth quarter, though profit in its industrials business slid," Dow Jones reported on Friday.
I suggest you read the full story at the link above if you want to learn more about trends for revenue and earnings against consensus estimates.
Uphill
GE said that the fourth quarter was characterized by a volatile environment and forex headwinds - neither of which, I'd add, is going to fade away over the next 12 months or so.
Its results were a mixed bag, and if you wonder where the bulls have hidden, at least those with a price target of $40 a share by the end of 2016 - well, I think you are in good company following today's release.
Orders
Q4 orders rose, but the price profile of the orders book doesn't look great across its portfolio, and there are no significant improvements quarter on quarter once the power and renewable energy businesses are excluded.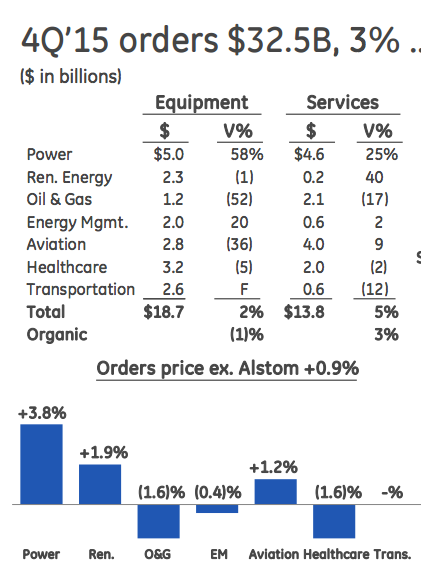 (Source: General Electric 4Q results)
For the first time ever, General Electric reported separate financials for its power and renewable energy businesses. It talked of strong execution in the power unit, while renewable was impacted by "new product transition" - I am not entirely sure what that means, so we'll have to wait for the conference call with analysts to clarify that issue.
As you can see from the table below, however, comparable trends show that GE still has a lot to do to get its house in order.

(Source: General Electric 4Q results)
I am seriously worried about the integration of Alstom and associated synergy targets, so I think there's more risk than benefits here.
Aviation And Oil & Gas
Elsewhere, I am really pleased with quarterly results in its aviation unit, and just as I argued on Thursday, its cost base was meant to fall in the oil and gas division, so I think it's great to see that GE is taking action there.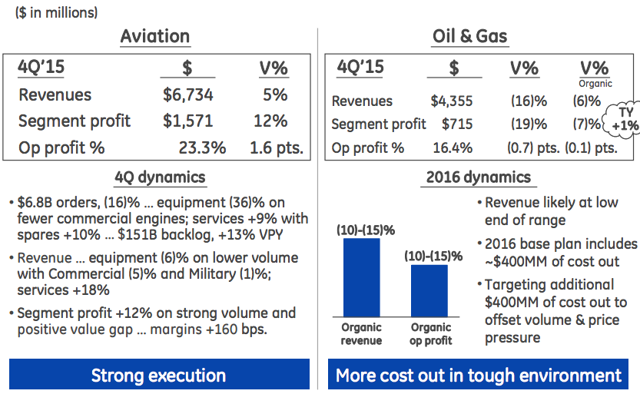 (Source: General Electric 4Q results)
Healthcare And Transport
Things are more complicated in the healthcare division, which is a laggard and brings unnecessary risks and distraction, as I argued in the past.
There's more bad news than good news, as the table below shows; revenue and profits are still declining. The smaller transportation unit is faring well, but its performance along with that of the relatively small energy management business plays a minor part in the determination of GE's fair value.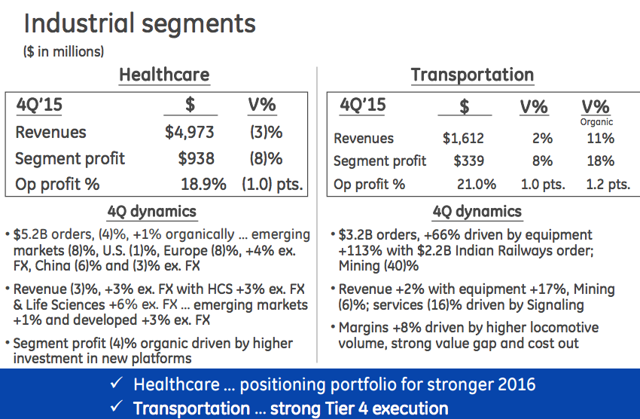 (Source: General Electric 4Q results)
Targets
The table below shows some of its key goals for 2016.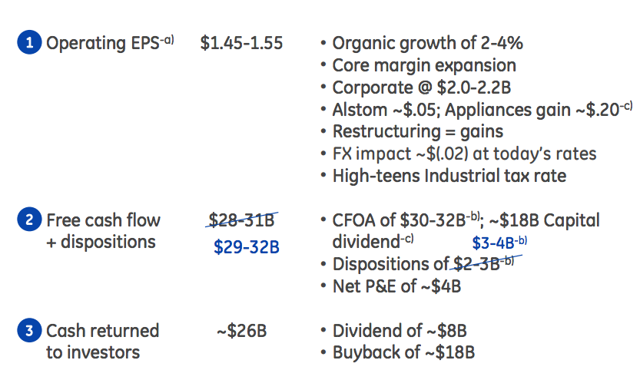 (Source: General Electric 4Q results)
Based on its guidance for 2016 earnings per share in the $1.45-$1.55 range, its stock currently trades on a forward P/E multiple of up to 18.3x. Its fundamentals indicate that there might be downside risk in GE at this level, but I think the biggest risk of all now is posed by shaky market conditions.
The chart below shows the recent trend for the 10-year U.S. Treasury yield.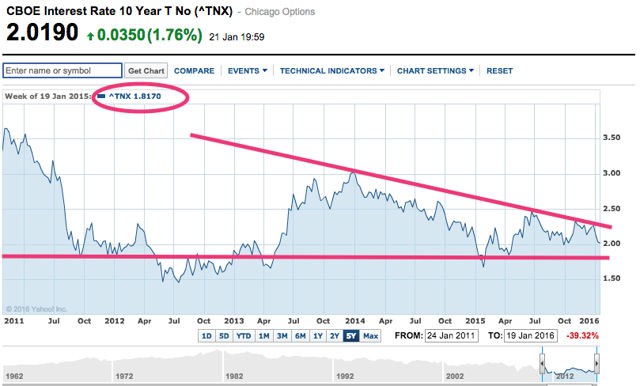 (Source: Yahoo Finance)
If recent trends persists, I would not be surprised if GE stock actually managed to hit the level where I said it could make sense to buy into its restructuring story.
Disclosure: I/we have no positions in any stocks mentioned, and no plans to initiate any positions within the next 72 hours.
I wrote this article myself, and it expresses my own opinions. I am not receiving compensation for it (other than from Seeking Alpha). I have no business relationship with any company whose stock is mentioned in this article.