Since September of last year, the kiwi dollar looked like it had all but stopped its reversal against the USD, and had started climbing to a level of roughly 0.68. However, it looks like the trend represented a false breakout, with the ascending triangle being broken down to a level of 0.6429 at the time of writing: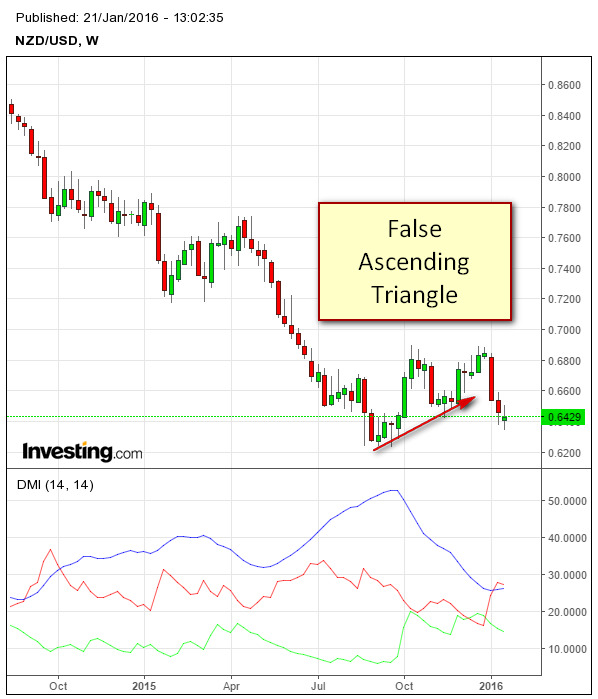 The United States has not been without challenges, in that the interest rate rise was seen as somewhat premature and has fueled the current market downturn we are now witnessing. However, let us not forget two of the major drivers behind this market downturn; 1) a slowdown in China growth and 2) falling commodity prices. New Zealand is invariably more exposed to these risks, given the country's dependence on Chinese trade and commodities.
While it is virtually a given that the United States will not be raising interest rates again this year in light of recent events, it is also virtually certain that the Federal Reserve will not be decreasing rates either. On the other hand, New Zealand has continued to wrestle with deflationary pressures with consumer prices falling 0.5 percent from Q3 of last year. Moreover, this has increased speculation that the Reserve Bank of New Zealand will cut the cash rate yet again in 2016 to 2 percent, from the current record-low of 2.5 percent.
Additionally, the Chinese slowdown has invariably hurt commodity-oriented economies. Admittedly, the aussie dollar could be expected to take a greater hit than the Kiwi dollar since New Zealand relies more on "soft" commodities such as fruit and milk which have not seen as great a drop in demand as harder commodities such as iron ore and steel from Australia.
In any case, New Zealand is still exposed to falling commodity prices, and it could be the case that in anticipation of a further rate cut to bolster inflation, the NZD could trend lower against the USD going forward. I take the view that should the NZD/USD dip below a level of 0.63, then this would serve as credible confirmation that the currency pair is set to trend lower.
Disclosure: I/we have no positions in any stocks mentioned, and no plans to initiate any positions within the next 72 hours.
I wrote this article myself, and it expresses my own opinions. I am not receiving compensation for it (other than from Seeking Alpha). I have no business relationship with any company whose stock is mentioned in this article.