As oil prices continue to struggle, disequilibrium has overtaken the market and become a focus of investors. There is little agreement among economists and market watchers on where (and when) oil prices may go next. Wellington Management's asset allocation and energy teams see several reasons why an oil-price rebound is possible in the medium term. If oil prices appreciate meaningfully, a portfolio that lacks exposure to assets that should benefit from the upswing could underperform the broader market. In this month's commentary, I explore "stealth" contrarian ideas: investments that should benefit if oil prices rise but that may have limited downside if they don't. This type of "optionality" can be achieved by adding exposure to oil-related companies, countries, or sectors whose solid fundamentals could limit their downside risk from oil headwinds.
Why Oil Prices Are So Low
A trifecta of growing supply, weak global demand, and a stronger US dollar has driven the price of oil to below $30 per barrel, and now, embattled market participants seem to be embracing the idea of lower for longer. This resignation is reflected in the oil futures curve, which has oil at an anemic $41 per barrel at the end of 2016 and $46 per barrel at the end of 2017. So far, the shale industry has proven surprisingly resilient to low oil prices, improving efficiencies in order to pump oil economically at lower breakeven prices. Saudi Arabia's refusal to cut production has also caught markets off guard. The resulting higher inventory levels, as well as the potential for even more production to come on line from Iran and Libya in coming years, have all helped keep prices and forecasts low.
Although the market seems to be discounting cheap oil, there are several factors that could send prices higher in the medium term.
Spending and production cuts should result in lower output. The market may be underestimating the effect that massive cuts in capital spending will have on production and, therefore, output. Over the past year, capital expenditure1 across the US energy industry has fallen by 40%, and the oil rig count has declined by more than 60%. Even accounting for greater efficiencies in some oil subsectors, these declines should eventually lead to lower output, supporting higher prices.
More industry consolidation is likely. Many energy companies rely on the high-yield market, but issuance of these bonds has been cut in half since 2012, severely limiting access to this financing. Moreover, many energy companies hedged their production costs at higher oil prices. With many of these hedges now expiring, weaker companies or those with higher debt levels are unlikely to survive at current prices, which would further crimp supply.
Organization of the Petroleum Exporting Countries (OPEC) finances are becoming strained. Oil accounts for 90% of government revenues in some OPEC countries, including Saudi Arabia, the cartel's largest producer. With the price of oil so depressed, those revenues have waned, prompting some OPEC sovereign wealth funds to sell off assets and draw on foreign exchange reserves. This practice is unsustainable and could eventually be the catalyst that causes the Saudis to curtail oil production in order to support higher prices.
Shale-oil wells have shorter life spans than traditional wells. In recent years, a large percentage of US oil production has come from shale oil plays. Most shale oil wells have faster decline rates than traditional wells, meaning they run dry sooner. Wellington Management's Energy team believes that the short life span of these wells could translate to a 10% decline in US shale oil production in the coming years.
OPEC may no longer be able to balance the market. Rising oil -demand forecasts could surpass the call on OPEC - the amount of oil the cartel needs to balance the market (i.e., ensure that global supply equals global demand). If the call on OPEC exceeds what OPEC can produce, the market should tighten and prices should rise.
Sentiment and positioning are bearish. Figure 1 shows the steep drop in net-long positions in oil. Even a small increase in oil prices could become magnified as investors rush to cover short positions in order to limit their losses.
FIGURE 1
Investor Sentiment on Oil Has Fallen Sharply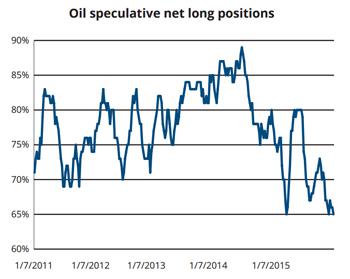 Source: Commodity Futures Trading Commission
Stealth Contrarian Investment Ideas
As I mentioned above, optionality in this case means identifying companies, countries, and sectors that we think will appreciate if oil prices rise, but that may have limited downside thanks to solid fundamentals or other positive attributes. The valuations of many of the assets I'm suggesting have been excessively discounted because of their association with oil, yet their potential upside is either underestimated or misunderstood.
Risks to This View
Although a number of factors favor a better oil-price outlook, it's fair to ask, "Is this time really different?" A further slowdown in China, increased oil production from Iran and Libya, and the lag time it takes for companies to retrench and repair balance sheets could postpone the market's return to supply/demand equilibrium. Still, given that oil prices are below the marginal cost of production in many places, I believe companies will need to cut costs and production even further in order to survive.
Canada and Norway
As a net exporter of oil, Canada is well-placed to benefit from an increase in oil prices but should still deliver solid returns if prices remain at current levels. Canadian banks look particularly attractive. A relatively low percentage of their loan books is exposed to oil, dividend yields are relatively high (in the 4-5% range), and their conservative lending standards reduce the risk of loan defaults. Norway is another oil exporter with good credit fundamentals and a current -account surplus which should insulate its currency from further declines in oil prices. We think the currencies of both countries, which are down 20% -30% over the past two years, are good ways to achieve option2-like exposure to rising oil prices.
Mexico
Mexico derives a great deal of revenue from oil exports and could benefit if prices rise. However, as Figure 2 shows, relative to other emerging markets (NYSE:EM), Mexico is much more closely tied to the US than China. This should be a consistent tailwind for Mexico as the US's economy is much more solid than that of China.
We favor Mexican inflation-linked bonds, where real yields are around 4%. These bonds have recently sold off amid lower-than expected inflation, but this is largely due to government reforms that include deregulating industries, such as telecommunications and airlines. El Nino's warm-weather effect is also weighing on food prices. These bonds have sold off recently amid lower-than-expected inflation, but we believe the drawdown has been driven largely by cyclical factors and that Mexico's inflation rate will rise to over 3% in the next few years.
FIGURE 2
Mexico is More Closely Linked to the US Than China (Unlike Most Emerging Markets)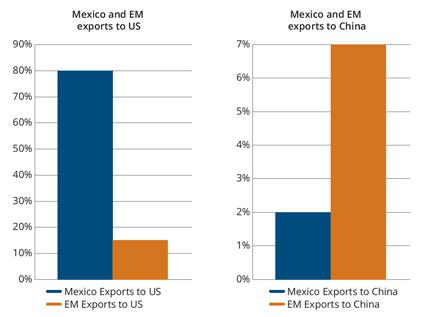 Source: IMF, Haver Analytics
Long-Dated US Investment-Grade Energy Bonds
Some of these companies have solid balance sheets and liquidity, and their long-dated bonds yield around 7%. They are cutting capital expenditures drastically and aiming to keep costs in line with operating cash flow, minimizing the need for additional borrowing. If oil prices rise, spreads3 versus US Treasuries should narrow, and the long-duration4 nature of these bonds could produce double-digit returns. Even if interest rates rise, spread tightening could offset the capital loss caused by a rise in yields.
High-Quality US E&P Companies
There is wide dispersion in the quality and performance of US exploration and production (E&P) companies. We favor businesses with strong balance sheets and low-cost assets that can be brought back online at low energy prices. Companies like these that can economically produce oil at low "breakeven" prices should be able to outperform their lower-quality peers even if oil prices don't recover much and many of them have enough cash to buy weaker competitors-or their assets-at large discounts.
The views expressed here are those of Nanette Abuhoff Jacobson. They should not be construed as investment advice or as the views of Hartford Funds. Please contact a financial or tax advisor about your own particular situation.
1. Capital expenditure are funds used by a company to acquire or upgrade physical assets such as property, industrial buildings, or equipment.
2. An option is a financial derivative that represents a contract sold by one party (option writer) to another party (option holder). The contract offers the buyer the right, but not the obligation, to buy (NASDAQ:CALL) or sell (put) a security or other financial asset at an agreed-upon price (the strike price) during a certain period of time or on a specific date (exercise date). Thus an option-buyer can participate in the upside but not the downside of moves in the underlying asset.
3. Spreads are the difference between yields of Treasury securities and non-Treasury securities with similar duration.
4. Duration is a measure of the sensitivity of an asset or portfolio's price to nominal interest rate movements.
Investors should carefully consider the investment objectives, risks, charges, and expenses of Hartford Funds before investing. This and other information can be found in the prospectus and summary prospectus, which can be obtained by calling 888-843-7824 (retail) or 800-279-1541 (institutional). Investors should read them carefully before they invest.
All investments are subject to risk, including the possible loss of principal. Foreign investments can be riskier than U.S. investments due to the adverse effects of currency exchange rates, differences in market structure and liquidity, as well as specific country, regional, and economic developments. These risks are generally greater for investments in emerging markets. Investments focused in specific sectors of the securities markets may cause performance to be sensitive to developments affecting companies in those sectors.
Fixed-income securities are subject to credit risk, liquidity risk, call risk, and interest-rate risk. As interest rates rise, bond prices generally fall. Investments in high-yield ("junk") bonds involve greater risk of price volatility, illiquidity, and default than higher-rated debt securities. The value of inflation-protected securities generally fluctuates with changes in real interest rates, and the market for these securities may be less developed or liquid, and more volatile, than other securities markets. U.S. Treasury securities are backed by the full faith and credit of the U.S. government as to the timely payment of principal and interest.
The views expressed here are those of Nanette Abuhoff Jacobson. They should not be construed as investment advice or as the views of Hartford Funds. They are based on available information and are subject to change without notice. Portfolio positioning is at the discretion of the individual portfolio management teams; individual portfolio management teams may hold different views and may make different investment decisions for different clients or portfolios. This material and/or its contents are current at the time of writing and may not be reproduced or distributed in whole or in part, for any purpose, without the express written consent of Wellington Management.
All information and representations herein are as of 01/16, unless otherwise noted.
119095 MFGS_011516
Disclosure: I/we have no positions in any stocks mentioned, and no plans to initiate any positions within the next 72 hours.
I wrote this article myself, and it expresses my own opinions. I am not receiving compensation for it. I have no business relationship with any company whose stock is mentioned in this article.