Over the years I've learned that it is usually not a good idea to read too much into any single session of Ms. Market's game. In other words, rarely does a single day make - or break - a trend. However, I have to say that Thursday's much ballyhooed bounce, which was expected to be a thing of beauty, left more than a little to be desired. And while the game can definitely change in a handful of milliseconds these days, from my perch it looked like the folks seeing the market's glass as at least half full appeared to fumble the ball yesterday.
In the wee hours of Thursday morning, it looked like our heroes in horns had the table set very nicely for them. For starters, stocks had become extremely oversold -- by almost any measure. Next, investor sentiment has gotten so bad that historically it has actually been good (more on this subject on Monday). And then there was the awe-inspiring 450 point reversal from Wednesday, which was followed by very green screens in Europe Thursday morning.
Bulls Had Table Set
But wait, as they say, there's more. Coming into Thursday's session, the bulls had a few other items to place on their side of the ledger. For example, the PBoC provided the largest infusion of liquidity to the Chinese banking system seen in 3 years (this in response to the de facto tightening the drop in the yuan has created).
Next, oil was rallying - and not in a small way, as crude futures finished up in the neighborhood of 5% on the day. And while this probably should have been enough to do the trick, the bulls also had Mario Draghi on their side.
After the ECB President had failed to deliver the goods at the last meeting, all eyes were on Super Mario early Thursday morning. And this time he did not fall on his face. No, Draghi basically said that much had changed since December, that oil was becoming a problem, that the risks were now skewed to the downside, that the ECB stood ready, willing, and able to take additional action, and that the bank would be reviewing its monetary policy at the next meeting.
In Central Banker-speak, this was a pretty clear message that the internal squabbling at Draghi & Co. was now over and that the ECB was ready to do some more money printing if things don't improve between now and early-March. And based on the market's initial pop on the news, it appeared that this idea was going to be well received by stock market investors around the world.
Speaking of central bankers, the bulls could also point to a host of folks suggesting that Ms. Yellen may soon begin to publicly rethink the idea of raising rates every other time the FOMC meets in 2016. And if history is any guide, traders would probably welcome such news.
So, like I said, it looked like things were set up for the bulls to have a big day.
Wait, What Happened To All The Green Screens?
But as has been the case lately, sellers materialized almost immediately after the Draghi news. And by the time the opening bell rang on Wall Street, the big jump in prices that had been indicated to occur less than an hour prior had morphed into something more along the lines of a bunny hop.
Although it was touch and go for a while Thursday, the good news is that the Dow finished the day with a triple-digit gain - albeit the gain was relatively small from a percentage standpoint (+0.74%). And unfortunately, the DJIA was the best gainer on the day as the S&P limped in with a gain of +0.52%, the Mid-caps rose just +0.15%, the NASDAQ managed to eke out +0.01%, while the Russell 2000 actually fell -0.2% and the Banking Index lost -1.37%.
In other words, rousing it wasn't.
What Gives?
Maybe it was the earnings news. Maybe no one was convinced that oil could rally for more than one day in a row. Maybe valuations are still a problem. Or maybe it was folks like George Soros, Jeff Gundlach, and Ray Dalio all saying that stocks have further to fall. But in any event, this was NOT the eye-popping, breathtaking, oversold blast that just about everyone in the game (including yours truly) has been expecting.
So, does this mean we will see more downside before the big bounce finally arrives? Or was Thursday merely a false start to be followed by the real deal in short order?
Honestly, I absolutely have no idea. All I know is that (a) Thursday was not the big win that the bulls have been looking for and (b) the technical picture remains unresolved. On that note, the action of the last couple days on the chart below makes this point fairly clear.
S&P 500 - Daily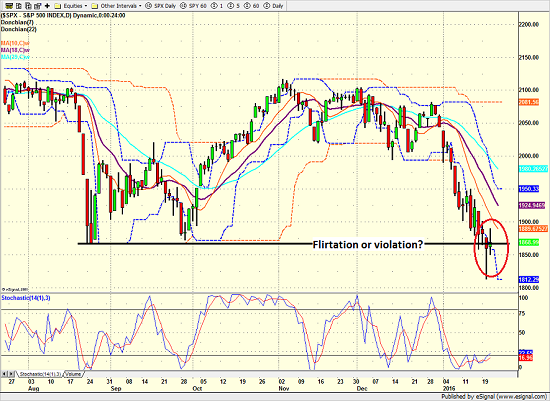 What To Do Now?
So, if you are a fast-money trader-type, it is time to place your bets on which way this thing goes next. Frankly, I can argue both sides here - so good luck with that.
If you are a longer-term investor, it is time to put some (key word) capital to work and to "buy the dip" -- make no mistake about it; now is the time. Sure prices could go lower. But this is why it is usually a good idea to allow for several entry points during market declines.
And if you are a risk manager like myself, it is time to stay the conservative course, to maintain a low profile, and to wait for the indicators and the overall environment to improve. After all, the indicators did a fine job of waving yellow warning flags over the past 6-8 months, so waiting for an all-clear signal or two to materialize seems like a good idea. But to be clear, that's if (and only if) the risk management game is your cup of tea!
Turning to This Morning
Well, here we go again. Oil is flying higher again this morning and there is more talk about central bank intervention. So as you might expect by now, stock markets around the globe are following suit in rather impressive fashion. But to be fair, there is more to the story this morning than oil. Overnight there was talk of a ramp up in easing measures in Japan and a big rebound in Chinese equities. The hope for additional QE from the BoJ produced a spike of nearly 6% in Japanese equities. Talk of additional stimulus from the ECB is also cited as a strong tailwind this morning. As such, the PMI data in Europe, which was weaker than expected, is creating a "bad news is good news" situation across the pond. European bourses are up more than 2% across the board and U.S. stock futures are following suit. The question of the day, of course, is if today's early rally will stick.
Today's Pre-Game Indicators
Here are the Pre-Market indicators we review each morning before the opening bell...
Major Foreign Markets:
Japan: +5.88%
Hong Kong: +2.91%
Shanghai: +1.27%
London: +2.27%
Germany: +2.15%
France: +3.29%
Italy: +2.23%
Spain: +3.55%
Crude Oil Futures: +$1.56 to $31.09
Gold: -$0.50 at $1097.70
Dollar: lower against the yen and pound, higher vs. euro
10-Year Bond Yield: Currently trading at 2.062%
Stock Indices in U.S. (relative to fair value):
S&P 500: +26.60
Dow Jones Industrial Average: +199
NASDAQ Composite: +73.80
Thought For The Day:
"Failure is the opportunity to begin again more intelligently" -- Henry Ford
Current Market Drivers
We strive to identify the driving forces behind the market action on a daily basis. The thinking is that if we can both identify and understand why stocks are doing what they are doing on a short-term basis; we are not likely to be surprised/blind-sided by a big move. Listed below are what we believe to be the driving forces of the current market (Listed in order of importance).
1. The State of the Oil Crisis
2. The State of China's Renminbi
2. The State of the Earnings Season
3. The State of Global Central Bank Policy
The State of the Trend
We believe it is important to analyze the market using multiple time-frames. We define short-term as 3 days to 3 weeks, intermediate-term as 3 weeks to 6 months, and long-term as 6 months or more. Below are our current ratings of the three primary trends:
Short-Term Trend: Negative
(Chart below is S&P 500 daily over past 1 month)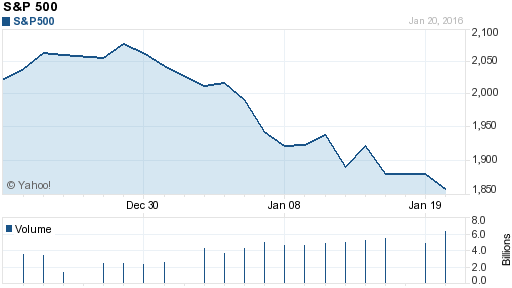 Intermediate-Term Trend: Negative
(Chart below is S&P 500 daily over past 6 months)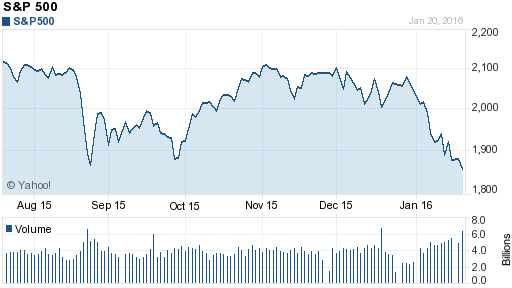 Long-Term Trend: Neutral
(Chart below is S&P 500 daily over past 2 years)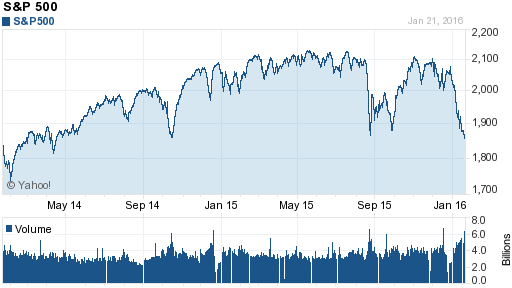 Key Technical Areas:
Traders as well as computerized algorithms are generally keenly aware of the important technical levels on the charts from a short-term basis. Below are the levels we deem important to watch today:
Key Near-Term Support Zone(s) for S&P 500: 1850ish on closing basis - 1812 intraday
Key Near-Term Resistance Zone(s): 1980(ish)
The State of the Tape
Momentum indicators are designed to tell us about the technical health of a trend - I.E. if there is any "oomph" behind the move. Below are a handful of our favorite indicators relating to the market's "mo"...
Trend and Breadth Confirmation Indicator (Short-Term): Negative
Price Thrust Indicator: Negative
Volume Thrust Indicator(NASDAQ): Negative
Breadth Thrust Indicator (NASDAQ): Negative
Short-Term Volume Relationship: Negative
Technical Health of 100+ Industry Groups: Negative
The Early Warning Indicators
Markets travel in cycles. Thus we must constantly be on the lookout for changes in the direction of the trend. Looking at market sentiment and the overbought/sold conditions can provide "early warning signs" that a trend change may be near.
S&P 500 Overbought/Oversold Conditions:

- Short-Term: Oversold

- Intermediate-Term: Oversold

Market Sentiment: Our primary sentiment model is Positive
The State of the Market Environment
One of the keys to long-term success in the stock market is stay in tune with the market's "big picture" environment in terms of risk versus reward.
Weekly Market Environment Model Reading: Negative