Stock index futures indicate a significantly higher open this Friday morning after strong gains in Asia and Europe. However, critical economic data is due later this morning that could disappoint investors. With any significant economic disappointment, a recent trend of 10 AM turns in trading could be catalyzed and the week's softness could extend further as a result. Thus, investors are probably wise to tread carefully this morning and wait until the data releases at 10 AM ET to determine whether stocks can find traction today fundamental support.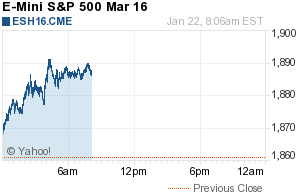 E-Mini S&P 500 Mar 16 Futures at Yahoo
S&P 500 futures were indicating a 1.4% higher open at roughly 8:15 AM ET this morning, as stocks want to build upon yesterday's rally on the European Central Bank (ECB) comments. ECB Chief Mario Draghi indicated the ECB could extend and increase its extraordinary easing measures in March. Stocks were up Thursday on that news, and gains accelerated in Asia and Europe on Friday. The iShares China Large-Cap (NYSE: FXI) was indicating a 2.8% higher open Friday as I wrote here and the Vanguard FTSE Europe (NYSE: VGK) was indicating a 3.3% higher open.
| | | |
| --- | --- | --- |
| Sector Securities | Thursday 01-21-16 | Friday's AM Indication |
| SPDR S&P 500 (NYSE: SPY) | +0.6% | +1.5% |
| SPDR Dow Jones (NYSE: DIA) | +0.6% | +1.3% |
| PowerShares QQQ (NASDAQ: QQQ) | +0.1% | +1.9% |
| iShares Russell 2000 (NYSE: IWM) | -0.2% | +1.7% |
| Vanguard Total Stock Market (NYSE: VTI) | +0.4% | +1.5% |
| iPath S&P GSCI Crude Oil (NYSE: OIL) | -17% | +3.7% |
| iPath S&P 500 VIX ST Futures (NYSE: VXX) | -0.4% | -4.4% |
However, the positive prospects for stocks could be hemmed this morning when several key reports come due. I have specific concerns about the data points, and believe it's wise to hold off new equity investment until we see them.
The PMI Manufacturing Index (Flash) is due for release at 9:45 AM ET. Investors are well aware of recent issues in the manufacturing sector, with several data points indicating a manufacturing recession is underway in the U.S. This data point has been trending lower over the last several months, from 52.6 in November and 51.3 in December. Economists expect the Flash measure to fall further to 51.0 for January. The report has shown severe contraction in backlogs and new orders have been lacking of late.
This data point has held above the 50.0 breakeven mark delineating between economic expansion and contraction, but it is alone in that regard. ISM's Manufacturing Index has been underwater for some time now and last read 48.2 for December. The Flash measure for Markit Economics' PMI Manufacturing data is an early look before a more complete PMI figure is published in a few weeks. The last final reading for December's PMI Manufacturing Index read 51.2; lower than December's Flash reading by a tenth of a point. The trend is not indicating improvement, and the data could very well fall further than expected. The data point is not as threatening as data arriving at 10 AM this morning, because the contraction in manufacturing is already well understood by the market.
However, economic growth slowing is something stocks have been pricing in so far this year, but it's something not yet shown in GDP data. The final reading of third quarter GDP showed a slight moderation in growth to 2.0%, from 2.1% at the previous reporting. Today, Leading Economic Indicators (LEI) will be reported for the month of December. LEI increased 0.4% in November, 0.6% in October and was unchanged in September. Unfortunately, Bloomberg's survey shows the economists' consensus expectation for December at negative 0.1%, with a range extending from +0.2% to -0.3%. Bad news in this data point would raise concerns about the economy heading into Q1, and could cause a markdown of Q4 expectations. In other words, it could somewhat confirm market concerns about the U.S. economy.
Also at 10:00 AM ET, we'll receive the latest Existing Home Sales data for the month of December. Economists have high hopes for this data point, with the consensus expectation set at an annual pace of 5.2 million existing home sales. It would mark an increase from November's reading at 4.76 million. However, in November we saw an anomalous factor come into play which I reported on, and the month's recovery at this reading would be expected on a make-up gain from that anomalous issue. New regulations have increased paperwork and time between contract signings and home sale closures. It is possible that the issue will not have been overcome yet in December, given the new rules only just came into being, and that another miss could confuse the market about the state of housing. This would likely heighten concerns about the economy and confirm recent market turbulence. Still, I must note that I believe any housing weakness indicated by data now should be overlooked, as it is likely due to the new rules.
In conclusion, while stocks were looking strong this morning, investors should tread carefully into this morning's economic data releases. They pose a threat of confirming the market's latest fears, that the U.S. economy could be softening. Such a confirmation could cause a reversal for stocks. Yesterday, a CNBC report noted a recent trend in daily trading showing reversals at specific times of the day, including 10 AM ET. This data could provide a fundamental catalyst to perpetuate such a trend. I cover the market closely and invite relative interests to follow my column here at Seeking Alpha.
Disclosure: I/we have no positions in any stocks mentioned, and no plans to initiate any positions within the next 72 hours.
I wrote this article myself, and it expresses my own opinions. I am not receiving compensation for it (other than from Seeking Alpha). I have no business relationship with any company whose stock is mentioned in this article.