The market has gotten off to a brutish start to 2016. If things do not turn around in a major way over the next week or so, this January will go down as the worst monthly performance since February 2009 which was right before the nadir of the stock market collapse. Many sectors of the markets are in official bear market territory including obviously energy and commodity stocks. Small caps and the biotech sector are in bear markets which is not that surprising given they are high beta parts of the equity space. Surprisingly, transports where fuel prices are a major component of operating costs, are also in a bear market.
One of the biggest surprises, however, for a sector that has been punished is among the high yielding real estate investment sector. Usually, when yields on the ten year treasury drop like they have this year to just a tad above two percent; this sector usually does very well. Instead quite a few high quality names have been taken out to the woodshed and shot. The turmoil in the high yield credit space is primarily responsible for the souring sentiment currently on this sector. However, most the defaults that will occur in this space will come from energy and mining companies. Real Estate seems pretty solid outside a major domestic recession.
What is happening in the REIT area feels more like throwing the baby out with the bathwater. I am slowing increasing my exposure to this sector of the market. Given I think the market will be flat or slightly up in 2016 in a best case scenario, a 5%, 6%, 7% or 8% annual yield is nothing to sneeze at. Let alone if this sector bounces back as it should and gives one some capital appreciation to boot.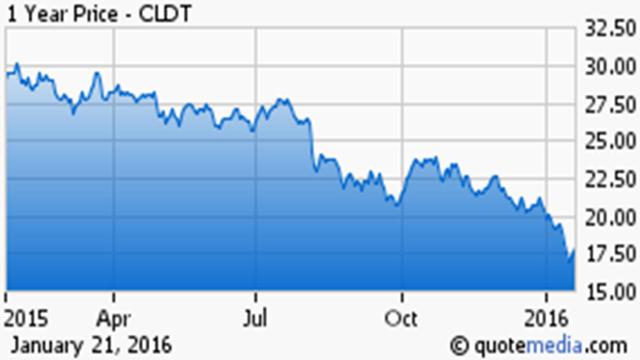 I particularly like the hotel and hospitality space. The sector has declined substantially due to some analyst downgrades and worries about the strong dollar affected travel coming from overseas. The area looks extremely oversold. I highlighted Chatham Lodging Trust (NYSE:CLDT) the other day on these pages. This REIT is down some 40% from its 52 week highs. A year ago it yielded a little over four percent. Today, thanks to the decline in the stock and dividend increases; it provides an over seven percent yield now. This does not even include the special dividend the company recently announced. CLDT is way too cheap at under seven times forward FFO (Funds From Operations).
Diamondrock Hospitality (NYSE:DRH) is another REIT in the lodging space I currently like and have been adding to recently. The stock is priced like a Black Friday sale. The stock was north of $15.00 a share this summer where it was yielding approximately four and a quarter percent in dividend payouts. DRH now is just above $8.00 a share and yielding almost six and half percent - talk about a blue light special.
Diamondrock operates hotels under the Hilton, Marriott, and Westin brand names in New York, Los Angeles, Chicago, Boston, and Atlanta; and in destination resort locations, such as the United States Virgin Islands and Colorado. It has approximately 12,000 rooms overall. Some of these properties obviously will be impacted by slowing growth coming from overseas visitors thanks to a strong dollar but the recent decline is a huge overreaction in my opinion. FFO is growing 10% to 15% annually on mid-digit gains in revenues. DRH is very cheap at around seven times FFO given that growth and its large yield.
I also just took a stake in Hospitality Properties Trust (NYSE:HPT). It is by far the largest of the REITs profiled in this article with a market capitalization north of $3 billion. It owns just over 300 hotels and almost 200 travel centers in 45 states, Ontario, Canada and Puerto Rico. This is another lodging REIT that has been battered and is down more 30% from 52 week highs and can be had for around $22.00 a share.
Hospitality Properties Trust also has the highest yield of the three REITs at approximately 8.5%. The consensus earnings estimate for FY2016 has actually risen slightly over the past three months during the decline of the stock. 6 analyst firms have earnings estimates for 2016 with lowest being at $3.73 worth of FFO per share. Puerto Rico should not be a concern given the REIT only has one hotel there. FFO should increase 10% or better this year and HPT sells for less than six times forward FFO.
My hope is the markets improve in the weeks ahead, so I can get some capital appreciation on these shares I have picked up at bargain basement prices. If not, I am more than content to clip some coupons and receive generous dividend payouts on these cheap lodging plays.
Disclosure: I am/we are long CLDT, DRH, HPT.
I wrote this article myself, and it expresses my own opinions. I am not receiving compensation for it (other than from Seeking Alpha). I have no business relationship with any company whose stock is mentioned in this article.