Crude futures prices were up as much as 5%-6% overnight and early Friday, a move that looked to sweep up stocks in a short-term recovery.
This tough stock and oil trading week, one marked by heavy losses, did at least find some Friday relief amid signals of further central bank stimulus that could support demand for heavy global oil supplies.
So far this week, the S&P 500 (SPX) is down about 0.6%. January losses through Thursday for both SPX (figure 1) and the Dow Jones Industrial Average ($DJI) are nearly 9%.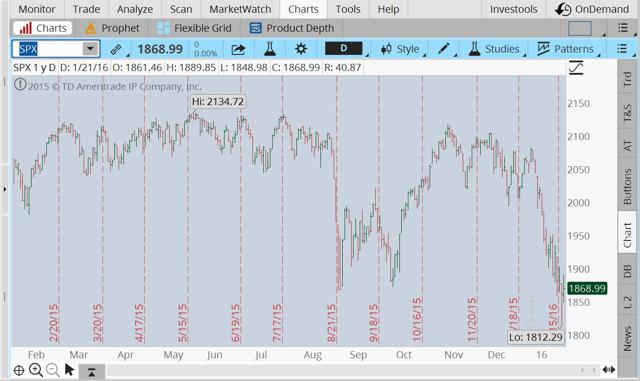 Figure 1: Reclaimed Ground. The S&P 500 (SPX), plotted here on the TD Ameritrade thinkorswim platform, moved to 2014 levels this week but ended Thursday's session higher. Data source: Standard & Poor's. For illustrative purposes only. Past performance does not guarantee future results.
"No Limits…" Just to recap European Central Bank (ECB) President Mario Draghi's stance in his Thursday press conference: The ECB has "no limits" in using tools and monetary instruments to plump up inflation and, ideally, stronger growth. His remarks were part of the catalyst driving a global stock snapback on Thursday.
Japan, Too? Japan's Nikkei stock average gained after an aide to Prime Minister Shinzo Abe said Thursday that "conditions for additional easing have fallen into place," according to The Wall Street Journal. The Bank of Japan will meet on Jan. 28-29, and some industry analysts expect the central bank's asset-purchasing program could be increased.
GE Hit By Oil. Conglomerate General Electric (NYSE:GE) reported growth in Q4 core earnings and revenue but its industrials profit was hit by declines in its power and oil-and-gas businesses. Overall, GE, which continues to work through a business transformation, reported a profit of $6.28 billion, or $0.64 a share, compared with a profit of $5.15 billion, or $0.51 a share, a year earlier. GE backed its 2016 earnings outlook. In other news, Schlumberger (NYSE:SLB) gained after beating Street expectations with earnings and cutting 10,000 jobs. Boeing (NYSE:BA) said it would cut 747 production by 50%, according to financial media.
TD Ameritrade, Inc., member FINRA/SIPC. TD Ameritrade is a trademark jointly owned by TD Ameritrade IP Company, Inc. and The Toronto-Dominion Bank. Commentary provided for educational purposes only. Past performance is no guarantee of future results or investment success.
Disclosure: I/we have no positions in any stocks mentioned, and no plans to initiate any positions within the next 72 hours.
I wrote this article myself, and it expresses my own opinions. I am not receiving compensation for it. I have no business relationship with any company whose stock is mentioned in this article.