Introduction
Mean reversion in CEF premium/discount values can be exploited for small gains in portfolio performance. Compared to other arbitrage strategies (e.g. long Visa (NYSE:V)/short Mastercard (NYSE:MA)), I find CEF premium/discount pairs trading to be relatively "safer" because you aren't making a directional bet on the fundamental business or economics of different stocks or funds. In a recent study entitled "Exploiting Closed-End Fund Discounts: A Systematic Examination of Alphas", Patro et al. wrote:
Capitalizing on mean reversion, we devise a parametric model to estimate expected fund returns and buy the quintile of funds with highest expected returns and sell the quintile of funds with lowest expected returns. Such a strategy yields an annualized arbitrage return of 18.2% and a Sharpe ratio of 1.918.
The Tax-Managed Global Buy-Write Opportunities Fund (NYSE:ETW) and the Tax-Managed Global Diversified Equity Income Fund (NYSE:EXG) are both global option income close-ended funds (CEFs) from Eaton Vance (NYSE:EV). Both funds seek to achieve "current income with capital appreciation through investment in global common stock and through utilizing a covered call and options strategy." The main difference between the two CEFs is that ETW is more defensive, with around 100% call option coverage, compared to EXG at around 50% option coverage.
In an Oct. 5th, 2015 article entitled "Another EXG-ETW Pairs Opportunity Presents Itself", I noted that while EXG and ETW have some differences, the EXG:ETW pair had traded within a tight range over the past 5 years.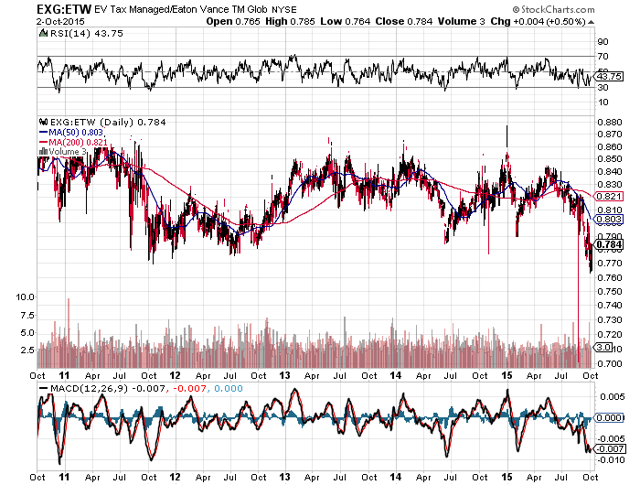 I had written:
Highs in the graph represent good times to sell EXG and buy ETW, while lows in the graph represent good times to buy EXG and sell ETW.
Another successful EXG:ETW pairs trade in the book
Fast-forward 3.5 months later, and we observe that the EXG:ETW thesis has played out exactly as we had hoped. The EXG:ETW pair increased by about 10% over 3.5 months or 37% annualized.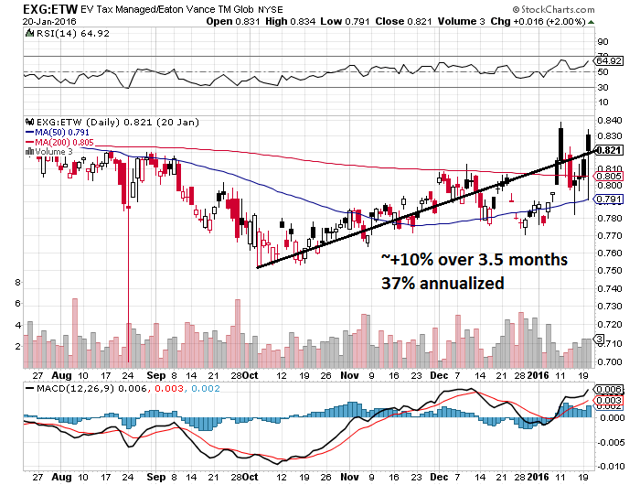 What happened? As I noted in my previous article, EXG had a discount of -11.08% while ETW had a discount of -6.70%, good for a 4.38% differential. Today, EXG's discount is -12.91% while ETW's has a discount of -11.37%, meaning that the discount difference has shrunk to 1.54%, or a 2.84% decrease from the previous differential.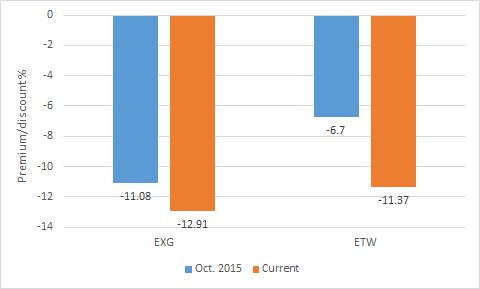 Another factor aiding this trade was EXG's slightly superior 3-month NAV return of -8.74% compared to ETW's at -9.73%. However, EXG's price return of -13.52% was greatly superior to ETW's at -19.10%. This again reinforces the notion that most of the returns of this pair trade came from a reversion of premium/discount values.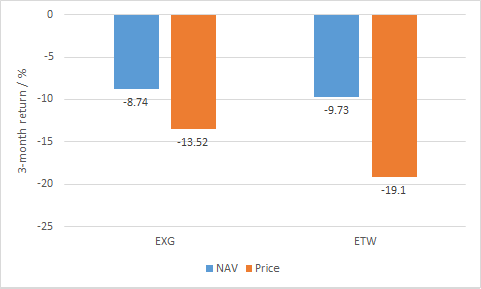 The beauty of a pairs trade strategy is that even though both funds had fallen amid the market turmoil over the past few months, ETW declined more than EXG, allowing you to reap the difference with less risk than a directional position.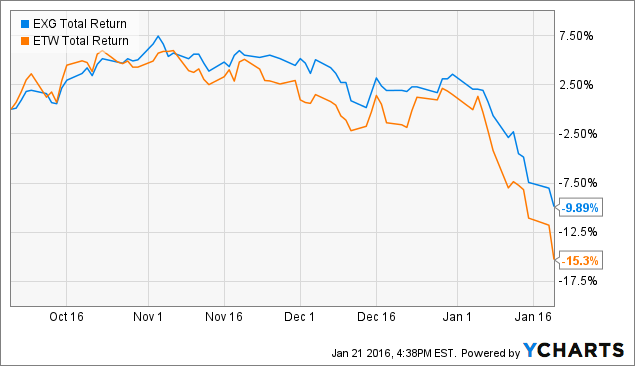 EXG Total Return Price data by YCharts
This is the second successful EXG:ETW pairs trade I had identified on Seeking Alpha, the first being described in these pair of articles ("Should You Sell ETW And Buy EXG?" and "Closing The EXG-ETW Pairs Trade").
What now?
With the discount values of the two funds having moved back closer together, the opportunity for an EXG:ETW pairs trade no longer exists. However, it can be noted that the market panic over the past few days have driven the discounts for both funds to 52-week lows. EXG's current discount is -12.91%, while ETW's is -11.37%. For a long-only equity investor, this would suggest that now is an attractive entry point for either fund. EXG has an attractive distribution yield of 12.80%, while ETW's is 12.58%. Both are paid monthly.
For the arbitrage-minded investor, another pairs trade possibility could be an investment in either fund combined with a short position in the iShares MSCI ACWI ETF (NASDAQ:ACWI), the all-country equity ETF. As can be seen from the graphs below, both EXG and ETW have traded range-bound in an ascending channel with respect to ACWI over the past five years. This range-bound behavior is not surprising because ACWI essentially acts as a benchmark for EXG and ETW, which are both global option-income funds. With both EXG:ACWI and ETW:ACWI pairs now currently near the lower end of the ascending channel, now might be a good time to enter into a long EXG (or ETW)/short ACWI pairs trade.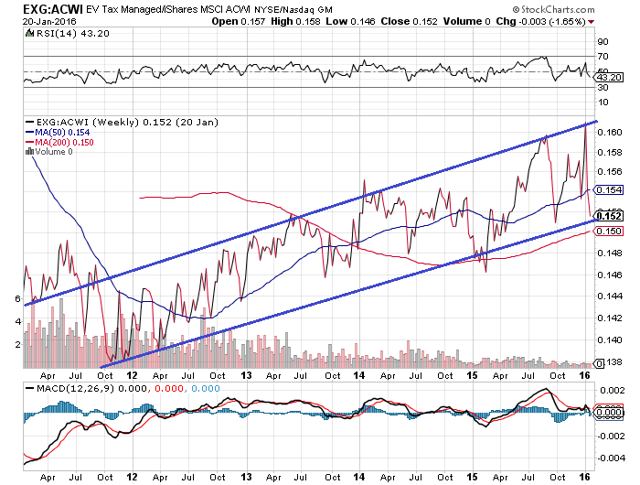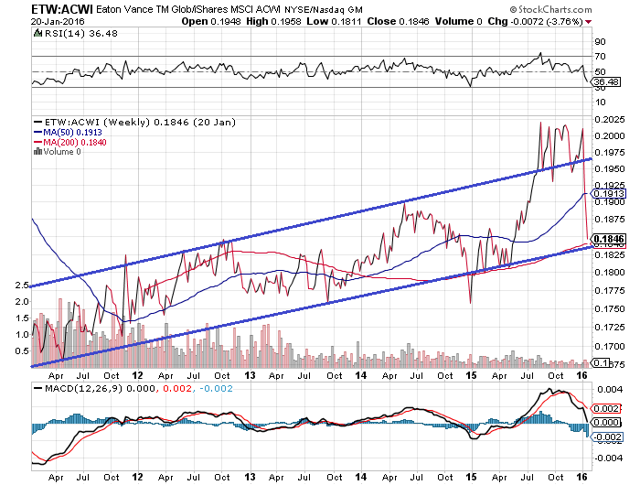 What is, perhaps, somewhat more surprising is that both EXG and ETW have been able to not only keep pace with but also outperform ACWI over the past five years despite the bull market in world stocks that had been ongoing until recently. This is contrary to expected because a covered-call strategy should, in theory, underperform a long-only strategy during bull markets. This is why I like both EXG and ETW as stand-alone funds and not only as vehicles for pairs trading strategies.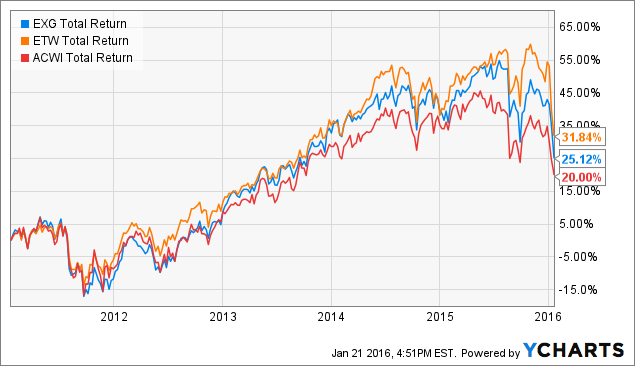 EXG Total Return Price data by YCharts
Of the two, which fund would I pick at this juncture? It's a close call, because I like both funds, but I would probably side with ETW due to its more defensive nature at 100% option coverage compared to EXG at 50%. With markets (finally?) due to a pull-back in 2016, now may be time to get defensive. Of course I could be completely wrong and we might end up with a roaring bull market this year, in which case we would probably see ETW underperform EXG, and possibly both funds underperform ACWI.
As a disclaimer, I should note that shorting entails risks of an unlimited loss, and also requires the payment of interest fees to your broker. Personally, I do not consider myself sophisticated enough to execute a genuine pairs trading strategy. Instead of shorting, I simply maintain a long position in either ETW and EXG and switch between them according to the signals identified in these articles in order to add a few extra percentage points to the performance of my portfolio.
Disclosure: I/we have no positions in any stocks mentioned, and no plans to initiate any positions within the next 72 hours.
I wrote this article myself, and it expresses my own opinions. I am not receiving compensation for it (other than from Seeking Alpha). I have no business relationship with any company whose stock is mentioned in this article.