There are only three players in the hard disk drive (HDD) market: Seagate (NASDAQ:STX), Western Digital (NASDAQ:WDC) and Toshiba (OTCPK:TOSYY). Using information provided by both Seagate and Western Digital in their quarterly reports and International Data Corporation, we can parse out market share for each company.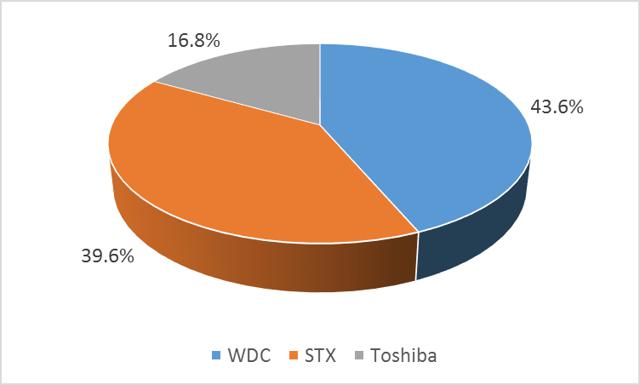 Each company's market share has been pretty static for the past few years, +/- 1.5 percentage points. On a revenue basis, Toshiba only garnered 13.8% market share in Q3 2015 according to IDC data.
It is no secret that Toshiba is reeling from a major accounting scandal this year that saw the CEO and several senior officials resign. Profits were overstated by $1.2B over a seven-year period. The company is forecasting a massive loss this year, has cancelled its dividend and is financing its operations by raising billions in debt. I looked into Toshiba's product line-up in HDDs - particularly its enterprise offerings. It pales in comparison to Western Digital and Seagate's offerings. It shows up in the operating performance. Here is a chart compiled by Bloomberg of data put out by IDC.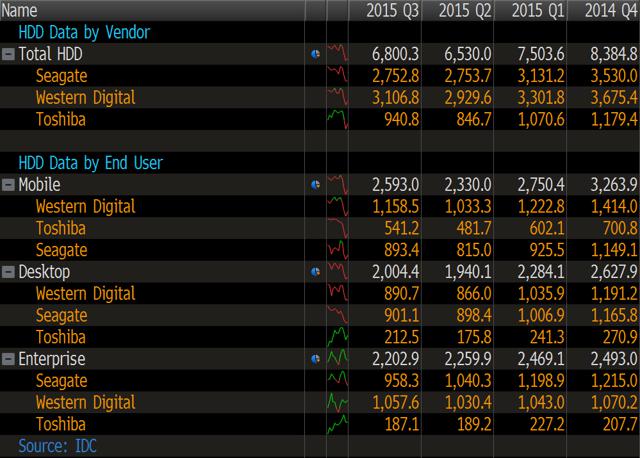 Toshiba generates a majority of its HDD revenue from drives used in laptops (57% for the most recent reported quarter). Incidentally these drives have the lowest margin and are the most likely to be displaced by NAND flash drives. In the category that generates the highest margin for these companies, enterprise drives, Toshiba is woefully lacking a competitive line-up. It has just 8.5% market share by revenues.
So then the question becomes - why should Toshiba even bother remaining a distant third in the HDD space given its financial woes and the rapid adoption of NAND flash? Let's consider the numbers. Toshiba generated $4.0B in revenue selling HDDs over the last 12 months. Given its lack of competitive enterprise offerings, its gross margin is in the low 20s at best. I'd ballpark it at 22%. I'll be generous and estimate that its EBITDA margin is 12% and net income margin is 4%. I used Western Digital's consistent performance as a guide. Toshiba is not likely as well managed, so my numbers are likely generous. That means Toshiba generated roughly $160M in net income in the last year by operating this business. Operating cash flow could be closer to $210M given non-cash charges. However we know there are capital expenditure requirements. I estimate them to be ~3.5% of revenues (in-line with peers). That puts free cash flow at a measly $70M/year - and likely dropping. That says nothing of the amount of debt this business carries.
So that begs the question: Why even bother? HDDs are a sun-setting industry. Within 5-10 years most of demand will have shifted to NAND or some other technology not yet commercialized. The company's net income is likely to erode further in the coming years as sales decline and margins compress. Toshiba's business is not at sufficient scale and its product offerings are too limited to generate meaningful income for its parent company. Further investment to boost sales does not make financial sense given the above dynamics.
I'm not the only one wondering whether Toshiba should continue in this business. This article goes into some detail about Toshiba's woes and considers what businesses could be divested. HDDs is on the list. But is there a natural buyer of the business? I cannot think of one. Other conglomerates, Samsung and Hitachi, sold their businesses to Seagate and Western Digital, respectively. They don't want to get back into the business. Anyone buying the business will put a large discount on the price given Toshiba's poor market position. Maybe a private equity vulture would pay a couple million for it. Maybe a Chinese buyer emerges because they want the technology. But again, this technology could be worthless within the next decade, so why bother? If Toshiba shops it around and finds no buyers it could just shut the whole thing down rather than continue to invest precious dollars into old technology.
From a regulatory standpoint, I don't think Seagate or Western Digital would even try to make a run at the business. Anti-competitive watchdogs don't like mergers that result in a duopoly. But what can they do about one that just happens naturally? If no one buys the business from Toshiba it could just go away, which would leave only two standing. But of course Seagate and Western Digital don't just compete against themselves. NAND flash is taking more and more of the digital storage market share from these companies every quarter. A progressive take on the storage market by regulators would not foresee a problem with a duopoly in HDDs.
So what would that mean for Seagate and Western Digital in the near-term if Toshiba quit the HDD market? Each would likely garner about half of Toshiba's $4B in annual revenues. Assuming a 10 percent net margin that could add another $200M in annual income for each. Maybe each gains some marginal pricing power in the near term and margins expand. Any rally in either Seagate or Western Digital should likely be sold though. Longer-term Seagate is not well positioned for the transition to flash. Western Digital is buying SanDisk but there are no guarantees that will work either. The company is taking on ~$16B in additional debt to finance the transaction. Market observers generally point to Micron and Samsung as being the best positioned in the NAND space for the next five years.
So in conclusion, Toshiba's HDD business is in nomad's land. As Toshiba seeks to restructure its business to focus on the most promising technologies, it hardly seems as though HDDs would have a place anymore. With no natural buyer of a distant third in terms of market share in a sun setting industry, Toshiba could just completely shut down operations. This would give both Seagate and Western Digital a temporary boost. Any strength in the share price as a result of a Toshiba exit from the space is likely a good point to reduce exposure to this space. The technology is moving rapidly. Flash makers are willing to endure low margins and high capex in order to gain market share. Price wars are never good for profit maximizing firms. The long-term pressure on margins for HDDs will continue.
Disclosure: I/we have no positions in any stocks mentioned, and no plans to initiate any positions within the next 72 hours.
I wrote this article myself, and it expresses my own opinions. I am not receiving compensation for it (other than from Seeking Alpha). I have no business relationship with any company whose stock is mentioned in this article.
Editor's Note: This article discusses one or more securities that do not trade on a major U.S. exchange. Please be aware of the risks associated with these stocks.