Introduction
"Legion" is the sixth expansion for World of Warcraft and is scheduled for a release Q2/Q3 2016. As a major contributor to Activision-Blizzard (NASDAQ:ATVI) revenues (and profit), the performance of World of Warcraft is critical to overall performance of the stock.
World of Warcraft expansions typically come out every two years and have generally resulted in a large initial bump of subscribers followed by a slow trickle downward as the content becomes stale. This is a highly typical pattern for Massively Multiplayer Online (MMO) games as this cycle is generally repeated each expansion release.
- SOURCE

As you can plainly see, the more successful expansions (Burning Crusade and Wrath of the Lich King) resulted in a sustained capture of subscriber numbers, whereas the "bad" expansions (WoD, Pandaria, Cataclysm) have resulted in an initial spike followed by a much more expeditious decline in overall numbers. My suggestion of "good" versus "bad" expansions refer to player perception of the overall expansion in terms of content and features.
Warlords of Draenor is the most egregious example of this as Blizzard recently reported subscriptions were down to 5.5 million, and they will no longer report overall subscriber numbers in the future. Much of this decline is due to a dearth of end game content present in WoD causing players to grind through the content and lose interest quickly. The alarmist rhetoric sounding the death knell of WoW has been overblown and Blizzard is making necessary adjustments to recapture some of World of Warcraft's lost user base.
How important is World of Warcraft to ATVI?
World of Warcraft is incredibly important to ATVI and represents the crown jewel franchise of the existing portfolio.
The chart below compares estimated World of Warcraft revenues to reported revenues of ATVI on an annual basis, and as you can see anywhere from 35-60% of revenue generated in a year comes directly from WoW.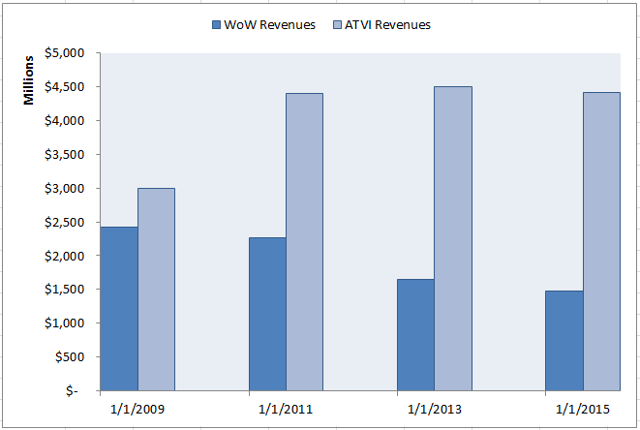 So how much cash does World of Warcraft generate and how did I figure out these numbers?
World of Warcraft operates on a subscription model of $15 per month (per user). For the numbers above, I used average annual subscribers for the year times the average cost of product purchase ($35) plus a full year of monthly subscription dues ($180).
Blizzard has also introduced microtransactions for things like mounts and cosmetic equipment to WoW, which represent significant upside potential to help offset subscriber losses. It is hard to estimate how much revenue microtransactions may generate, but overall industry trends suggest that microtransaction spending is on an upward trend. We can speculate that microtransactions are at least a 5-10% premium on overall revenues generated by WoW.
The graph below shows the overall downward trend in subscriber based MMO's and the slightly upward trend in microtransactions.
- SOURCE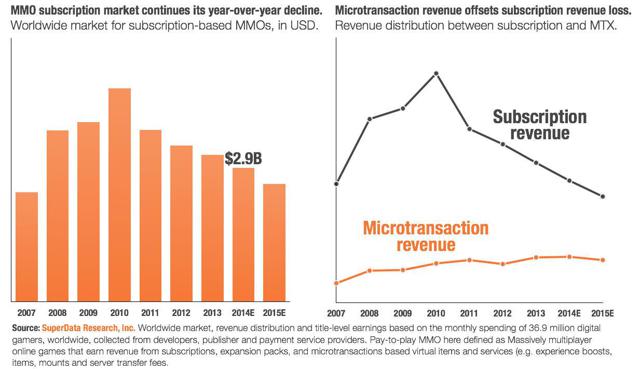 The revenue estimates I have presented for WoW are quite conservative so consider these estimates on the low end of potential impact to ATVI overall revenues.
World of Warcraft: Fading juggernaut?
The trend across the MMO genre has been down as users move toward free-to-play offerings, MOBA's (such as League of Legend and DOTA2), and mobile games. There will always be a core user base for World of Warcraft, however, as it is simply the largest and most interesting "theme park" MMO available on the market. As further evidence, reference the 2013 estimated market share of WoW in the graphic below.
This core user group is very sticky, and nearly always returns to dabble in expansions as they are released. Blizzard understands this and is moving to smaller and more often expansion releases in the future.
- SOURCE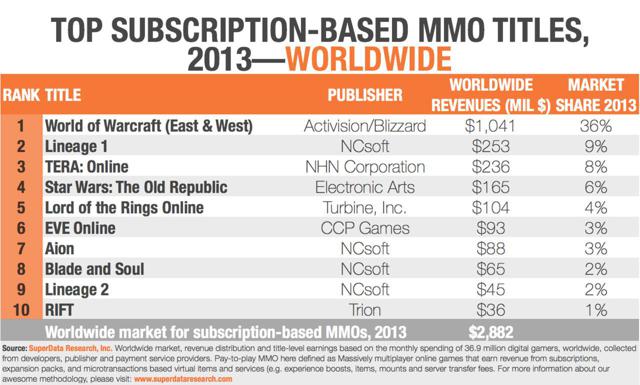 The last reported subscriber number for WoW in this report was 5.5 million, which represents almost a 50% decline from previous numbers. ATVI has decided not to report subscriber numbers in future reports citing "There are other metrics that are better indicators of the overall Blizzard business performance."
Regardless of the decline in subscribers, WoW is still a cash machine that will generate $800-900m in revenues easily with current subscriber numbers assuming they remain flat.
Post-expansion subscriber retention depends on the content of the expansion and the release of "end game" content through the expansion cycle. The most successful expansion, Wrath of the Lich King, released quality raid and end game content throughout the cycle and maintained the highest level of subscriber numbers over the expansion time window.
I believe that the higher frequency expansion release cycle is warranted and will help sustain subscriber interest.
Legion
The upcoming expansion, "Legion" has a release date targeted in Q2/Q3 2016 and the early critical response is cautiously optimistic. The player base believes Blizzard has acknowledged some of the missteps of previous expansions and is trying to "give the fans what they have wanted" with Legion more so than in other expansion releases. In fact, Legion is shaping up to have a similar level of content as Wrath of the Lich King - the most successful expansion to date.
Blizzard is also attacking their upcoming expansions with a larger and more focused development team, and trying to reinvigorate the game with fresh content on a faster basis.
WOW movie
The WoW movie, which has been mentioned elsewhere on SA, will release in 2016. The movie will inevitably also include a media and advertising blitz, bringing the Warcraft brand to the masses just in time for the Legion release.
If the movie is successful it will help Legion reach a much broader audience than previous expansions, and will have an accretive effect on overall subscriber numbers. (especially if those new subscribers can be retained over a longer period of time)
The movie is a huge gamble for ATVI, but if successful opens the door for sequels and other ventures into cinema or television with Blizzard IP. (Diablo, Starcraft)
Conclusion
WoW has a proven track record and we have years of expansion releases to help forecast the future impact of Legion. Things are slightly different this time with the upcoming release of the Warcraft movie and the re-engaged Blizzard development team coming off the mediocre performance of the Warlords of Draenor expansion.
World of Warcraft can significantly move the needle on ATVI revenues if Legion is successful. Due to recent bearishness and subscriber fall-off I do not believe the future success of Legion is priced into the stock. I am very bullish on this expansion and believe it has a high likelihood of reinvigorating the game and driving up ATVI revenues more than the market is currently predicting.
Disclosure: I/we have no positions in any stocks mentioned, and no plans to initiate any positions within the next 72 hours.
I wrote this article myself, and it expresses my own opinions. I am not receiving compensation for it (other than from Seeking Alpha). I have no business relationship with any company whose stock is mentioned in this article.