Intel (NASDAQ:INTC) has been able to absolutely dominate the x86 segment so far due to its competitive lead in chip manufacturing process relative to its peers. The chipmaker, as of today, still enjoys the lead. However, as per the most recent leak, it looks as though Intel's highly coveted node advantage is about to shrink going forward. More to the point, there is reason to believe that its upcoming Ice Lake chips could be just at par with competition in terms of fabrication process. Let's take a closer look at what's happening here.
The New Tick-Tock-Toe?
Intel has been so far operating on a tick-tock release model. While every "tick" represents an advancement of fabrication process, its accompanying "tock" cycle introduces a new architecture using its latest manufacturing technology. This model has recently been taking about 2.5 years for completion, which the management was earlier aiming to reduce down to 2 years going forth. But that may not be on the cards.

The recent leak published by Wccftech.com reveals that Intel has again broken this tick-tock cycle and is now working on three (not two) CPU architectures for its upcoming 10nm process namely, Cannon Lake, Ice Lake and Tiger Lake that are scheduled for release in H2 2017, 2018 and 2019 respectively. I call this the "tick-tock-toe" model for the sake of practicality.
| | | | |
| --- | --- | --- | --- |
| | Tick | Tock | Toe |
| 45nm | Penryn | Nehalem | - |
| 32nm | Westmere | Sandy Bridge | - |
| 22nm | Ivy Bridge | Haswell | Devil's Canyon |
| 14nm | Broadwell | Sky Lake | Kaby Lake |
| 10nm | Cannon Lake (2017) | Ice Lake (2018) | Tiger Lake (2019) |
Source: Wikipedia

This model isn't exactly new. We've seen the "toe" cycle on Intel's 22nm and 14nm nodes in the form of Devil's Lake and Kaby Lake in the past. The chipmaker never formally announced that it would stick to three architectures per node so it was always assumed that the chipzilla would return to two architectures per node and get its "tick-tock "model back on track. After all, Intel was able to build and sustain its manufacturing lead over its competitors by maintaining its 2 to 2.5-year cadence in the first place.
However, this leak suggests that Intel intends to have a slower refresh cycle yet again and that its 2.5-year targeted cadence would largely be unachievable going forth. To put things in perspective, Intel would have to release a new architecture in about every 10 months in order to reach that goal. This isn't a practical goal considering that the overall PC industry is experiencing a global slowdown.
Competitive landscape
Granted that this slow refresh cycle would have some short-term financial benefits for Intel's shareholders in the form of reduced capital expenditure and lower annual depreciation expenses. However, this would also allow competitors to catch-up with the chipzilla in terms of fabrication process technology.
For example, Samsung (OTC:SSNLF) will be migrating to a 10nm node this year which is believed to be equivalent to Intel's 14nm tech. Also, Digitimes reported this week that Taiwan Semiconductor (NYSE:TSM) will be taping out its 10nm chips in the coming months and it expects to mass-produce 7nm and 5nm chips by 2018 and 2020 respectively.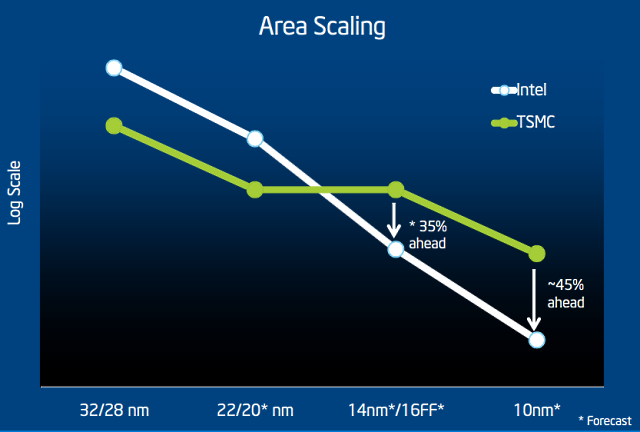 Source: Wccftech.com
Because Intel's manufacturing process is superior to Taiwan Semiconductor's, the latter's 7nm chips would sort of be equivalent to the former's 10nm chips. I believe that this would somewhat level the playing field during 2018 and would eventually mark the end Intel's dominance in terms of chip fabrication process technology. The competing factor at this stage would eventually end up being the chip architecture.
Challenges posed
The repercussions of this catching-up of competition are manifold. Intel hasn't been able to crack the mobile market till date in spite of having a relatively advanced fabrication process and rival ARM (NASDAQ:ARMH) offerings manufactured at comparable nodes may further intensify the competition. This can eventually lock Intel out of the mobile segment for good if its chip architectures are not competitive. The chipzilla may also have to rely on deep discounting to make its chips competitive compared to ARM if the gains aren't substantial.
This narrowing of technological lead might as well promote ARM-based competition in the server segment. Granted that ARM servers don't have a market yet and majority of its platforms existing today are currently being used only for testing purposes. But how would Intel defend its market dominance in the server space with its 10nm chips when AMD, Qualcomm. AppliedMicro and Cavium eventually begin the mass producing 7nm ARM-based microserver chips during 2018-19? It'll all come down to differences in architecture-driven metrics such as performance/$ and performance/watt.
More to the point, AMD's (NASDAQ:AMD) much-anticipated 14nm-based Zen lineup will be introduced starting Q4FY16. Up until now, AMD hasn't been able to compete with Intel in terms as the former introduced chips based on relatively inferior fabrication process. But this time, at a comparable and competitive node, its Zen lineup will have a real chance of succeeding given the architecture doesn't get botched up.
Final words
The point that I'm making is that Intel won't be able to dominate the PC and Server segments anymore just because of its node advantage. The chipzilla will be experiencing competition from all fronts going forward and it would have to innovate and outdo its rivals in order to keep its competitors at bay.
Of course Taiwan Semiconductor could face headwinds in the form of poor yields, ramp issues or poor margins and high cost of production due to expanding too quickly. But on a larger scale, I believe Intel's lead is over.
Disclosure: I/we have no positions in any stocks mentioned, and no plans to initiate any positions within the next 72 hours.
I wrote this article myself, and it expresses my own opinions. I am not receiving compensation for it (other than from Seeking Alpha). I have no business relationship with any company whose stock is mentioned in this article.
Editor's Note: This article discusses one or more securities that do not trade on a major U.S. exchange. Please be aware of the risks associated with these stocks.