Lee Ainslie is a classic, bottoms-up long/short equity manager (like most other "Tiger Cubs") who founded Maverick in 1993 at the request of billionaire Sam Wyly. His portfolio typically doesn't contain any non-equity positions.
In Q3, Ainslie's top 2 positions were Qualcomm (NASDAQ:QCOM) and Apolo (NASDAQ:APOL) and he added 2 new positions to his top 25 [Ambev (ABV) and US Bancorp (NYSE:USB)].
In Q4, QCOM was reduced by 62% (making it the 24th largest position now) and Tyco (TYC) shares were increased 115% (after a 3 quarter hiatus) making that the largest position currently.
Tyco is a stock that Ainslie knows well and is not afraid to come back to (TYC is also a held by Glenview, Iridian, SAC, Eminence, OZ Capital, Empyrean and Geode). Until Q3 2010, TYC was a consistent position in the portfolio but not a large one (only reaching the top 10 in Q2 at 3% of long equities). Ainslie apparently got sick of waiting for value to be realized and closed the position in Q3 2010, just before the stock had a meaningful rally. Ainslie initiated a new position in Q3 of 2011 (most likely after the sharp sell-off) and increased it significantly in Q4. So while it appears he missed the run up the first time around, he's not planning to do so a second time:
(Click chart to expand)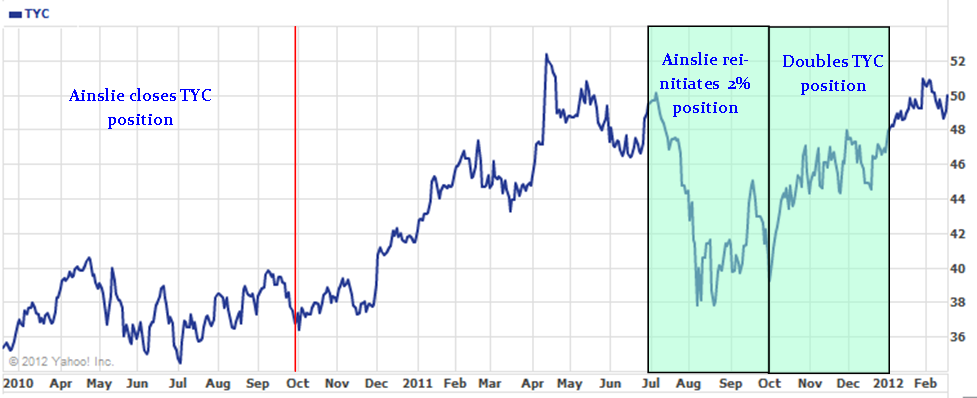 Disclosure: I have no positions in any stocks mentioned, and no plans to initiate any positions within the next 72 hours.