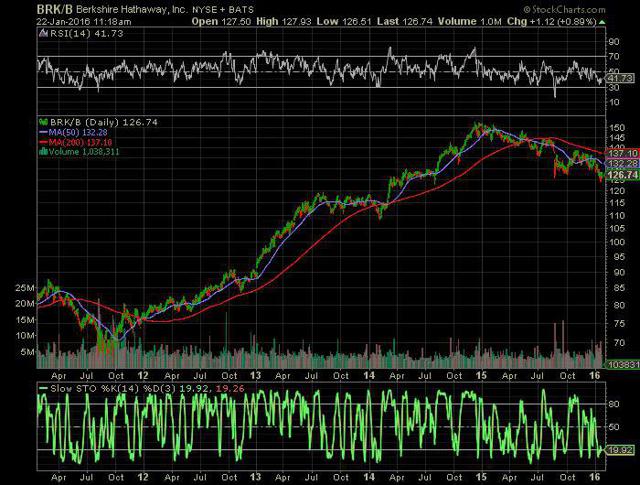 If you own Berkshire Hathaway (NYSE:BRK.A) (NYSE:BRK.B) and wish that it paid dividends, here is a strategy to extract your own dividends. There are two easy ways to accomplish this:
1. Sell some shares
2. Sell covered calls against your long position
Selling some shares at regular intervals can be a viable way to generate cash from the investment after the stock appreciates. Since the B shares are more viable for these strategies, I will speak in terms of BRK-B for the sake of this article.
The selling of shares option is good for those who own a large number of shares and don't mind shedding a few at regular intervals. You could schedule the selling quarterly so that you get a steady payout just as you would with dividends. You could also sell some shares only when the stock is overbought or after a strong run. You could then buy shares when they are oversold. Right now the stock is oversold, so it would be time to accumulate shares.
One example would look like this:
The investor owns 100 shares of BRK-B. When the stock reaches an overbought level according to the stochastic oscillator, the investor sells one share. If the investor does this four times throughout the year, he could get a strong annual yield that is comparable to a dividend paying stock. The drawback to this strategy is that you will be reducing your total amount of shares owned over time. Therefore, it could be beneficial to buy more shares during an oversold period, which is where the stock is right now. This would give investors a disciplined approach. Investors could limit the buying to times when the stock drops by 10% or more as it did this past year.
Covered Call Strategy
If you don't like the selling of shares strategy to generate income, a viable alternative is selling call options against your long position. This will allow you to maintain your share count, while generating income.
Here is an example:
The investor owns 100 shares of BRK-B. The investor sells a call option with an expiration date that is about one month away. It would be best to wait for an overbought condition in the stock as indicated by the stochastic oscillator. BRK-B is currently oversold, so I wouldn't do this at the moment. Consider picking a strike price that is about 5% higher than the current price. When you sell the call, the premium is credited to your account. For example, if the call option is selling at $1, so you would have $100 credited to your account as one call represents 100 shares of stock. You can sell one call for every 100 shares that you own.
If you sell one call 4 times per year, you have the potential of generating about $400 in premium. When that is divided by the value of your investment [$12,680 based on 100 shares owned], that is like getting a 3% annual dividend.
The risk to the covered call strategy is that your position could be called away (sold automatically) if the stock rises to the level of the strike price that you sold. That's why it is better to wait for an overbought condition in the stock to sell the call as the stock is more likely to pull back from that level. Since you are selling the call, you want the option to expire worthless. The premium is credited to your account when you sell the call, so want the stock price to remain below the strike price until expiration. If you sell a call whenever the stock is overbought throughout the year, that could equate to about 4 times per year similar to dividend payouts.
Valuation and Conclusion
Berkshire's valuation is relatively attractive, which should help to boost the performance of its shares.
Here's how BRK-B stacks up:
| | | | |
| --- | --- | --- | --- |
| | BRK-B | S&P 500 | BRK-B 5-year avg. |
| PE [TTM] | 13.5 | 19 | 16.7 |
| Price to Book | 1.2 | 2.7 | 1.3 |
| Price to Sales | 1.5 | 1.8 | 1.6 |
| Price to Cash Flow | 9.7 | 11.5 | 11.4 |
Data source: Morningstar.com
Berkshire is trading with a valuation that is below the S&P 500 and its own 5-year average. The stock's sell-off this past year has made Berkshire a buy for the long-term. The stock is about 18% off of its high of $152 from December 2014. So, now would be a good time to accumulate some shares for a long-term investment.
Berkshire has an ROE of 9.38%, which should drive its earnings growth going forward. Since the company doesn't pay dividends, the ROE can be considered the company's sustainable growth rate. The ROE may fluctuate a bit over time. However, if the company can sustain the ROE over 7%, which Berkshire has done since about mid-2012, then the stock has the potential to outperform the S&P 500. According to consensus, the S&P 500 is expected to grow earnings at about 5% annually over the next five years. This is likely to lead to slower stock market growth than we've seen in years 2009 - 2014. Stocks tend to grow approximately in-line with earnings growth over time. Therefore, if Berkshire can grow earnings above 7% annually, I think BRK-B can outperform the market going forward. The drive in Berkshire's stock will be supported by earnings growth that edges higher than the market combined with the company's below average valuation.
If you like my analysis, click on FOLLOW at the top of the article near my name. This will allow you to see my new articles on your homepage. If you choose to get real time alerts, you'll get email alerts when my articles are published.
For those who prefer to invest in individual stocks that are likely to outperform the market over the long-term, consider joining my subscription service. I also include macro/market commentary based on economic indicators. I'm currently ranked in the top 1% of blogging analysts according to Tipranks.com for accuracy and performance. Click here for more information about the subscription service.
Disclosure: I/we have no positions in any stocks mentioned, and no plans to initiate any positions within the next 72 hours.
I wrote this article myself, and it expresses my own opinions. I am not receiving compensation for it (other than from Seeking Alpha). I have no business relationship with any company whose stock is mentioned in this article.