My best investment in 2015 was not a stock or bond, but the lessons learned in other markets certainly apply to the stock market. My best investment in 2015 was a dining room set.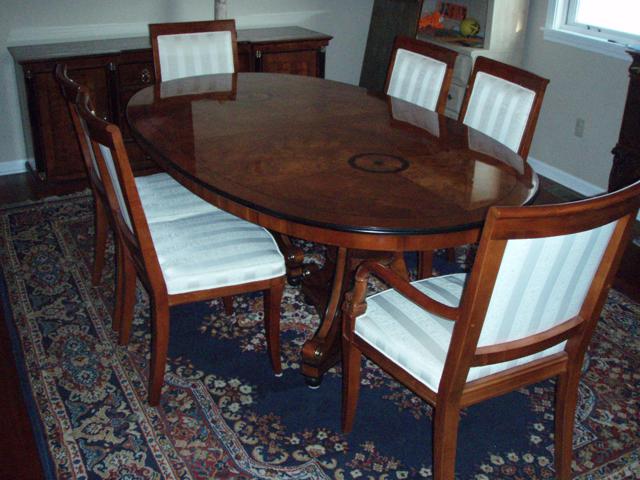 I enjoy going to auctions. Here in Missouri an estate auction may draw a crowd of 100 to 200 people. These few people can easily spend $500,000 in eight hours, especially if there is real estate. I tend to collect furniture, cut glass (crystal), art glass, books and tools. There is always a group there for the quilts, jewelry, and coins.
An auction is not unlike the stock market except there is only one seller and numerous buyers competing that day. Odd things happen, like the lady who sat thru the first day of an auction and half of the second day to bid $10,000 on a set of silverware that she had been collecting since she was a teenager. She was very emotional and happy that she finally completed her collection. Luckily none of us should have that kind of attachment to our stocks, but we do hope that others come around to seeing the value in the shares like the high bidder at the auction does.
By going to auctions, I know what local people want and how much they are willing to pay for it. The stock market is similar and is why we pay attention every day to what we think is going cheap and the ones that take our breath away. At the end of the day, the experts, the studious ones who know the market of their item walk away the winner.
But I did not buy the dining room set at an auction, I found it on Craigslist. Looking for something completely unrelated, I found an ad for what I instantly knew was a high end dining room table on par with Karges. The seller said it was Thomasville, but had clear pictures showing it was Century Furniture from Hickory, NC. New, a dining room set (including china cabinet or server) could go for $25,000. Furniture though depreciates rapidly. A search found a similar set, at auction the table alone sold for $4,000, chairs about $300 each, but that was in Ohio. I am in Missouri, a different market. Our town barely supports a Slumberland. I was going on vacation the next week anyway. Maybe I would see if it was still for sale when I got back.
When I got back, I called the seller and arranged a meeting. When I saw it, I clearly identified the maker and condition. I asked for a 10% discount, but she was firm on her price, so I left her with a standing offer. I didn't hear anything back after a few days so I texted her to let her know my offer was good, but would expire the next day. She accepted.
Now I had to haul this furniture to my house. It was the heaviest server I have ever lifted. Thanks to good friends, we moved it successfully. The next step was how do I market this? I tried eBay (NASDAQ:EBAY), plenty of watchers, no bidders, and even Amazon (NASDAQ:AMZN). Think of this as all of us who watch stocks waiting for them to drop before we spend our hard earned money. We have several upscale neighborhoods, but resale forums on Facebook (NASDAQ:FB) were not viable. I relisted it on Craigslist with the proper information and in about six weeks, an interested buyer contacted me. After negotiating me down 10% from my asking price of $4,000, we had a deal and I had a profit of $1,600 in hand after three months with an initial outlay of $2,000.
It took work. I didn't enter an order in a computer and the stock was in my account the next second. I had to deal with a person and tell her my bid price. I had good friends who helped move it. It took up space in my house and my wife was none to pleased and we had to protect it from the children. I told her I bought it as an investment. I loved the look of it, but with kids, it was too fancy to have in our house.
Furniture is tangible, and many of the stocks I invest in I think about the same way. I like REIT's because they have the tangible asset backing them and such a broad market. Even with a small market, like for this furniture, if you know what buyers in the market want and can acquire it at a good price, you can generate income. Did I get top dollar? No, but I got out of the trade smelling like a rose. I could have negotiated better (I was negotiating from weakness as he knew the state of the market) or I could have tried to market it in other areas.
A week after I sold the furniture, I got an e-mail from an Amazon customer interested in the server. The person who bought the set didn't really want the server, but I didn't want to split up the set or have to try to sell it alone. I was tempted to try to sell a server I didn't own but the hassle would be too much.
Whether buying and selling furniture, antiques, or stocks, you have to think about the person on the other side. If you get stuck with it, is it something you can live with (like a stock that pays dividends)? Should you try to eek out that last dollar from every trade? Although I'm not the biggest fan of Jim Cramer, he has some sage advice, "Bulls make money, bears make money, hogs get slaughtered."
Disclosure: I/we have no positions in any stocks mentioned, and no plans to initiate any positions within the next 72 hours.
I wrote this article myself, and it expresses my own opinions. I am not receiving compensation for it (other than from Seeking Alpha). I have no business relationship with any company whose stock is mentioned in this article.